Theme park vacations are expensive. Especially Disney and Universal Studios. However, there are ways to save money if you are willing to make a few changes as to how you plan your vacation.
Our grandparents and parents knew how to make a dollar stretch as far as it could. Previous generations took vacations and enjoyed travel, they just made very penny work as hard as possible.
These old-fashioned ways of saving money on your theme park vacation aren't as widely used today, but they should be.
You can simplify and still have a memorable vacation full of memories, and much less debt.
Bring in Food
You know how your grandma always had some treats in her purse for you? Or how your mom always has an extra granola bar in her bag?
There's a reason, and it's because buying food outside of the supermarkets is expensive!
While you can have fun indulging in one restaurant meal in the theme parks each day, you do not need to eat all of your meals inside the parks. Or buy all of the snacks that you see.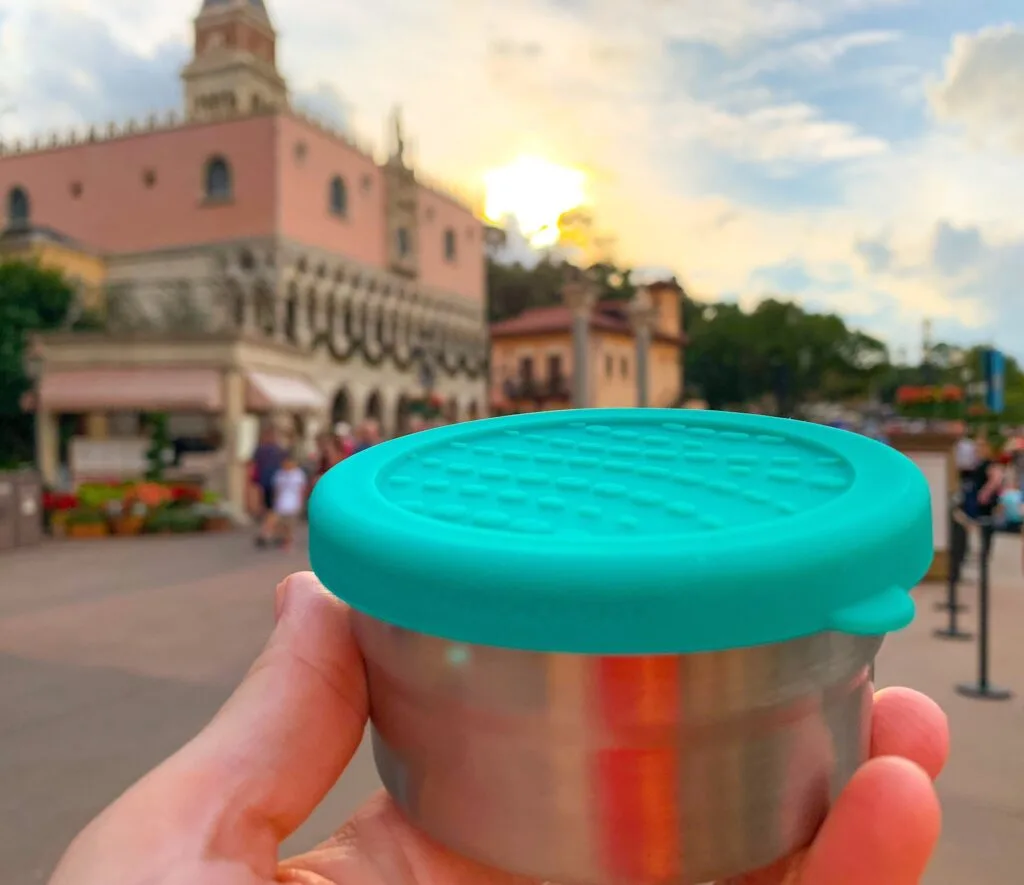 Not all theme parks will allow you to bring in food, so always be sure to ask about the policy beforehand.
Stocking up on travel-friendly foods while on sale at the supermarket will save you A LOT of money! The savings can be significant, too, especially if you are a family. Expect to save between $25-$75 per person when you bring your own food for some meals and snacks.
Yes, you can bring food into Universal Studios and you can bring food into Disney World and Disneyland.
We suggest these 67 Best Snacks for Disney World. The ideas will work in any theme park.
Our list of more than 250 Non-Refrigerated Foods will help you find great options to make breakfast, lunch or dinner at the hotel or to bring with you into the theme parks.
Money Saved: $25-$75 per person
Bring Water
Our grandparents grew up in a world where you got water from a sink or a water fountain. Not packaged in a plastic bottle and sold for $4.
There is absolutely no reason not to bring a refillable water bottle unless a theme park specifically bans it.
Some theme parks will prohibit you from bringing in full water bottles, but you would probably be able to bring in an empty bottle to fill later. Especially a collapsible water bottle that folds flat and is easily tucked in your bag.
Walt Disney World, Disneyland and Universal Studios allow you to bring in water bottles. And they can be full of water.
In fact, it's easy to find free water at Universal Studios theme parks.
Worried about the taste? Then get a water bottle with a built-in filter. We especially love LifeStraw Water Bottles and these water bottle filters that can be added to a HydroFlask.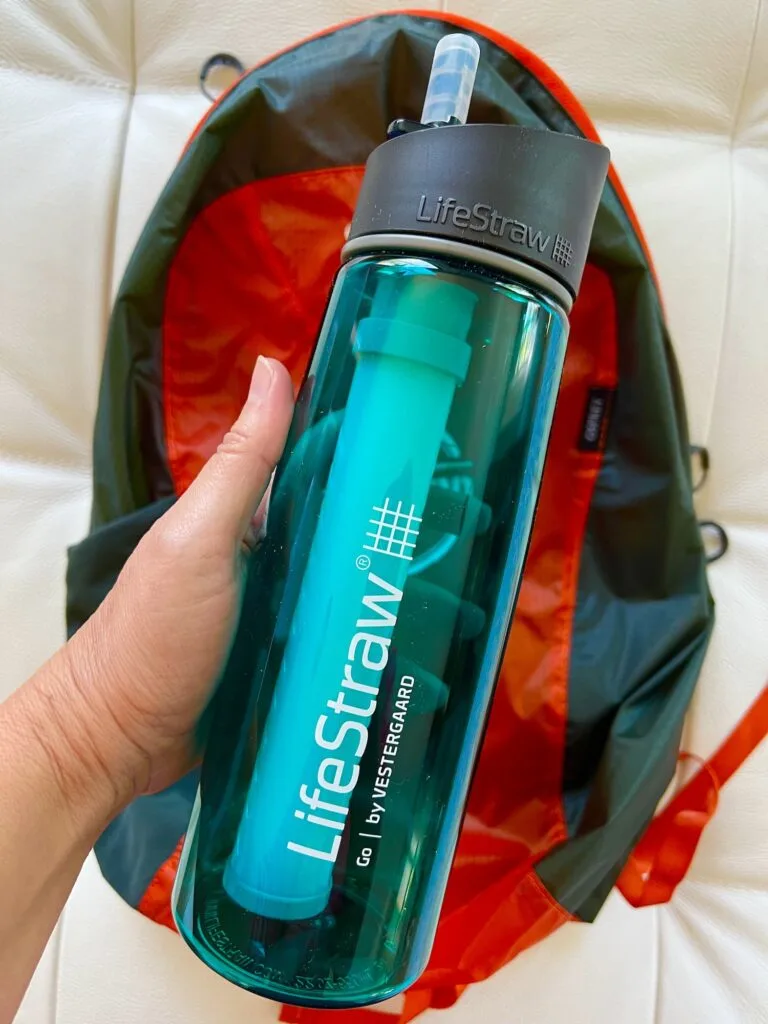 Money Saved: $4 a bottle (Averaging 5 bottles of water a day, that's a $20 savings)
You Don't Need Mouse Ears
Shocking, but true. It is possible to have a fun time at Disney World or Disneyland without wearing mouse ears.
While the old-fashioned beanie caps with Mickey Mouse ears have been a Disney classic for decades, they also used to be a lot cheaper!
Headbands with mouse ears are a relatively new concept, and the price tags just keep going up on those accessories. In 2023, the cost is around $35 per headband.
If your kids (or you) really want to feel like a mouse while at Disney, look for discounted mouse ears on Ebay or in thrift stores.
Buying unofficial mouse ears on Etsy is also another way to save a little bit of money. Cute styles cost around $10 and support small businesses.
Or you can make your own. We have easy DIY tutorials for making Halloween Mickey Mouse Ears and Maleficent Mouse Ears.
Money Saved: Skip the ears and save $35. Or buy on Etsy and save $25 per person.
Skip the Wizarding Robe
Just like mouse ears at Disney, you don't need a Harry Potter robe at Universal Studios.
Want? Yes. Need? Definitely not.
While you or your kids might want to feel like a student at Hogwarts by walking around The Wizarding World of Harry Potter in a robe, this experience will cost you.
More than $130 a person!
While you can buy less expensive, unofficial Harry Potter robes on Amazon or find used ones on Ebay, it might not be the best idea.
Why?
Wearing a long black robe in the summer heat is hot, humid and gets icky pretty quickly.
So before you invest the money in a robe to wear at Universal Studios, think about the weather and how long you might actually be wearing the robe before wanting to stuff it in a locker to escape the heat.
Money Saved: $139 a person if you buy an official Harry Potter robe in the theme park
Eat at the Hotel
Reduce your food budget when you take advantage of free meals and snacks when available.
Many hotels offer complimentary breakfasts as part of the room charge. Be sure to use the benefit to save on the cost of at least one meal during your day.
While on-property hotels at Disney and Universal do not have free breakfast, off-property hotels often do.
Several hotel chains also offer afternoon snacks or wine happy hours. Take advantage of those benefits if you are at the hotel during the day.
Concierge-level hotel rooms offer food and drink options throughout the day. While these rooms are definitely more pricey, if you are able to stay in one it can dramatically cut your food costs.
Money Saved: Approximately $40 for a family of four eating breakfast at the hotel instead of inside the theme parks.
Skip the Matching T-Shirts
You don't need matching t-shirts at a theme park. You just DON'T!
If you can't have fun together without wearing the same outfit, then maybe you shouldn't be taking the trip.
Our grandparents and parents certainly didn't have the convenience of Etsy and print-on-demand websites that would customize t-shirts. And somehow they still had fun.
Unless these shirts are something you will wear a lot when you get back home, do not order family t-shirts. There are plenty of other ways to spend your money on clothing that you will actually use for several years.
Money Saved: $25 a person
Eat Meals Outside the Theme Park
Many theme parks have restaurants, shops and hotels located just outside of their park entrance. These locations will almost always be cheaper than the prices you will pay inside the the parks.
If you can, eat as many meals outside of the theme park as possible.
However, keep in mind that time is money. Going through all of the hassle to leave in the middle of the day to save a few dollars on lunch is not worth it if you have to miss out on hours of fun inside the theme park. Especially if you paid a lot of money for a one-day ticket.
Related Post: 10 Best Themed Fast Food Restaurants inside Walt Disney World
Eat breakfast outside of the theme park in the morning, and then try to eat dinner outside the parks if possible at night.
Dollywood, Disneyland and Universal Studios are just a few of the theme parks that have great restaurants located just beyond the theme park property. Walt Disney World is so big that you will have to drive quite a distance to get off the property before you find budget-friendly restaurants.
Money Saved: If you saved $5 on breakfast and $5 on dinner, a family of four would save $40 a day.
Don't Get the Family Suite
Families used to have kids sleep on the floor in sleeping bags in the hotel room to save money on lodging. Nowadays, a family suite with a specially themed kid's room is the norm.
Let's keep in mind, getting to go to a theme park and enjoying the rides, foods and characters is a big enough thrill for kids. They don't have to have every moment magically themed while you are worrying about how to pay for it.
Bring a sleeping bag or a fold-up sleeping cot to use for kids in the hotel. Bring an easy-to-inflate air mattress and some extra sheets. Let them sleep on the couch inside the room.
Stay Off Property
One of the biggest money-saving tips for theme parks is to stay off property when spending the night, instead of staying in a hotel owned by the theme park.
Yes, it is more convenient to stay in on-property hotels. I will not argue that.
It is often more expensive, too.
Look for hotel brands that you love and are located outside of the theme parks. You can even earn loyalty points and status when you stay at these properties, plus they often have free breakfast and free parking.
In fact, many off-property hotels are actually partners with the major theme parks. For instance, Universal Studios partner hotels are located off property, but many still offer official Universal Studios perks.
This is similar at Walt Disney World, where partner hotels are located near Disney Springs and can give you Disney perks at a less expensive price.
Keep in mind, back in our parents' and grandparents' days, having a hotel on property was rare. Most people actually stayed in chain hotels near the theme parks. Today, theme parks want to keep you on property as long as possible to make money, because it means you aren't leaving and going somewhere else.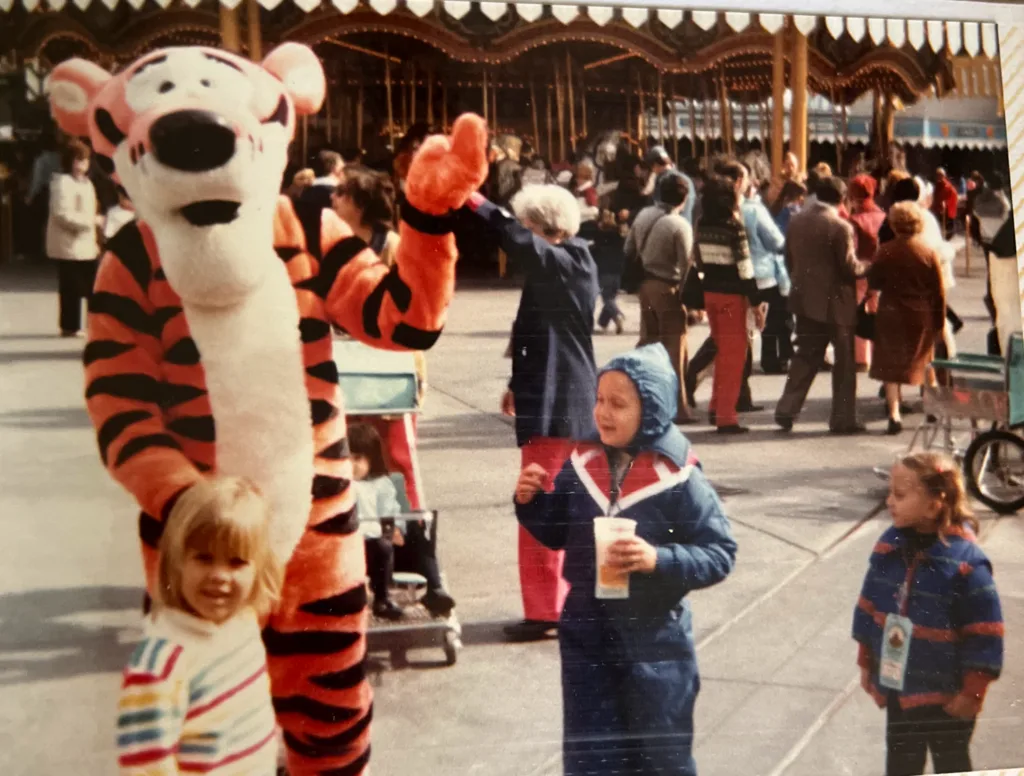 Enjoy Classic Rides
The rides that our parents and grandparents enjoyed in the theme parks probably aren't the hot-ticket items in today's day and age. And that's okay.
Classic rides usually have shorter wait times but are big on nostalgia. If you can't do everything in a day, skip the fancy newer roller coasters that have hours-long wait times and do several rides with shorter wait times in the same amount of time.
Related Post: Complete List of Universal Studios Orlando Rides
Use Coupons
We don't have as many paper coupons today as our grandparent's did. But there are still special deals and discounts that you should look for when paying for a theme park visit.
Sam's Club and Costco might be the equivalent of Sunday morning paper coupons today. While you will save money on food, you can also get great deals on discounted theme parks tickets!
We did the comparison of buying Sam's Club Disney tickets and Sam's Club Universal tickets and there is a lot of money to save!
Also check out our article on buying Costco Universal tickets.
Authorized ticket resellers are also a smart way to get theme park tickets for less. Our favorite authorized ticket reseller is Get Away Today.
Related Post: 17 Ways to Get Inexpensive Universal Tickets
Use Social Media Sparingly
Clearly our grandmas and grandpas didn't have social media. And yet they were still able to enjoy a vacation and take family photos to be handed down through the generations. Shocking, isn't it?!?
Social media is great because it shows us what is new and fun in the theme parks.
However, it is also like a constant commercial trying to get you to buy food, drinks, merchandise and experiences you just don't need to have fun.
Yes, your favorite theme park influencers will show you the best foods and drinks and newest merchandise that they love. They need to because they always need fresh content.
What they won't tell you is that it takes multiple visits to get all the food and specialty drinks. And it costs A LOT of money. Or that they visit the parks every single day looking for items to photograph and things to do and there is NO WAY that you can do it all in just one day when you are trying to take care of your family and have fun.
While Instagram posts, TikTok videos and YouTube videos can show you what is possible during your visit, it is not a road map for everything that must be done.
Split Meals and Drinks
Portions are huge nowadays. Much bigger than a few generations ago.
Just because you get a huge plate of food doesn't mean that you have to eat it all.
Split meals and share drinks to save money. Chances are you don't actually need all of the food and calories that are served up with one portion.
Refillable popcorn buckets and drink cups are a great way to share food and drink and save a lot of money.
This is also a smart idea when you have picky kids who might not like that cup of Butterbeer or the Turkey leg. Why waste money on good food?
Parents often buy food for their kids knowing that they won't eat it all and they will eat what is left on the plate. It is an old-school way of not wasting food and saving money at the same time.
Money Saved: $4-15 each drink or meal
Save Money on Souvenirs
Everyone wants to have some fun souvenirs from their vacation. There is nothing wrong with that, but what spend more money than necessary?
The biggest theme parks, such as Disney and Universal Studios, have characters that are licensed for merchandise outside of the parks. Which means that you can buy items at Walmart or Target with the same characters that you would find in Disney's gift shops at a fraction of the price.
Buy t-shirts, mugs, keychains and other items at discount stores before your visit. You can even find budget-friendly souvenirs on Amazon or Walmart.
In fact, there are a lot of great things at Dollar Tree and Dollar General, too.
Give your kids these souvenirs when you get to the hotel. They will love the unexpected gift just as much as if you paid three times the price inside the theme parks.
Some souvenirs can actually be free! Check out these best souvenirs at Universal Studios for some great ideas!
Shop Thrift Stores
Generations before us were a helluva lot thriftier than we are today. They used it up, made do or went without.
Using secondhand goods was second nature to them. And it can be for us today, too, as one of the best ways to save money.
When shopping for your vacation, be sure to visit thrift stores as one of the best ways to save money on souvenirs and vacation items.
I have always found theme park-branded shirts, mugs and other souvenirs in thrift stores.
Luggage and specialty items for your travels can often be found inexpensively at second-hand shops, too. Just start looking a few months or weeks ahead of time.
Borrow, Don't Buy
Need a big piece of luggage to fit all of your clothes in? Or an air mattress to bring along?
Borrow these items from friends and family instead of buying new.
Generations before us saved their money by sharing big ticket items, even rarely-worn clothing such as suits and fancy dresses.
Don't Go If You Can't Afford It
Yep, harsh words yet true.
If you can't afford your vacation and will be in debt for years trying to pay it off with interest, then don't go.
There is the belief that you need to enjoy theme parks with kids when they are young before they are too old to enjoy them.
You know what else kids love, too? Camping in the outdoors and roasting marshmallows. Playing miniature golf. Zoo visits and water fights with a garden hose in the yard.
Theme parks have become so crowded and so overwhelming that often times kids aren't even having fun. Which is ironic, because parents have spent a lot of money they don't have trying to take a magical trip.
Let's be honest…kids are more excited about the hotel pool than the theme parks when they are 10 and under!
Yes, you can have a great time in theme parks. You can also have a great time doing a lot of other things, too. If you can't pay off the vacation within 3 months, then just don't go.
Budget for Your Visit
People used to save money for big purchases. It needs to become a thing again.
Theme park vacations are EXPENSIVE. It is a huge investment that often goes on the credit cards all at once and will give you a panic attack when you get the bill.
Figure out how much money you will need to spend, and then divide by a chosen amount of time. Put that money aside in a savings account or in a cash envelope leading up to your vacation.
For instance, if you will need $2,000 for your family vacation, and you will be going in 10 months, then you need to save $200 a month for 10 months.
Use a Payment Plan
Layaway plans used to be common for big purchases. Our grandparents and parents could buy Christmas gifts in the summer and pay for them on layaway a little bit each month.
I still remember the layaway desk at K-Mart and Walmart. I always thought it was so interesting to buy an item and then have it hidden in the back room until you could pay for it.
Vacations actually have "layaway plans" now that can help you pay a little bit each month leading up to your travels.
Universal Studios and Disney are just a few of the theme parks that allow you to make payments on a vacation package purchased through their company.
Most theme parks offer monthly payment plans for their annual passes. Carowinds, Dollywood, Universal Studios, Walt Disney World, and Disneyland all offer annual passes where money is paid each month, instead of all at once.
While some of these payment plans might come with a bit of a higher price tag for the convenience (not always, but sometimes), it will probably be less than the cost of interest accruing on a credit card as you pay it off after your vacation.
Be Patient and Wait in Line
Just a few decades ago, everyone was equal at the theme parks. It didn't matter who you were or how much money you had – you waited in line like everyone else.
Nowadays, people with extra cash can pay for the convenience of skipping to the front of the lines. It's pay to play today.
While Disney's Genie+ and Universal Studios' Express Pass are definitely helpful, they are not necessary.
Choose Smaller Theme Parks
Before Disneyland, families used to enjoy time at smaller amusement parks. In fact, Walt Disney has said that he brought his children to an amusement park and wanted to do better so he created Disneyland, and then Walt Disney World.
Over the years, those small amusement parks and theme parks have had to keep up with their big competitors to stay in the game.
While the big theme parks such as Disney and Universal get all of the attention, there are lots of other smaller theme parks that are just as much fun and less expensive to enjoy.
Consider some of these less expensive theme parks:
Dollywood
King's Island
Carowinds
Six Flags theme parks
Hersheypark
Camp
Lodging is a huge part of a theme park vacation cost. Instead of staying in a hotel, consider camping or renting a cabin instead.
Many theme parks have RV parks or campgrounds that are often cheaper per night than a hotel.
The most well-known theme park campground is Disney's Fort Wilderness Resort. This much-loved campground was one of the original opening-year destinations back in 1971. It's a place that our great-grandparents and grandparents might have stayed at.
While their prices keep getting more expensive (and now the once-affordable cabins are being replaced with fancier options), it does cost less than their on-property hotels.
To really save money at Disney World, consider this secret trick for tent camping at Fort Wilderness. It's one of the most affordable ways to stay at Disney!
Stay with Family and Friends
Does anyone else remember planning a vacation around where friends or family lived? You would spend a couple nights at their house, not only so you could save money but also so you could catch up and hang out together again.
Those days need to come back. We need to actually see friends and family in person, not just a picture on a screen or social media app.
While you might not have relatives or close friends in the area where you want to visit, you could. If so, rekindle your relationship with them and ask about staying at their home if they have a guest room.