If you are used to the long operating hours at Walt Disney World, you could be in for a surprise when you find out that Universal Studios closes much earlier. Sometimes as early as 6 p.m., both in low season and high season!
Universal Studios theme parks generally don't stay open as late as Disney theme parks, but there are some exceptions.
In this guide, we will tell you why Universal Studios closes so early, how to find out when the parks have short operating hours and the best ways to maximize your time so that you don't miss any fun!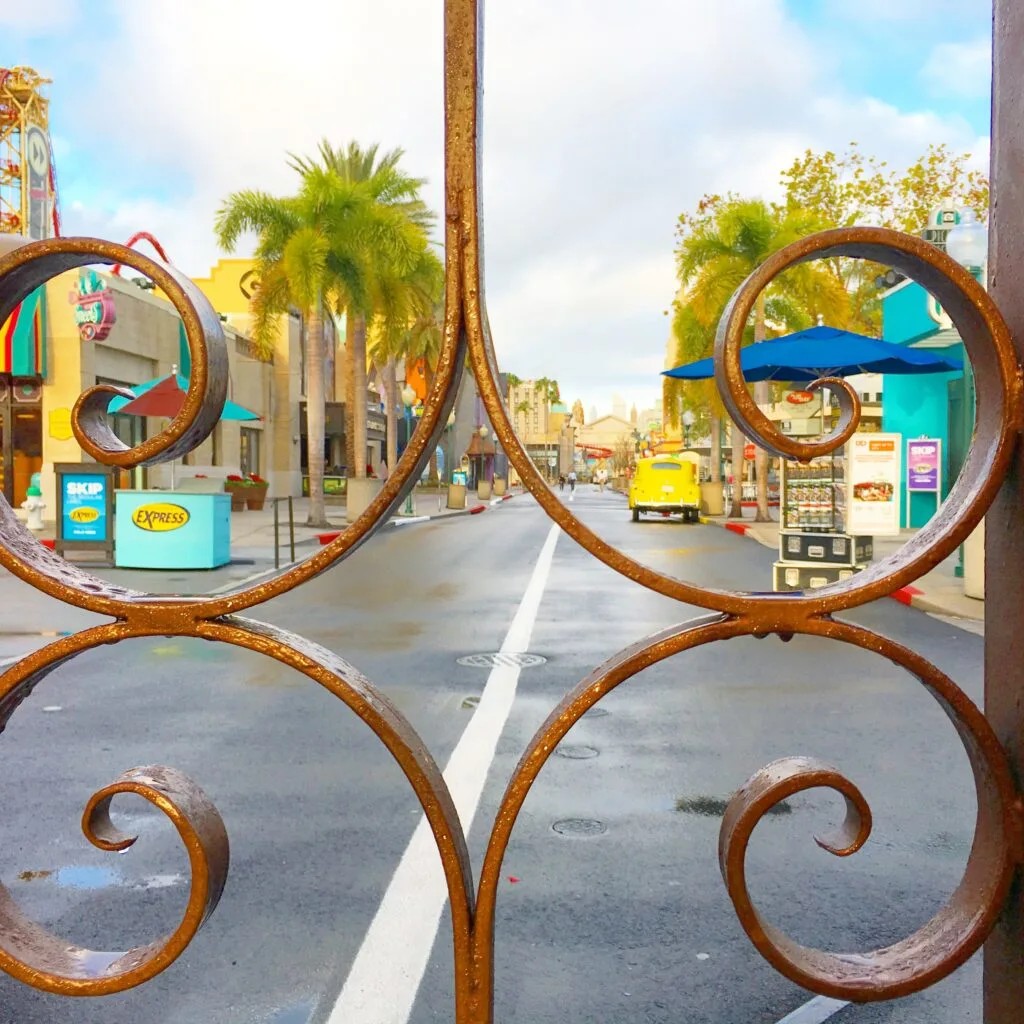 Why Does Universal Close So Early?
There are many single factors, or a combination of factors, that cause Universal Studios to close early.
Keep in mind, theme park hours are set at least a couple months before the date, if not earlier, so you will not be surprised at closing hours. They are posted for anyone to see.
A theme park will not close earlier than the posted time on the website unless there is a very serious reason, such as a hurricane coming through.
Here are some of the many reasons why Universal Studios, both in Orlando and Hollywood, closes earlier than its competitors:
Estimated Attendance Levels
When deciding on what hours to set in the upcoming months, management will look at anticipated crowd levels. Expected attendance levels can be calculated based on how many tickets sales and ticket packages have been sold already, hotel bookings, special events, holidays and past history of crowd levels.
Estimating crowd levels is not an exact science, and often the calculations are not perfect. For instance, beautiful weather could be in Florida or California when the rest of the country is getting snow and ice. A lot more people might suddenly decide to escape to warmer climates, meaning a sudden increase in crowds.
Or, Florida or California could unexpectedly have freezing temperatures or snow. Perhaps there are torrential rains. Weather conditions could keep crowds away, resulting in lower crowd levels yet later operating times, which greatly benefits the guests who are there!
When I worked at Disney World in attractions, every day the managers were trying to estimate expected crowd levels for that day and adjusting the staffing needed. If crowds were expected to be low, staff were given the opportunity to leave early without pay. It was one way for each individual attraction or land to lower their operating costs as much as possible, since staffing was a variable expense that could be reduced while still having the ride available to guests.

Now, if cast members had left early and suddenly the crowds increased during the day, it wasn't great for guest experience. It is a gamble that managers have to play every day to keep their bosses happy.
Competitor Operating Hours
Universal Studios and Disney are in constant competition in both Florida and California. In Orlando, Universal is also competing with Sea World which is right around the corner. In Hollywood, Universal is competing with Knott's Berry Farm, too.
While theme parks are not going to stay open later if they cannot be profitable, you might find that operating hours fluctuate according to the competition's hours.
Related Post: Disney Hollywood Studios vs. Universal Studios
Special Events
One of the biggest reasons that Universal Studios closes early in September and October is because of Halloween Horror Nights, their special event tickets.
For Halloween Horror Nights, all regular day time guests need to leave the park before the staff can prepare the theme park for the ghoulish entertainment and decorations for the evening. On these nights, you can expect Universal Studios to close around 6 p.m.
Early closing hours always happen every September and October for most nights, so you cannot be surprised at the early closing hours unless you are new to visiting Universal Studios.
Other special events can unexpectedly close a theme park early, even in a typically busy season. When a company buys out the theme park for the night to host a private party, or a conference is in town and hosts a party at a theme park, there will be early closing hours.
Respect to Neighbors
Unlike Disney World and many other theme parks, Universal Studios Orlando is in the middle of a residential area in Orlando. Just a block or two from the edge of the theme park are housing developments and neighborhoods.
Fireworks are limited at Universal Studios because of the location and zoning laws.
There is no way that Universal is going to stay open to 1 a.m. every night because the noise would impact the surrounding community.
Cost Cutting Measures
It is no surprise that every business is trying to cut expenses as the cost of everything appears to be rising.
Theme parks are no different.
Universal Studios theme parks usually close early because there is not enough attendance to stay open longer and still make a profit.
With every hour that any theme park stays open, they need to pay for staffing, food being prepared, electricity, security staff and more expenses.
If the revenue being brought in from merchandise sales, food and drink purchases and tickets being bought does not cover the cost of the expenses for staying open, there is no good business reason to have later hours at the expense of the company that owns Universal Studios.
Labor Shortages
Ever since 2020, there has been a decrease in the amount of staffing available for any business. If there is a shortage of team members available to work, then operating hours can be reduced to accommodate staffing needs.
For instance, it is easier to staff an 8 hour shift because you can ask team members to come in for a standard work day. If the operating hours are 11 hours long, then you will need to have two rotations of staff, or pay staff overtime hours.
The longer the operating hours, the more logistics there are in trying to find people to work that day.
Related Post: Does Universal Studios Sell Out?
When Does Universal Studios Close?
There are three theme parks at Universal Studios Orlando, each with different operating times.
Well, Universal likes to call them three theme parks. Most guests consider them as two theme parks and one water park.
Each theme park has varying closing hours throughout each month that can vary widely. For instance, in April 2023, closing hours range from 6 p.m. to 10 p.m depending on the day.
You can always check theme park hours for your visit on the official Universal Studios Orlando website and the official Universal Studios Hollywood website.
Universal Studios stays open later when the crowds are expected to be at their highest. These time frames include:
Spring Break (mid-March to mid-April, depending on when Easter is)
Summer (June through August)
Thanksgiving Break (the week before and the week after Thanksgiving holiday)
Christmas (from mid-December until the second week in January)
Any major holiday or holiday weekend (including Memorial Day, Fourth of July, and Labor Day)
Universal Studios closes early in times when there are typically fewer crowds, including:
Mid to late January
February
September and October (for Halloween Horror Nights at Universal Studios Orlando)
First two weeks of November
First two weeks of December
Universal Studios Florida
Universal Studios Florida theme park often closes before Islands of Adventure theme park.
Some nights both theme parks close at the same time. However, on other nights, there could be a three hour difference. That is why a park to park ticket comes in handy so that you can go from Universal Studios to Islands of Adventure in just a few minutes and extend your day.
Closing hours are typically 6 p.m. to 10 p.m., however some special events and holidays can have a later closing time, such as 1 a.m.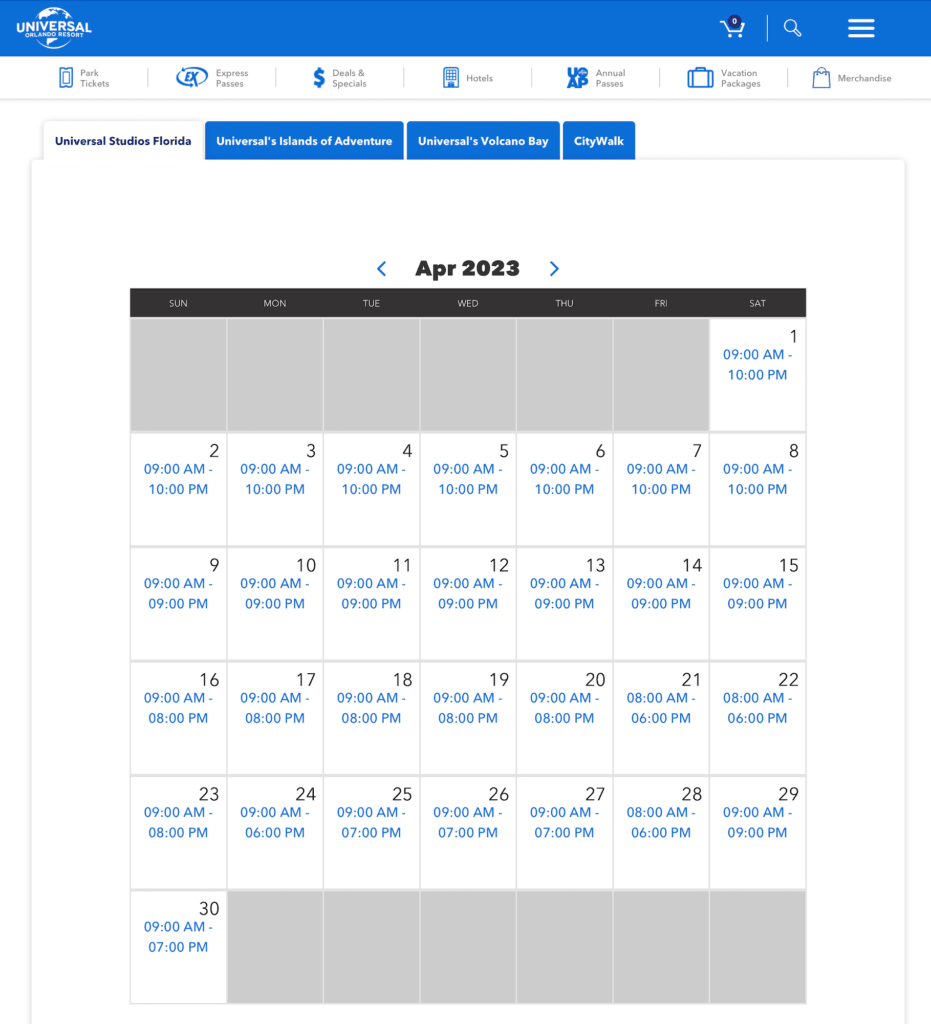 Universal Studios is the theme park that hosts Halloween Horror Nights each September and October. You can expect this park to close very early almost every night leading up to Halloween.
Islands of Adventure
The park with the longest operating hours is usually Islands of Adventure.
In general, Islands of Adventure is open until 9 p.m. or 10 p.m. on most nights.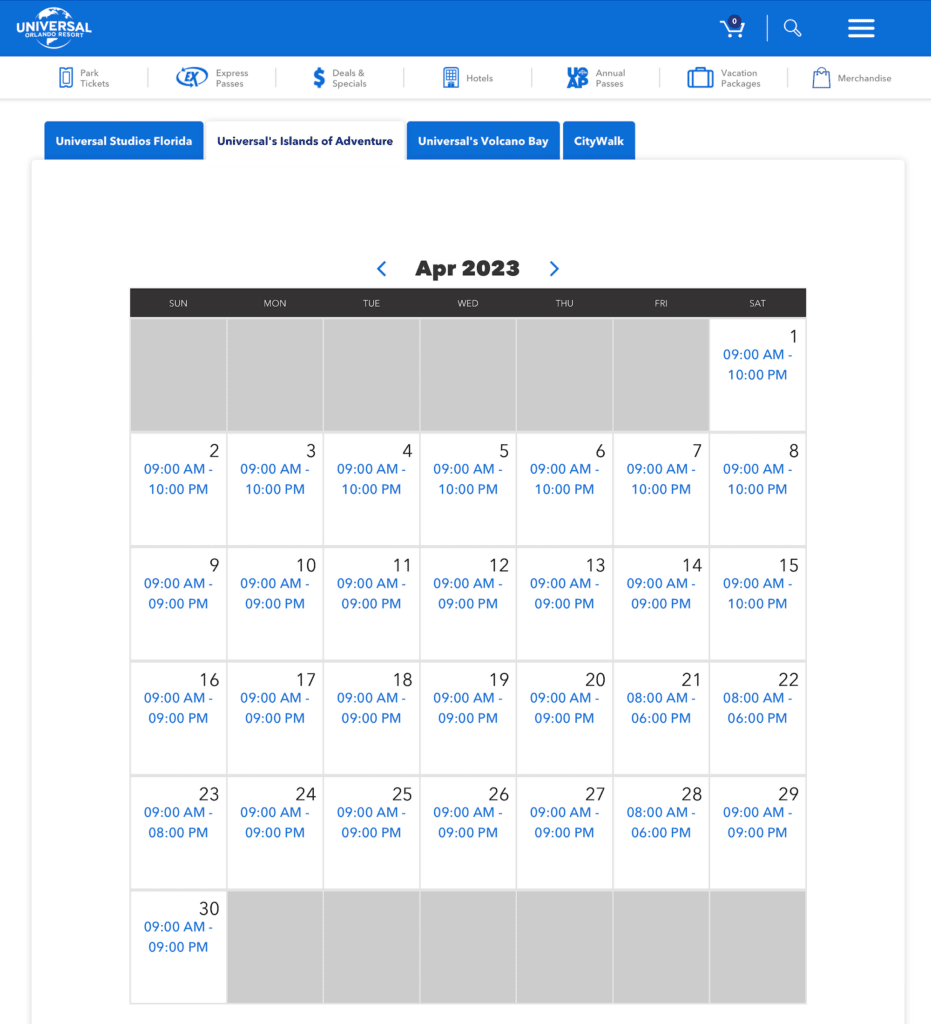 There are several times throughout the year where it will close at 6 p.m. or 7 p.m., but it is not common.
Volcano Bay
As a water park, Volcano Bay usually has shorter operating hours than the two theme parks, especially in winter when cold temperatures can limit the amount of people that want to be in the park.
Volcano Bay usually closes between 6 p.m. and 9 p.m.
How to Maximize Your Time When Universal Closes Early
If you have already planned your vacation and find that the theme parks are closing early during the time that you are there, you can maximize your time so that you are not missing out on anything!
Here are some tips for making the most of your time at Universal Studios theme parks: