While on vacation, you might want to indulge in some cool and refreshing alcoholic drinks to beat the heat in the theme parks. Does Universal Studios sell alcohol for drinking in the theme parks?
Here is your Ultimate Guide to Universal Studios Alcohol Rules, including where and how to buy and consume alcoholic drinks.
Does Universal Sell Alcohol?
Oh, yes! All Universal Studios theme parks sell alcoholic drinks, including beer and mixed drinks.
This is probably one of the biggest moneymakers for any theme park, so you better believe they sell alcohol.
You will be able to find alcohol in the following locations:
Table service restaurants (sit-down restaurants)
Some quick service restaurants (fast-food)
Beverage carts along the walkways in the theme parks
Pop Up bars
Specialty food stalls during festivals and special events
Universal Hotel's restaurants and bars
Universal CityWalk also has a variety of bars, restaurants and quick service locations, including bar carts, that sell alcohol.
Related Post: Ultimate Guide to Universal Studios Dining Reservations in 2023
What Types of Alcohol Does Universal Sell?
You will be able to find a variety of alcoholic drinks at Universal Studios, including:
Beer
Wine
Hard liquor
Mixed drinks
Hard cider
Among the favorite items for drinking at Universal Studios are:
Ocean Attack cocktail at Chez Alcatraz in the San Francisco area of Universal Studios Orlando. This tropical drink comes with quite the show from the bartender!
Duff Beer at the Duff Brewery in Springfield at Universal Studios Orlando
Birds of Paradise at The Watering Hole in Jurassic Park area at Islands of Adventure. You will also get a souvenir cup with your purchase!
Any drink at Margaritaville in Universal CityWalk is a winner, too!
Is There Alcoholic Butterbeer at Universal Studios?
No. There are many different types of Butterbeer served in The Wizarding World of Harry Potter, but alcoholic Butterbeer is not one of them.
Why?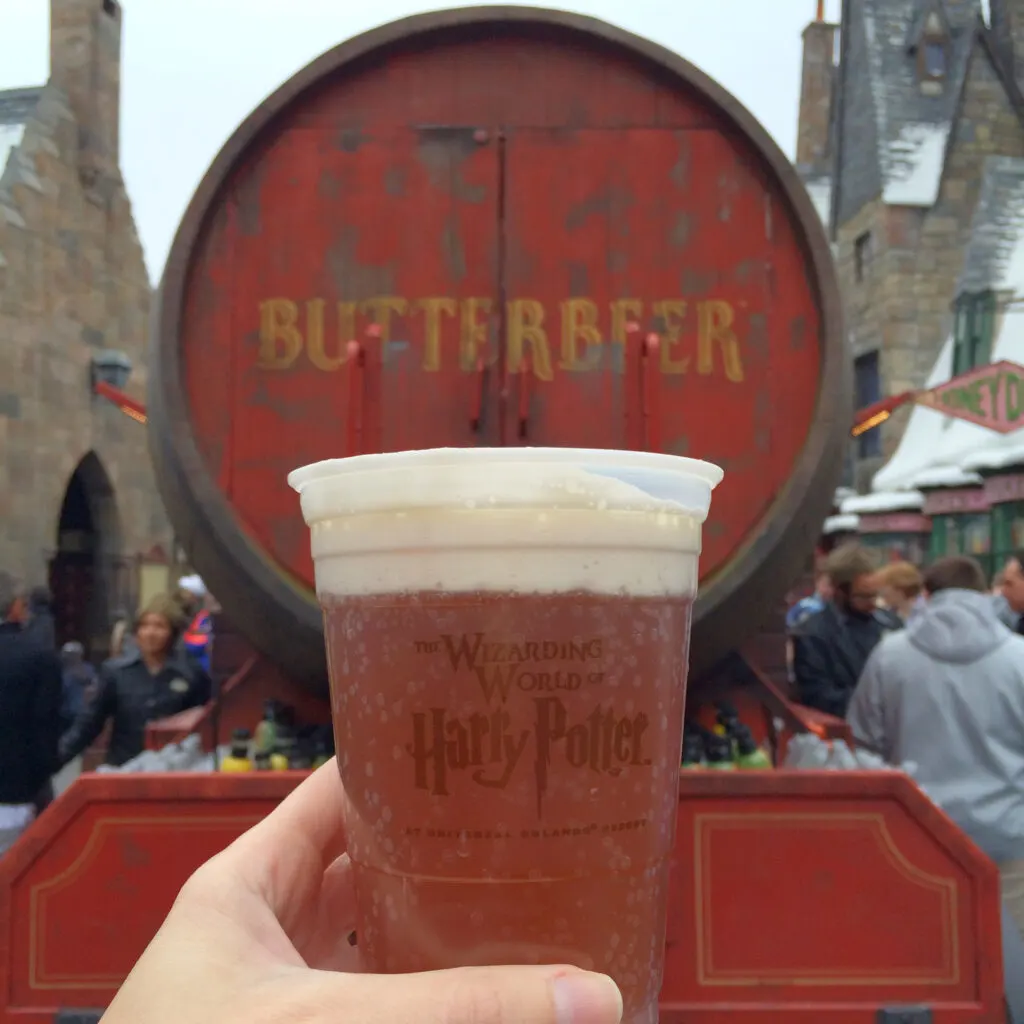 Butterbeer is a licensed drink and heavily regulated by Warner Bros. The recipe cannot be modified by adding alcohol for sale at Universal Studios.
If you are looking for alcoholic Butterbeer, you can make your own at the theme parks, according to frequent visitors. Purchase Butterbeer separately (frozen butterbeer is among the best for this).
Then go to Hogsmeade bar and buy a shot of fire whiskey. Then walk away from the bar.
Once you are not at the bar, you can combine your drinks however you choose. The official Universal policy is that the bartenders cannot mix alcohol into your Butterbeer and they cannot see you do it at the bar or in front of them.
What is the Age for Drinking at Universal?
The United States minimum age for legally consuming alcohol is 21 years old. All bars and restaurants throughout the U.S., including at Universal Studios, abide by this rule.
It does not matter if you come from a different country where the legal drinking age is lower. In America, you need to abide by the country's drinking laws, regardless of your citizenship.
How Do I Prove My Age for Buying Alcohol?
Americans are familiar with the process of showing ID when asked by a bartender for proof of age.
If you look like you could be around 21 years of age, you will definitely be asked for your ID.
Some bars and restaurants have policies that they will ask for your ID if you appear to be 35 years of age (or another age they choose) or less. Even if it is clear that you are older than 21 years old, with the wrinkles to prove it, you could be required to provide ID before being allowed to purchase alcohol.
It is always wise to bring your ID with you, regardless of your age, when you are buying alcohol.
Valid proof of age can be shown with these types of IDs:
Driver's license
Government issued ID
State ID (not a driver's license)
Passport
Can You Bring Alcohol Into Universal Studios?
No, you cannot bring your own alcohol into Universal Studios' theme parks.
While it is tempting to bring your own beer or alcohol to save money on the overpriced drinks at the theme parks, it is not allowed.
According to Universal Studios' Policies for both Orlando and Hollywood theme parks, alcohol is prohibited, as well as open containers or drinks containing alcohol.
Before entering Universal Studios theme parks or CityWalk, you will need to pass through Security. At these security screenings, any liquid thought to be alcohol can be investigated.
If your alcohol is caught, you will be required to dispose of it (not by drinking it, by the way) or leave property.
You cannot bring alcohol from Universal CityWalk into one of the Universal Studios theme parks! You must finish your alcoholic drink before entering a Universal Studios theme park, even if it was bought at Universal CityWalk after passing through security.
However, you will be able to bring food into Universal Studios and non-alcoholic drinks.
Related Posts:
Can I Bring Alcohol to Universal Hotels?
If you are staying at one of the official Universal Studios hotels in Orlando, you might be wondering if you can bring your own alcohol to consume in your room or at the resort.
Yes, you can bring your own alcohol if you are staying at a Universal hotel.
You can also have alcohol delivered to your hotel at Universal Studios in Orlando. Use a grocery delivery service to have beer, wine or alcohol delivered to you at the hotel. You will need to be available to meet the driver and show proof of ID before they leave your order with you.
Some of the grocery delivery services that will bring alcohol to your hotel include:
If you are staying at a different hotel near Universal, you will need to ask about their policy.