If you want to escape the heat at Universal Orlando theme parks, the best way is to enjoy one of their many water rides! Not only do you get to enjoy a fun attraction, but you can cool off and stop sweating for a few hours!
We've put together a list of the best water rides at Universal Studios and Islands of Adventure in Orlando. We have also added a list of the water play areas, too, which are great for small kids in your family.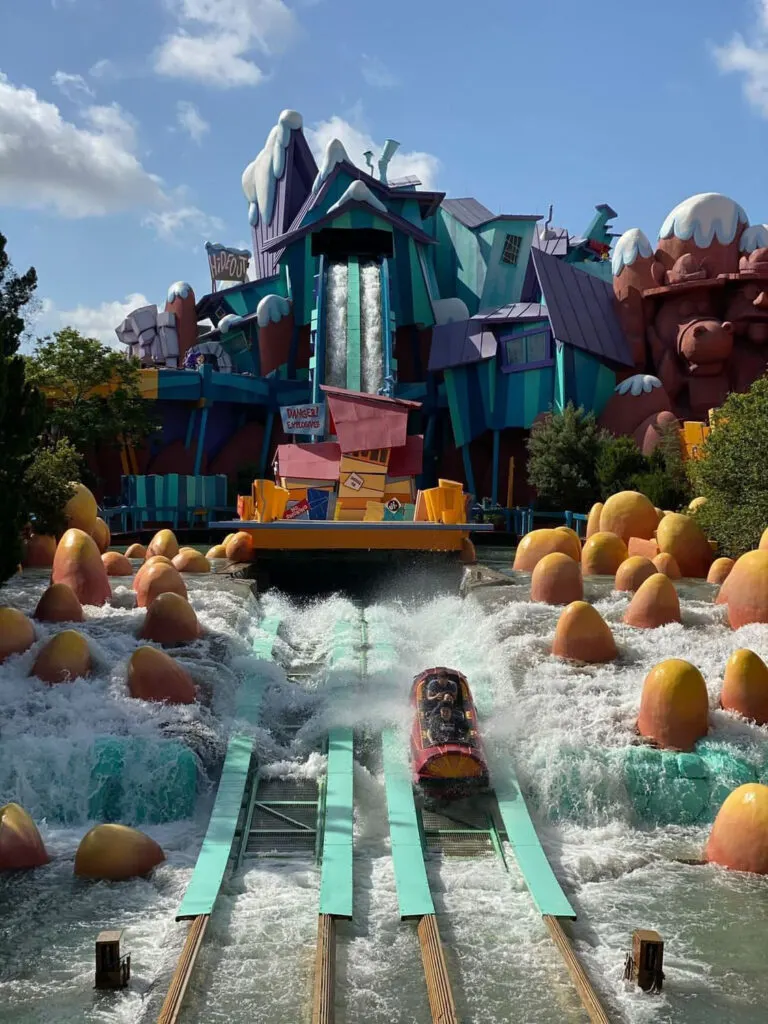 How Many Water Rides Are at Universal Orlando?
Universal Orlando Resort has two theme parks, Universal Studios and Islands of Adventure. There is also a water park, Volcano Bay, which is considered a third theme park.
We are going to focus on the two theme park's water rides since all of Volcano Bay is water rides and being in the pools.
There are three water rides and four water play areas throughout Universal Orlando.
Some rides have height requirements, so be sure to check the minimum heights that might be required.
You might also be interested in our guide of the worst Universal Studios Orlando rides for motion sickness.
Be sure to see our guide to the best waterproof fanny packs to protect your phone and valuables on the rides.
Universal Studios Water Rides
In Universal Studios, there is no longer any water play areas as of January 2023. The children's water play areas were closed on January 15, 2023 to make room for new attractions.
We have kept these descriptions below as an archive of what was available.
Curious George Goes to Town (NOW CLOSED)
In this kid's play area, children enter the cartoon land and have fun playing with water elements such as pumps and hoses. This isn't a ride, but it is a fun playground where young kids and their parents can get wet.
Location: Woody Woodpecker's KidZone
Height Requirement: None
Fievel's Playland (NOW CLOSED)
This play land is filled with oversized props from the movies An American Tail and Fievel Goes West. Even if your children haven't seen these movies, they will still have fun with the larger-than-life playground with rope bridges and a 30-foot spider web.
Fievel's Playland has dry places to play, as well as a water play area. To cool off from the heat, have your kids go to the 1,000 gallon cowboy hat filled with water, or have fun going down the 200-foot slide.
Location: Woody Woodpecker's KidZone
Height Requirement: None
Islands of Adventure Water Rides
For the best water rides, head to Islands of Adventure theme park. This is where you will find the rides best for kids and adults, that will soak you while you are enjoying a fun ride.
There are three water rides in Islands of Adventure.
There are also four water play lands. For kids that do not meet the height requirement for the ride, there are observation areas where they can watch the boats and still get soaked by the splashing from the ride.
Dudley Do-Right's Ripsaw Falls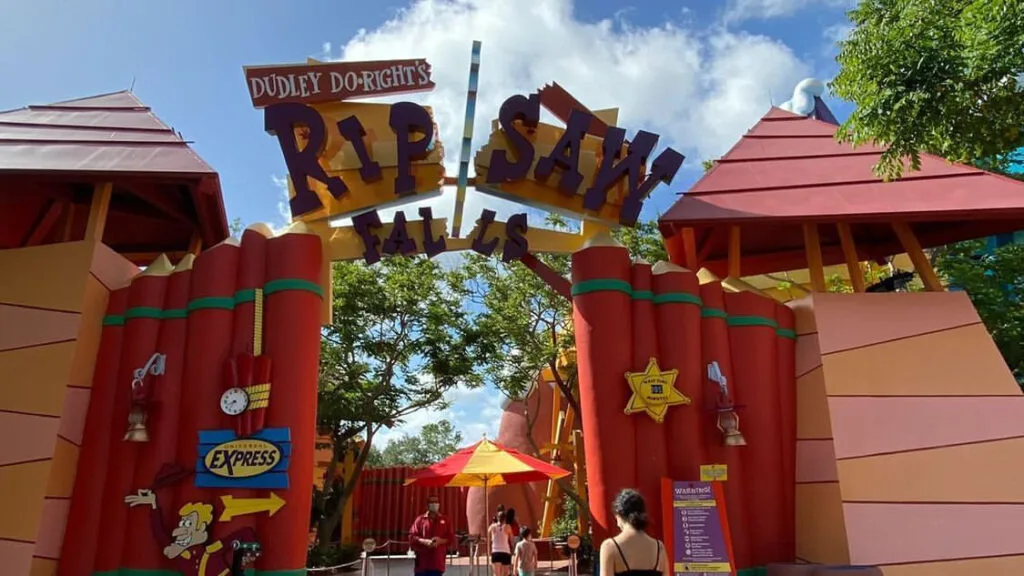 This is not just a water slide! This thrilling attraction is part roller coaster, part water flume. The 75-foot drop can be scary for younger kids, as well as some adults! For the most thrilling water ride in all of Universal Studios, do Dudley Do-Right's Ripsaw Falls!
Location: Toon Lagoon
Height Requirement: 44″
Express Pass Offered? Yes
Consider watching the Dudley Do-Right movie, as well as some more of these movies to watch before going to Universal Studios so that the story makes sense when you are there!
Jurassic Park River Adventure
You'll be on an adventure ride through Jurassic Park to escape a T-Rex chasing you. With 1.5 million gallons of water in the attraction, the 85-foot drop is guaranteed to get you wet! Let's be honest, it's going to get you soaked!
Fun fact: The 85-foot drop of Jurassic Park River Adventure was the largest theme park water descent ever built at the time.
Don't get this water ride confused with the Jurassic World VelociCoaster ride.
Location: Jurassic Park
Height Requirement: 42″
Express Pass Offered? Yes
Popeye and Bluto's Bilge-Rat Barges
If you're looking for a tame water ride without the long waits, then Popeye and Bluto's Bilge-Rat Barges might be best for you! This attraction is not as scary as the other two water rides in Islands of Adventure. The cartoon characters make it better for younger children, and there isn't a huge drop to scare kids and adults.
Though this might seem to be the most tame ride, it is actually the ride that will get you most wet! In fact, you will probably get soaked on Popeye and Bluto's Bilge-Rat Barges!
There is a center compartment on this ride that you can put your belongings in to stay dry.
You can get wet in many ways on this ride. Not only will you be splashed, but there are also water cannons shooting at you from Me Ship, The Olive.
Location: Toon Lagoon
Height Requirement: 42″
Express Pass Offered? Yes
Toon Lagoon
Two of the water rides are located in Toon Lagoon. Those rides do have minimum height requirements. For the younger children, check out the water play land areas in Toon Lagoon. These splash pads and fountains are perfect for cooling off and getting wet without a scary ride.
Location: Toon Lagoon
Height Requirement: None
The Mystic Fountain
This fountain will speak to guests talking to it. It also will spray water at you!
Location: The Lost Continent
Height Requirement: None
One Fish, Two Fish, Red Fish, Blue Fish
This ride for children has some water elements to it. Similar to the Dumbo ride at Walt Disney World, you will need to pay attention to maneuver your fish out of the way of the spraying water fountains.
Location: Seuss Landing
Height Requirement: None
If I Ran the Zoo
A wet play area is part of this imaginative play area inspired by a Dr. Seuss book.
Location: Seuss Landing
Height Requirement: None
Water rides are so much fun, but sometimes you really need to protect your belongings and make sure you are not walking around in wet shoes and clothes all day. You will get wet on these rides, so be prepared! These helpful tips will keep you and your belongings dry while you enjoy the rides.
Related Post: If you love water parks, stay at one of these Orlando hotels with a lazy river!
Best Shoes for Water Rides
Your feet will get wet on water rides! So you need to choose the appropriate shoes to wear.
Proper footwear is just one of the 40 things you must know before going to Universal Studios. Be sure to see our entire list of tips and tricks for the theme parks.
How to Keep Your Shoes From Getting Wet
You are not allowed to take your shoes off in the queue of a water ride line or on the attraction itself. Universal does not allow you to be barefoot on the attraction or while walking for safety reasons.
If you don't want to bring extra shoes or buy special shoes for the water rides, consider these tricks for keeping your shoes dry.
Related Post: How to Pool Hop at Universal Orlando Hotels
How to Keep Your Clothes From Getting Wet
Let's face it, you will get wet on these water rides! Walking around in wet clothes, even on a hot day, is no fun. Especially if you go into air-conditioned restaurants, shops or attraction lines afterwards. You will be cold and shivering if you aren't dry.
These tips will help you stay comfortable during your day after enjoying water rides.
If you are worried about getting soaked on the water rides, you can schedule your day around these attractions for less worry. Here are some great ideas:
How to Keep Your Phone, Camera and Belongings Dry
While wet shoes and clothing can be miserable to wear all day, it will be okay. However, getting your phone or camera wet on a water ride can damage your devices and cause a lot of expense to fix or replace them.
Sometimes the rides have dry compartments to help keep your belongings safe, such as the middle compartment on the Popeye ride. However, those compartments aren't guaranteed to stay dry. And if there is water inside the compartment once you are on the ride, you don't have any other option to keep your tech devices dry.
Here are some helpful tips for protecting your belongings on water rides:
Universal Lockers
Using lockers by the water rides at Universal is an easy way to keep all of your belongings, including your phone and cameras, safe and dry.
Universal Orlando offers lockers throughout its theme parks. They are available by the water rides.
There are time limits on the lockers. While you can keep your belongings in a locker for an hour, after the hour the doors will automatically unlock. Universal Guest Service members are usually located by the lockers keeping an eye on things, but keep this in mind.
If you want to have a locker for more than just an hour or so, consider paying for full-day lockers at the front of the theme park. However, these lockers will be far from the attractions and you will need to walk across the theme park to get your dry clothes or other belongings.
Now that you know all about Universal's water rides, see our Guide to Planning a Universal Orlando Vacation.