When you travel to Universal Orlando and you're trying to stay on a budget, the easiest way to cut expenses is to save on food. You can save on Universal Orlando food prices by using these simple money saving hacks.
Whether you are trying to stay on budget, or you just like to have the most value for the money that you spend, these tips to save money on Universal Orlando food prices will keep you on the right track.
You might also like these 40 Universal Studios Tips and Tricks, too! They can help you save time and money on lodging, tickets and souvenirs.
And you can use those savings to indulge in Butterbeer or get one of these best things to buy at Universal Studios!
Related: Get one of these lanyards before going to Universal to keep your tickets, passes, money and credit cards safe and easy to get to without hassle.
Bring Your Own Food into Universal Studios
Can you take food into Universal Studios Orlando?
Yes, you can!
The best way to eat cheap when you go to Universal is to pack food to bring into the parks. Bring your own drinks and snacks in a backpack so you can satisfy your hunger without paying theme park prices.
Bringing food into Universal Orlando is allowed. You can bring snacks and water (up to 2 liters) into the park.
Insulated bags are allowed that are no bigger than 8.5″ x 6″ x 6″. That's pretty small, so consider this soft cooler than can be squished down to the right size and completely fold down when not in use.
Soft drinks are allowed, but alcohol is not.
You are also permitted to bring food for special diets and medical purposes as well as baby food and formula.
Keep in mind you cannot bring glass containers. And you cannot bring hard sided coolers.
Check out our Universal Orlando Vacation Planning Guide for more tips about visiting the resort.
Eat Outside of the Theme Park
One of the best things about where Universal Orlando Resort is located is that it is so close to major areas where Orlando locals eat and live.
I say this from experience! I used to live less than 2 miles from Universal Orlando Resort. In fact, we walked to Universal Orlando during our daily exercise walks. So, yeah, I know the area well!
In general, eating outside of the theme parks is a better way to go for Universal Orlando food savings. You can get a lot of great quality food off of Universal Orlando property and get a better value.
Since it is easy to re-enter Universal Studios if you have left during the day, you can save a lot of money by going to get a meal somewhere else and returning later on in the day.
You can even eat in your hotel room for breakfast before you leave to spend a day in the parks. Here's our guide to hotels at Universal Studios Orlando, many of which have kitchenettes.
Depending on your accommodations, you may have the appliances needed to cook up something bought at a local supermarket. That's why we loved staying at Universal's Cabana Bay Resort, which has a microwave, refrigerator, and more.
Close by to Universal Orlando is Sand Lake Road, considered Restaurant Row by all Orlando residents. All of the chain restaurants can be found on Sand Lake Road, from budget restaurants to high end restaurants.
If you have a car, drive to Sand Lake Road for meals. Or even Uber (it was around $11 or so).
Dr. Phillips is also another MAJOR road just a few blocks from Universal Studios Orlando. (Dr. Phillips and Sand Lake Road intersect.) You'll find two Publix supermarkets in the area, along with CVS, Walgreens and tons of shopping and dining.
One of the best deals is to get Happy Hour at Morton's in the Dr. Phillips Plaza. You'll spend way less money but have a really great time!
Quick Service
If you want to buy food in the parks at Universal, but you still want to save money, you can do so by eating at quick service locations.
Quick service locations are what's considered fast food outside of theme parks. However, quick service locations inside theme parks are usually really well themed, with much nicer food!
(Check out these amazing 10 quick service restaurants at Walt Disney World, too.)
You can customize meals a lot more at quick service restaurants in order to save money. You can order from the kids menu without a problem. Prices are generally a lot lower than their table service counter parts.
And ask if you can leave off a side and get a discount. Sometimes you can skip the fries or fruit cup and get a reduced meal cost.
Use the Mobile Ordering app to save time when ordering food, and a great way to get kids meals!
Plus, without a server, you don't have to pay the additional tip. All of those extra costs add up, so quick service meals can save you money. (This is also a way to save money on food at Disney World.)
Another quick service deal to take advantage of is refillable drinks and popcorn in the parks when you buy a refillable bucket or a souvenir cup. With a $5.99 purchase of a bucket refills are just $.99 each. This is awesome for sharing!
These quick and easy places to eat are also where you will find some of the best coffee at Universal.
On our list of best dining at Universal Orlando, there are quite a few quick service restaurants along with the nicest sit down restaurants! Just because it's quick food doesn't mean that it is not among the best food!
Universal Studios Food Prices
To get an idea of how much food will cost at Universal Studios quick service restaurants, we took these photos of menus and prices in June 2023.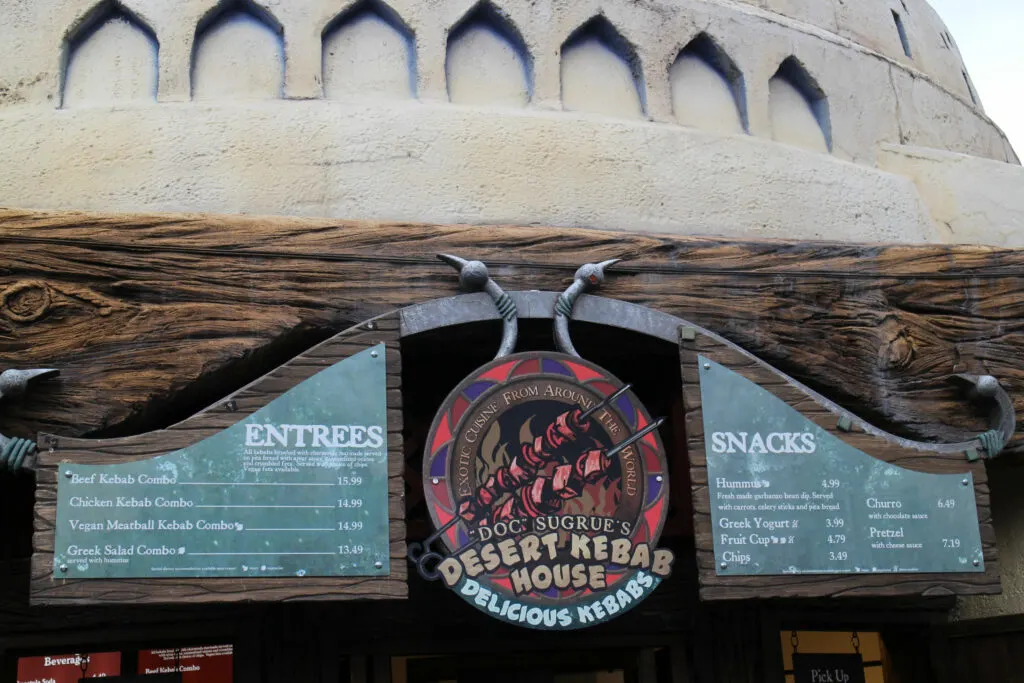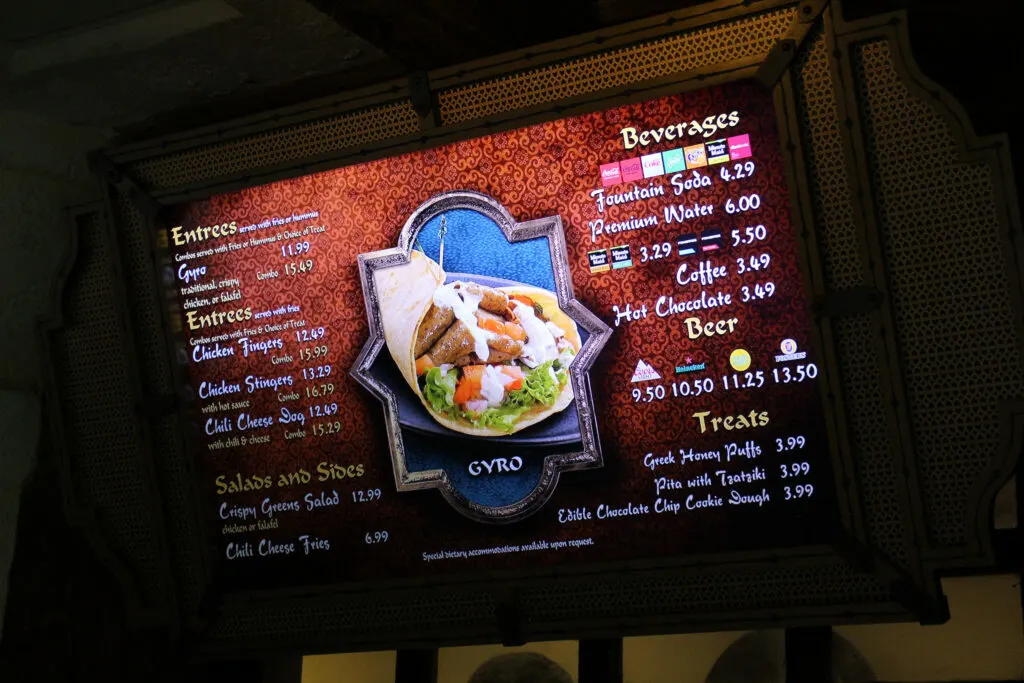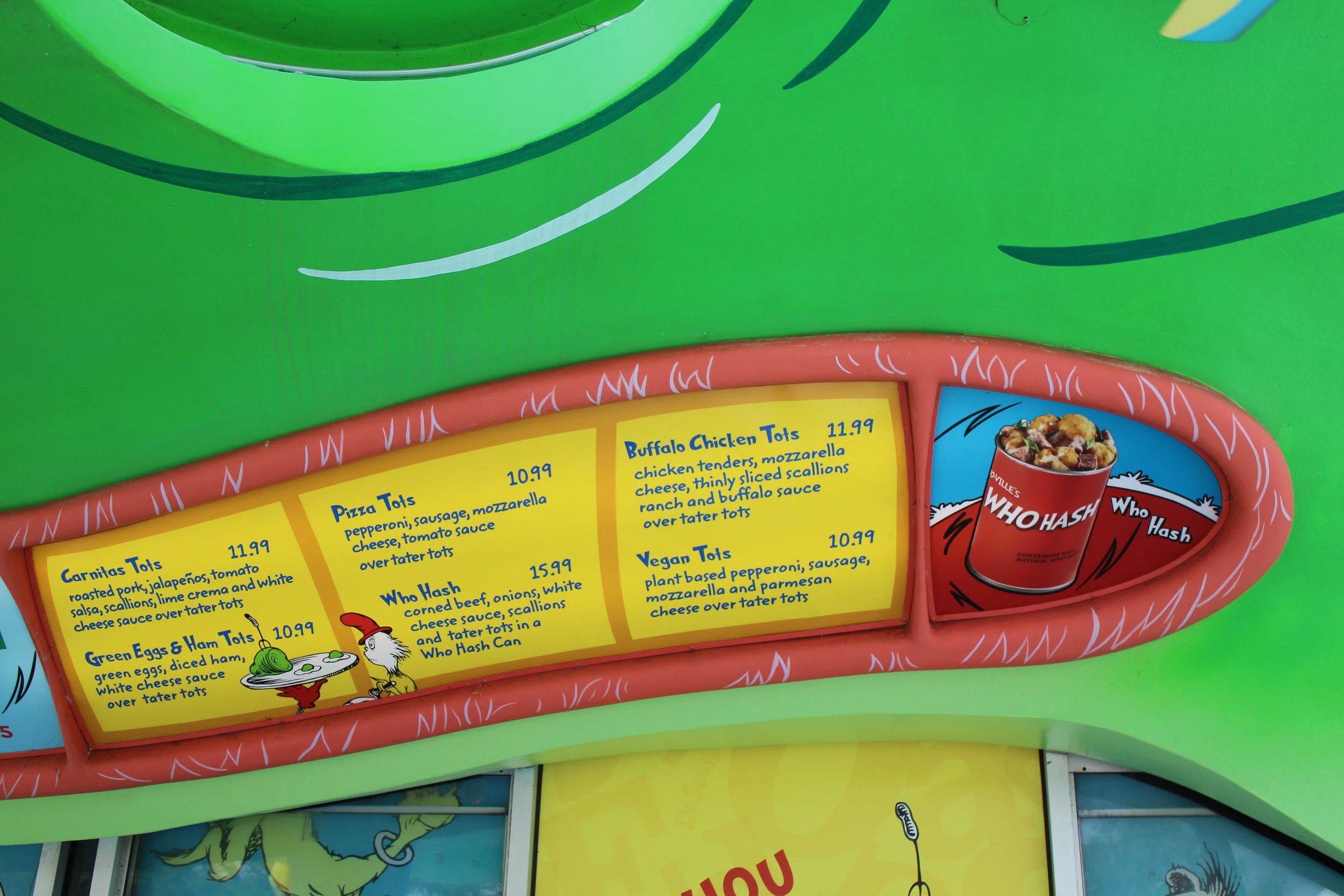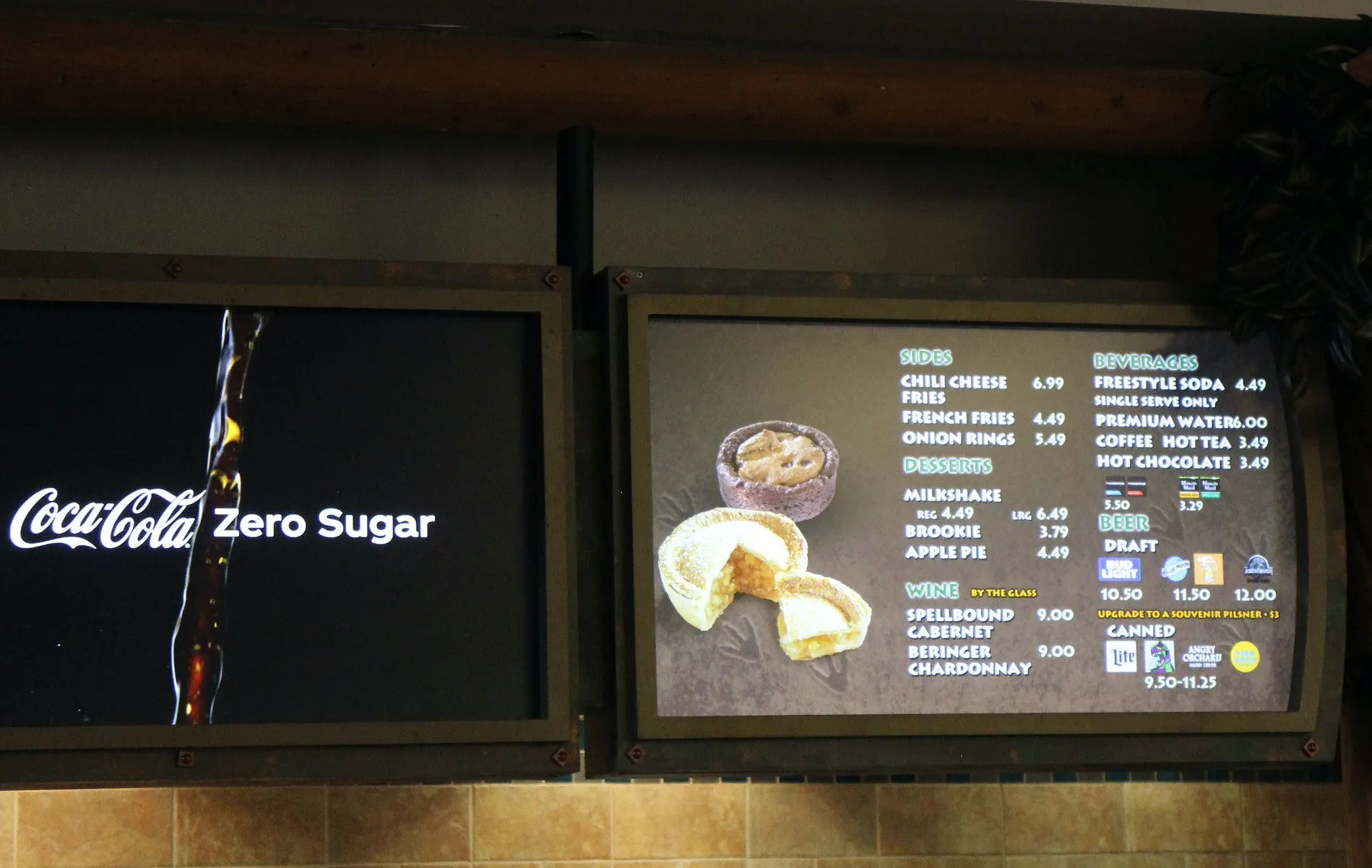 Share Entrees
Some of the meals at theme park restaurants are so huge that it's more than one person should eat at a time! Order just one meal for two adults and see if it's enough food.
If not, you can then order another side or a fun snack instead of a full-price entree.
At the restaurants in Harry Potter world, some of the entrees are meant to be shared between 2-4 guests. But that doesn't mean that they are inexpensive!
Use Specialty Food and Beverage Cards
During the Mardi Gras celebration at Universal Studios Orlando, you can buy Food and Beverage Cards at a discount.
In 2023, a $75 Food and Beverage Card cost $65. That's getting $10 of food or drink free!
For Annual Passholders, a $150 card cost $120. That is getting $30 of food and drink free!
Use the All You Can Drink Plan
While Universal's All You Can Eat Dining Plans have been eliminated in 2022, there is still an all-you-can-drink option for fountain drinks and icees.
You pay one price for each day of using the refillable cup, and can get a free drink every 10 minutes during the day.
Drink Water
Paying for drinks can be a big expense for a family. We suggest bringing a reusable water bottle and taking advantage of all of the free water locations at Universal.
If you want to add flavor, you could buy an inexpensive pack of flavor enhancers for the water and still save a ton of money. Each packet is just pennies per serving! (See the fun flavor options on Walmart and Amazon.)
Discounts
Whether you want to just spend as little as possible, or you want to save a few dollars on your dining experiences, it always makes sense to take advantage of the discounts offered on dining at Universal Orlando.
There are a few ways to save up to 15% on your dining costs.
Showing your AAA membership card can save you 10% at some locations.
Using a Universal Studios Orlando annual pass can save up to 15% on food costs, depending on which type of pass you have.
You may even get coupons at your hotel for dining in the park, if you stay at a Universal partner hotel. Another bonus is that Universal partner hotels offer complimentary shuttles to Universal, as well.
Get Free Parking
Universal CityWalk has lots of great restaurants. However, you might add on a parking fee to your meal if you don't visit at the right time!
Our tips for getting free parking at Universal CityWalk include going at night, when there is no parking fee.
An early dinner could still get charged a hefty $27 parking fee, though, so be sure to see all of the ways to avoid the fee before deciding to visit CityWalk for a meal.
Buy Gift Cards
Some restaurants at Universal Studios are owned by national brands that are not a part of Universal Studios ownership.
For instance, Cinnabon is one of the best places to get breakfast at Universal CityWalk. It is a chain that is independent from Universal Studios.
At Sam's Club, I found discounted gift cards for Cinnabon that save a little bit of money. They also have Starbucks gift cards.
Landry's is another restaurant chain that has locations at Universal Studios. You can find considerable savings on Landry's gift cards at Sam's Club.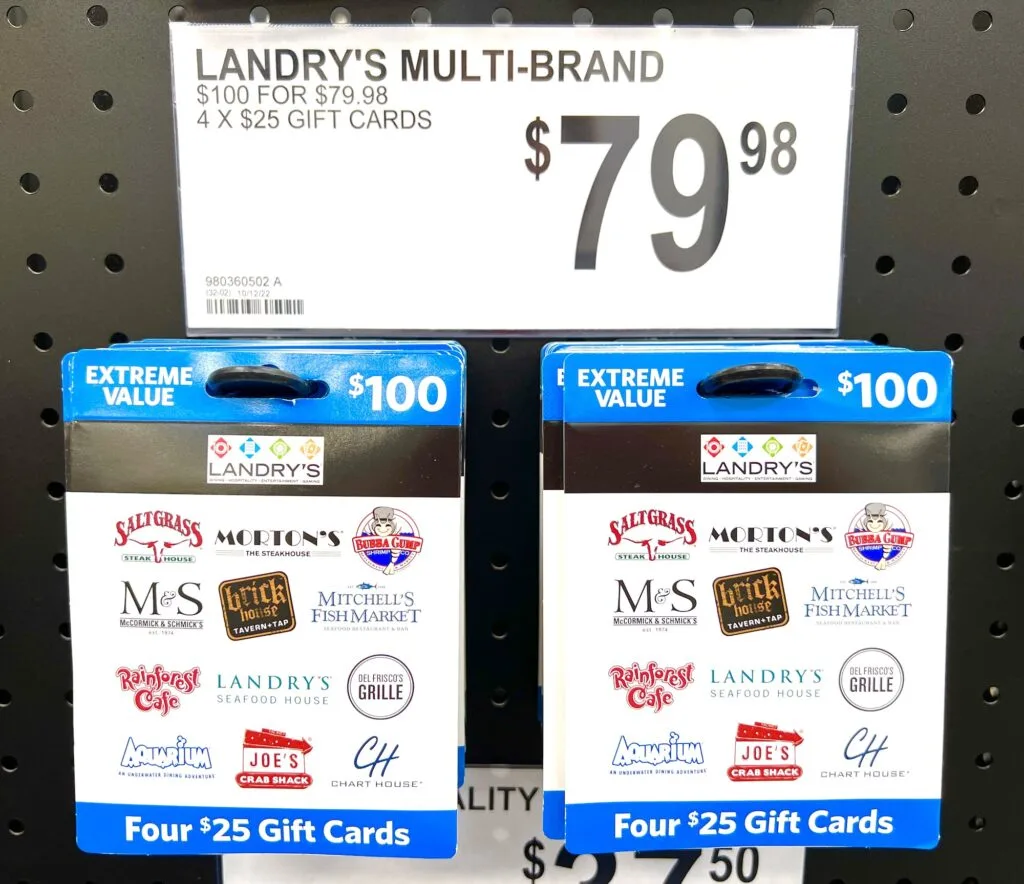 Bubba Gump Shrimp Co. is a Landry's restaurant at Universal CityWalk in both Orlando and Hollywood. Morton's Steakhouse has a location just a couple miles from Universal Orlando that is easy to get to from the theme park.
Interested in buying gift cards at Sam's Club? If you are a new member, use our referral link to get a free $20 eGiftCard to Sam's Club when you join!
(We'll get a little something, too, at no cost to you, so thank you!!!)
If you buy a discounted gift card for these restaurant brands, you might be able to use them at the theme parks. However, this is a tip that can change according to rules at each restaurant. For instance, I couldn't use a Chili's gift card at the location in the Orlando airport because they don't accept gift cards.
Food is just one of the costs of a Universal vacation. See our complete guide to how much it costs to go to Universal Studios.