The Hard Rock Hotel Orlando might just be one of the coolest hotels in central Florida. Seriously. I'm not a huge music aficionado, and even I'm impressed by the Hard Rock Hotel Orlando. In fact, it's one of my favorite Universal Hotels.
(FYI: Staying here gets you early admission into the Harry Potter lands at Universal Studios Orlando Resort, and you NEED that! Be sure to see our Ultimate Guide to Universal Studios Orlando for more helpful tips. )
First of all, it's not kitschy or over the top with trendy pop culutre, as I was expecting before my very first stay. That being said, there's music references everywhere. Somehow, the Hard Rock Hotel Orlando manages to weave music lyrics and musical heritage effortlessly through every single facet and design of the resort, yet it never feels forced or tired.
For example, the first thing that you'll see when you arrive at the front of the Hard Rock Hotel Orlando is a fountain outdoors. Look closely, and it's made from guitars.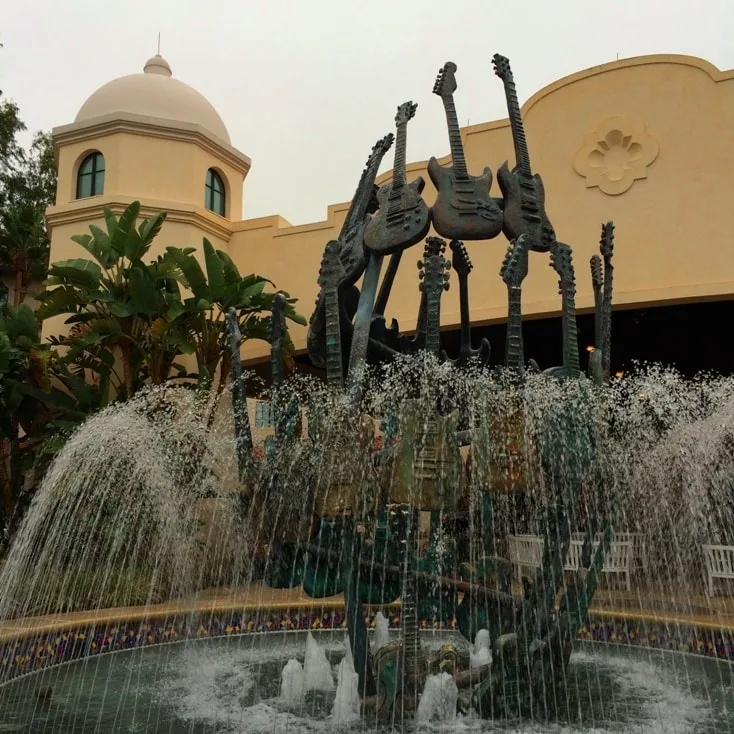 Checking in, the staff were fun and friendly, never making the check-in experience bland or boring.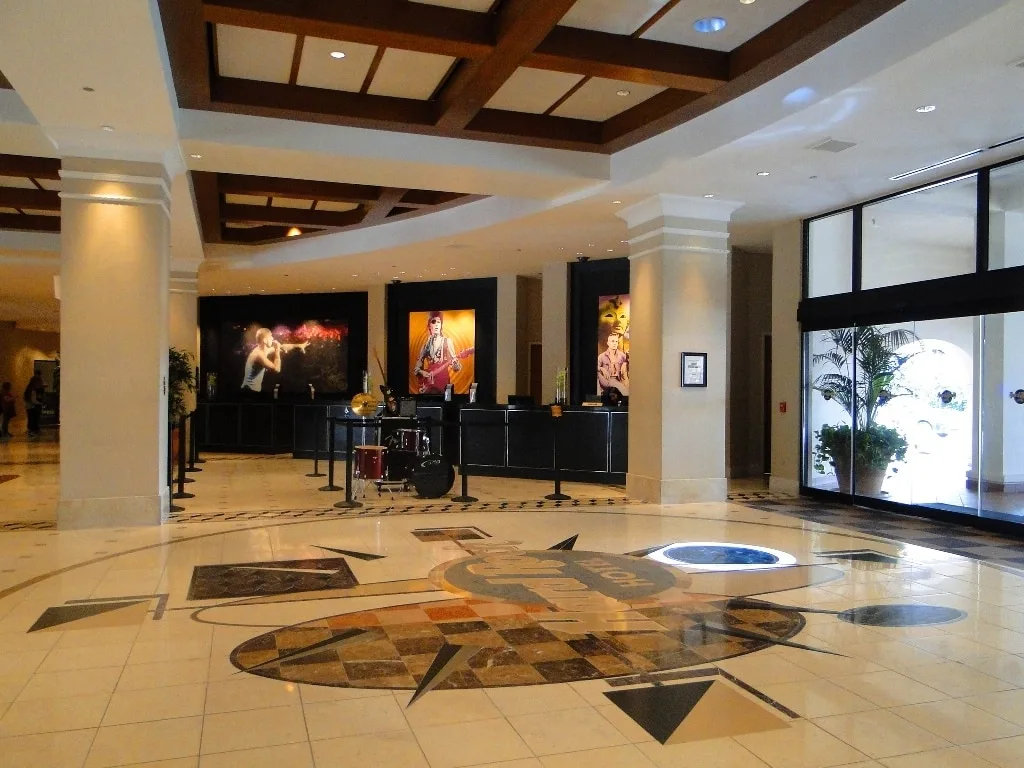 The lobby is a musical wonderland of memorabilia. Elvis is in the building! Seriously, an authentic Elvis jumpsuit is displayed in the lobby, along with other memorabilia. Want to know more? Call the Memorabilia Information Line and you can select from the well-known musicians (Madonna, Spinal Tap, Steven Tyler with Aerosmith) whose memorabilia is displayed in the lobby to learn even more behind the scenes details.
This is just one of the reasons this resort is one of the perfect things for adults to enjoy in Orlando.
Wander throughout the lobby and you'll find signed guitars in the coffee tables, celebrity portraits, and a artful display of musician's famous shoes.
The pool outdoors is expansive and a wonderful retreat for beating the heat when you're not in the Universal Orlando Resort theme parks within walking distance. There's even music that plays underwater!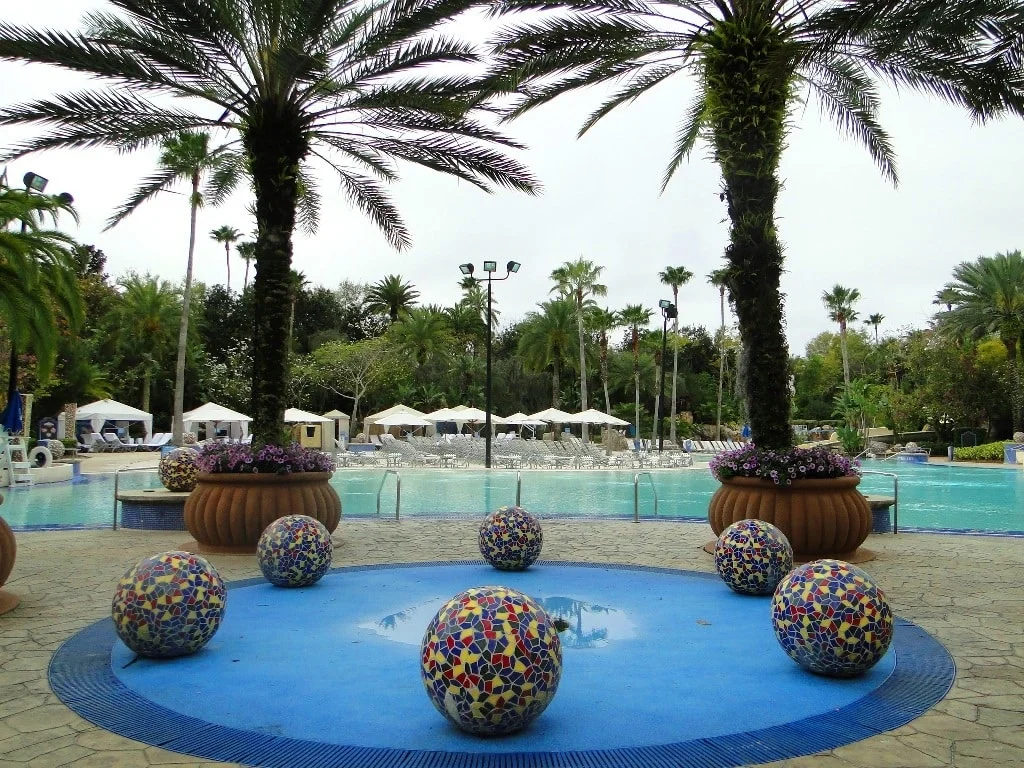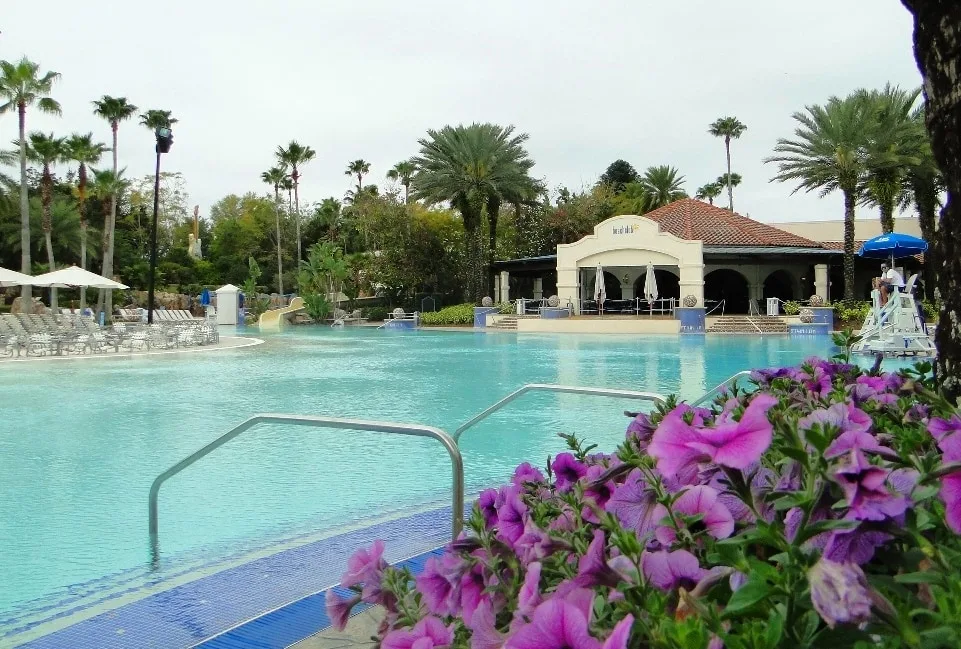 There's musical touches everywhere. The gift shop alone is a treasure trove of unique artwork, as is this unusual saxophone chandelier found outside of a restaurant.
Bonus Tip: The front desk can turn your room key into a guitar pick! Just ask!
The property is just the right size. Not too big or cavernous, with just the right amount of amenities to enjoy. But what about the rooms?
I'm glad you asked! Because the rooms are awesome!
We were blessed to stay on the Rock Royalty level, with concierge service and a dedicated lobby with snacks throughout the day.
The room was chic and modern, and I really liked the décor. Once again, there were plenty of musical touches, but it never got gaudy at any time. This is room 7052.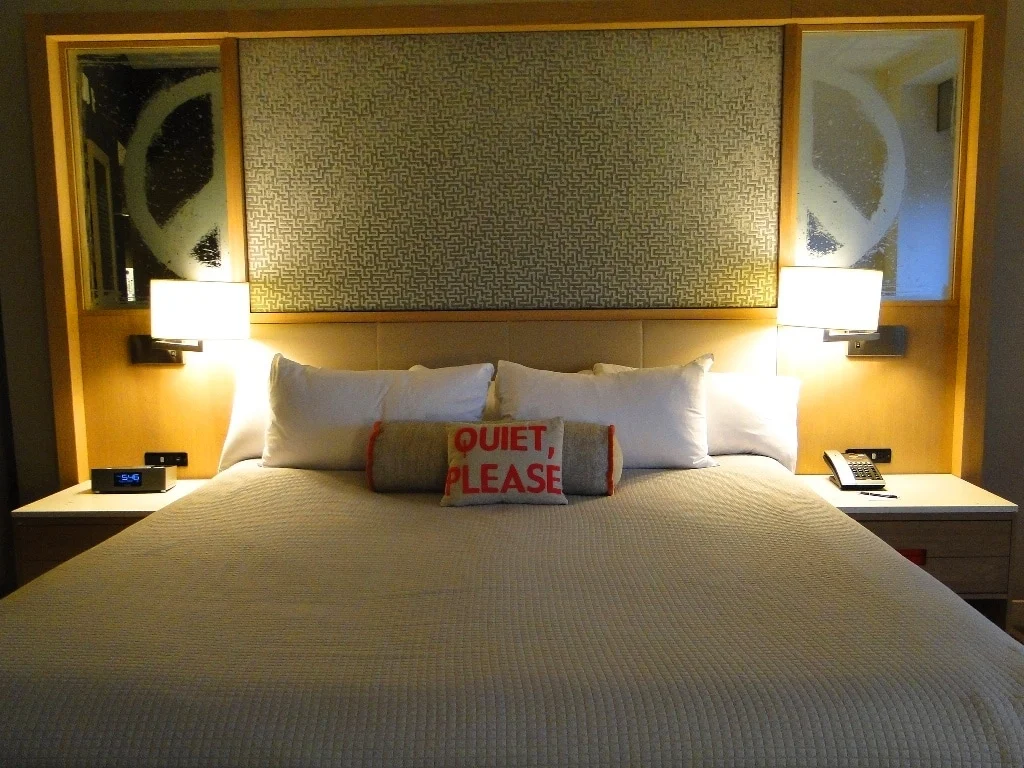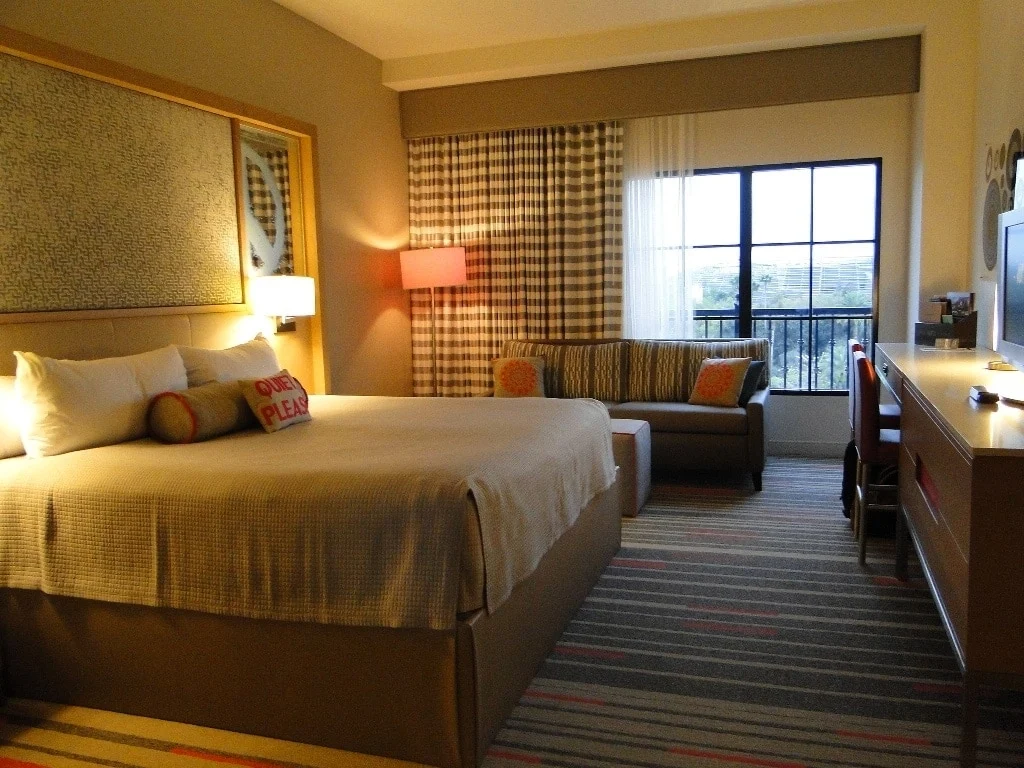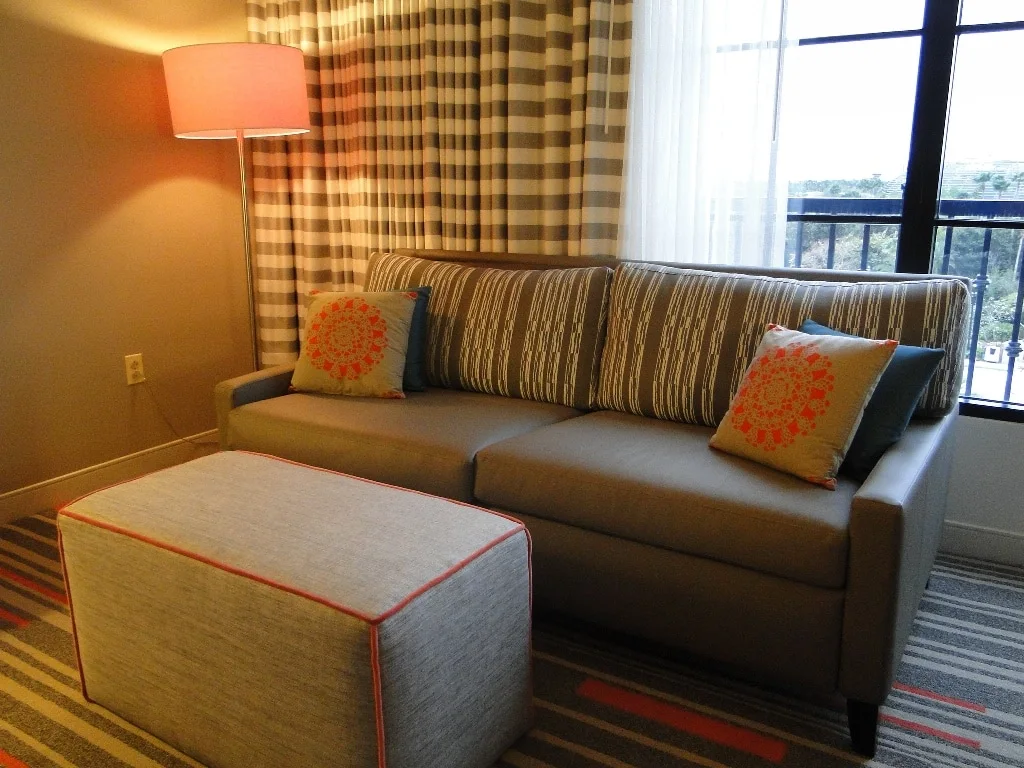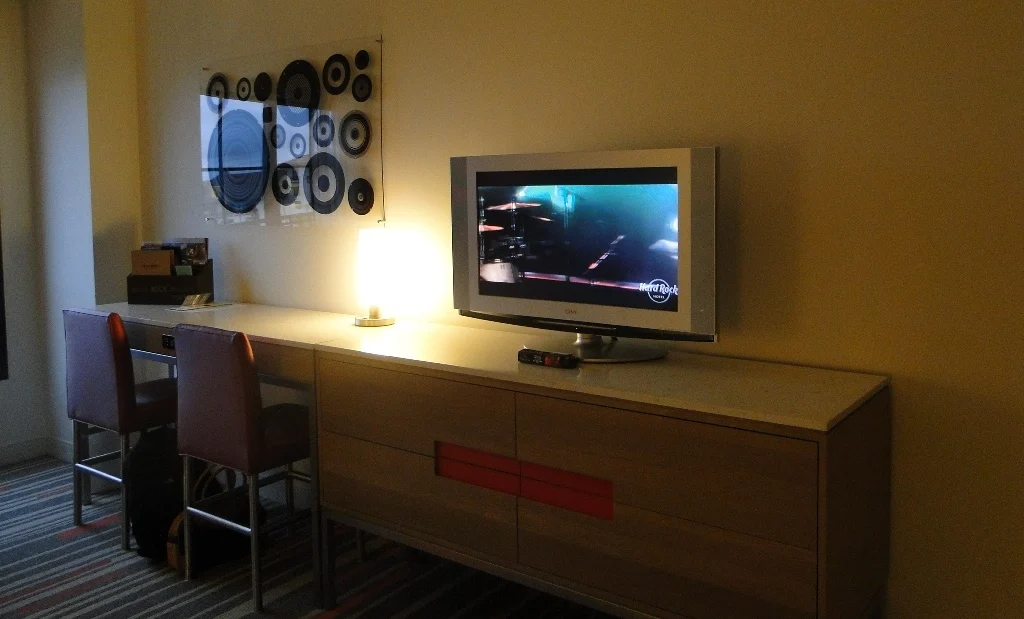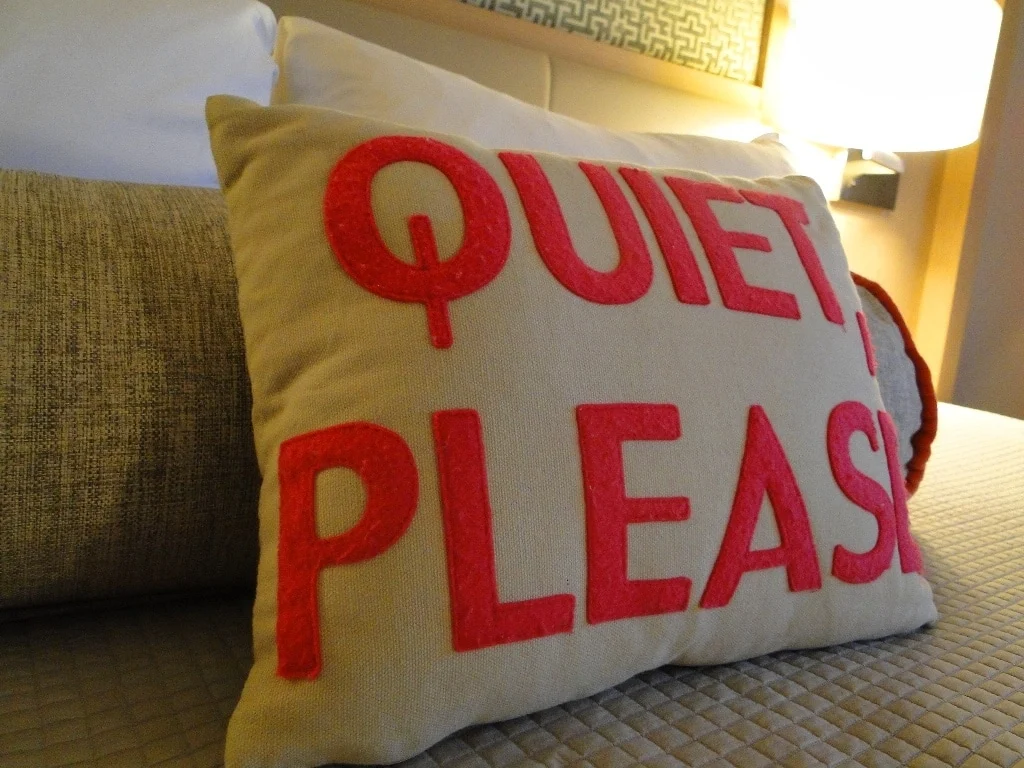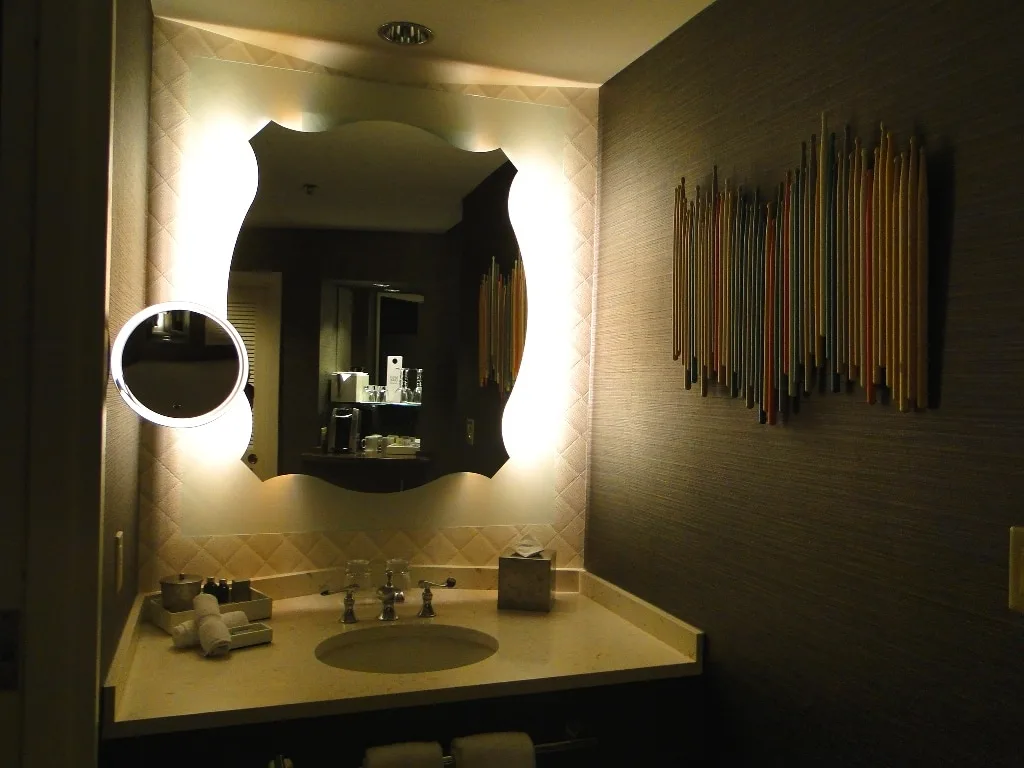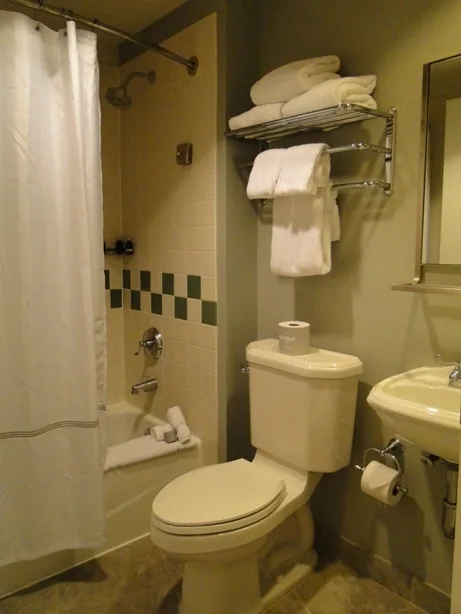 We could see the theme parks from our room, it was such as great view!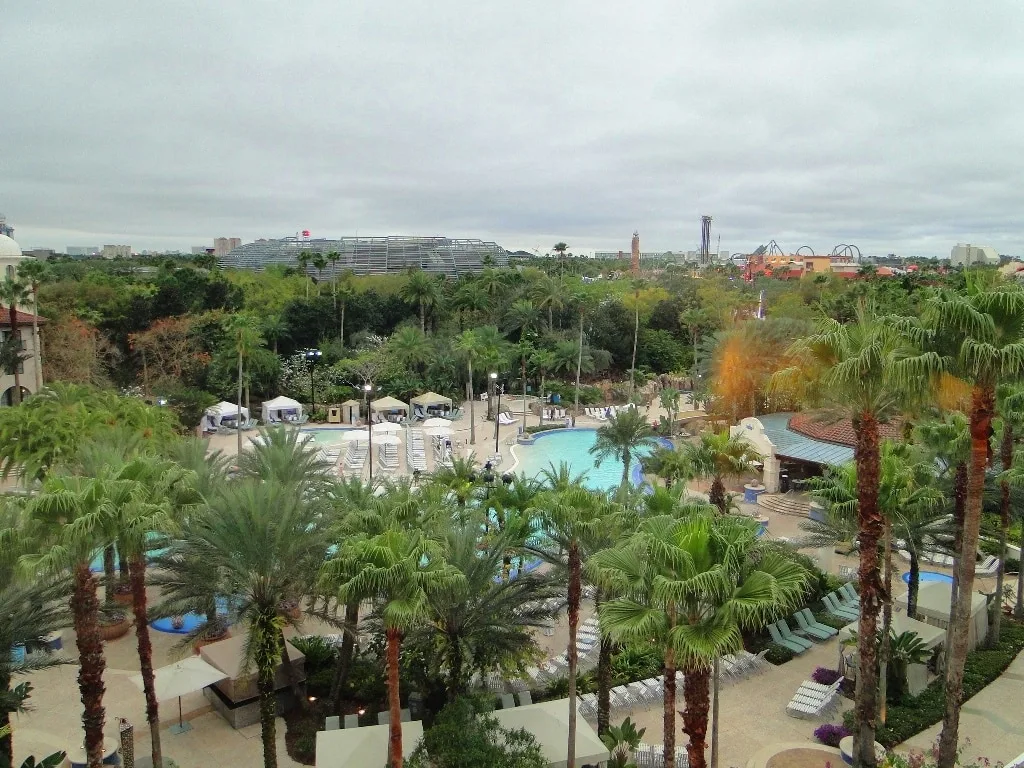 There's a hidden playfulness in the décor of the Hard Rock Hotel Orlando, and I have an appreciation for the interior designers who made the rock star lifestyle theme work.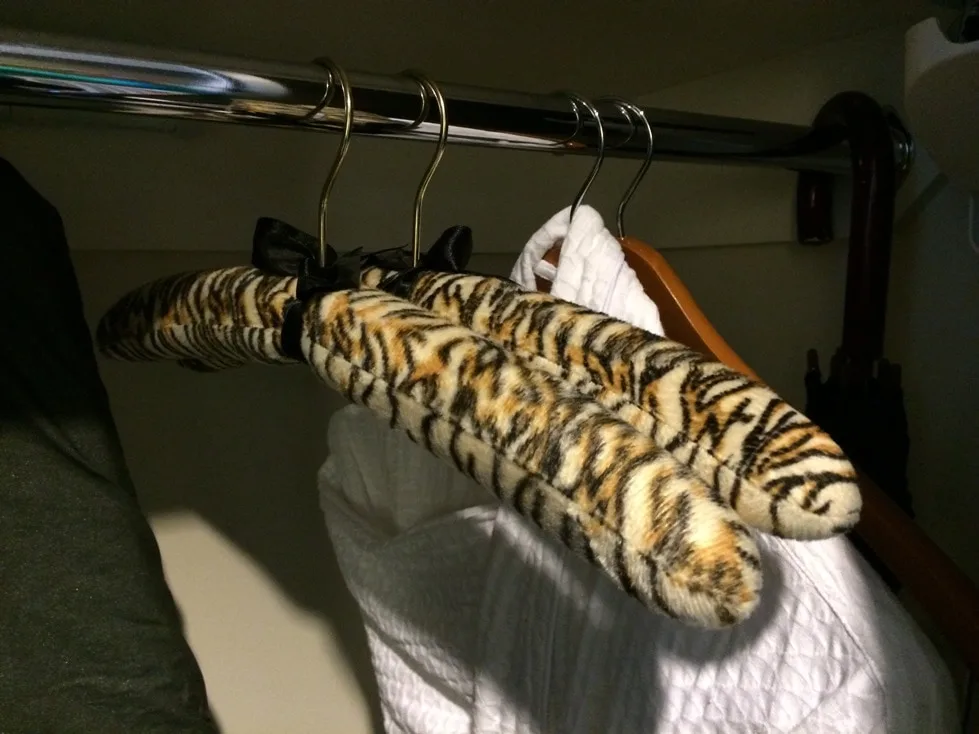 Take, for instance, the mirror with a height chart of celebrities etched on so that you can compare yourself to the height of musicians that you've been singing along to for ages.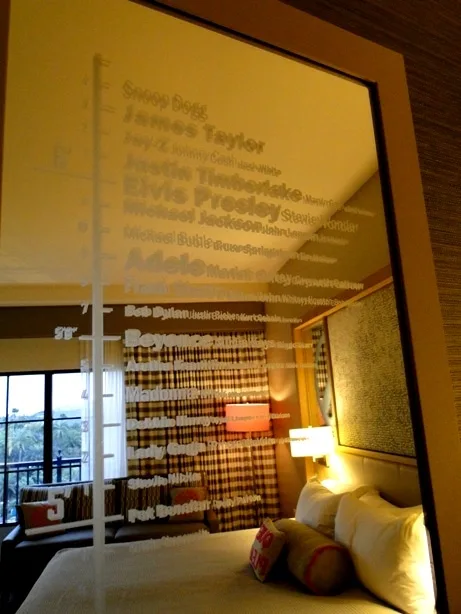 On just about every piece of paper in the room, you'll find music lyrics that correspond to whatever you're looking at, from napkins to a resort map to the Do Not Disturb sign.
In the Rock Royalty Lounge, we enjoyed some light bites before dinner and for breakfast. The lounge was quite busy, and the complimentary bar was definitely the hot place to be, as the drinks disappeared rapidly. The food was pretty good, and there were four serving times throughout the day (Continental Breakfast 7-10 a.m.; Afternoon Recharge (snacks) 12-3 p.m.; Evening Reception (Hors D'Oeuvres) 5-7 p.m.; Bed Time Snacks 8:30-9:30 p.m.).
Want to eat outside of the hotel? Check out our Universal Orlando Dining Guide and helpful tips for how to spend less money on food at Universal Orlando.
I appreciated the fact that they had a dedicated computer for guests in the lounge, as well as newspapers, snack bars and water bottles to grab before heading to Universal Studios for the day. The Rock Royalty Team can assist with dining reservations, directions, park tips and more.
As part of the Rock Royalty Level, there is also free access to the fitness center, and discounts on poolside cabanas.
I only wish that we had known about the unique Sound of Your Stay amenities that comes with your room, including free Fender guitar rental and curated records for your room. I mean, come on, how cool is that!
Interested in other Universal Orlando hotels? Check out our extensive review of Cabana Bay Beach Resort. It's one of our favorites, too!