There are 8 hotels at Universal Studios Orlando that are operated by the theme park resort. With a variety of price ranges, there is a hotel perfect for everyone's budget. While you might find slightly cheaper budget options off of Universal Studios resort property, the benefits of staying at an on-site hotel are worth the extra money for your vacation.
We have visited all of hotels at Universal Studios Orlando countless times while living in Orlando for a decade. Whether visiting for dinner or drinks, meeting friends and family or indulging in a stay-cation with Florida resident rates, we are extremely familiar with the best and the worst of Universal Orlando hotels.
The following is our guide to all of the on-site hotels at Universal Orlando, and how to choose the best one.
A bonus is almost all of them are within walking distance of Universal theme parks.
Universal Studios Hotel Perks
Time is money. And when you are on vacation, you want to enjoy every single minute of your getaway. Choosing to stay on property at Universal Studios Orlando will save you a lot of time in transportation, parking and waiting in attraction lines.
The perks you get with your hotel will vary depending on the category that you choose (there are four different categories, which are described below). Generally, the more expensive the hotel, the greater the perks that you will receive.
The following perks are for every Universal Orlando hotel.
Early Park Admission
All on-site Universal Studios hotels offer guests Early Park Admission to The Wizarding World of Harry Potter and Volcano Bay water park. This means you can enter the Universal Studios theme parks up to an hour before everyone else.
Since The Wizarding World of Harry Potter is one of the most popular destinations at all of Universal Studios Orlando, this perk can save you a lot of time in your day.
This is one of the best tips for saving time at Universal Studios.
Complimentary Transportation
Every hotel offers at least one mode of transportation to get to Universal Citywalk, as well as the two theme parks.
The hotels have shuttle transportation, usually a large bus, that brings guests to the theme parks, CityWalk and the water park, Volcano Bay.
Some hotels offer a free water taxi shuttle to get to Universal CityWalk. From there, you can easily walk to the two theme parks. These hotels include Sapphire Falls Resort, Royal Pacific Resort, Hard Rock Hotel and Portofino Bay Hotel.
If you are not staying at a resort on the lagoon (such as Universal's Aventura or Cabana Bay Resort), you can walk to any of the hotels and use their water taxi service. Or, you can get on a water taxi at Universal CityWalk and take the water shuttle to the nearest resort close to your hotel and walk back from there.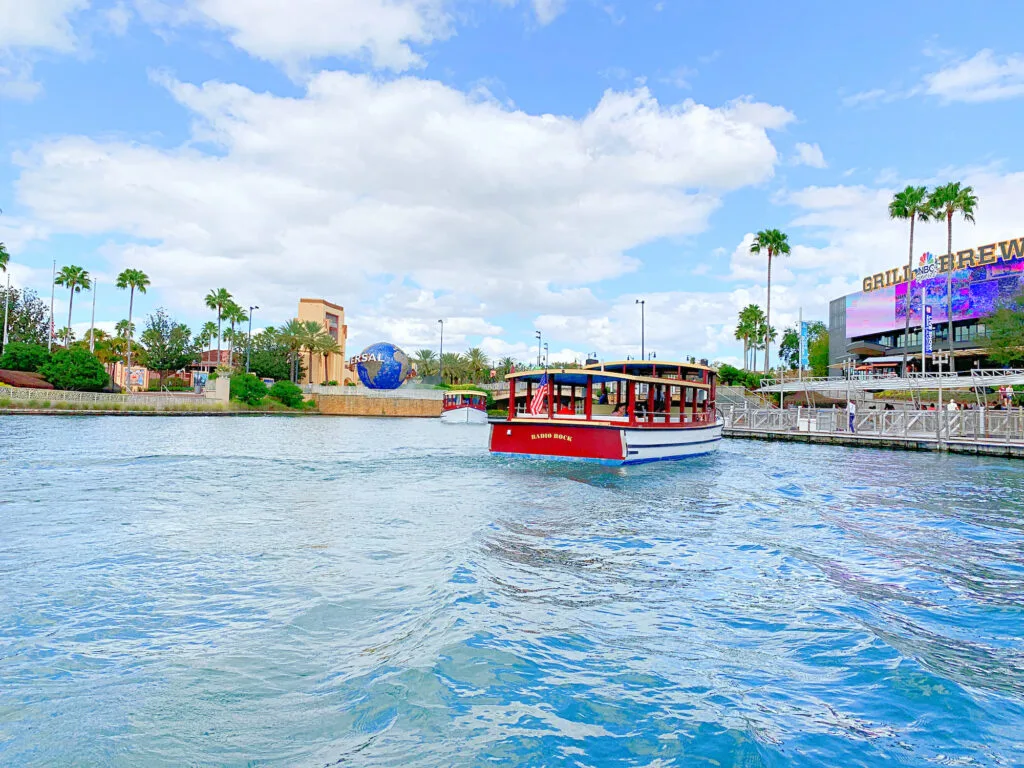 It is wise to avoid parking at Universal Studios Orlando. Parking rates are crazy high and range from $27-$60. Unless you use our tips for free parking at Universal Studios.
Then, you park in one central parking deck and have to hike through the parking to enter Universal CityWalk. From the entrance, you then have to walk around the lake to go to either Universal Studios or Islands of Adventure.
It takes a LOT of time, you'll be in huge crowds, and there is almost no reason that you would want to drive your vehicle to park in the parking garage if you are staying at a Universal Orlando hotel.
Airport Transportation
Though not complimentary, shuttle service is available to and from the airport when staying at a hotel at Universal Studios.
Universal's SuperStar Shuttle Program can be booked with your Universal vacation package. See all of the ways for how to get from the Orlando Airport to Universal Studios.
Airport transportation is not available from Sanford Orlando Airport. This is only available from Orlando International Airport (MCO).
Luggage Storage
For the days when you need to check in or check out but you are going to the theme parks during the day, Universal Hotels will store your luggage for free.
Free WiFi
Complimentary Wifi is available in all guest rooms and most common guest areas.
Package Delivery
Another perk offered by all on-site hotels is the convenience of sending in-park purchases back to your room. You won't have to carry the souvenirs that you are buying with you all day.
Easy Hotel Room Key Charging
Simplify your traveling by making all of your purchases with your hotel room key. The charges will be put to your credit card on file at the hotel.
Be sure to get one of these best lanyards for Universal Studios to keep your keys and Express Passes easily accessible all day long.
Pool Hopping
At every Universal hotel, except for Dockside and Surfside, you will have reciprocal benefits for all of the hotel pools.
See our guide to pool hopping at Universal hotels.
Premiere Hotel Guest Perks
The most expensive hotels at Universal Studios Orlando have even better perks. These hotels include:
Loews Portofino Bay Hotel
Hard Rock Hotel
Loews Royal Pacific Resort
Universal Express Unlimited
The biggest perk is free Universal Express Unlimited Ride access. With this pass, you can skip the lines at some of the most popular attractions in Universal's two theme parks (but not Volcano Bay water park).
With a value of $129 a day per person (or much more!), this is a pretty huge perk for Universal's Premiere hotels.
Priority Seating
Premiere hotel guests also get priority seating at select restaurants.
If you plan ahead and make dining reservations, then this might not be a big deal to you. However, if you are visiting during peak travel times and don't like to be locked in with a dining reservation time, this perk can help you get seated faster at some of the most popular restaurants.
Related Universal Orlando Posts:
The 8 Hotels at Universal Studios Orlando
There are four different categories of hotels at Universal Studios Orlando. They include:
Premier: Loews Portofino Bay, Loews Royal Pacific Resort, and Hard Rock Hotel at Universal Orlando. The premier hotels begin at $267+ per night.
Preferred: Loews Sapphire Falls Resort. Loews Sapphire typically begins at $181+ per night.
Prime Value: Cabana Bay Beach Resort and Aventura Hotel. These budget friendly options begin at $131+per night. (See our comparison of Cabana Bay vs. Aventura)
Value: Both Endless Summer Resorts, the Surfside Inn and Dockside Inn. These are an amazing deal at $91+ per night.
Be sure to see our guide to the Best Universal Hotels for a Family of 8 if you are looking for hotels that offer suites for large parties.
Premiere Universal Resort Hotels
Loews Portofino Bay
5601 Universal Blvd, Orlando, FL 32819
This resort will make you feel like you are staying in Italy! Loews Portofino Bay is beautiful and instantly transports you into another world. The entire resort, including the large guest rooms, are decorated in a classical Italian theme.
The Harbor Piazza is one of the most popular places to be outside and enjoy the weather. Grab a cone of gelato from the Gelateria and enjoy watching the water taxis arrive or bask in the Florida sun. At night, classical opera performances are held in the Piazza.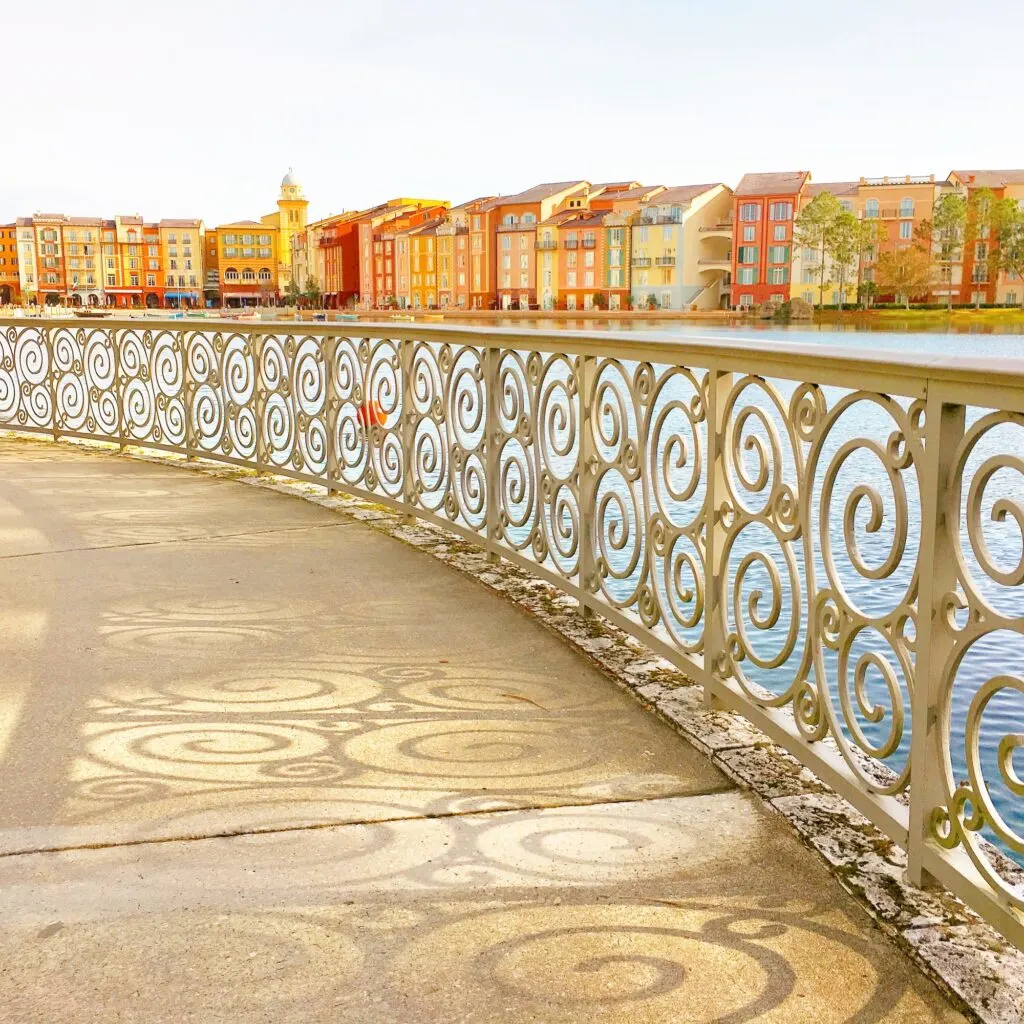 There are 5 on site restaurants and 2 on site bars. This resort offers a full service spa, and 3 Italian themed swimming pools to help you beat the Florida heat.
I do love Loews Portofino Bay. It really feels like you have been removed from Orlando and are staying in Europe.
Loews Royal Pacific Resort
6300 Hollywood Way, Orlando, FL 32819
The Loews Royal Pacific has a luxurious South Seas theme. The lagoon-style pool has white sand beaches lined with palm trees. There is a Royal Bali Sea interactive water play area for kids.
The rooms are spacious, and some have beautiful tropical garden views while others have spectacular water views. Royal Pacific does offer suite options including the fully immersive Jurassic World Kids Suite.
There are 5 onsite restaurants including the Island Dining Room that serves delicious Pan Asian cuisine.
A torch lighting ceremony by the pool is held on select nights, complete with fire dancers. (Note: In 2022, this has been temporarily suspended.)
I've got to say, this resort is not among my favorites. The hotel and grounds are beautiful. It just never seems quite welcoming to me.
Hard Rock Hotel At Universal Orlando
5800 Universal Blvd, Orlando, FL 32819
You don't have to be into rock music to really enjoy a stay at the Hard Rock Hotel! But it does help to enjoy and appreciate music across the decades if you are staying here.
There is an incredible collection of rock and roll memorabilia throughout the resort. And everything is music themed, which is a fun and different decor compared to most area hotels.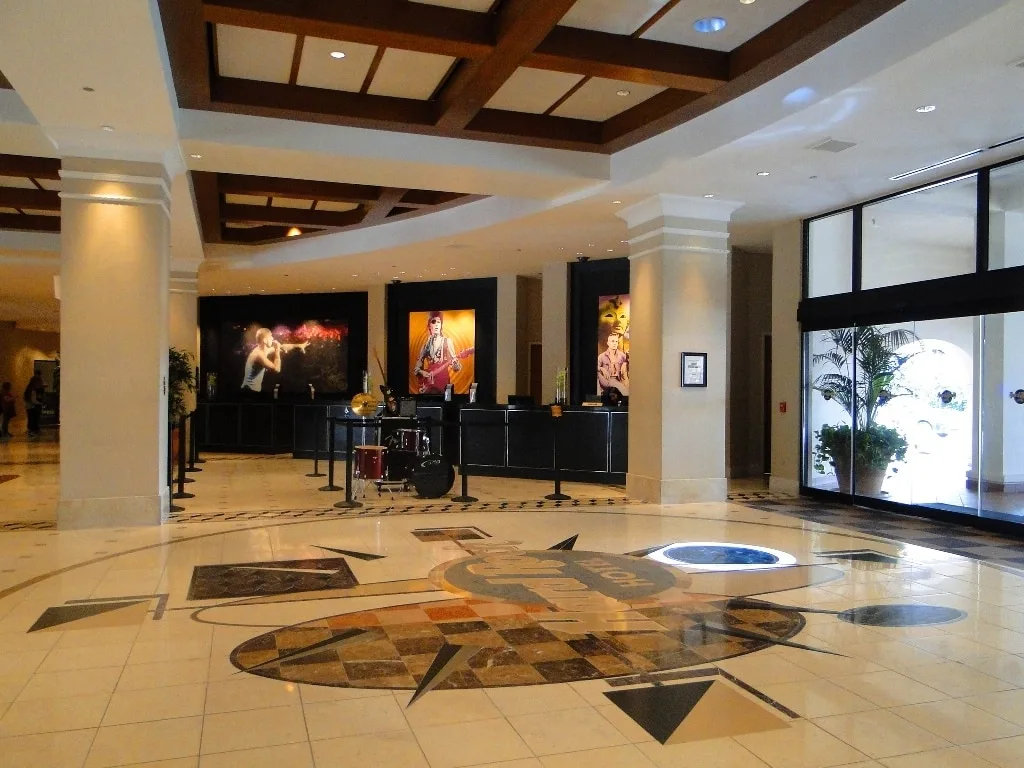 The hotel has several bar options including the Velvet Bar for relaxed cocktails, or you can have poolside drinks at the Beachclub. The fun California-mission style can be seen in every facet of the property. There are 4 onsite restaurants and bars at the Hard Rock, including The Palm, a famous New York Steakhouse with a fun uptown atmosphere and delicious food.
The Hard Rock Cafe is NOT at the Hard Rock Hotel Universal Orlando. The cafe is located in Universal CityWalk on the opposite side of the lagoon, and offers concerts at that location.
At the pool, you will find DJ's, live music and an underwater sound system!
The rooms are a unique blend of modern style and comfort.
Though I'm definitely not very knowledgeable about musicians or rock and roll history, this resort is one of my favorites at Universal Orlando. We have stayed at the Hard Rock Hotel multiple times and really enjoy this resort. Check out our Universal Studios Orlando Hard Rock Hotel room review.
Preferred Universal Resort Hotels
Loews Sapphire Falls Resort
6601 Adventure Way, Orlando, FL 32819
Located across from Aventura Hotel and Cabana Bay Beach Resort, this island-themed resort is the only preferred hotel on site at Universal Orlando. There is one entrance for both Loews Sapphire Falls and Universal's Aventura Hotel.
They are literally side by side, to put location into perspective.
You will enjoy waterfalls cascading on the tropical grounds of this hotel. The Caribbean theme carries over to the 16,000 square foot pool with a sand beach and its lush green gardens.
Rooms are large with fun tropical themes, you can easily upgrade to lagoon or pool views. Kids suites are available.
There are 4 restaurants and bar options at the Loews Sapphire Falls, these include Amatista Cookhouse that features Caribbean inspired cuisine.
Or you can check out the Strong Water Tavern where they have rare vintage rums, as well as their own rum specialist. There are even Rum Dinners to enjoy at the hotel.
Personally, this is one of my least favorite hotels at Universal Studios Orlando. We have visited many times and I feel the theming just isn't as great as at other Universal hotels.
And it's not just us. We have had family stay here, as well, who choose to not go back (they'll stay at other Universal Orlando hotel properties, though.)
You can save a lot of money by staying at the nearby Aventura, instead.
Prime Value Universal Resort Hotels
Cabana Bay Beach Resort
6550 Adventure Way, Orlando, FL 32819
If you are looking for fun colors, happy theming, and a ton of water-activities, then this prime value hotel if for you! With a 1950's and 1960's retro vibe, the Cabana Bay Beach Resort is family-friendly and reminds you of old-fashioned travel.
What we absolutely love are the mini-suites that have a small living room and kitchenette area. They make the room feel so much bigger, and you can keep food in the refrigerator and cook food in the microwave.
There are so many activities at Universal Studio's Cabana Bay that you might not even leave the resort to go to the theme parks. Which is the perfect for a budget-friendly stay in Orlando!
There are 2 huge swimming pools, a lazy river, a bowling alley and an arcade, along with lawn games to play. This is the only Universal Orlando hotel with a lazy river.
If you are going to Volcano Bay water park, this hotel is located adjacent to Volcano Bay. In fact, you can even request some cool rooms overlooking the volcano.
The Bayliner Diner is like a large food hall, with diner fare and a large movie screen to watch retro films. There are a variety of places to eat at Cabana Bay, including in the bowling alley, poolside cafes, or the Swizzle Lounge where you can enjoy retro cocktails.
Personally, Cabana Bay is one of my favorite hotels in ALL of Orlando! We love this hotel and have stayed at it a few times (without ever going to the theme parks). As a value resort, we think it goes above and beyond with theming, amenities and large spacious rooms that you can't find in other budget-friendly hotels. Be sure to check out our extensive Cabana Bay Beach Resort Review and Room Tour.
And watch our Youtube video to see what the rooms and resort look like.
Aventura Hotel
6725 Aventure Blvd, Orlando, FL 32819
This prime value, mid-range hotel option is located across from Cabana Bay and next to Sapphire Falls. One of Universal Orlando's newest resorts, it was built in a minimalist, modern style.
Thanks to its unique (and towering) design, this hotel provides amazing views of all 3 Universal parks. Aventura is also within walking distance from Universal's Volcano Bay water park.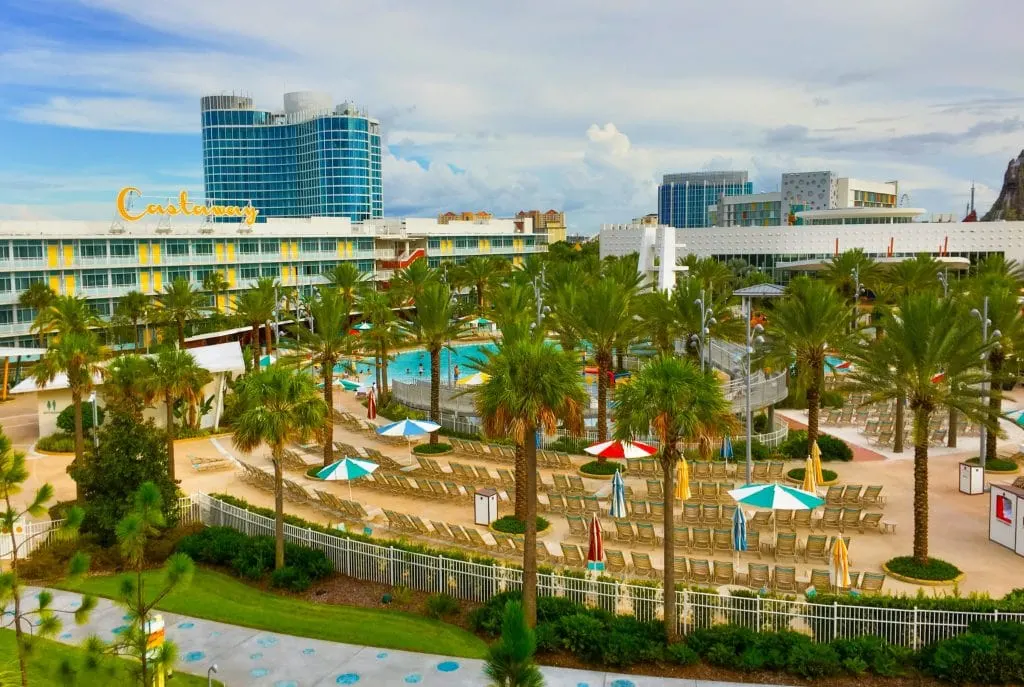 Bar 17 Bistro is a rooftop bar with spectacular views.
Urban Pantry, located just off of the lobby, is like a modern food-hall with a variety of different cuisines.
We have visited Universal's Aventura Hotel many times, and just can't fall in love with it. While I appreciate a modern style, this hotel seems to feel stark and cold.
The pool area was quite the disappointment, compared with other Universal Orlando hotel pools. And during Christmas, the extremely minimalist holiday decor just seemed to scream Bah-Humbug, rather than Happy Holidays.
Value Universal Resort Hotels
The newest hotels at Universal Orlando are not located near any of the hotels mentioned above. Endless Summer hotels are located nearby the theme park area (in the former Orlando Wet n' Wild location), but you won't be walking to the theme parks, Universal CityWalk or Volcano Bay. You will need to use a shuttle service or your own vehicle to get to Universal Studios.
However, even with the lack of convenience for walking or water taxis, these hotels are highly rated and among my family's favorite picks. In fact, my family prefers to stay in these hotels for the fun theming and awesome pools compared to the premium hotels.
Endless Summer Resorts: Surfside Inn
7000 Universal Blvd, Orlando, FL 32819
Surfside Inn was the first value category hotel at Universal. The surfer vibes here are definitely relaxed. This is a great budget friendly option for families!
You'll find the rooms to be beachy and soothing, but not kitschy. There are 2 bedroom suites available for larger families. Surfside Inn has 4 on-site dining options that include the Surfside Pizza Delivery that will deliver freshly made pizzas to your hotel room. Or try the Beach Break Cafe, a casual food court that has all of your SoCal favorites.
The hotel has a great surfboard shaped pool, full fitness center and arcade games for the whole family.
Endless Summer Resorts: Dockside Inn
7125 Universal Blvd, Orlando, FL 32819
The newest resort at Universal Orlando takes its inspiration from the sunset, sand and sea. Dockside Inn's sister hotel is the Surfside Inn and they are directly across the street from one another.
The comfortable rooms have tranquil decor and colors. Dockside Inn has 6 bars and restaurants on site including The Wave Makers Pool Bar that features signature cocktails and frozen poolside drinks.
Or check out Pier 8 Market, where you can grab quick bites all day long. There are 2 large pools complete with sand beaches and a kids splash pad.
---
Overwhelmed with planning your vacation? Before booking one of these great Universal Orlando Hotels, be sure to check out our Universal Vacation Planning Guide for some helpful tips to plan your visit without stress.