There is a lot of great food to be found at Universal Orlando! Our Universal Studios Orlando Dining Guide will help you narrow down the choices in both theme parks and CityWalk.
These are the most popular restaurants for a good reason! Expect long lines or wait times most of the day, especially during peak crowd levels. It's always a good idea to call and make a reservation at any restaurant that you want to be guaranteed a table.
Dress is informal and casual at the restaurants in the two theme parks and throughout Universal CityWalk. However, dining at some of Universal's Resort restaurants (not included in this guide) can include stricter dress guidelines.
Be sure to check out our ways to save money on dining at Universal Studios Orlando Resort.
If you are brand new to these theme parks, check out our Universal Orlando Vacation Planning Guide, as well as our Ultimate Guide to the Wizarding World of Harry Potter.
Universal Orlando Dining Reservations
Universal Orlando dining comes in 3 categories:
Full service restaurants (sit-down dining with a wait person; usually a longer experience)
Quick service (there can be tables to sit down at, but you'll need to order the food yourself and bring it to your table; usually a faster experience)
Snack stands and carts (no full meals; usually sugary snacks and drinks; might not be much seating)
You will want to make dining reservations online or by calling (407) 224-3663. CityWalk reservations can be made up to 90 days in advance. The in-park restaurants generally take reservations 30 days in advance.
You won't need to put down a deposit for any of the Universal Orlando eateries.
Universal Orlando Dining Plans
While Universal Orlando's All You Can Eat dining plans were popular for enjoying a lot of food at the Universal Resort for one fixed price, it is no longer offered. Universal Orlando is no longer selling Dining Plans as of July 2021.
However, the Universal Studios Refillable Cup with unlimited refills each day is still available.
Related: Best Lanyards for Universal Orlando (and why you need one!)
Universal Orlando CityWalk Dining
Universal CityWalk is the dining and entertainment complex of Universal Orlando Resort. It is just like Disney Springs at Walt Disney World. CityWalk has a huge array of restaurants, quick-service food, shopping and entertainment options.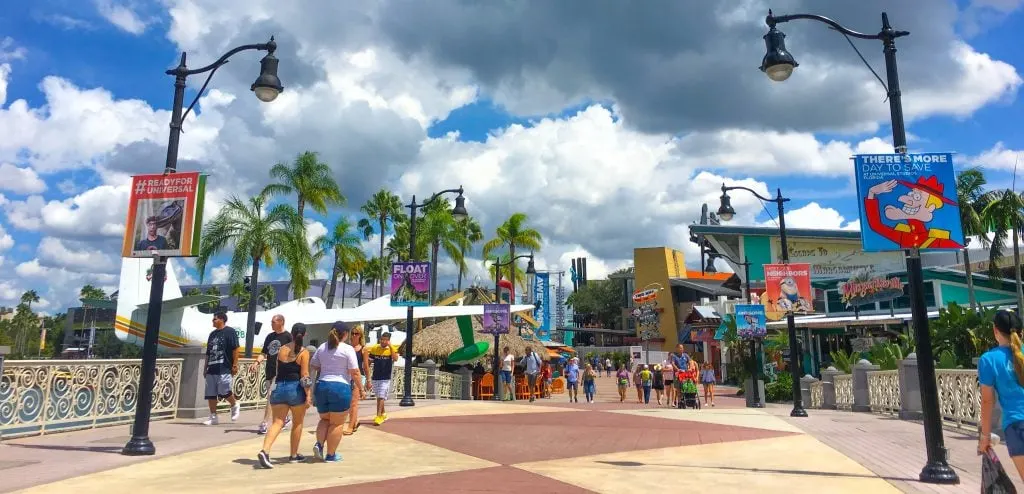 If you park at Universal Studios Orlando to go to a theme park, or take a hotel shuttle bus, you will be walking through portions of Universal CityWalk to get to either theme park.
If you would like a meal before you enter one of the theme parks, these are the best places to eat breakfast at CityWalk Orlando.
CityWalk is very busy at night, when all of the theme park visitors are leaving to go back to their cars. Most people take some time to enjoy a meal and go shopping on their way back to their car or to one of the Universal Orlando Hotels found along the lagoon.
Parking at Universal Studios (including access to CityWalk, since there is only one parking deck), is expensive! The prices range from $27-60 just to park!
There is no complimentary parking if you dine at their restaurants. For example, you can't get a validated parking ticket by paying for a meal at Universal.
The way to avoid parking fees at Universal CityWalk is to arrive after 6 p.m. to the parking garage. There will be no parking charge, unless there are special events, such as Halloween Horror Nights.
Keep in mind, if you are making a dining reservation and plan to arrive for the free parking, it can take you quite a while to find a space and then walk through the parking garage, go through security, and walk around Universal's CityWalk. Choose your dining reservation time with plenty of room to spare.
Some of the top dining options in CityWalk are:
Toothsome Chocolate Emporium & Savory Feast Kitchen
This sit-down restaurant is like a theme-park with food. The theming and decorations in this two-story restaurant are nothing short of amazing!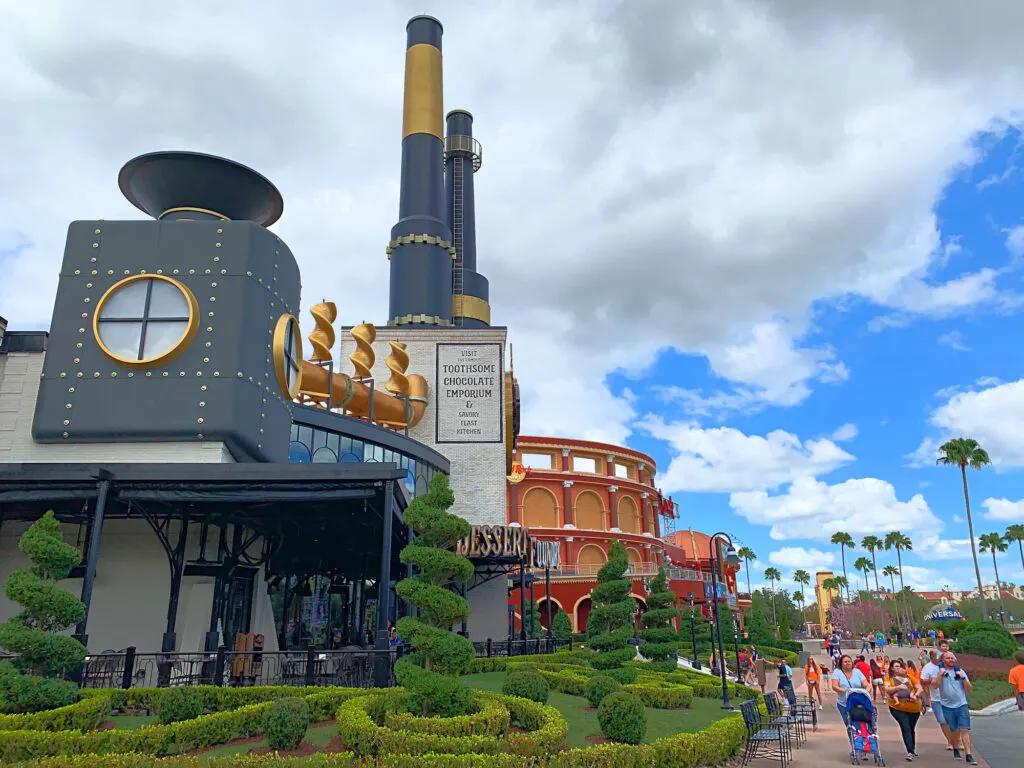 A combination of steampunk meets Willy Wonka, there is a definite whimsical theme here. They even have their own characters which come around to the tables to visit for photos.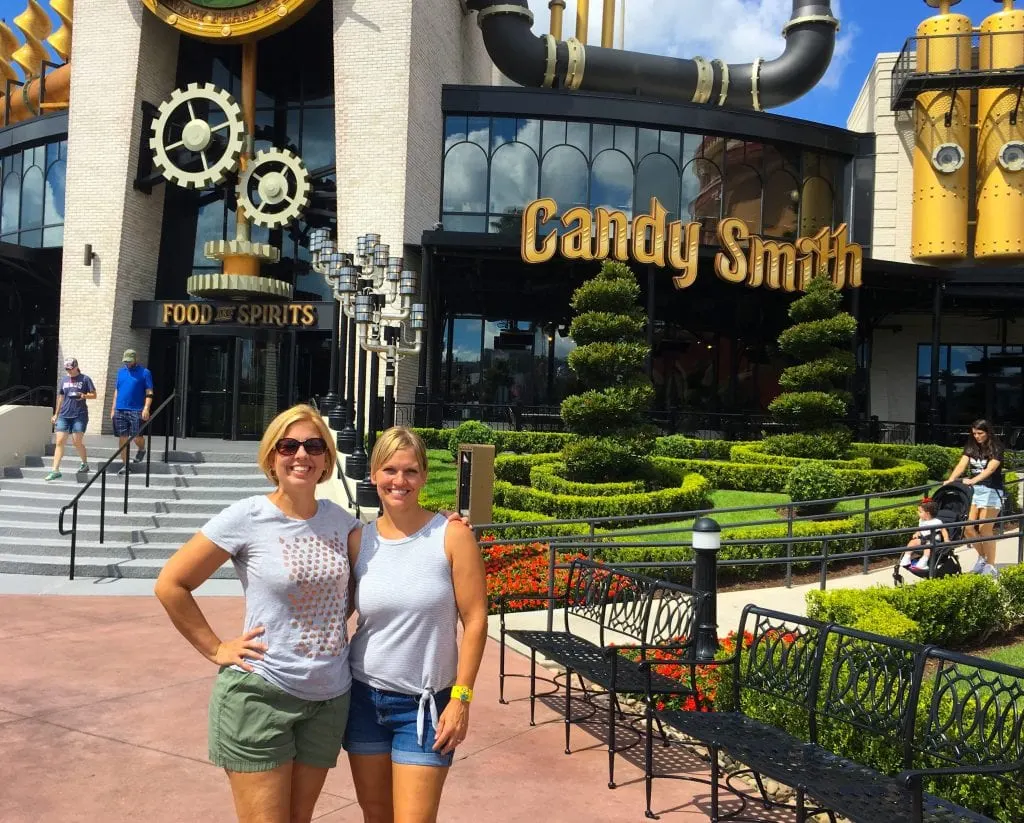 Toothsome is most popular for their insanely delicious signature milkshake creations, such as Cinnamon Fantasy, Red Velvet, Cookie Jar and Strawberry Shortcake. And you can keep the souvenir plastic mason jar.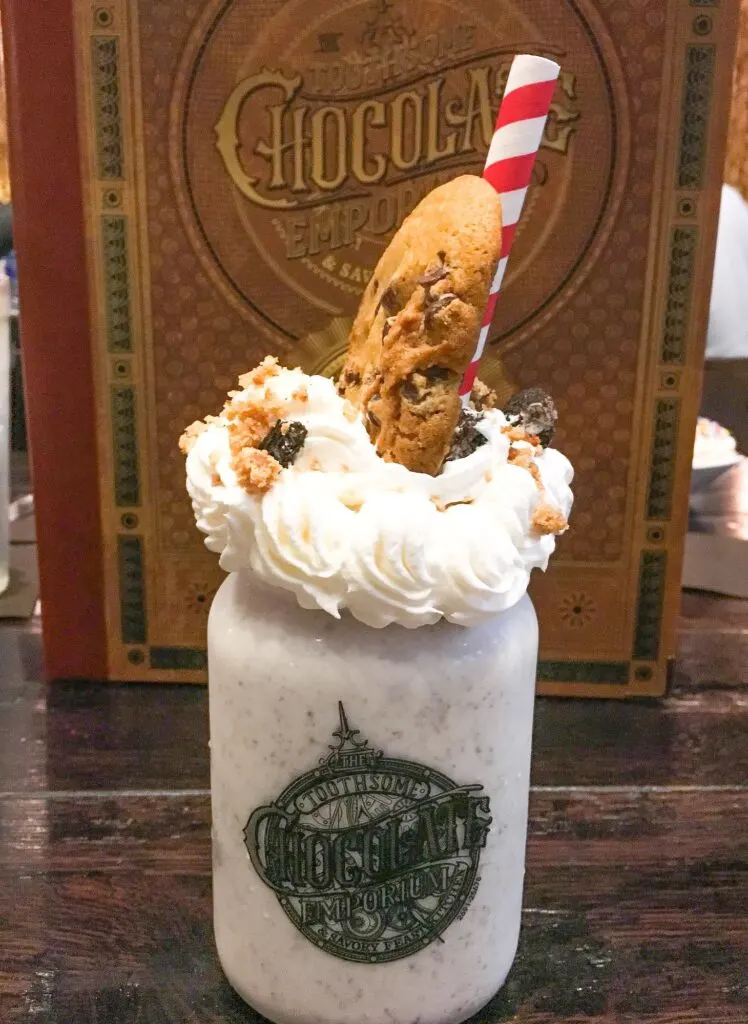 The menu here is huge. And many of the options use chocolate in unusual ways. Try the warm chocolate almond bread appetizer.
This restaurant is always very, very busy. Be sure to call ahead and get a dining reservation.
Antojitos Authentic Mexican Food
This full service restaurant offers amazing authentic Mexican cuisine. This fun cantina has an in-house Mariachi band.
Be sure to order one of Antojitos signature margaritas along with an empanada, taco or burrito.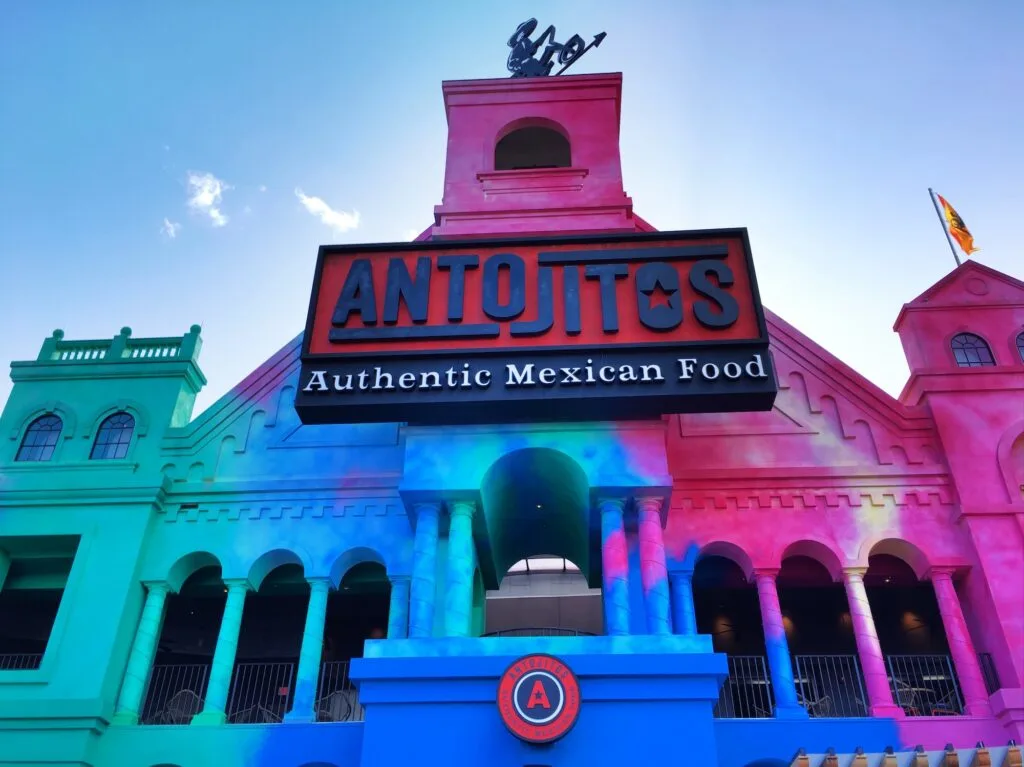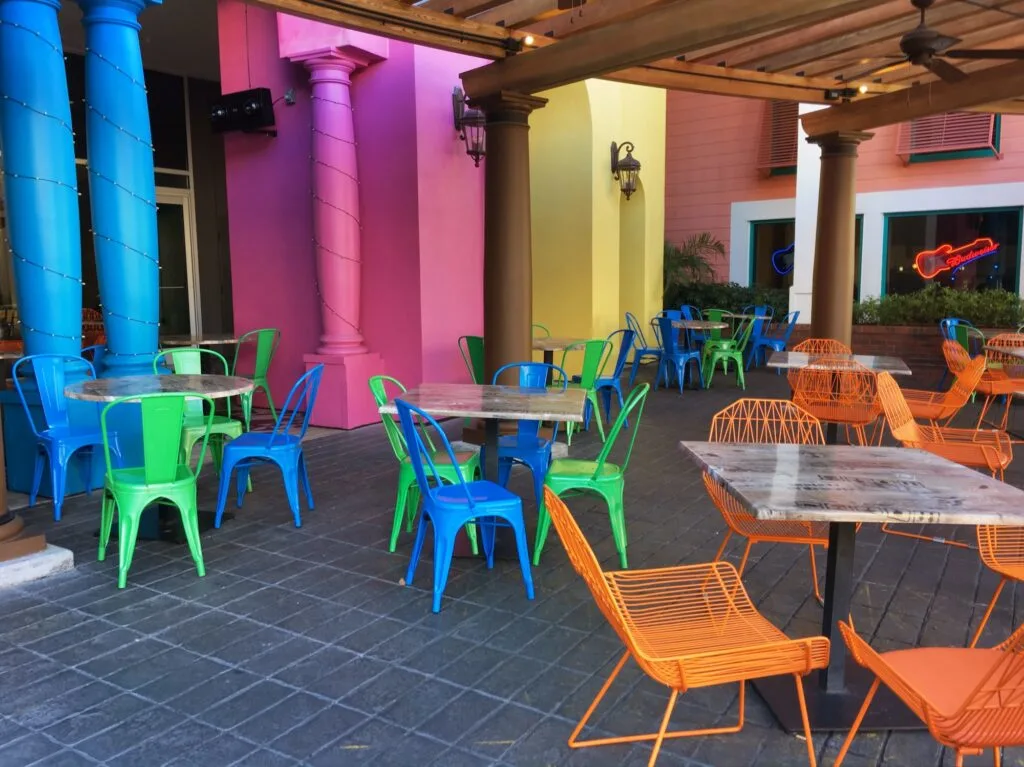 VooDoo Donuts
VooDoo Donuts is a doughnut bakery that specializes in very unique designs and flavors. You may have heard of their flagship location in Portland, Oregon. In Orlando, they have around 50 types of creative donuts.
Devil's Food Cake is one of the most popular donuts. There are a wide variety of vegan options, too.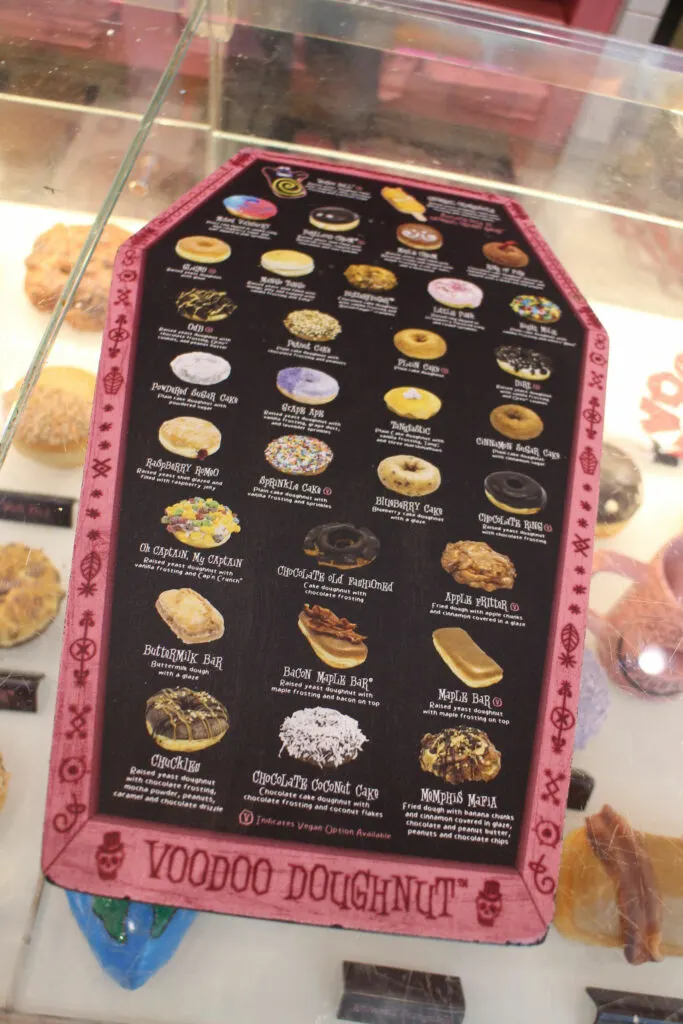 This doughnut shop is VERY popular and there is usually a long line outside.
Cowfish Sushi Burger Bar
As one of the most popular full service restaurants on Universal's CityWalk, you will want to try Cowfish. This eatery takes surf and turf to a whole new level.
Keep your meat and seafood separate by ordering traditional favorites such as a hamburger or a sushi roll.
For the adventurous, enjoy their fusion dishes like the What's Shakin' Tuna Bacon sandwich or the Cheeseburgooshi (cheeseburger+sushi). You can also opt for a bento box to sample a bit of everything.
Vivo Italian Kitchen
Vivo Italian Kitchen serves up homemade pasta that you can watch being made in-house. The Italian food here is delicious. We've had quite a few options while dining here and they have all been very hearty.
Jimmy Buffet's Margaritaville
If you want a laid-back vibe that feels like you're in a tropical paradise, get a table at Jimmy Buffet's Margaritaville. Eat on the covered porch for amazing views across Universal CityWalk and the lagoon, including the famous plane parked by the water.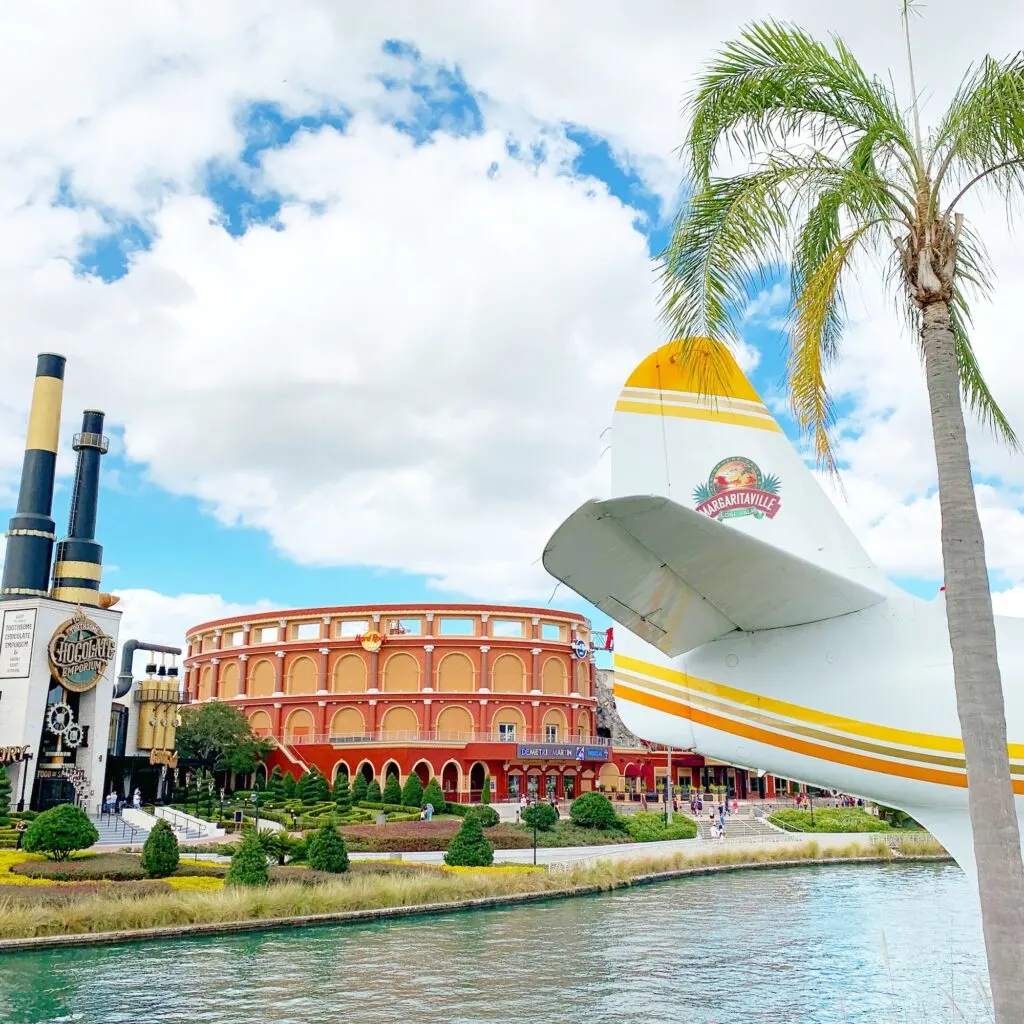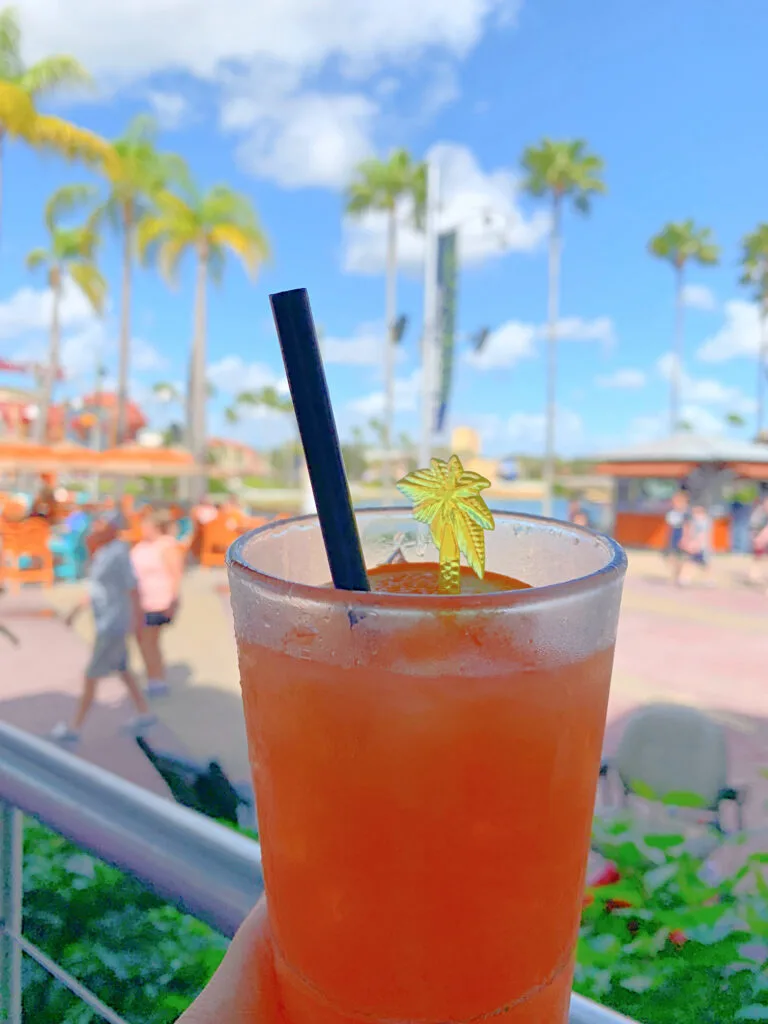 Indoors, it's a raucous vibe of partying and music with fun theming that you'd expect from Margaritaville.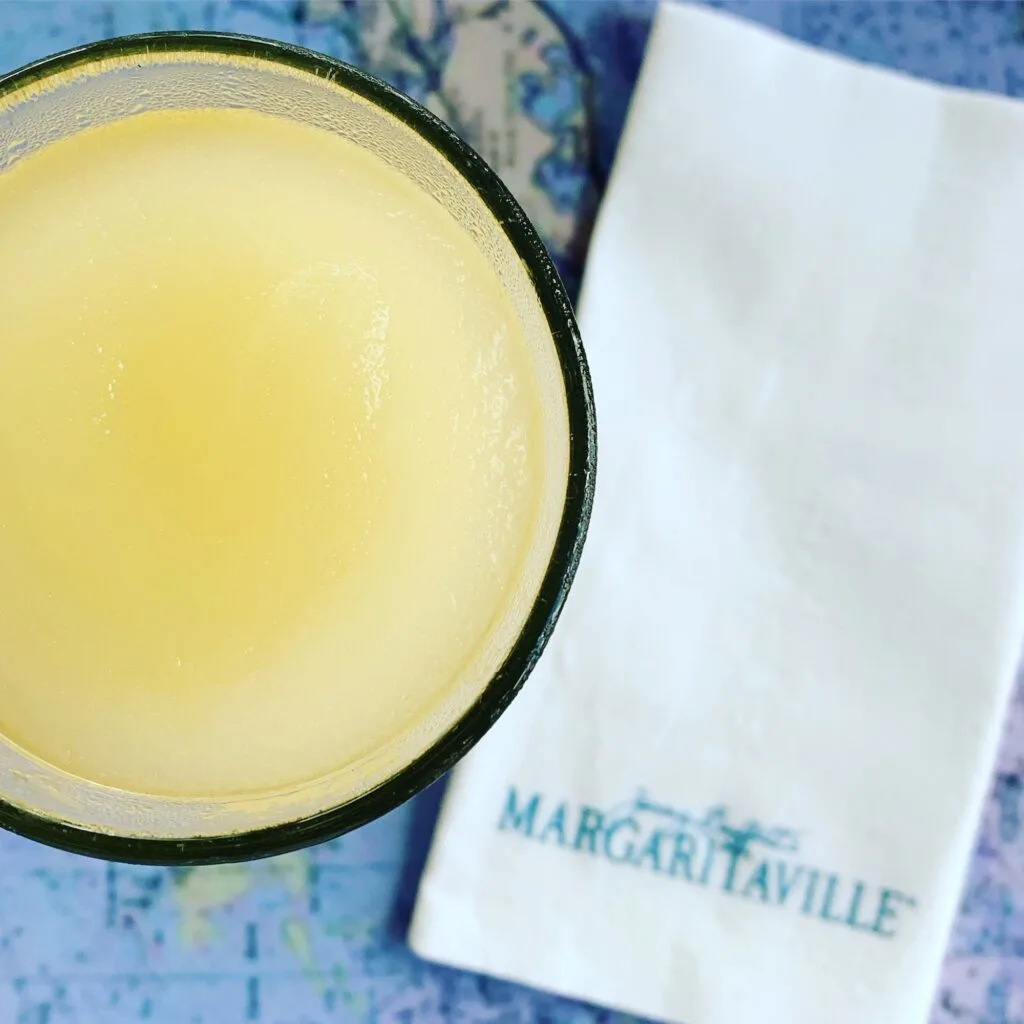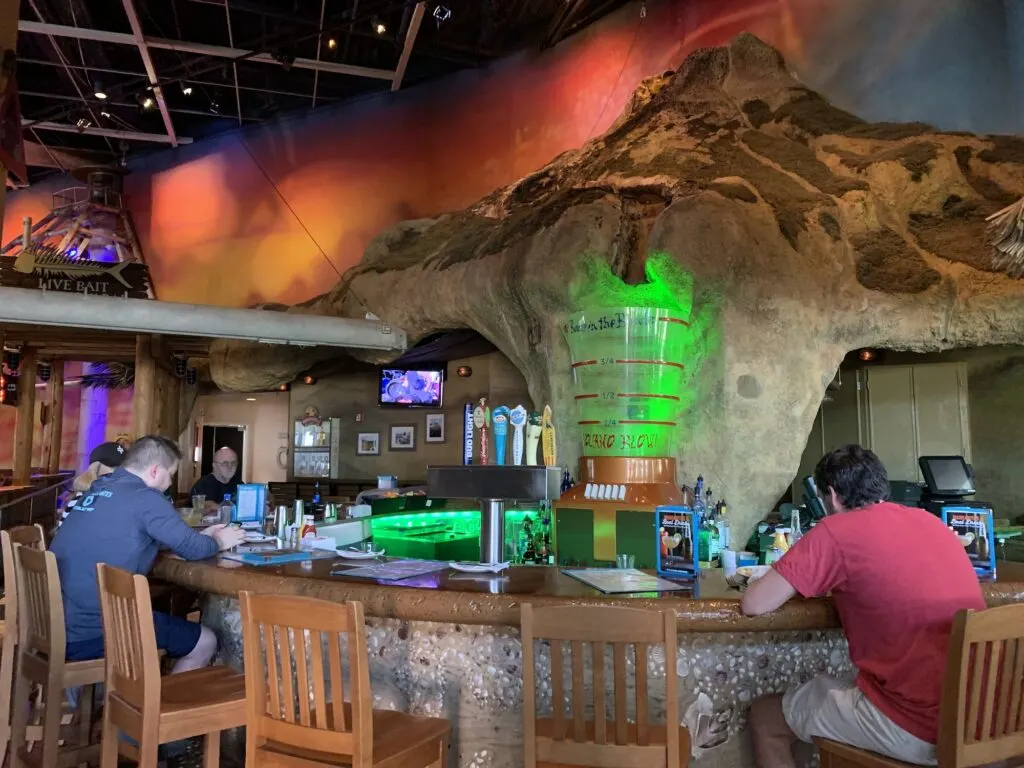 Keep in mind, this is a different restaurant than what you would find at Margaritaville Orlando in Kissimmee, which is a boutique hotel and dining options that are also owned by Margaritaville, but a little different.
I enjoyed the Taco Salad at Margaritaville, along with a signature margarita, and highly recommend both!
I can guarantee you that you will find your lost shaker of salt at this restaurant!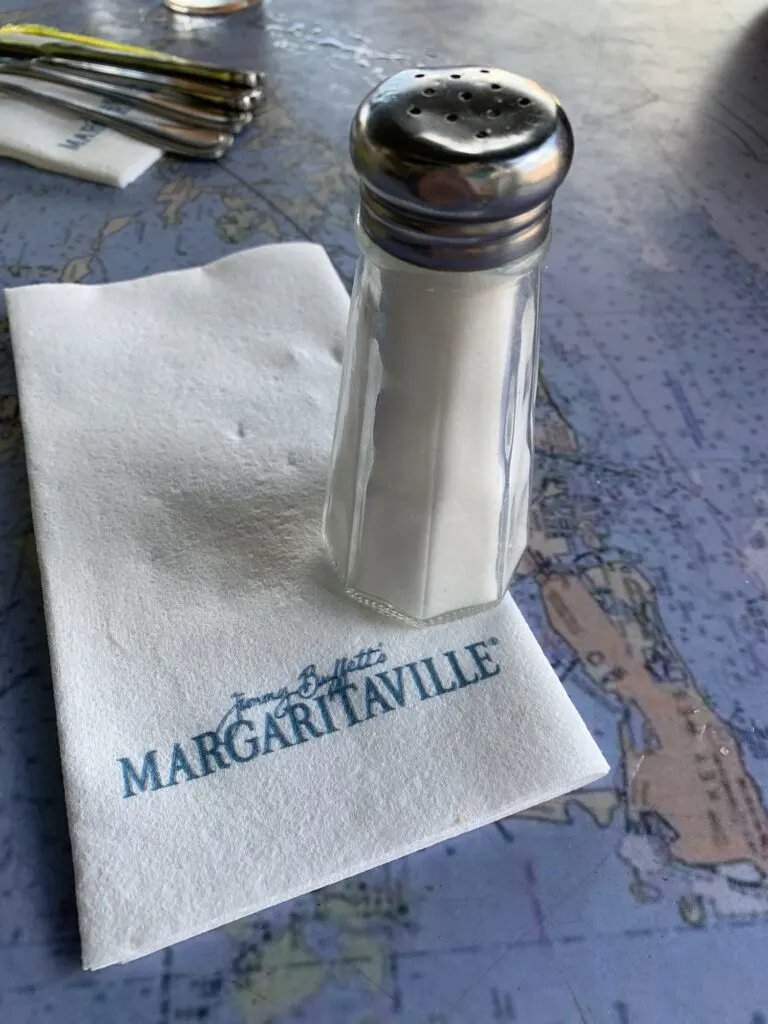 Related Post: Universal Studios Alcohol Rules
CityWalk also has some of the best places to get coffee at Universal Studios.
If you decide to leave the theme parks to go to CityWalk for a meal, you can re-enter Universal Studios easily if you have a valid theme park ticket for that day.
Dining At Universal Studios Theme Park
The Leaky Cauldron
The most famous and most popular restaurant in the Wizarding World of Harry Potter! Leaky Cauldron serves up traditional British fare including Bangers and Mash, Shepherd's Pie, and Fish and Chips.
See our Ultimate Guide to Harry Potter Restaurants at Universal for even more details.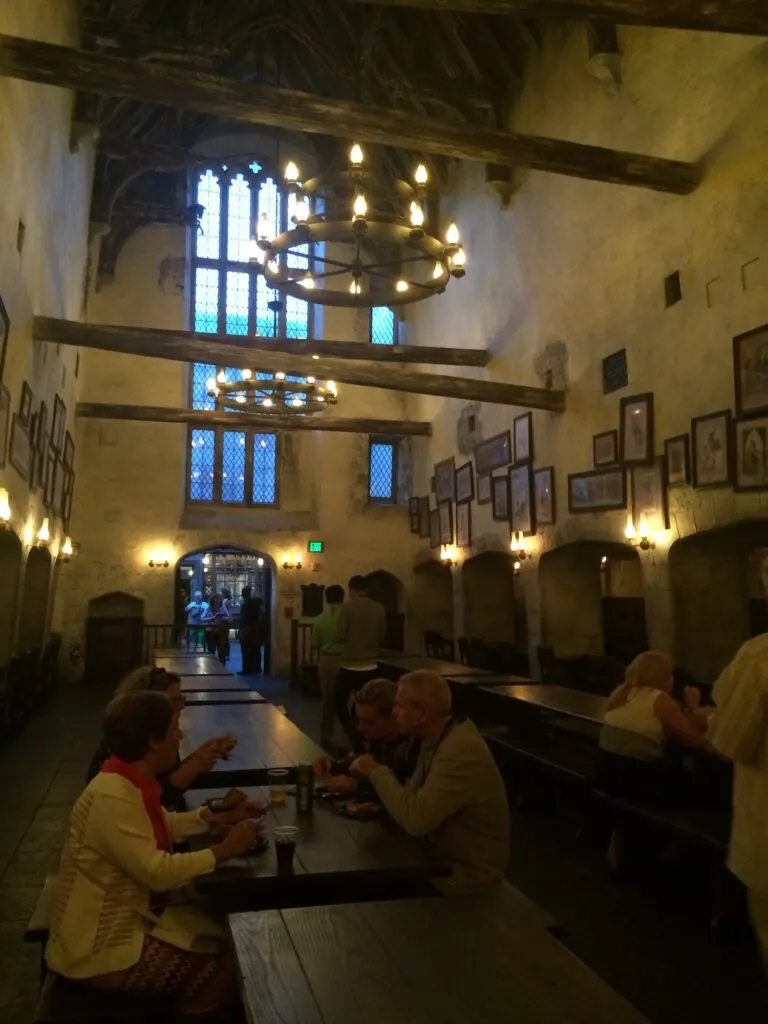 This quick service option also serves a full English breakfast each morning, and delicious desserts like sticky toffee pudding.
Related Posts: See our Harry Potter inspired recipes, such as our easy Butterbeer Recipe and Butterbeer Cupcakes.
Florean Fortescue's Ice Cream Parlour
Diagon Alley's most famous ice cream shop is Florean Fortescue. This soft serve ice cream establishment dishes up delicious Butterbeer ice cream that is a must try. They also serve pumpkin juice and sweets like crumble cakes.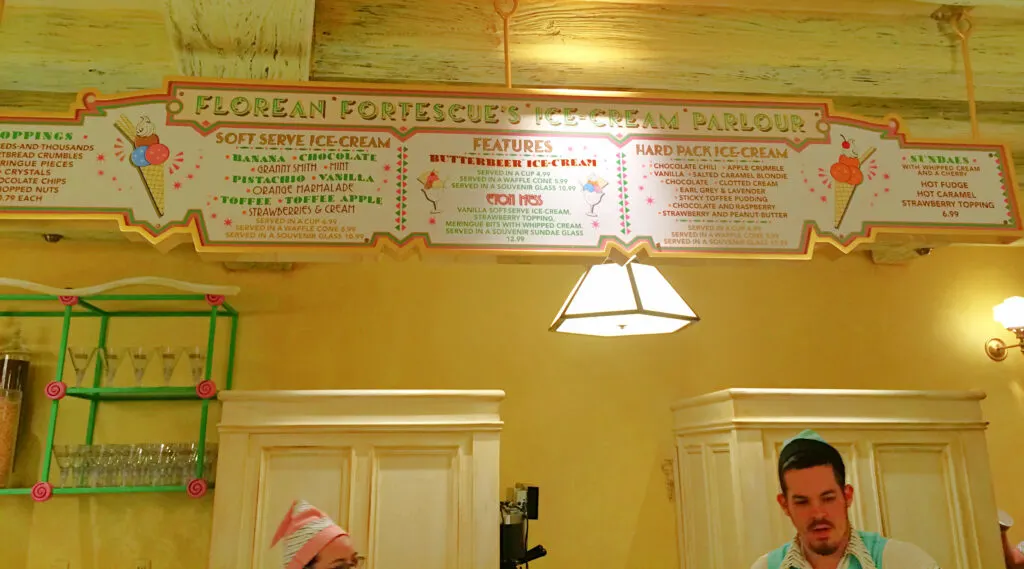 I enjoyed a scoop of the Earl Grey and Lavender ice cream and it was delicious!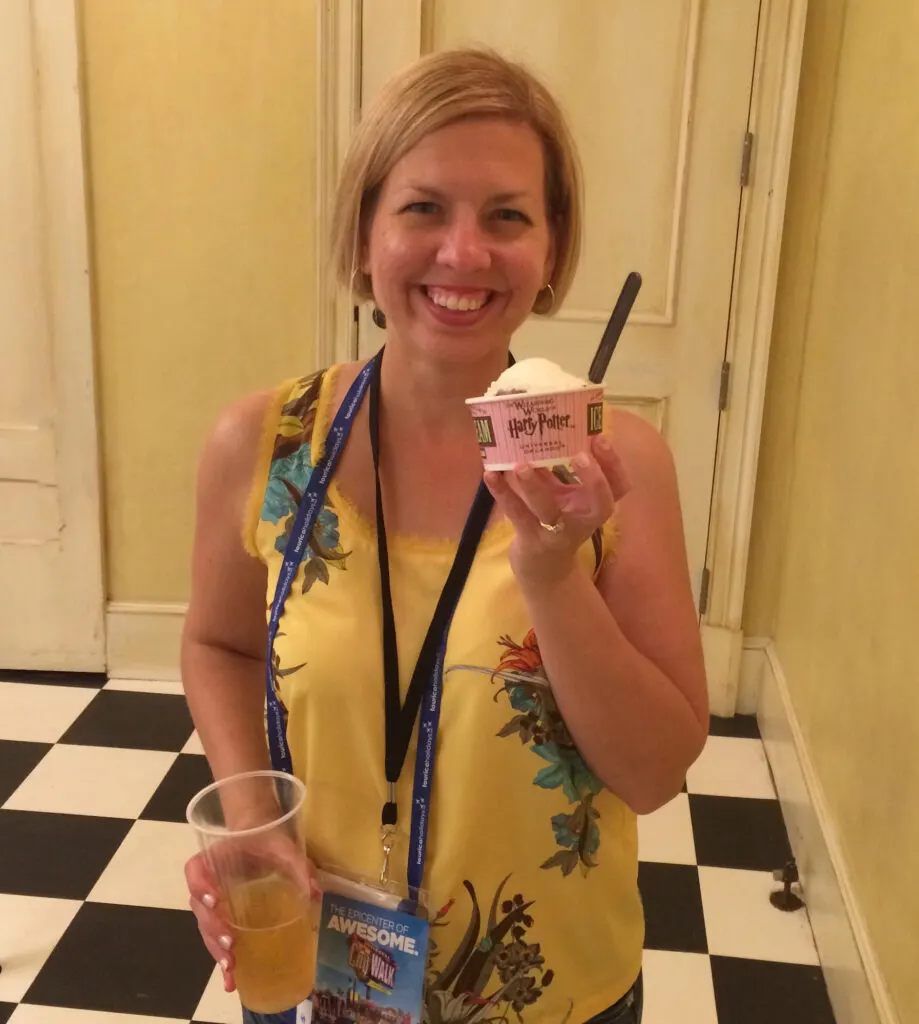 Lard Lad Donuts
If you want a unique photo of you eating a gigantic pink donut that's as big as your head, then you can't miss the Big Pink at Lard Lads. The Big Pink could easily feed a family of 4 with leftovers.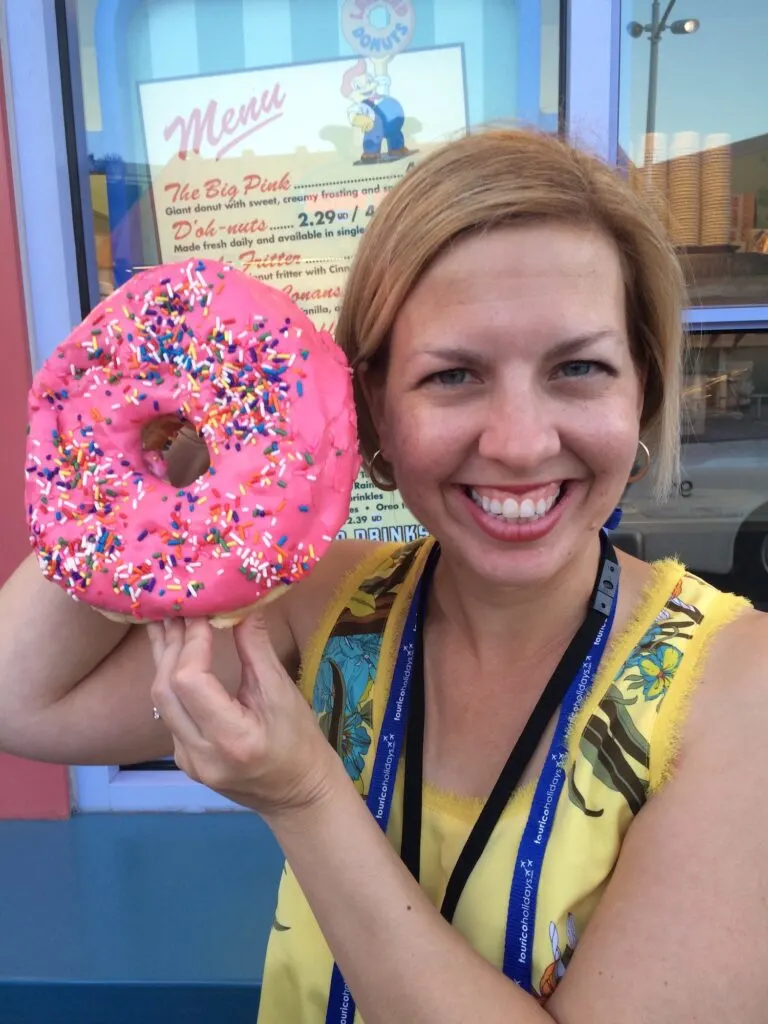 There is NO WAY that any one person should eat this alone, LOL!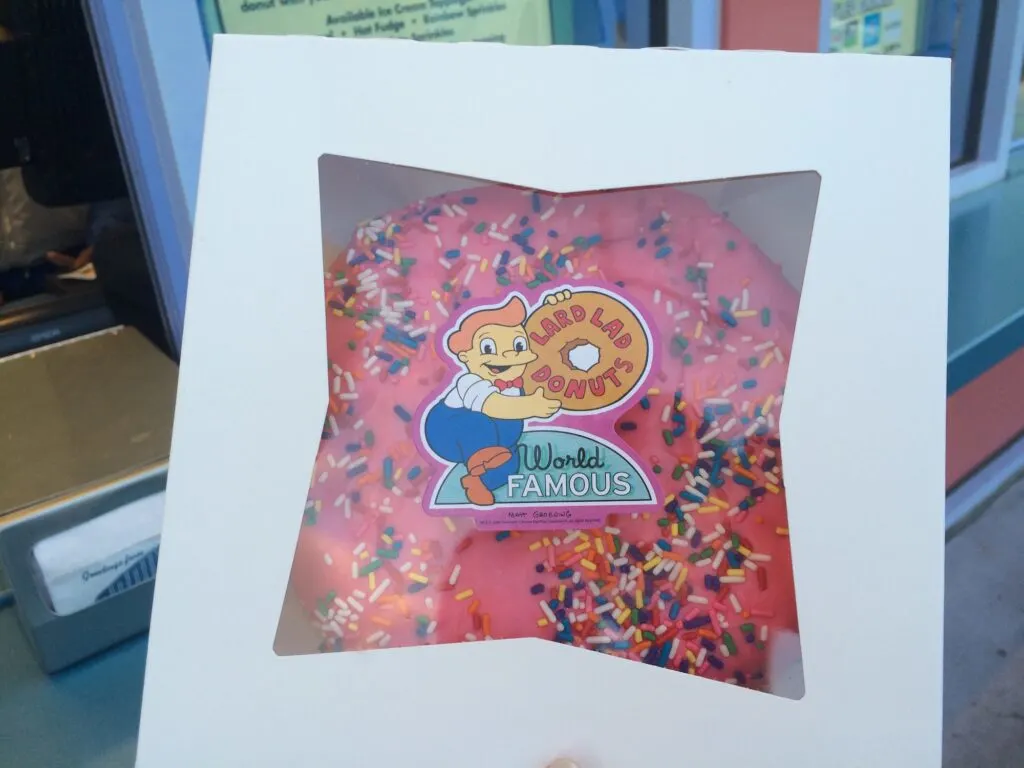 Donuts aren't the only insanely sweet indulgence here. This quick service stop has other donuts, along with milkshakes and other sweet treats.
Consider watching some of these movies and TV shows before visiting Universal Studios if you're not familiar with the characters. It will make themed restaurants such as this one make more sense while you are enjoying them!
Krusty Burger
Another famous stop in Springfield is the famous Krusty Burger. This quick service restaurant looks like a typical fast food restaurant. Try the legendary Clogger Burger, Krusty Burger or Sideshow Bob Foot Long and don't forget to order a Buzz Cola.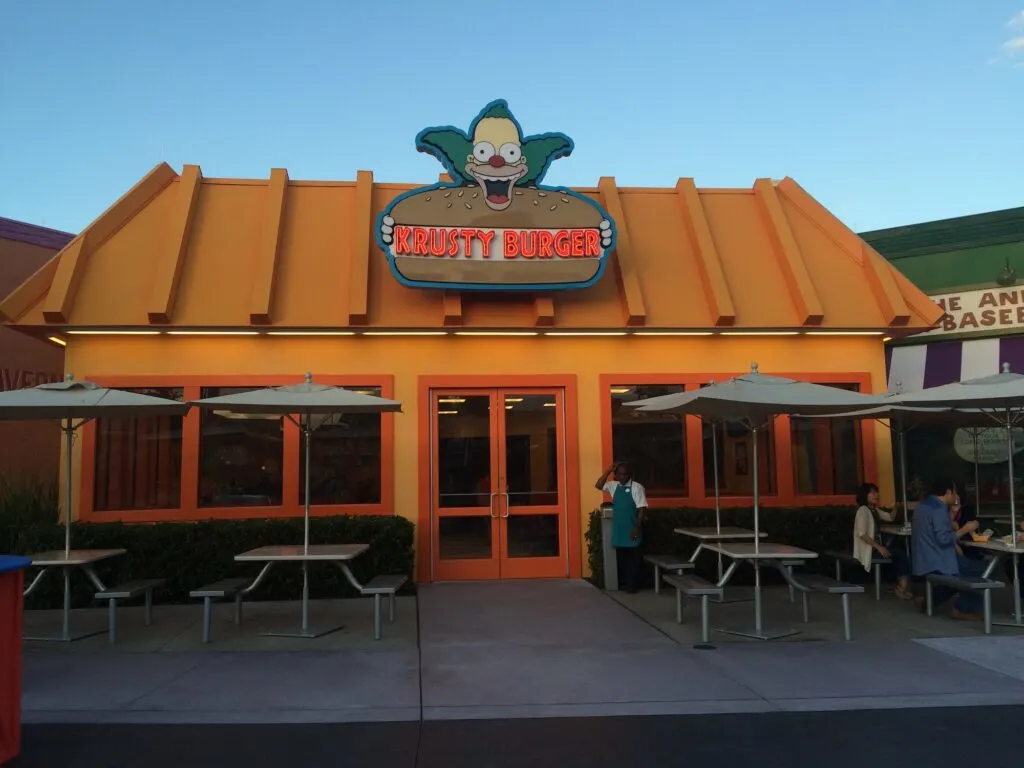 You can sit at one of the outdoor tables or sit inside and enjoy a never ending loop of The Simpsons playing on TV.
Moe's Tavern
In Springfield it doesn't get much more iconic then the famous Moe's Tavern. This open air space features Duff Beer, which is brewed locally and a Universal exclusive.
Mel's Drive
A quick service restaurant featuring a 1950's drive-in theme. When at a unique retro restaurant like this one, you'll need to order the classic burger and fries combo at Mel's Drive In. Pair it with a root beer float or a milkshake for a family-friendly retro meal.
Lombard's Seafood Grille
On Fisherman's Wharf you'll find one of the best seafood places in all of Universal Orlando. A full service restaurant, it is located in the San Francisco area of Universal Studios. Their famous clam chowder or cioppino ocean bowl are among the most popular items.
Related Posts:
Dining At Universal Islands Of Adventure Theme Park
Mythos Restaurant
Islands Of Adventure has one of the most sought after dining experiences in all of Universal Orlando, Mythos Restaurant. The award-winning full service restaurant features a mixture of Mediterranean, Asian and American cuisine. Greek Salad, Pad Thai and Port Braised Lamb Shank are among the delicious entrees.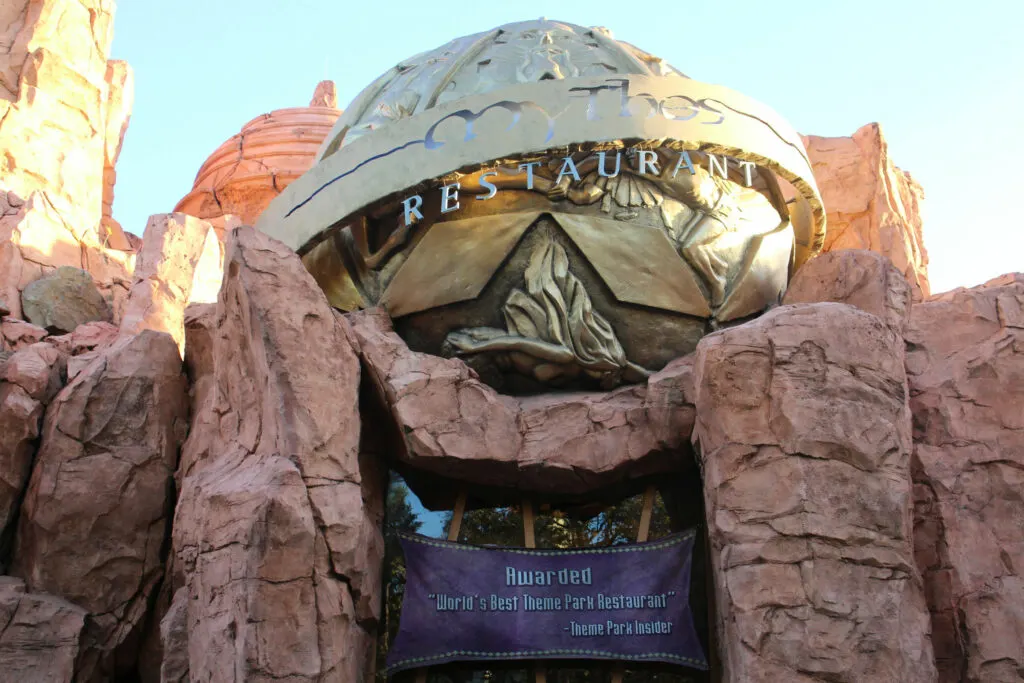 Located in The Lost Continent, the theming and setting of this restaurant is spectacular. It is like entering another world when you step inside. Be sure to grab a reservation for this dining option during your visit to the theme park.
Three Broomsticks
This quick service restaurant serves traditional British food, including Shepherd's Pie. With a rustic tavern vibe, it is also known for its signature Great Feast, which features salad, smoked chicken, spare ribs and corn on the cob. It's enough for four people!
A meal at Three Broomsticks is definitely on our list of 33 Things Not to Miss at Wizarding World of Harry Potter!
Hog's Head
Located in the back of the Three Broomsticks is Hog's Head pub. Enter this pub and be welcomed by a giant hog's head mounted on the wall behind the bar. Be careful and watch closely because he might snarl at you!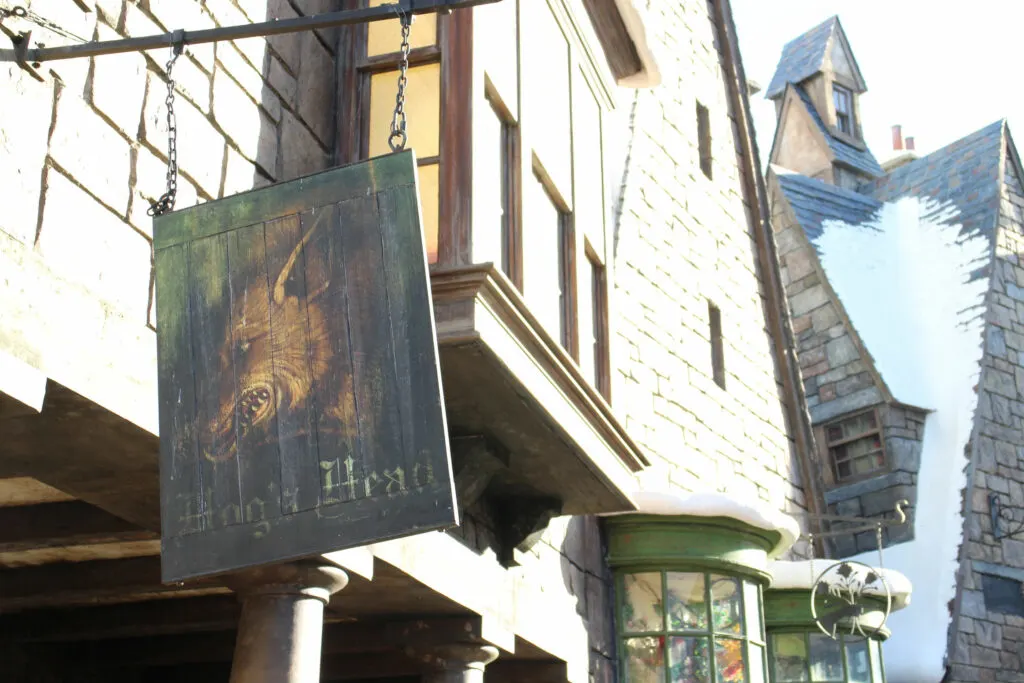 At the bar, grab a Butterbeer, Pumpkin Juice, Firewhisky or imported beers and specialty mixed drinks with a magical twist.
Cafe 4
Dine in the Fantastic 4's hightech headquarters! This quick service eatery serves up Italian favorites such as pizza, spaghetti and meatball subs.
Kids will love this fun atmosphere and the chance to meet some of their favorite Marvel characters. Located in Marvel Super Hero Island.
Hop On Pop Ice Cream Shop
If you love everything Dr. Seuss, then grab some sweet treats at this ice cream parlor in Seuss Landing. Sundae On A Stick is among the most popular items.
FireEaters Grill
Located on The Lost Continent, this quick service restaurant has amazing grilled gyros that are delicious! They are the perfect lunch to eat while walking through the park to get to your next destination.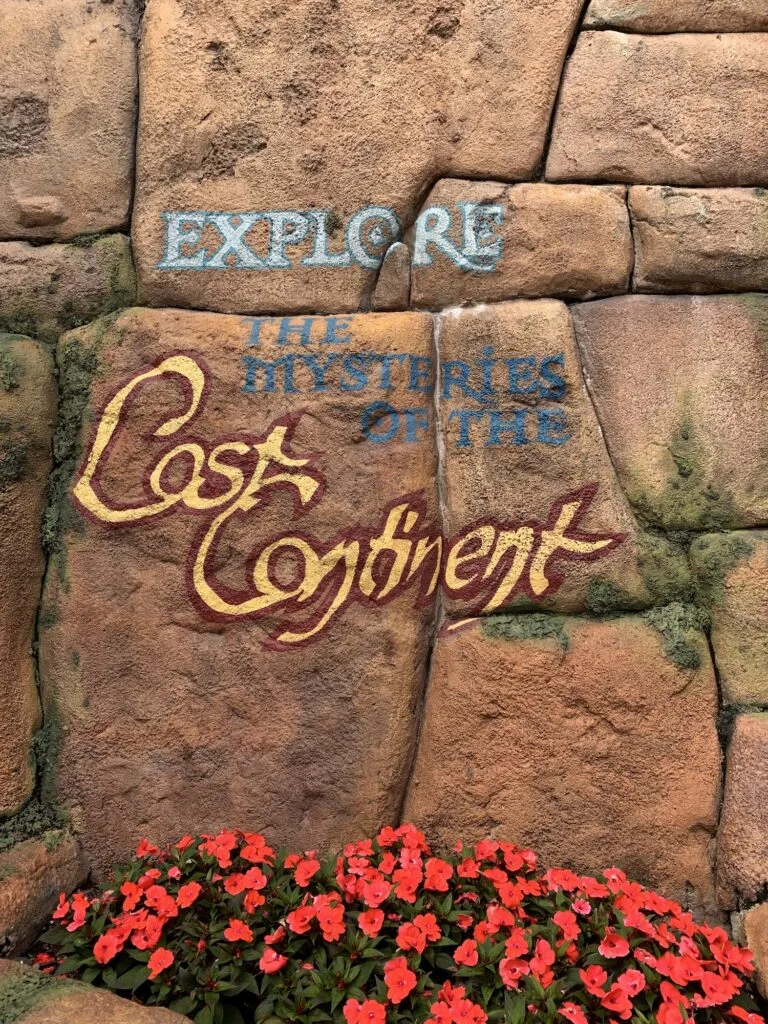 Did you know that you can get Dole Whip at Universal Studios? Check out all of the places to buy this iconic Florida treat!
These are our best picks for dining at Universal Studios Orlando. Let us know what your favorite restaurant is!