Hendersonville, NC has a variety of wineries and cideries that use locally grown fruits to create award-winning wines and ciders. During the Hendersonville Cider, Wine and Dine Weekend April 22-24, 2022, enjoy special events, tastings and dinners that you might not be able to experience during the rest of the year.
There is a reason that the area's wines are so celebrated. Henderson County's wine region has achieved the prestigious federal designation known as an American Viticultural Area (AVA). The Hendersonville area has been designated the Crest of the Blue Ridge Henderson County AVA.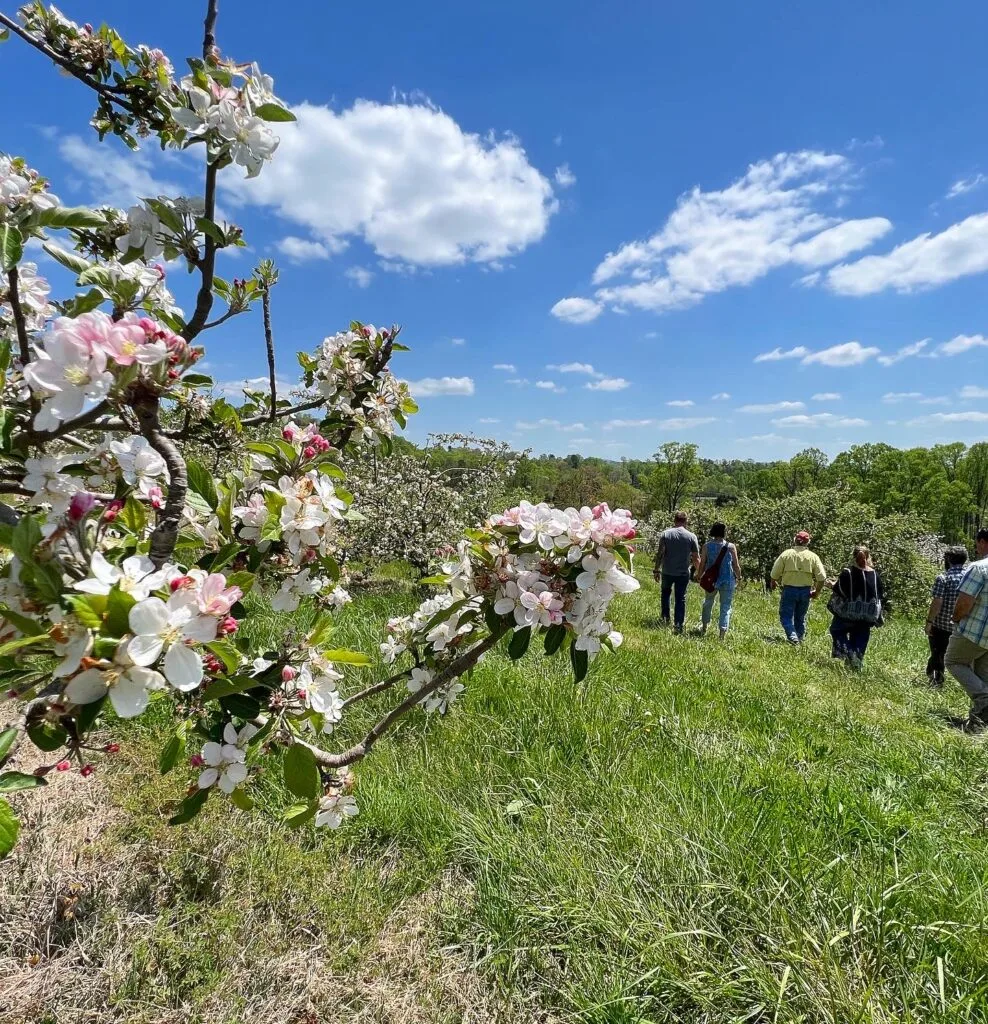 North Carolina is also the 7th largest apple-producing state in the nation, and Henderson County is the largest apple-producing county. Did you know that 85% of all the apples grown in NC, including more than 40 varieties of apples, are produced in this county?
That's the reason why Hendersonville Cideries are so amazing!
Even if you don't drink wine or cider, you can still enjoy the activities of the weekend with live music, orchard tours and other events. Use our Apple Blossom Trail self-guided driving tour to see orchards in bloom.
If you are visiting more than one location, be sure to purchase a Cheers! Trail Passport for $10 which will provide you with a rewards card. With a visit to 12 venues (either wineries, cideries or breweries), you can receive Cheers! Trail swag. Buy a passport at the Hendersonville Visitors Center, select venues or online.
Visiting during the summer or fall? Then check out our Ultimate Guide to Hendersonville Apple Orchards for the best u-pick apple farms.
Hendersonville Cider, Wine and Dine Weekend 2022 Events
Souther Williams Vineyard
New to the event, and to Henderson County, is the Souther Williams Vineyard which will celebrate its Grand Opening during the weekend.
Enjoy sipping wines in an open-air pavilion overlooking mountain views and vineyards.
Located on family land with more than 200 years of history through the generations, Souther Williams cultivates well-known varietals like Cabernet Franc, Cynthiana, Reisling and Vidal Blanc, along with lesser-known grapes from Austria, Germany and eastern Europe.
The Grand Opening wine tastings will feature 5 unique wines and a guided tasting, along with a souvenir glass. Cost is $20. If you want to reserve a table, call ahead for reservations. Otherwise, step up to the bar for tastings. (Please note that on Saturday, there will be a parking fee of $5 after 1 p.m. Friday, Saturday morning and Sunday will not have a parking fee.)
A lobster food truck will be available Friday, April 22.
Walk the vineyards of the 35-acre estate while enjoying a wine tasting with a 60-minute vineyard hike. Tours begin on the half hour, from 11:30 a.m. – 3:30 p.m. Cost is $25 and includes 5 wine tastings and a souvenir glass. Available Friday, as well as Sunday (although Sunday hours start at 12:30 p.m. not 11:30 a.m.) Call ahead for reservations.
The Stormin' Norman Band will entertain guests for the Picnic in the Vineyard on Saturday, April 23. Bring a chair and a picnic basket to enjoy while listening to the tunes of 1980s and 1990s classic rock and country music. From 2 – 5 p.m. There will be a $5 parking fee after 1 p.m. at the vineyards that day.
Owner Ken Parker will host the Wine and Chocolate pairing on Sunday. Enjoy 5 red wines, including a limited reserve. Pairings start on the hour, with hours of 12-6 p.m. Cost is $35. Call ahead for reservations.
655 Hoopers Creek Road
Fletcher, NC 28732
828-483-6070
Appalachian Ridge Artisan Hard Cider
The repurposed barn of this taproom is surrounded by family-owned apple orchards. You will find Normandy-style hard cider at Appalachian Ridge Artisan Hard Cider.
Oklawaha Brewing beers are also served up here, and St. Paul Vineyards is literally across the road with a selection of wines. You can try either cider, wine or beer during the daily tastings. Cost is $12.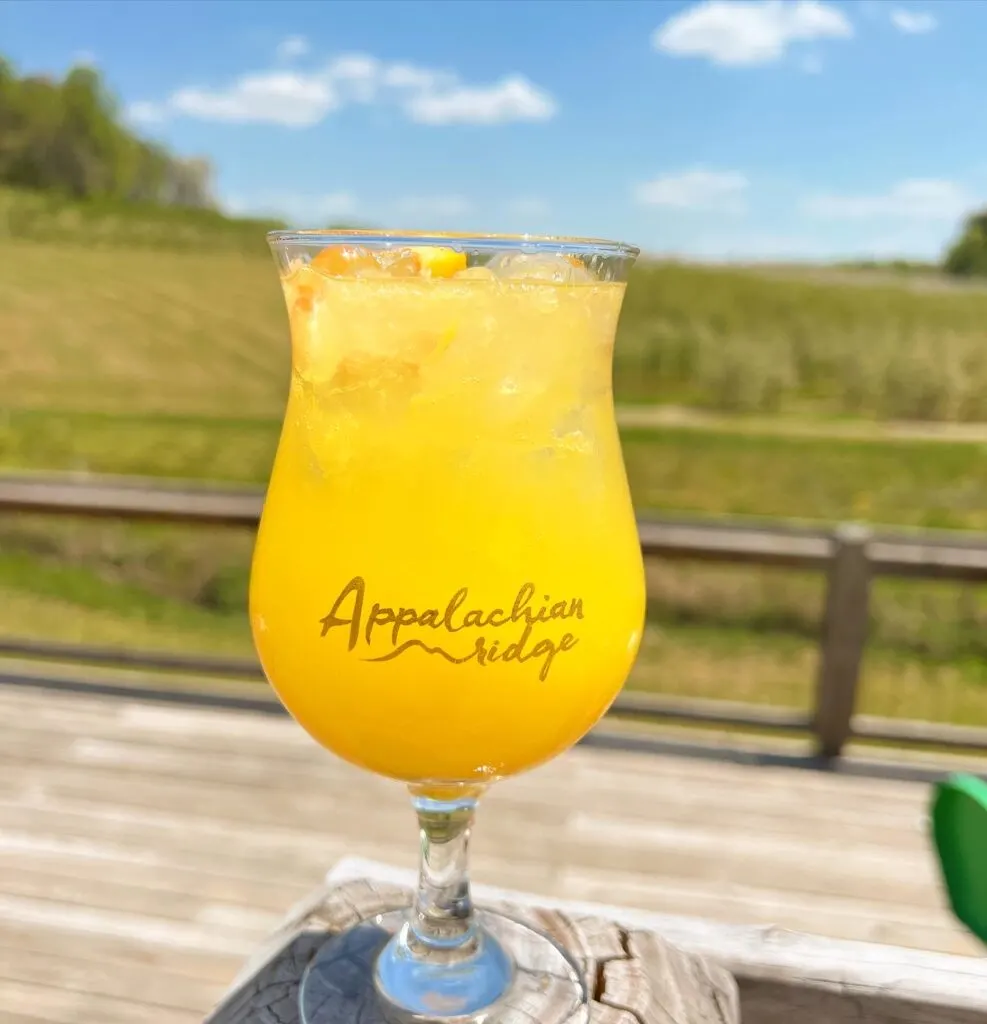 S'mores Friday Night will also feature live music from Nashville's Brian Ashley Jones Duo. There will be a variety of bonfires to warm up with and s'mores kits will be available for purchase. Food trucks will also be parked at the cidery. April 22 from 6-9 p.m.
The Giant Apple Slingshot will be available on Saturday and Sunday (this is not a standard activity at the cidery, so be sure to enjoy it during this event!). Sling apples over the very orchards where the cider apples are grown, while also listening to live music. Hours are Saturday, 3-6 p.m. and Sunday, 2:30-5:30 p.m.
An Orchard Walking Tour and Breakfast will be held during the weekend. Breakfast starts at 9:30 a.m. on the patio, with the walking tour at 10:30 a.m. of the orchards, farm and vineyards. While the walking tour is free, the breakfast is for purchase.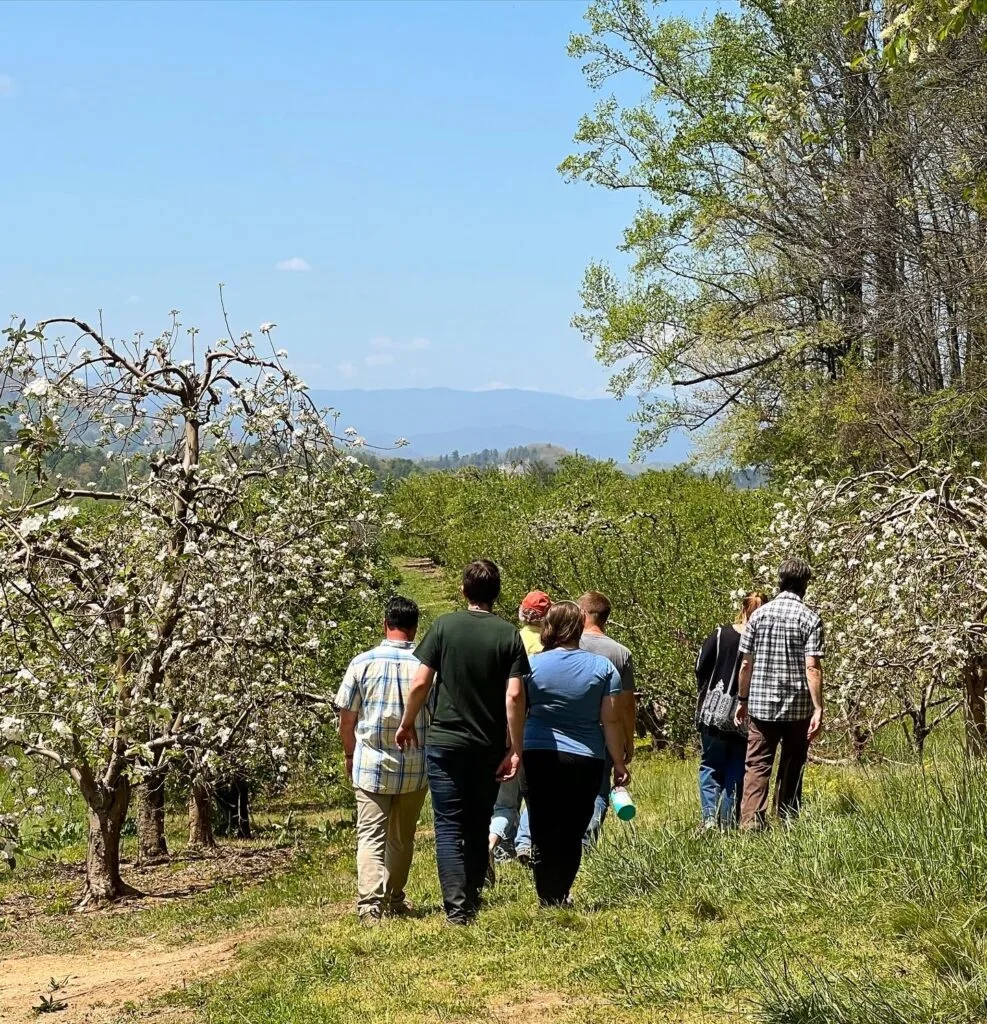 749 Chestnut Gap Rd.
Hendersonville
828-699-7507
Bold Rock Hard Cider
Bold Rock is one of America's leading hard cider producers and they have a production facility in North Carolina. Their large cidery has tastings, a food truck and plenty of space to enjoy outdoors with rolling mountains in the distance.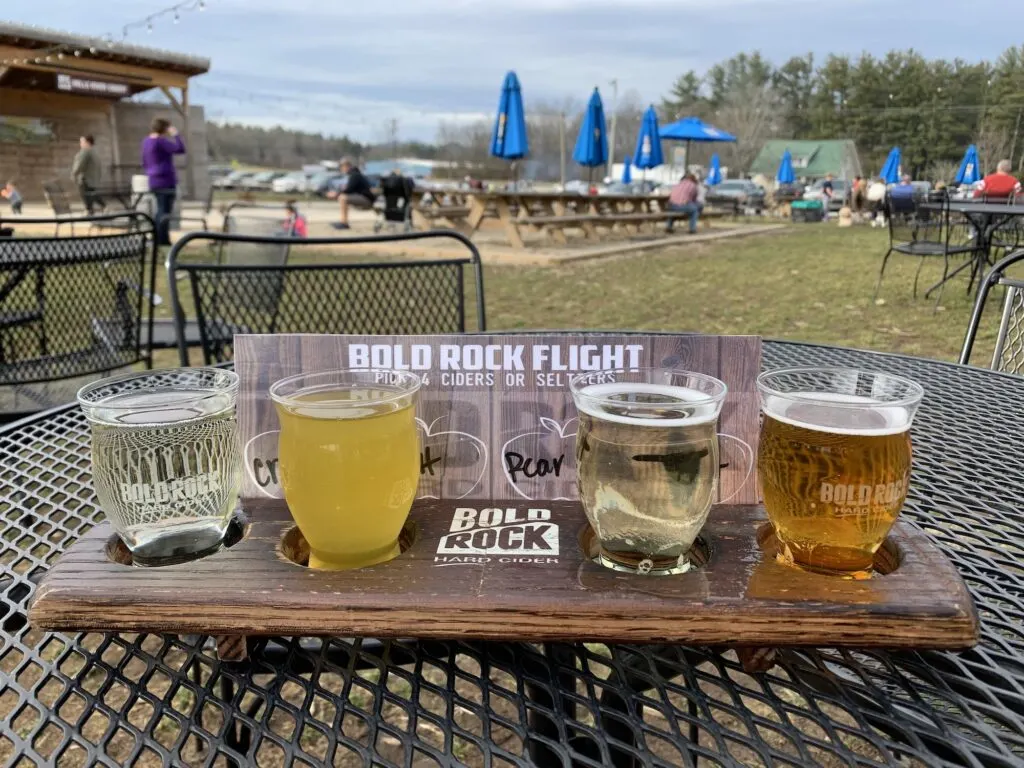 For the event, Bold Rock will continue to have their cider tastings and food truck, along with live music on Friday and Saturday from 5-8 p.m., and on Sunday from 2-5 p.m.
72 School House Rd.
Mills River, NC
828-595-9940
Burntshirt Vineyards
Burntshirt Vineyards has two locations in western North Carolina. The Hendersonville location is where you will find the production facility and guided tours. The Chimney Rock location offers great views overlooking the iconic Chimney Rock and Hickory Nut Falls.
Hendersonville
Tastings and free tours are available all weekend long. Get a free souvenir wine glass with the purchase of a tasting.
Live music is available on Friday and Sunday from 3-6 p.m., and on Saturday from 2-5 p.m.
2695 Sugarloaf Rd.
Hendersonville, NC
828-685-2402
Chimney Rock
Enjoy wine and bistro bites served up in the spacious indoor tasting room or on the outdoor patio. Live music will be available on Saturday and Sunday from 2-5 p.m.
438 Main St.
Chimney Rock, NC
828-436-2490
Marked Tree Vineyard
Marked Tree Vineyard offers 10 wine varieties of wines made with European vinifera and French-American hybrid grapes. Enjoy 360-degree panoramic views.
Enjoy a wine tasting of 5 different wines, along with a souvenir glass. Indoor and outdoor seating available. Cost is $20.
A unique Spring Dinner with a Local Chef lets you savor a four course meal, expertly paired with Marked Tree wines, while enjoying sunset over the Blue Ridge mountains. 6-9 p.m., $100. Reservations required.
The Vintner's Tasting allows you to experience pre-release wines and exclusives that aren't available in the tasting room yet. You will also get a box of locally made goodies for pairing with your wines. Tickets are required, cost is $45. Available Saturday and Sunday at 1 p.m. and 4 p.m.
623 Deep Gap Road
Flat Rock, NC
828-513-3773
Point Lookout Vineyard & World's Edge Meadery
Point Lookout Vineyard and World's Edge Meadery are both located in the same spot. The 30-mile views from an elevation of 3,000 feet atop Point Lookout Mountain are stunning! And they have a huge covered open-air patio, along with outdoor patio seating.
The Cider Wine and Dine Celtic Festival will offer mead tastings along with a souvenir glass. Wine tastings are also available.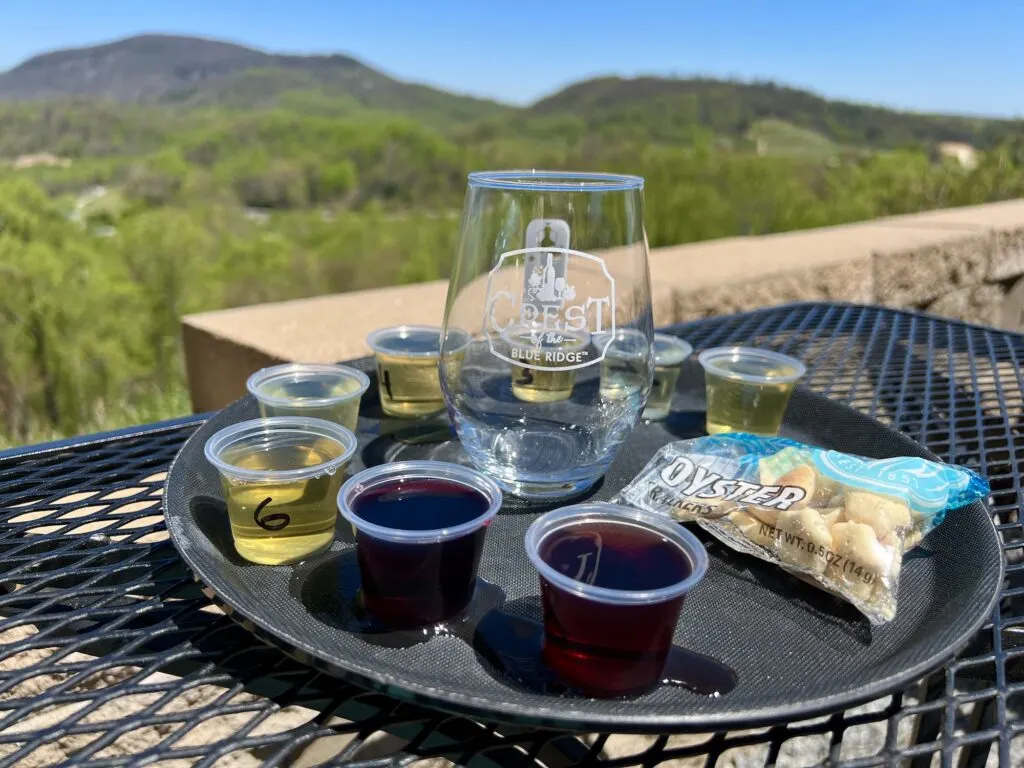 Irish music, bagpipes and Irish food will be available during the weekend. Friday and Saturday hours are 12-9 p.m., and Sunday 12-6 p.m.
A mead and food pairing will be available on Saturday. It is a ticketed event.
408 Appleola Road
Hendersonville, NC
828-393-5793
Saint Paul Mountain Vineyards
Located across from Appalachian Ridge Hard Cider, this cozy winery and tasting room are located among the orchards and vineyards that supply the fruits for the wines and ciders.
Tubular wine tastings are available on Friday, Saturday and Sunday. Enjoy six wines served up in test tubes for a unique presentation that is definitely picture-worthy!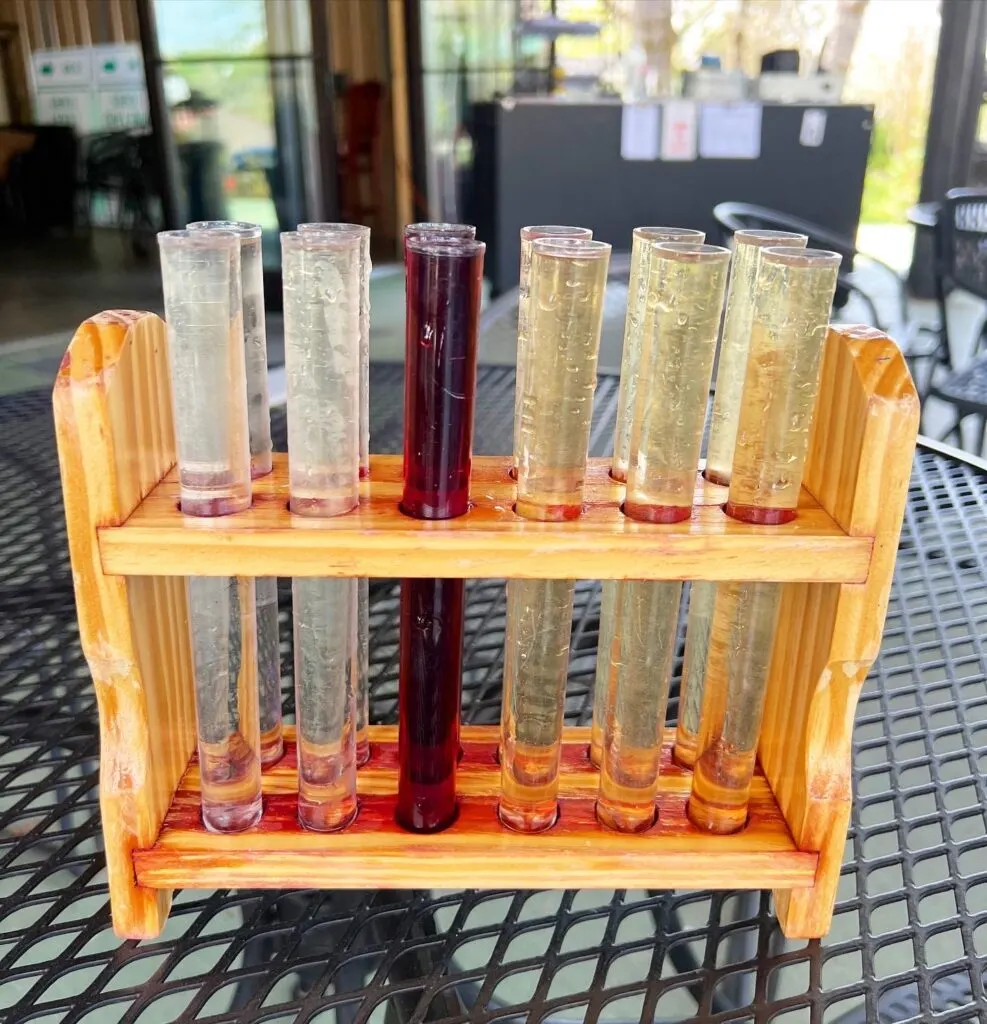 Sippin Saturday! will have live music from 3-6 p.m. and Cousins Maine Lobster food truck from 12-6 p.m.
Sunday Funday will have a food truck from 12:30 – 5:30 p.m. and live music from 2:30 – 5:30 p.m.
588 Chestnut Gap Rd.
Hendersonville, NC
828-685-4002
Sawyer Springs Vineyard
A sixth-generation family of growers in Henderson County has started Sawyer Springs Vineyard, a family-run winery with a rustic tasting barn serving up award-winning wines grown and processed right on the same location.
A local cheese and chocolate wine pairing is available on Friday from 12-6 p.m. Cost is $25.
Saturday features Yoga on the patio from 11:00 a.m. – 12:00 p.m. with a glass of wine, $15 per person. A cornhole tournament starts at 1:00 pm, cost is $25 per team entry fee. BBQ will be served from Pig in a Basket BBQ truck, and live music with Myron Hyman.
Mimosa Sunday will feature five mimosas made with their wines, along with live music with Daniel Sage from 2 – 5 pm.
Bud break tours in the vineyard with owner Paul Dermid, will also be held on Sunday, weather permitting.
124 Sandy Hill Lane
Hendersonville, NC
828-698-4383
Stone Ashe Vineyards
A stunning, state-of-the-art tasting room can be found at Stone Ashe Vineyards.
Be one of the first to try the new vintage with a guided tasting on Friday or Sunday. Reservations required, cost is $15.
A vineyard hiking tour is available on Saturday. Be prepared for a strenuous outing and wear hiking shoes. Available at 12 and 3 p.m., free of charge but limited to 10 guests.
On Saturday, live music will be on the patio from 2-5 p.m.
736 Green Mountain Road
Hendersonville, NC 28792
828-551-5643
While you are in Hendersonville, be sure to use our helpful travel guides: