A rainy day can be no fun to walk around in, but does Universal Studios close when it rains?
In our guide to Universal Studios in the rain, we explain what type of weather will force the theme parks to close to guests. You will find the following information in this article:
Does Universal Close When it Rains?
What is Lightning Alley?
Does Universal Studios Close for Hurricanes?
How to Prepare for Rain in the Theme Parks
Rain Gear You Should Have for a Universal Studios Visit
Does Universal Close When it Rains?
No, Universal Studios Orlando and Universal Studios Hollywood do not close when it rains or there is inclement weather, unless the weather impacts the safety of guests and team members. Extreme weather, such as a hurricane, can shut down the theme parks.
However, rain and thunderstorms can shut down individual attractions for safety reasons.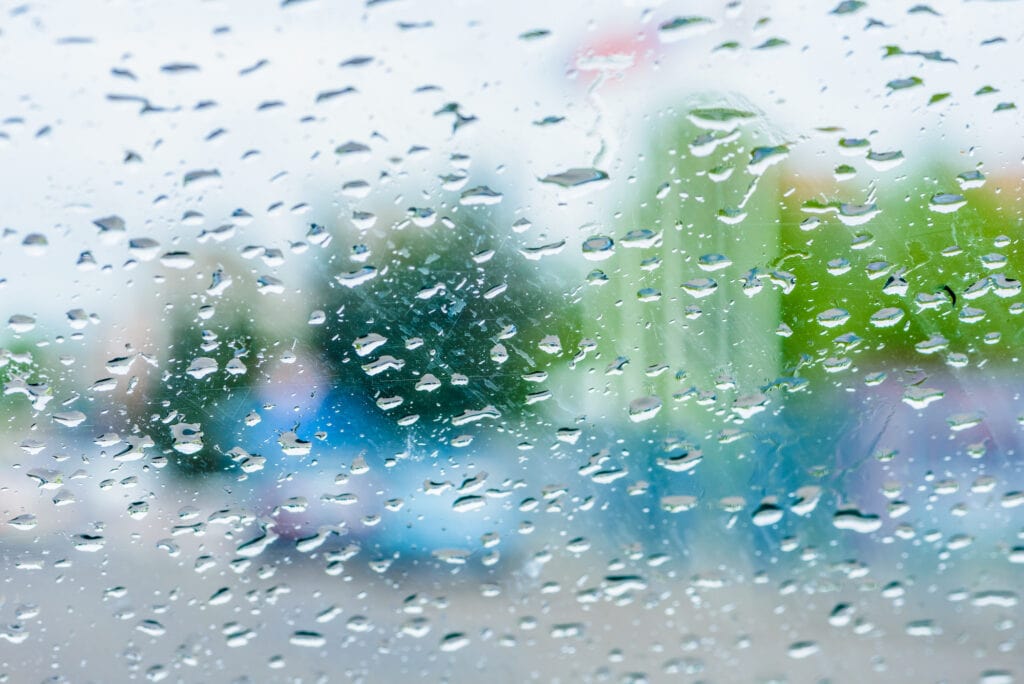 For instance, rain can affect the speed and safety of outdoor roller coaster tracks. In this case, rain can cause a ride to close down, but the theme park remains open.
Another example is thunderstorms. While the theme parks will not close during a thunderstorm when lightning is present, outdoor activities and water rides can be shut down until the threat of a lightning strike passes.
Universal Studio's water rides will shut down if there is lightning reported in the area, even if you do not see lightning from inside the park.
A general rule – although this is not always the case – is if lightning has been reported within 15 miles of the theme parks, then outdoor activities will be suspended until the weather system has moved away.
Also see Volcano Bay's Rain Policy.
Lightning Alley
In Orlando, lightning is a very common occurrence and a real threat. Universal Studios Orlando is in an area known as Lightning Alley. This stretch of Florida has the most lightning in the United States per year.
More than 90% of the lightning occurs from May through October, when the weather is warm. If you are traveling to Universal Studios during these months, it is essential that you be prepared for rainstorms.
Does Universal Studios Close During Hurricanes?
Yes, Universal Studios Orlando has closed completely to guests during hurricanes in the past. Hurricanes not only bring a tremendous amount of rain, but also high winds, flooding and the potential for tornadoes.
Universal Studios will close during a hurricane in Florida. The most recent closure has been for Hurricane Ian on September 28, 2022.
The theme parks were closed for the day and opened slowly after the hurricane passed through. Parks first reopened for official Universal Resort Orlando hotels guests, then opened to the general public.
How to Prepare for Rain at Universal Orlando Resort
Rain is common in central Florida. In fact, it rains almost every day in Orlando from May through October. Generally these storms are from 2-5 p.m., but it can vary depending on weather conditions each day.
It is not a matter of if it will rain while you are at the theme parks, but when it will rain, especially if you are visiting during warm weather months.
Be prepared for the rain so that you do not miss out on one minute of fun in the theme parks.
Take these steps to prepare for the rain:
Bring a poncho or umbrella with you for each member of the family (see our picks below)
Have a second pair of shoes to change into if your shoes get wet, or bring waterproof shoe covers.
Use a weather app that will notify you of rain moving into the area. Turn on notifications for rain. If you are alerted that rain is coming soon, you can choose an indoor show or attraction rather than being in an outdoor queue line when it starts pouring.
Leave the parks before an expected rain storm and go back to your hotel. Then easily re-enter Universal theme parks after the bad weather has gone by.
Know what attractions and shows are indoors. Circle these on the map or make a list so that you can easily go to these areas when the weather looks bad.
Avoid being in any queue line that is outdoors, even if it is an indoor attraction or show. When it starts raining, you want to be under cover.
Download the Universal app. This app can show you what wait times are so that you know which attraction or show to go to as bad weather approaches.
Best Rain Gear for Universal Studios
You do not want to be caught in a rain storm in the theme parks without a rain poncho or umbrella. Not only is it miserable to walk around being wet, but buying an umbrella or poncho in the parks is crazy expensive!
A visit to Universal Studios during the rain can actually be awesome if you are prepared! While most people are indoors trying to stay dry, you can be outside with no crowds and no wait times!
We have been caught in rainstorms unprepared many times. Though we usually wait out the storms for a few minutes in a gift shop, sometimes the rain lasts for hours. When we finally relented and bought a poncho or umbrella, it was over $10! Plus, the quality wasn't very good to justify that price.
Rain Ponchos
Do yourself a huge favor by stocking up on inexpensive plastic ponchos at the Dollar Tree, Dollar General or other low-cost options. These disposable rain ponchos are the cheapest I've found, at less than $1 each!
This multi-pack of disposable clear rain ponchos costs just a little bit more than the dollar stores but is totally worth it to have!
If you know that your vacation will have a lot of rain, invest in a better quality rain poncho or rain jacket. Disposable rain ponchos are thin, flimsy and will stick to your skin after you start sweating. While they are okay to have for brief rain showers, you don't want to have to use them all day.
We suggest a sturdy and reusable rain poncho that can be folded up into a small tote when not in use.
You might also like a long rain coat with buttons and a drawstring hood. This two-pack of full-length raincoats on Amazon is a great value for protecting yourself from the rain.
You can also get a 2-pack of clear rain ponchos, too, on Walmart.com.
They are inexpensive enough that you could leave them behind after your vacation with no worries.
Umbrella
Are umbrellas allowed at Universal Studios? Yes, they are, as long as they don't go against Universal Policies for safety and security. While umbrellas are allowed in the theme parks, they won't be allowed on most of the rides. Free lockers will be available to stow umbrellas and bags on attractions where they are not allowed.
If you don't enjoy a poncho or rain coat sticking to your skin in the heat, then an umbrella might be a better choice.
Umbrellas are also great if you will be carrying small children, for guests in wheelchairs or electric vehicles that want to protect their equipment as much as possible, or if you will have backpacks or bags that you must access in the rain.
Be sure to bring an umbrella that is small enough to fit in a backpack, Universal locker or to easily carry. A golf umbrella is NOT a wise choice for using at a theme park unless you are using it as a walking stick, too.
Many travel umbrellas are cheap, flimsy and will only last through one or two rainstorms with wind. Be sure to get a great quality travel umbrella that is small and you can carry easily. We like this windproof travel umbrella and all of the colors that it comes in.
If you are a Harry Potter fan, then we highly suggest these Harry Potter umbrellas for your visit to the Wizarding World of Harry Potter!
Waterproof Bags
Most people forget that their bags are going to get soaked, too, in the rain. And it can be a real pain to try to put a backpack on underneath a poncho.
Or your backpack could stick out underneath an umbrella.
Do yourself a favor and get a waterproof bag, such as these waterproof fanny packs, so that you don't have to worry about your phone and personal belongings getting wet.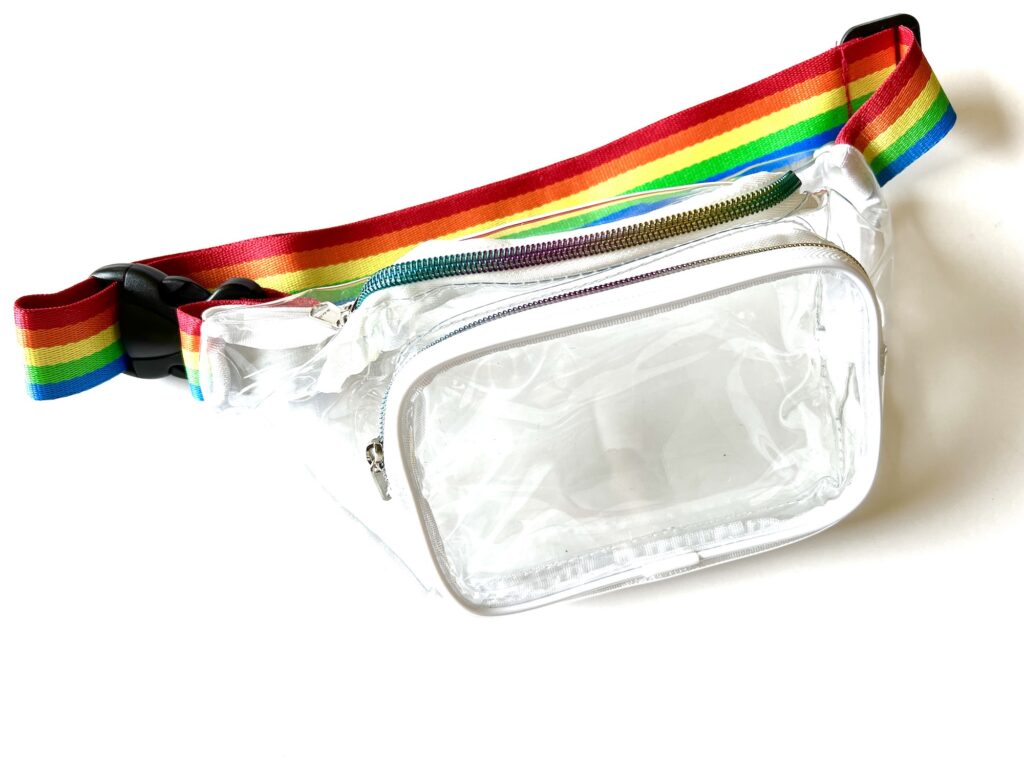 An inexpensive backpack with a waterproof rain cover can also be a wise idea, too.
Stroller Cover
If you have a stroller, be sure to bring a stroller rain cover to protect your kids and your equipment during a rain storm! (Also available on Walmart.com)
Waterproof stroller covers are surprisingly inexpensive for the convenience that they give you. Because, trust me, your kids aren't going to be happy being pushed around in the pouring rain.