If you are at Volcano Bay water park and it starts to rain, do you have to leave? Does Volcano Bay close for rain?
Here are all of the answers you need in case it rains when you are at Universal Studios Orlando's Volcano Bay.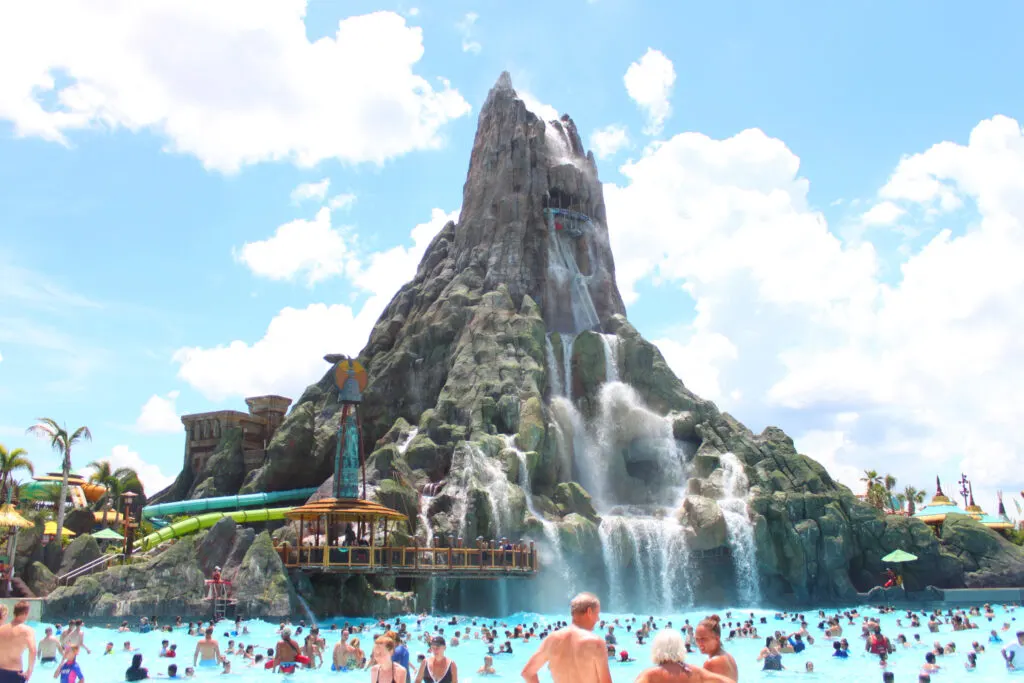 Does Volcano Bay Close When It Rains?
Volcano Bay does not close for rain or most bad weather.
The only times that Volcano Bay would close for weather is during hurricanes, lightning storms (such as storms that could last all day, rather than just a few minutes) or extremely cold temperatures that would make it unsafe to be in the water.
Guest safety is always the top priority, so if a weather event could be unsafe for guests, the waterpark could close.
Rain is very common in central Florida, especially during the warmer weather months from May through October. There is a very good chance that it will rain when you are at the water park in the summer.
Usually the rain comes between 12 -5 p.m., though showers can be common in the evening, too.
Volcano Bay continues to operate during rainstorms. Often, these rainstorms only last a few minutes. The sun often continues to shine through the rain, making a pleasant experience if you are in the pools or on water rides.
Rainstorms can be a great time to enjoy Universal Studio's water rides or pool hop at Universal hotels, too!
If, however, there is thunder and lightning, the rides can be temporarily suspended for safety reasons and guests could be advised to seek shelter.
If thunder and lightning are in the immediate vicinity (around 15 miles, but it can vary), then the rides and pools could be closed, even if you do not see lightning or hear thunder.
Should you decide to leave Volcano Bay because of weather, you are able to re-enter the Universal park later in the same day.
Related Post: Where to Park for Volcano Bay
Can I Get a Refund for Bad Weather at Volcano Bay?
No, you cannot get your money back if it starts to rain while you are at Volcano Bay at Universal Orlando Resort.
Most ticket sales for Volcano Bay are final and non-refundable.
This can be challenging when you are trying to plan your Volcano Bay day months in advance and book a cabana at Volcano Bay.
If you are concerned about the weather, either for rain or cold temperatures, it is best to try to buy your ticket once at Universal Studios and you can check the current weather conditions.
However, during the summer months and peak travel times such as Fourth of July, Thanksgiving and Christmas, you might find that the water park is sold out and you cannot get a ticket.
If you feel that severe weather has impacted your time while at the water park in an extraordinary way, you can always talk with Guest Services to see if there is anything they can do. However, the official policy is that there are no refunds for bad weather.
Conclusion
If it rains during your day at Volcano Bay, be prepared to get wet or find shelter during a brief storm since there are no refunds for weather and Volcano Bay does not close for rain.
Your packing list for Volcano Bay should include items to keep you dry, including waterproof fanny packs which are great on water rides, in the pools and in the rain.
Related Posts: