Did you know that Universal Studios is strict on the types of bags that you can bring onto its theme park attractions?
If you are used to going to Disney World or other amusement parks, you might not realize that the type of bag you bring to Universal Studios can really impact your enjoyment at the parks.
You will need something small enough to fit in the lockers that are required to use on many attractions. Plus, you want a bag that is lightweight, dries out fast and can hold a lot of stuff, such as snacks, battery chargers, clothing, water bottles and more!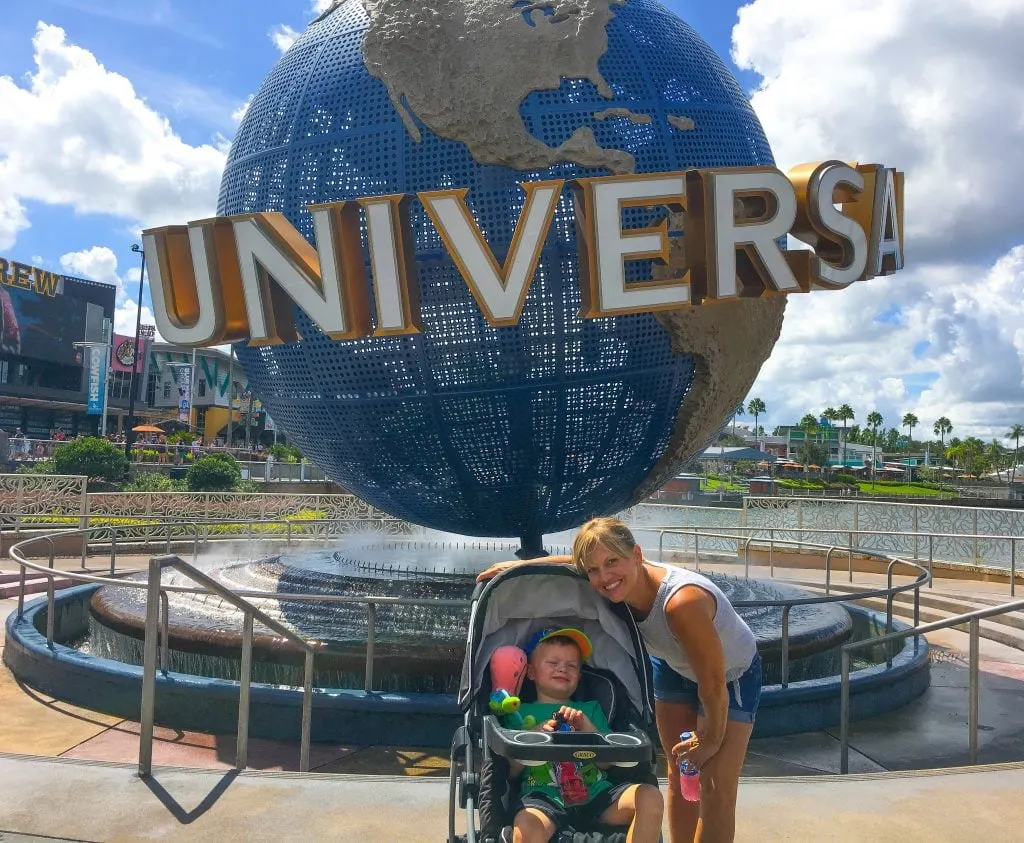 These are the best bags to bring to Universal Studios to save time and money!
Helpful Tips for Choosing a Bag for Universal
Many attractions at Universal Studios do not let you bring your bag with you on the ride.
For attractions where you cannot bring bags, you are given the option of using their free lockers.
Free lockers are deep, but they are not tall. You can fit a lot of stuff in the lockers, but you don't want your bag to be too wide. So a front pocket on your bag that is full could prevent you from getting your bag inside the locker.
Squishable bags are important! You can squish and bend and fold the bags to fit in the lockers. These would be bags made from cotton, polyester or material.
Bags made from leather, PVC, or have fancy embellishments might not be the best choice because they can't easily be bent or squished.
You can take items out of the bag to fit in the locker behind your bag. For instance, take out a water bottle and put it in separately along with your bag.
Each person with a theme park ticket can get one free locker at the attractions that require you to stow your bags.
Fanny packs must have a three-prong closure. (Check out our favorite fanny packs for Universal Studios!)
If your bag is too big for the free lockers, you can pay for a larger locker for $2 at each attraction.
Be sure to see our Universal Studios Packing List!
Universal's Locker Sizes
With all of the concern about trying to find a bag that fits in Universal's free lockers, you might be wondering how big they are.
The dimensions for Universal Studios Orlando free lockers are 14 inches X 5.5 inches X 16.9 inches.
The free lockers resemble a safety deposit box in that they are long and deep but not very tall.
Larger lockers can be rented for a small fee at the attractions. The size of the large lockers is 12 inches X 13 inches X 16.9 inches.
IMPORTANT TIP: If you must stow your bags, that means you might not be able to bring your phone or tickets with you if you don't have pockets. Since you MUST have your ticket to close and open your locker, you need a way to carry it!
That's why we HIGHLY recommend bringing one of these lanyards for Universal Studios! Not only will they hold your phone, but you can stow your tickets in the waterproof carriers, too!
If you are trying to store your suitcase at Universal Studios on a travel day, you won't be able to bring a bag with wheels. Check out all of the options for storing luggage at Universal Studios.
Vera Bradley Harry Potter Collection
The famed handbag designer Vera Bradley has limited edition Harry Potter designs that are absolutely perfect for visiting the Wizarding World of Harry Potter!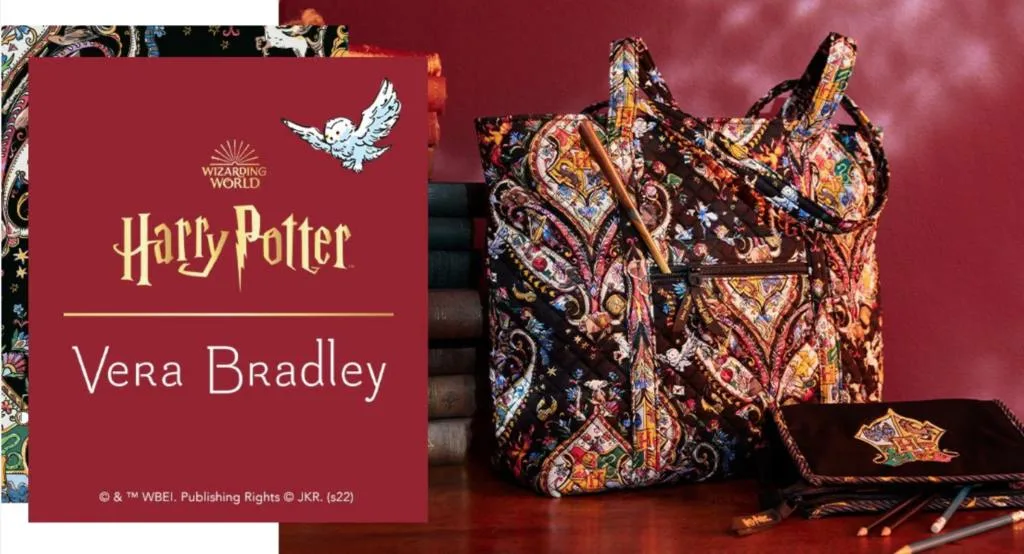 If you are not familiar with the company, most of the designs are made with quilted fabric. This is great in Florida and California heat because it breathes against your body, dries out quickly if it gets wet, and can easily be washed after theme park visits.
The limited edition partnerships sell out fast. So if they are not currently available on the website, you may need to wait for the next release.
Special patterns are created for each release. Here are some of the more recent Harry Potter designs: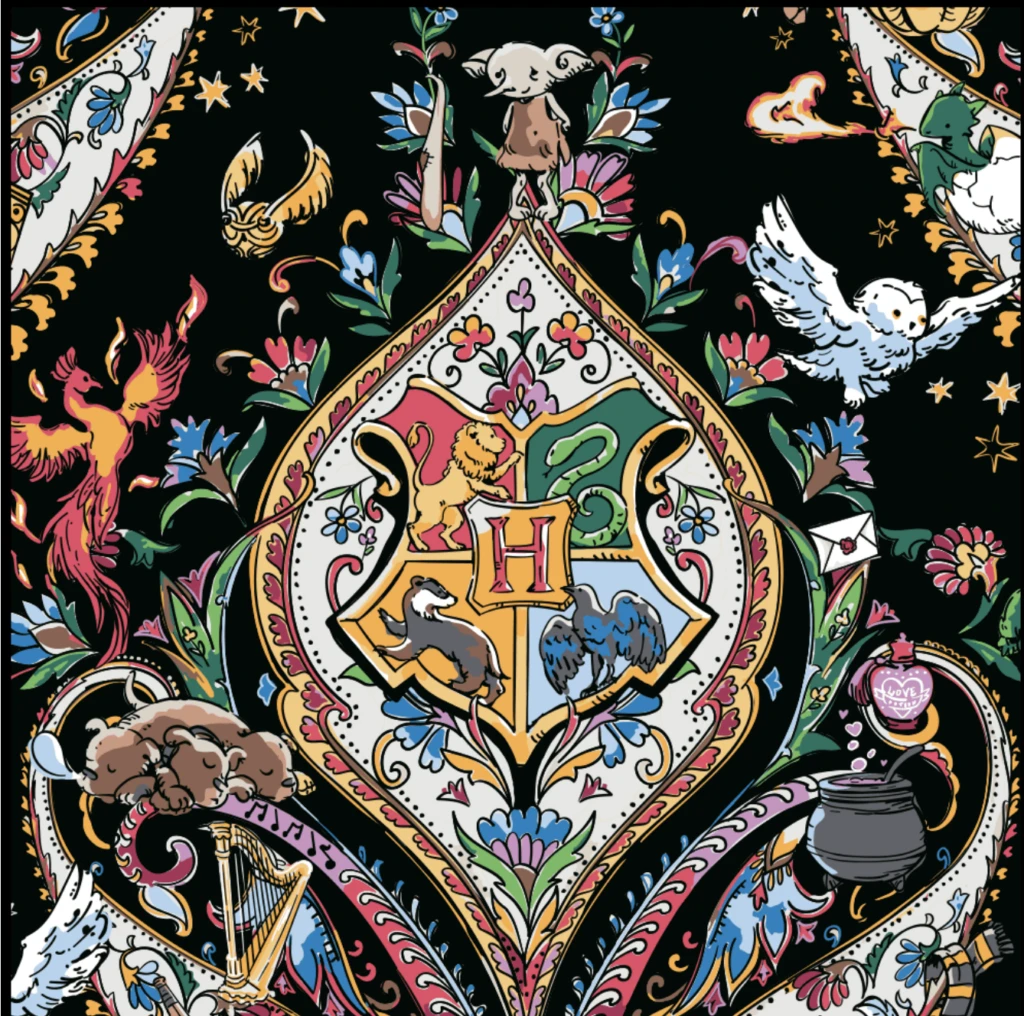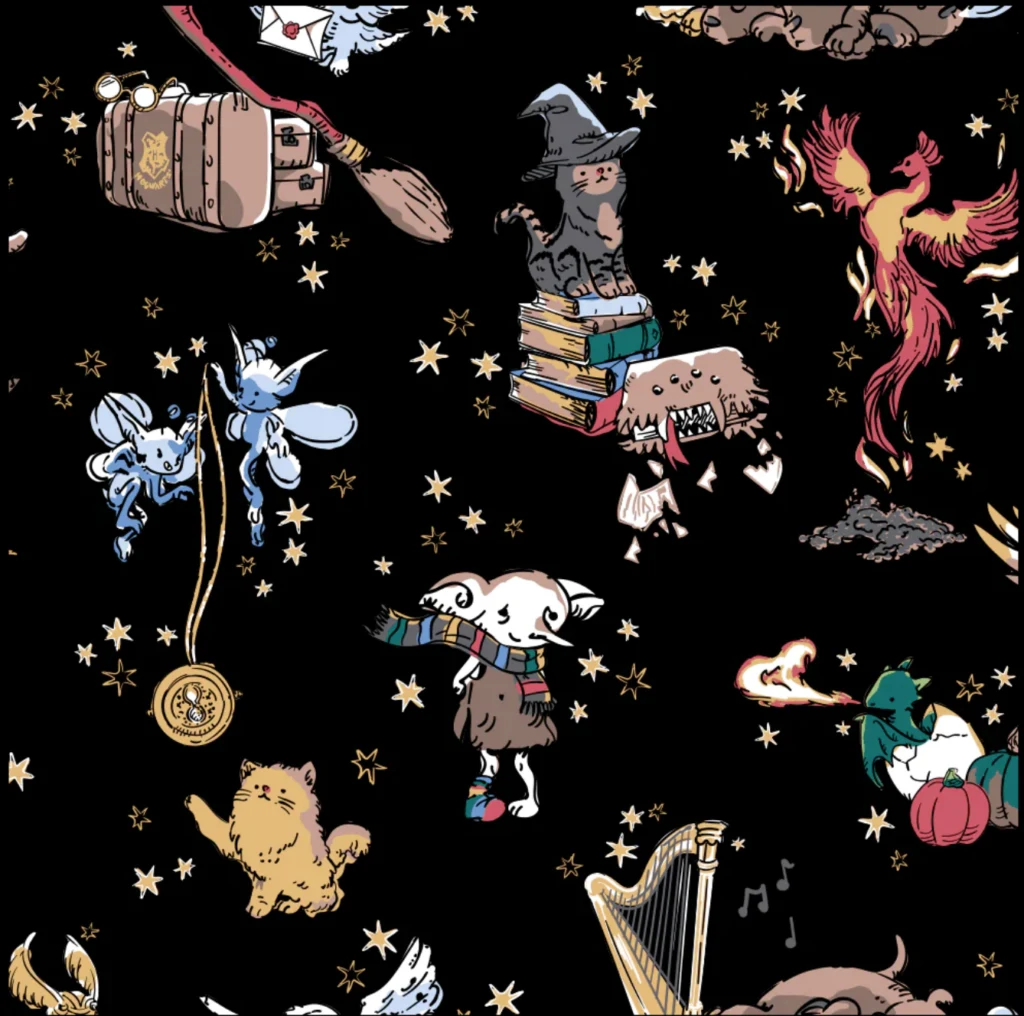 Because these fabric bags can be scrunched and folded, they fit easily into lockers. Plus, you can lay them flat in your luggage while traveling.
Jansport Mini Backpack
Simple, practical and in a variety of colors, the Jansport Mini Backpack is an inexpensive yet highly practical backpack that will fit in Universal Studios lockers.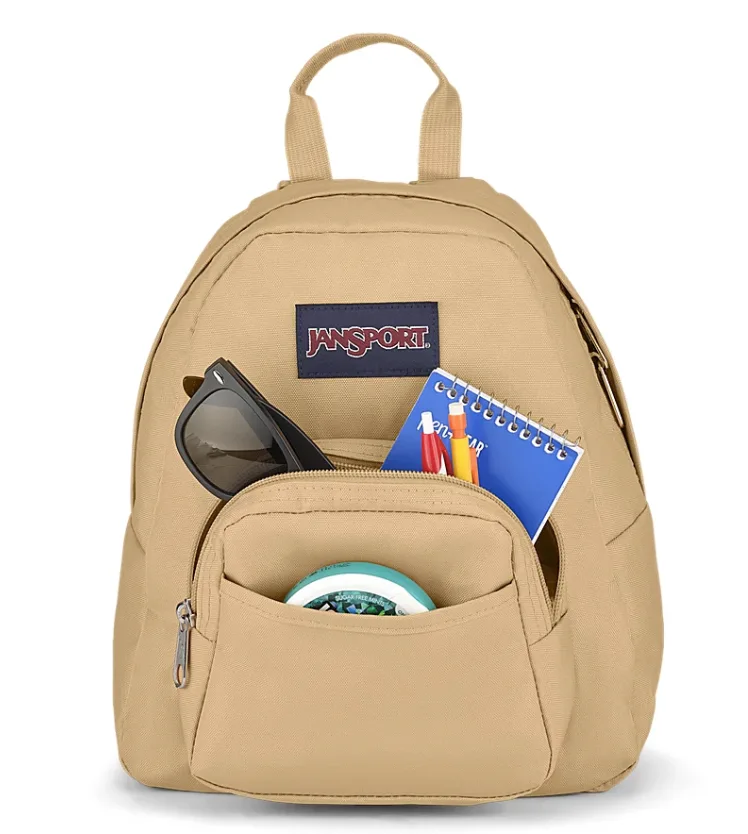 In fact, this is one of Jansport's best sellers!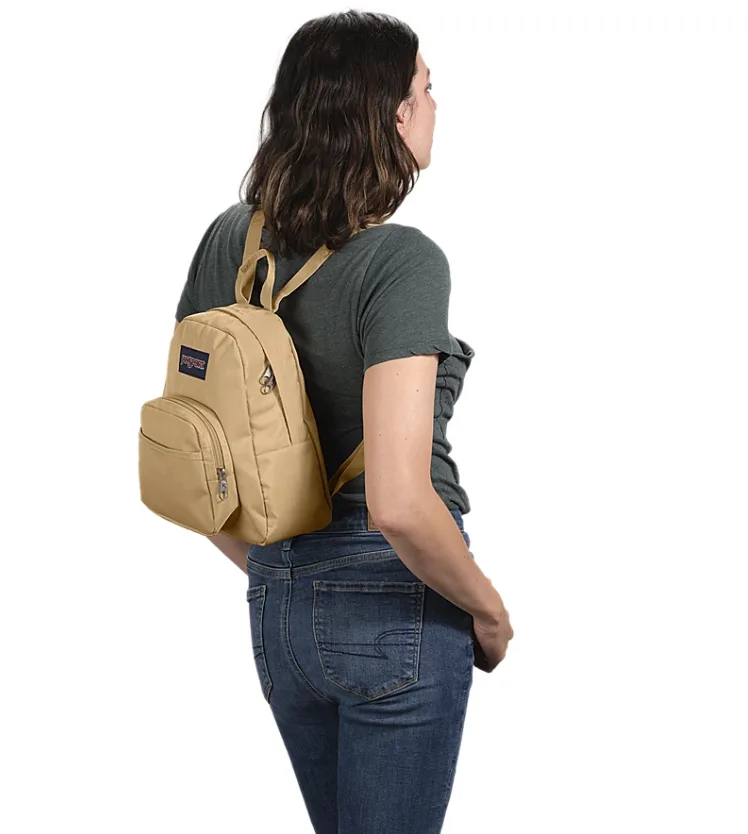 Also available on Walmart and Amazon.
Vera Bradley Sling Backpack
The Vera Bradley Sling Backpacks are perfect for your visit to Universal Studios if you don't want a Harry Potter-themed bag.
These slim-lined bags will fit easily in the lockers, plus carry everything you need for the parks.
A variety of colors and patterns are available. The bags have two compartments. They can be worn on the back or on the front, and easily slide around from back to front when needed.
The eco-friendly and sustainable bags are made with either Recycled Cotton or ReActive, which is a material made from recycled water bottles.
Of course, Vera Bradley has a variety of different types of bags that will all work at Universal Studios, including small backpacks and totes.
We can't rave enough about Vera Bradley bags after visiting the Vera Bradley Design Center in Indiana. After our visit, we own a LOT of Vera Bradley!
LL Bean Stowaway Day Pack
Who doesn't love the dependability and sturdiness of any L.L. Bean product? This Maine-based outdoors brand has been making solid, dependable products for generations!
The L.L. Bean Stowaway Day Pack is a great bag for the theme parks.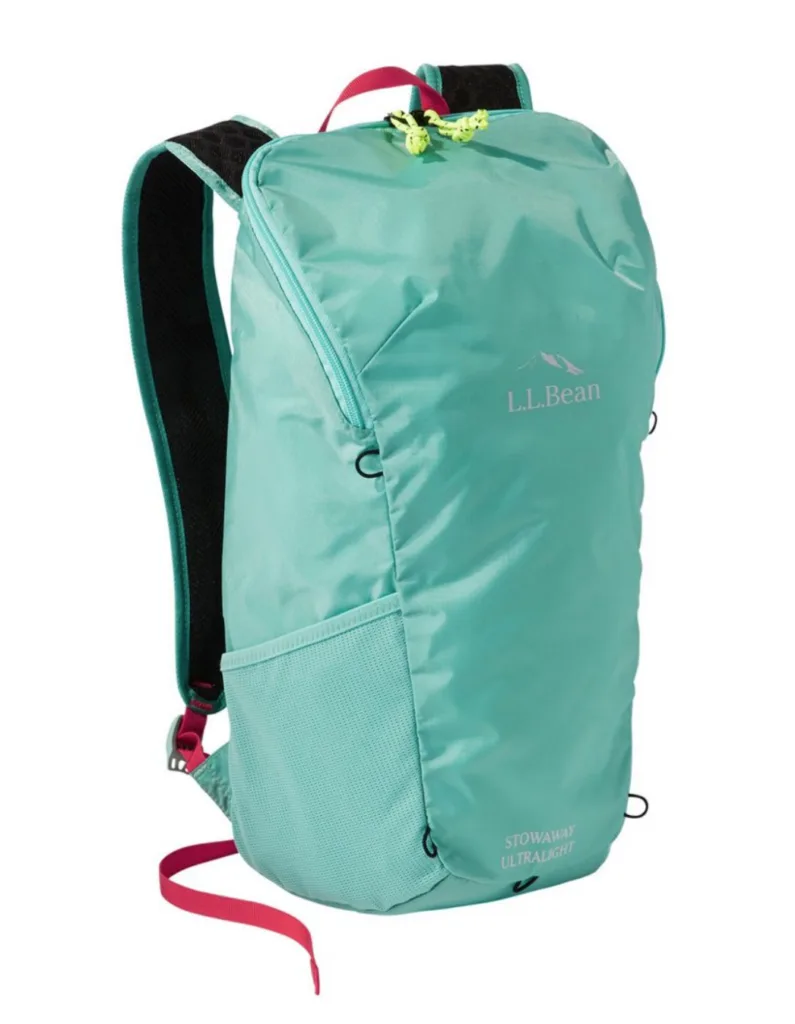 The traditional backpack is made from an ultra-lightweight polyester fabric that is perfect for quickly drying out from sweat and unexpected rain at Universal.
The two straps are padded with foam, for extra comfort. It comes in a variety of colors.
Two water bottle pockets are on the sides, with lots of small compartments inside.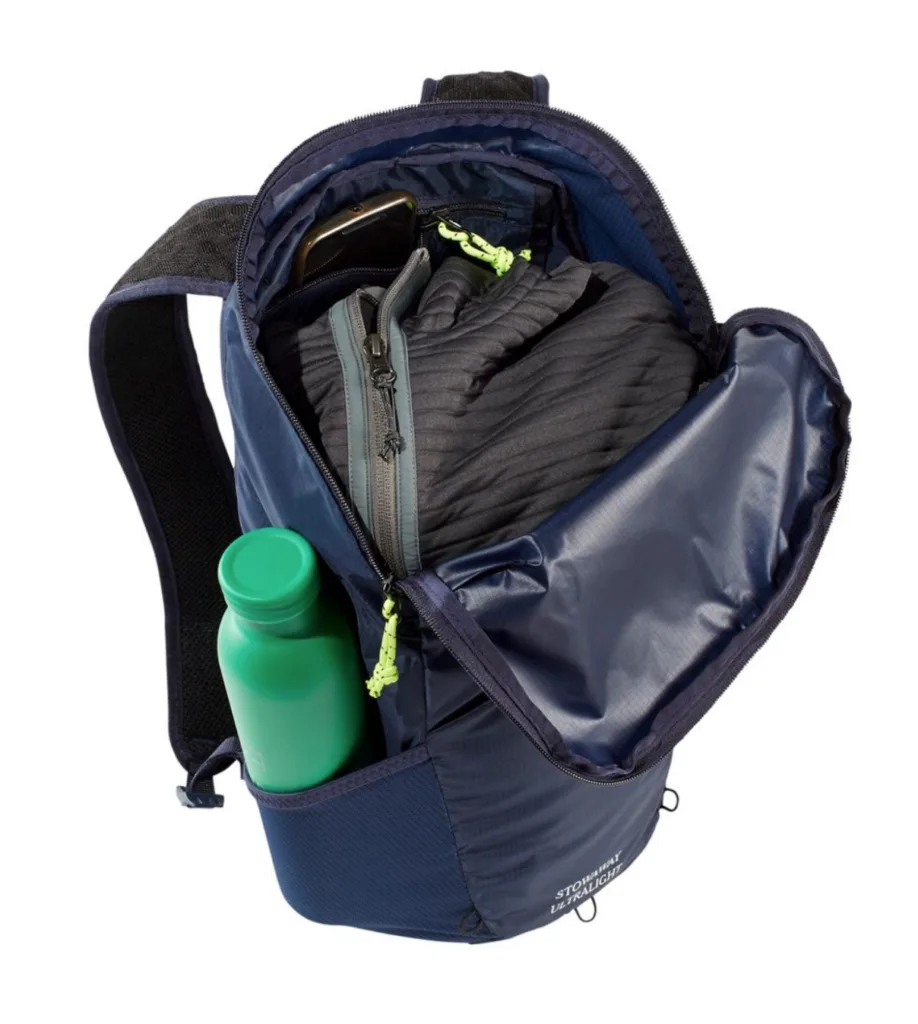 There is even a kids-size backpack so they can help carry all of their stuff! Because the parents shouldn't have to do it all!
WATERFLY Crossbody Sling Bag
This sling backpack is a favorite for going to Universal.
Among the best features of the WATERFLY Crossbody Sling Bag is the pouch that is on the shoulder strap. The small compartment can hold a phone or other small items, plus your sunglasses can hang off of the strip on the pouch.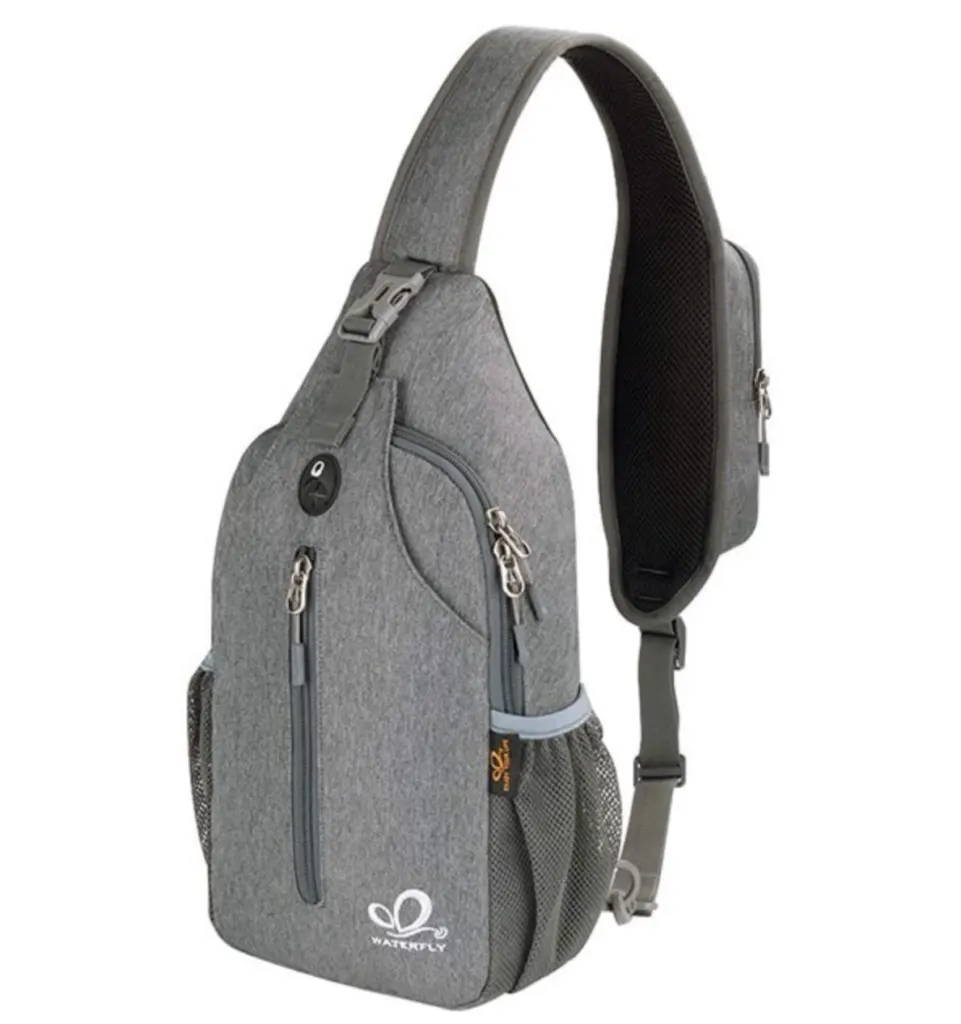 Which means that you can access these items easily if wearing the bag on your back, without having to swing the bag around to the front or contort yourself to get into the compartments on the back.
The slim design is made with a variety of pockets, including a water bottle holder.
Also available on Amazon.
Mini Lounge Fly Bags
Everyone wants to bring a cute bag to the theme parks, right? And when you can theme your bag to the destination it is even better.
Lounge Fly bags have long been the favorites among theme park-goers because they come in a variety of designs.
If you want a themed bag AND have it fit in Universal lockers, then Mini Lounge Fly bags are the way to go. But you must make sure they are the mini versions.
There are a few Harry Potter themed backpacks that are great if you plan on visiting the Wizarding World of Harry Potter (and who isn't?!).
Kavu
Kavu is the ultimate backpack for hiking and theme parks!
The rope slingback design was originally designed for outdoors enthusiasts, but travelers soon found out how great the design works as a day pack.
This brand comes in a huge array of colors and designs, though, so there is something that will definitely work for you theme park visit!
The unique rope strap is perfect for Florida heat because it offers air ventilation between the ropes, which means the straps might not get as hot and sweaty as a traditional backpack strap.
Arca Gear Hydro Carrier
If your main concern is how to carry your water bottle, plus you have a few little bits and items to carry as well, then the Arca Gear Hydro Carrier is a perfect fit for you.
With easy access to your water bottle, you won't have to worry about holding it or needing to swing your bag around to access the bottle each time you want a sip.
Plus, there is enough room for small bits and bobs such as credit cards, phone, snacks, car keys and your Universal Express Pass.
Mosiso Sling Bag
Another popular, inexpensive and small daypack is the Mosiso Sling Bag.
You will find three different compartments and two mesh pockets on the side in this functional and stylish bag that you can use after your vacation, too.
Drawstring Bags
Any type of drawstring bag will work great at Universal Studios.
These small bags cinch together with drawstrings that also work as the straps.
Drawstring bags are often very inexpensive, usually $10 or less for many styles.
These bags only have one main compartment, and there are not outer pockets or pouches.
However, they might be a quick and easy solution for your needs, especially if you don't plan on carrying anything heavy.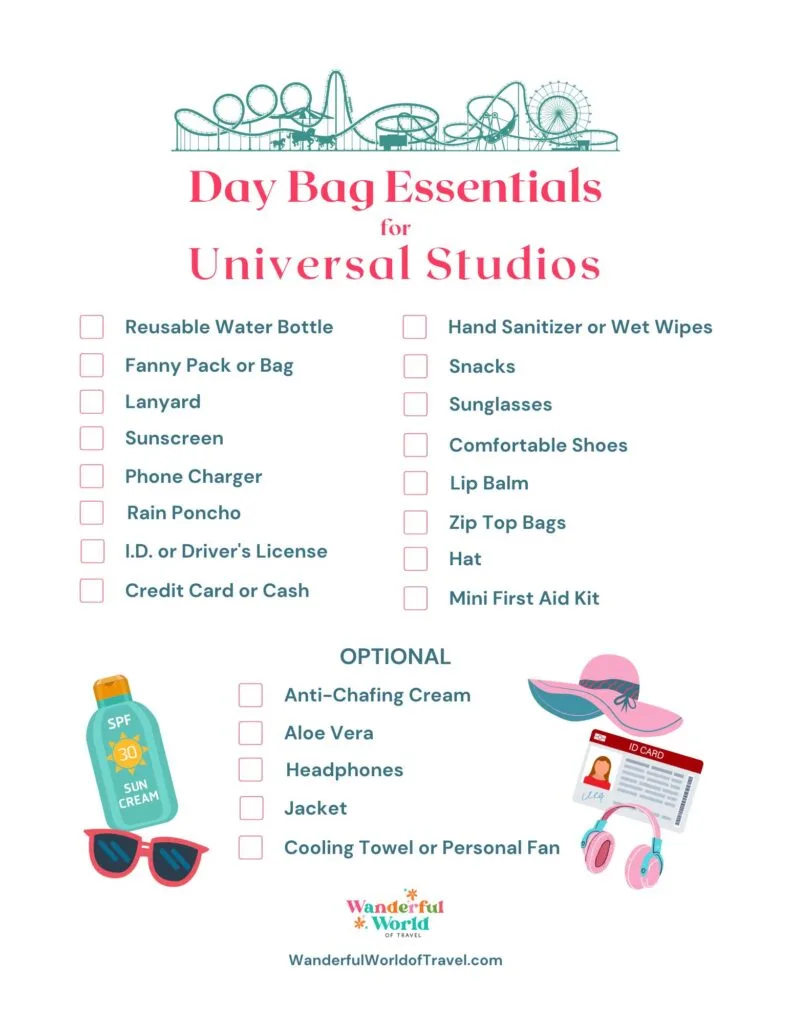 Free Printable Universal Studios Packing List!
Worried about forgetting something? Don't be!
Print off our Universal Studios Packing List to easily remember what to bring to the theme parks.
Best Types of Bags for Universal Studios
Universal Studios' bag policy is to store bags in lockers for most attractions in the theme park. This means that you cannot bring most bags with you onto the rides.
The best solution is to bring as little as possible with you for the day so that you don't have to worry about stowing bags. But, of course, this doesn't actually work well when you are trying to bring snacks to save money, bring water bottles to stay hydrated, phone chargers, and have rain gear for the common afternoon rain storms.
Fanny packs are the best solution if you can limit yourself to just a few items to carry. Since fanny packs can be worn on all but a few Universal rides, you won't have to worry about using the free lockers or leaving your belongings, including your phone, behind.
You might like these Harry Potter fanny packs if you are excited about going to Harry Potter World.
We have a great shopping guide for the best waterproof fanny packs which are perfect for Florida weather and Unviersal's water rides.
If you use a bag that can be cinched around waist to wear, then you don't need to put it in the lockers. Which means that you can still carry a backpack for convenience during most of your day, but you can keep your items with you on the rides if you tie it around your waist.