Yes, you can bring snacks and food into Walt Disney World theme parks. You may want to take your own food either to save money, for picky eaters, or because you have medical requirements for certain types of foods.
While you can bring food and drinks to Disney World, you cannot bring whatever you want. There are certain limitations you need to know about before arriving at the security check at the theme park gates.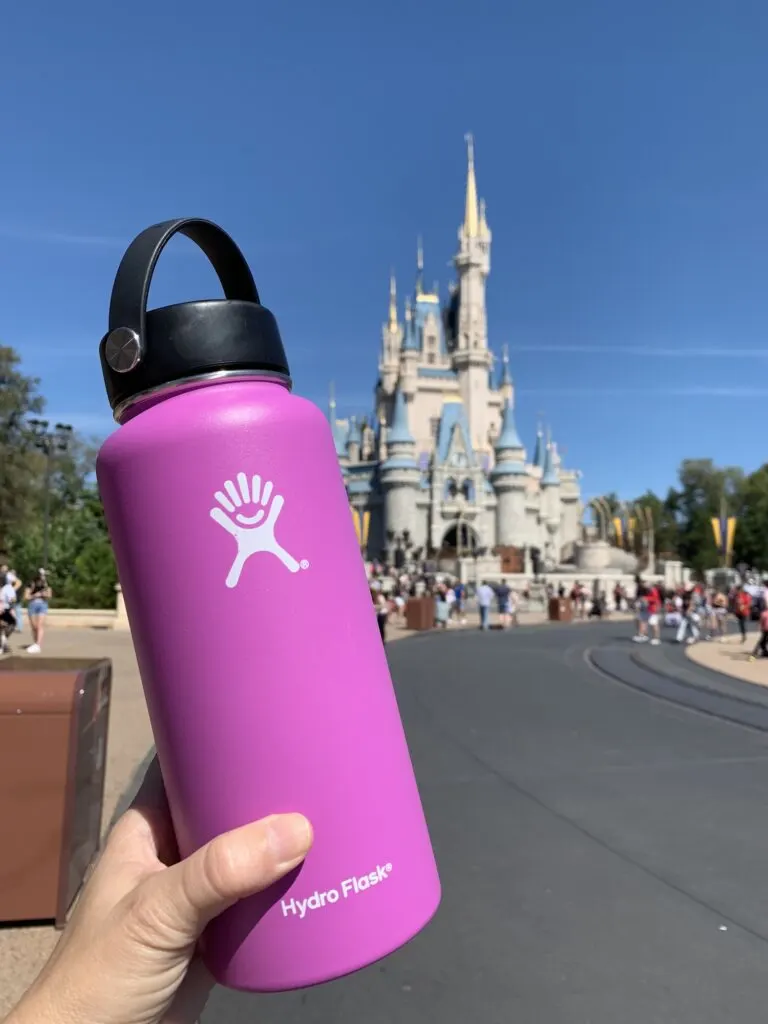 Be sure to see our Ultimate List of the 67 Best Snacks for Disney World to get ideas of what to bring!
The Official Walt Disney World Outside Food and Drink Policy
The official policy for bringing food into Walt Disney World is:
Guests are allowed to bring outside food and nonalcoholic beverage items into the park for self-consumption, provided they are not in glass containers and do not require heating, reheating, processing, refrigeration or temperature control and do not have pungent odors. Inform a Security Cast Member of any food items when you enter the park. The Walt Disney World Resort features a variety of great dining options for almost every taste and budget—including a wide range of choices to help accommodate Guests with Special Dietary Requests. Please Check Our Walt Disney World Resort Rules We ask that you review our Walt Disney World Resort Rules before your visit to avoid any delays or disruptions. We regularly update our rules to ensure you have a safe and enjoyable experience at Walt Disney World Resort.

-Walt Disney World Resort
Walt Disney World restrictions on coolers and use of ice can be found on their Park Rules page, which includes:
Suitcases, bags, coolers or backpacks, with or without wheels, larger than 24″ long x 15″ wide x 18″ high (61 cm x 38 cm x 46 cm) are not allowed in any theme park or water park. Loose or dry ice is not permitted in these containers. Re-usable ice packs are recommended.

-Walt Disney World
The interesting thing is that Disney states that you cannot bring food that requires refrigeration or temperature control, but then allows coolers and recommends re-usable ice packs to keep food cool.
Happily, Disney does allow guests to bring in food and drinks and has a more generous policy than Universal Studios food policy.
Prohibited Items in Walt Disney World
Glassware or glass containers (excluding small containers such as baby food jars)
Drinks containing alcohol
Foods with pungent odors
Loose Ice
Dry Ice
Coolers larger than 15″ wide x 18″ high x 24″ long
Folding chairs
Benefits of Bringing Your Own Snacks
There are many reasons why you might want to bring your own food or drink to Disney World. We never travel to a theme parks without bringing at least a few items with us. Here's why:
Save Money
All theme parks are expensive, not just Disney. Food inside theme parks is very high priced, even though the theme parks say they offer options for every budget.
While you might choose to eat meals at Walt Disney World as part of your experience (such as these brilliantly themed quick-service restaurants), snacks don't have to be as magical!
Since each snack can be at least $3-5, that adds up quickly for a family!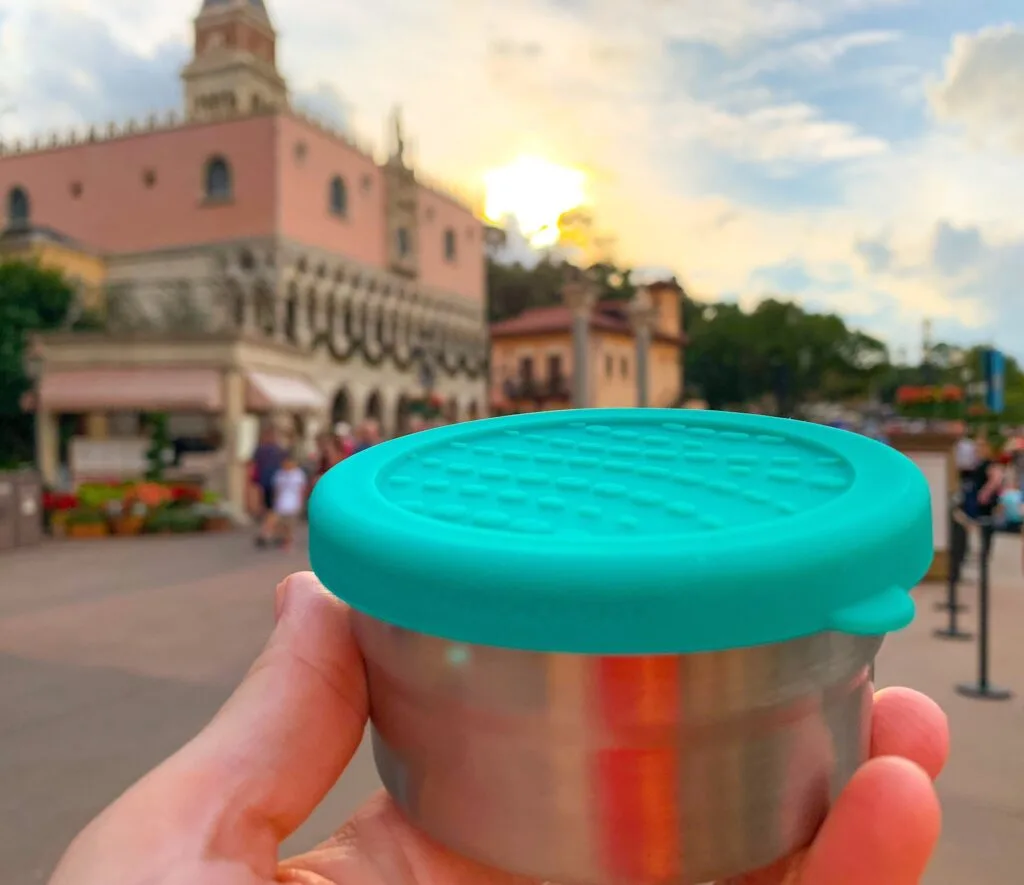 Check out these places to get Free Food at Disney World for some yummy snacks you don't have to pay for!
Save Time
Standing in line to order snacks, and then waiting on them to be handed to you, can take up a lot of time in your day. That's time wasted and money lost by not being able to see more attractions or shows.
It's better to be able to carry snacks with you to eat when you want.
Eat In Lines and on Transportation
Don't bother wasting time munching on snacks while sitting outside an attraction or show. If allowed, it is always better to eat your snacks while you are waiting in lines or sitting in a theater waiting for a show.
Snacking on foods while on a shuttle bus, monorail, Skyliner or boat also helps you save time when you are in the theme parks.
Dietary Restrictions / Allergies
Many people don't have the luxury of being able to eat anything they see. Food allergies, food intolerances and special medically-needed diets can make buying food in a theme park a bit of a challenge.
While Walt Disney World has always been very accommodating for food allergies, it doesn't mean that it is always easy or convenient to find suitable snacks at food carts or in gift shops. Just because foods are available doesn't mean they are available where you are in the theme park or at that time.
If you need specialty foods, be sure to pack at least a few snacks with you just in case you can't find what you need.
How to Pack Food for Bringing Into Walt Disney World
Florida's heat and humidity can ruin foods that you bring into Disney for snacking. Here are some smart tips for keeping your food fresh and delicious.
Bring Non-Perishable Foods
Shelf-stable foods are great for carrying in the heat. Check out our list of 269 Non-Perishable Road Trip Foods for some great ideas.
You won't need to worry about these types of foods going bad, unless they have chocolate in them. Chocolate chips and chocolate will definitely melt in Florida's hot temperatures!
Keeping Foods Cold
If you bring foods that don't hold up to heat well, such as cheese, yogurts or fruits, you can pack them with a small ice pack in a small cooler.
Or put ice in a plastic bag to make your own ice pack. Just don't put loose ice in a cooler, because it is prohibited by Disney!
Ice packs are great to put on your forehead, wrists or neck to help cool down after you don't need them to chill your food.

Also, be sure to check out our DIY magical cooling spray.
A collapsible cooler bag, like this one, is great for keeping foods cold with an ice pack because you can roll it to be smaller after you are done eating the foods. It also doubles as a tote bag and purse.
A thermos is another great way to keep foods cold. Consider putting frozen grapes or string cheese slices in an insulated water bottle to keep items cold without the need of an ice pack. You can later fill it with ice water after you've eaten your snacks.
Freeze Foods the Night Before
Freezing some types of foods is a good idea when packing snacks for the theme parks. Your foods will stay chilled and fresh even if it's hot. Another bonus is that the frozen foods act as an ice pack to keep other foods cold, too!
During the day, your foods will naturally defrost so they won't be frozen by the time you eat them, just cold.
Some good examples of snack foods that you can freeze are:
Grapes
Strawberries
Cherries
Cookies
Brownies
Muffins
Use Zip Top Bags
Zip-top bags, such as Ziploc bags or reusable Stasher bags, are perfect for portioning food and keeping it tidy.
These Stasher snack bags are absolutely incredible if you want to be eco-friendly and have reusable bags that can be washed.
This way you can buy a large bag or box of food in bulk and put it into small containers to save money.
You might also want to see our Zero Waste Disney Kit for more ideas of what to bring for enjoying your own foods in the parks.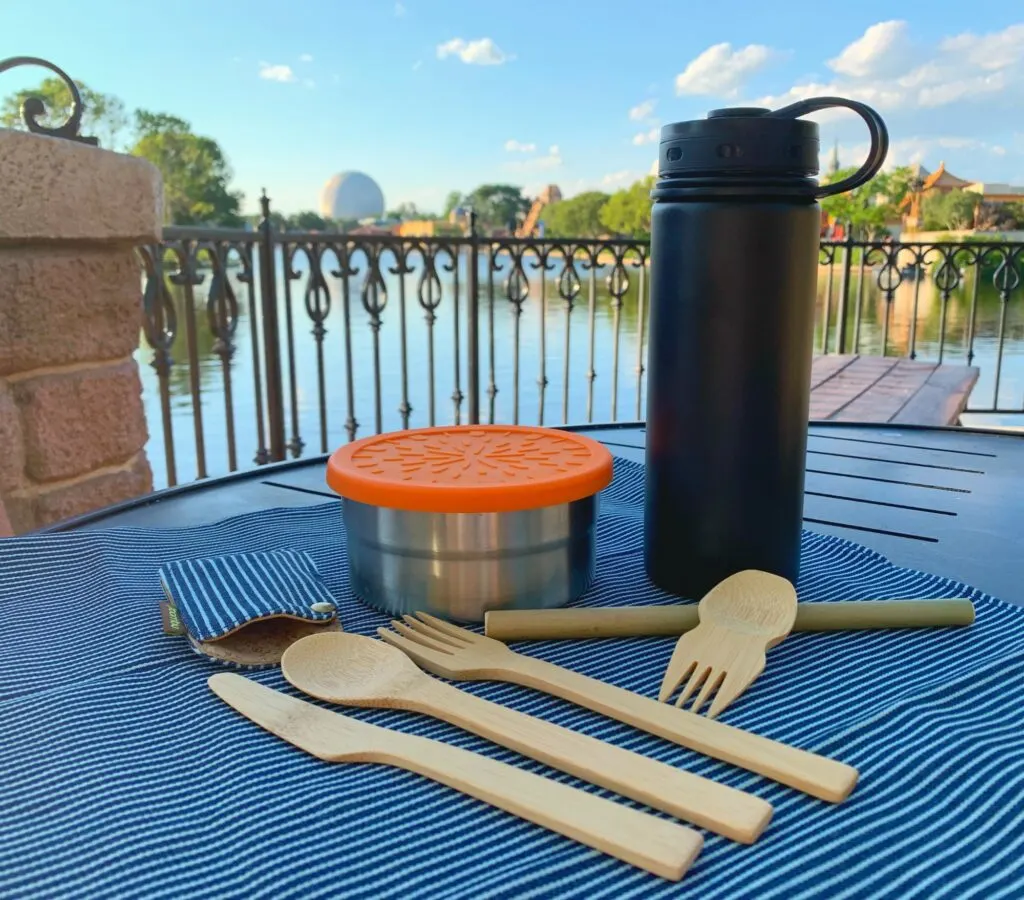 Buy Individually Wrapped Items
One of the biggest reasons for buying individually wrapped items is that they can help you avoid using your fingers while snacking. Your hands can get a lot of germs by touching ride cars, seats and hand railings in the theme parks.
Foods such as squeeze pouches, cheeses and wrapped brownies can be eaten out of the package without needing to hold the food in your hand.
Pack the Night Before
No one wants to be packing small bags of chips into Ziploc bags in the morning when everyone is anxious to get on the attractions. Save yourself stress by packing foods the night before.
Pack Snacks That You Will Actually Eat
This is not the time to start eating healthy if you don't already eat that way. For instance, don't pack your kids celery sticks and hummus to eat if they enjoy cookies or fruit as their snack at home.
However, add in some special treats, too. Such as a food item that you wouldn't eat at home because it costs too much. This way you and your family will feel like you're not missing out from specialty items found in the parks.
Bring Hand Sanitizer or Cleaning Wipes
Your hands will be dirty and germ-y after time in the theme parks. If you can't easily get to a restroom to wash your hands, you will need to have some germ-killing hand sanitizer or antibacterial wipes with you to clean hands before eating, especially if you are snacking while in lines.
Where to Buy Food for Walt Disney World
If you are driving or are local to Disney World, it is best to buy foods at your grocery store and bring with you. That way you can get deals and sales on the food that you buy.
However, many people fly to Orlando to visit Disney and don't have a lot of room to bring foods. Here are some great places to purchase snacks for the theme parks.
Even with delivery fees, the price of the food and drink can still be considerably less than what you would pay in the parks.
Walgreens or CVS
These pharmacy and convenience stores have a huge selection of foods, especially the locations beside theme parks.
If you have a loyalty account with either store, you can earn points and cash back just like normal. You might also have some rewards points you can use on the food.
Nation-wide sales are almost always available at Walgreens or CVS locations in major tourist areas, so you can score some great deals.
Walmart
You can buy tons of stuff at Walmart. Everything from souvenirs to sunscreen to groceries.
There is a Walmart on 192 in Kissimmee. There is also a Walmart Supercenter off of the 429 on New Independence Parkway in Winter Garden. (This location is closest to the Disney's Animal Kingdom side of Disney World, as well as Flamingo Crossings where there are many hotels, such as Towneplace Suites. By far, this is the Walmart we enjoyed shopping at the most in all of Orlando!)
They do have delivery to your hotel via Walmart Plus. You will need to meet the delivery person in the hotel lobby if you choose delivery.
Pro Tip: If you don't already have Walmart+, you can do a free 30-day trial to use while in Orlando.
Target
Another favorite is Target. Many travelers from outside of the United States, including Canada and Europe, love to go to Target to shop for clothing and souvenirs because the store is not located in their country. Stock up on foods while you are there.
The closest Target to Walt Disney World is located off of 192 in Kissimmee (close to the Disney's Animal Kingdom side of the resort) or in Winter Garden Village (closer to the Fort Wilderness area of the Walt Disney World Resort).
Publix
The grocery store that Floridians use, Publix has a huge array of foods at great prices. Their sales are awesome and you can get a lot of great deals.
There are multiple locations of Publix surrounding Disney World. Plus a lot more Publix stores everywhere throughout Florida.
Dollar Tree
An excellent place to buy snacks. It might not always be as cheap as in a grocery store, but it is convenient. There is a Dollar Tree next to Target in Kissimmee off of 192.
InstaCart or Food Delivery
Have food delivered to your hotel via food delivery services such as Instacart. You will need to meet the delivery person in the lobby of your hotel to accept delivery.
Instacart works for Publix grocery stores.
Amazon Delivery
If you can receive Amazon packages at your hotel, you can have food shipped to your room or delivered with same day delivery via Amazon Fresh.