If you want to eat breakfast at Universal CityWalk before entering Universal Orlando's theme parks, there are limited options for dining early in the morning.
There is only one dine-in restaurant for breakfast. All other choices are quick-service, which means getting your food and finding a place to sit or eating while walking.
Only one cafe opens at 7 a.m. All others open at 8 a.m. Which is quite a challenge when you are trying to take advantage of early park hours and get inside before the crowds get too bad.
You might be surprised at how long the lines will be at many of these locations to get breakfast. Keep in mind that all guests to Universal's two theme parks are walking through CityWalk to get to the parks.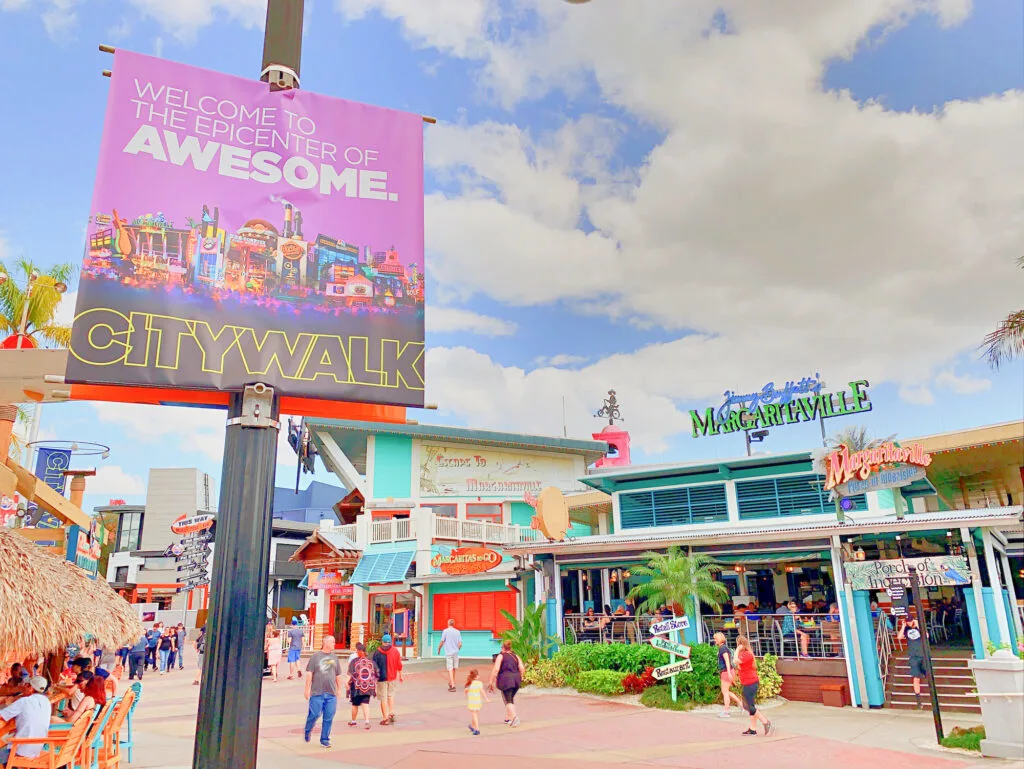 See more helpful tips about planning your vacation to Universal Orlando and how to get free parking at Universal CityWalk.
That's why we suggest bringing your own breakfast foods, or skipping an early breakfast and eating a late breakfast after you have done some rides.
If you are going to Harry Potter World, then check out the two breakfast restaurants in Wizarding World of Harry Potter for some great ideas for a late breakfast.
Here are the places to eat breakfast at CityWalk Orlando:
Hard Rock Cafe Orlando
Located on the walkway between Universal Studios and Islands of Adventure, Hard Rock Cafe serves up breakfast from 8-10 a.m.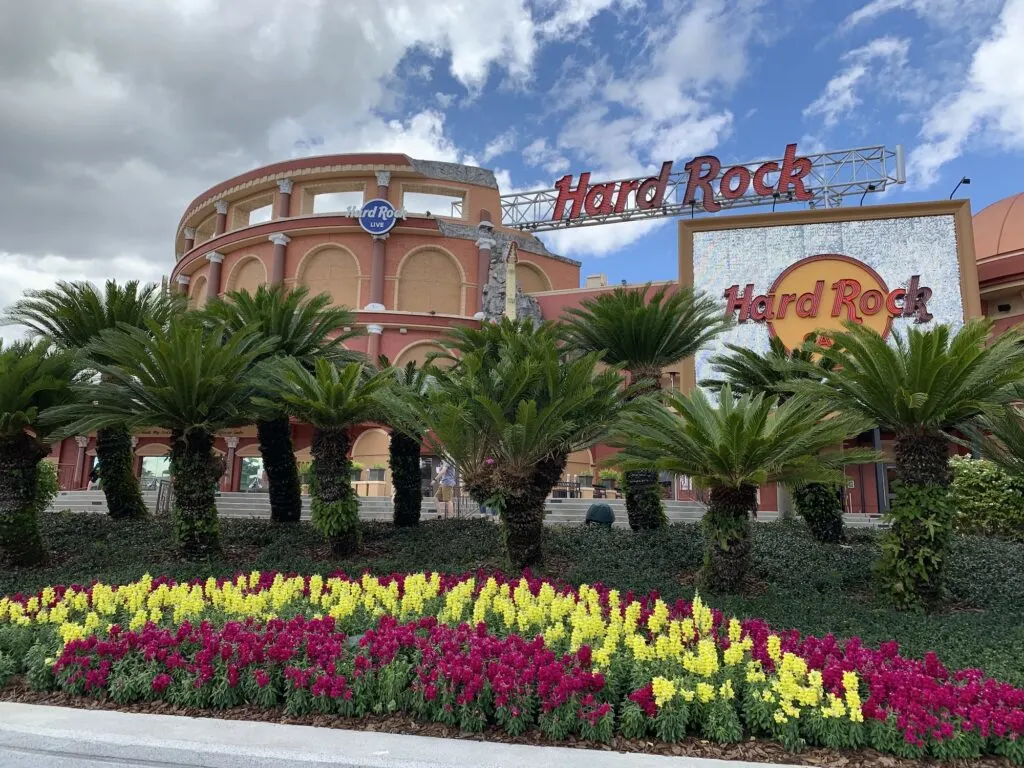 The dine-in restaurant offers a variety of classic breakfast favorites such as:
Chicken and Waffles ($18.50)
Eggs Benedict ($16)
Breakfast Sandwich ($15)
Classic Pancakes ($14)
French Toast ($14.50)
This is not the most budget-friendly breakfast option. Even the toast is $3.50. And you still need to pay for tax and tip, as well.
Voodoo Doughnuts
The popular Voodoo Doughnuts opens at 8 a.m. every morning. You will find more than 50 types of doughnuts at this quick-service restaurant.
Long lines are common at this donut shop, so it might not be as quick of a stop as you are hoping.
Save money on drinks during the day by using the free water stations or unlimited refillable cups at Universal Studios Orlando!
Starbucks
Of course there is a Starbucks on Universal Orlando Citywalk! Find all of your franchise favorites at this coffee shop, including pastries and breakfast foods.
Starbucks opens at 7 a.m., which is the earliest place to eat breakfast on CityWalk.
There is indoor seating and a covered patio.
Starbucks is just one of the locations where to get coffee in Universal Studios.
Cinnabon
The sticky-sweet Cinnabon franchise can be found at Universal Orlando CityWalk. It opens at 8 a.m.
Cinnabon offers their classic cinnamon rolls and variations all day long, such as:
Cinnabon Classic Roll ($5.69)
Caramel Pecanbon ($6.09)
Center of the Roll ($5.09)
BonBites ($5.09)
If you want something less sweet and with more protein, then the breakfast sandwiches and sausage bites are available until 12 p.m. They range from $4.49-$4.99.
Beverages, including their MochaLatta Chill, are also available.
Related Post: 67 Best Snacks to Bring Into Theme Parks
TODAY Cafe
TODAY Cafe is based on the American morning news program, the TODAY show which airs on NBC. The parent company of Universal Studios owns the NBC channel, so this makes sense.
You will feel like you are at Studio 1A and on the set of the TODAY show at this cafe.
Breakfast items include:
Mushroom and Leek Quiche ($6.99)
Smoked Salmon and Lox Bagel ($13.99)
Savannah's Dream Breakfast Croissant ($10.49)
Overnight Oats ($6.99)
Pastries (Starting at $4.29)
This quick-service eatery has tables inside and outside for dining, but no table-service. The cafe opens at 8 a.m.
Food Kiosk
There is a food kiosk on Universal Orlando CityWalk that offers bagels and hot breakfast sandwiches.
Want to save time eating breakfast? If you bring portable snacks, such as granola bars, you can eat them on a hotel shuttle bus to Universal while you are on your way to the theme parks.
Eating breakfast at Universal Citywalk is just one of the 40 tips and tricks for saving time and money at Universal Studios. Be sure to see all of our smart ideas!