If you fly into Orlando for a visit to Universal Studios, you are probably wondering how you will get around. Thankfully, many of the hotels that you would choose near Universal Orlando Resort offer complimentary shuttle service to the theme parks.
While you will definitely get a lot of perks by staying at hotels with shuttles to Universal Studios, there are some reasons that complimentary transportation isn't as great as you think it is.
When researching these hotels and choosing which location to stay at, keep these helpful tips in mind:
Look at how many shuttles are offered each day. Many of these hotels only have one shuttle going to the theme parks and one return trip. If this time does not work for you, it can really affect your entire day.
Some hotels that offer complimentary transportation are far away from Universal Studios. In Orlando traffic, this can be a huge deal! You do not want to be stuck in a shuttle bus for an hour on the way to the theme parks and then on your return trip.
Shuttle buses have capacity limits and could be too full for you to use. Some hotels require that you make a reservation the day before. Other buses, such as those at official Universal Orlando hotels, could be so full that you need to wait until another shuttle bus comes, which reduces the amount of time you can stay in the theme parks.
Call a hotel before booking to see what the current shuttle bus schedule is. Times can change and if you are basing your stay upon using the bus, you will want to know if the times work for you.
Shuttles can make several stops at other resorts along the way. You could be joined by people staying at other properties, and stopping at those destinations and waiting for them to board eats up valuable time.
You won't be able to go back to the hotel for a quick nap or getting out of the heat in the middle of the day. For adults, this might not be as big of a problem as it is for families with young children.
There are some reasons why you shouldn't choose a hotel simply because it has complimentary transportation. The reasons to not use shuttle buses include:
Shuttle buses might not operate for special events, especially those that are not from an official Universal hotel or official Universal Orlando Partner hotel.
Many transportation return times are hours before the parks close. This means you won't get the full value of your park ticket for the day, because you have to leave early.
If there is a nighttime show or fireworks display you want to see, then you could miss it if you need to get a shuttle bus back at a certain time.
Are Complimentary Shuttles Worth It?
If you are on a strict budget, a complimentary shuttle can be a great value for you.
However, time is money, and what you save on transportation costs does not make up for the hours that you will lose enjoying the theme parks.
When looking at a shuttle departure time, keep in mind that you will need to get there at least 10-15 minutes before the departure time in order to confirm your seat and make sure you don't miss the bus.
A 7 a.m. departure already sounds too early on your vacation. However, you will actually need to get to the shuttle stop around 6:50 a.m. Then you need to allow for time to get ready in the morning, walk to the shuttle boarding area, etc. Which means you could possibly be waking up at 5:45 a.m. or earlier, and that doesn't even include time for eating breakfast.
If you choose to eat breakfast at Universal CityWalk or get coffee at Universal Studios because of an early arrival time, then consider how much money you will spend on the breakfast foods. Would it be cheaper to eat the complimentary hotel breakfast and pay for a ride share to the theme parks instead?
This also applies to your return time. You will need to leave plenty of time to exit the theme park, make your way to the pick-up location, and get there early enough to confirm that you can get onboard.
So, for a 5:20 p.m. pick up time back to the hotel you might actually need to start leaving Universal Studios or Islands of Adventure at 4:45 p.m.
Quite honestly, that's too early to leave in our opinion!
If using one of the few paid shuttle options, the value might not be there if you are a large party.
For example, a family of five that needs to pay $5 per person for a shuttle will spend $25 for the convenience. However, it could be the same price, if not cheaper, to use an Uber or Lyft. Plus, you will have the convenience of leaving whenever you want.
If you are a party of one or two, though, it will probably be cheaper to pay for a shuttle than getting an Uber.
Best Hotels with Shuttles to Universal Orlando Resort
When we choose hotels for a Universal Studios Orlando vacation, we choose one that is close to the resort. This doesn't have to be an official Universal Orlando Resort hotel, but it should be within walking distance or within 3 miles of the resort.
Orlando traffic is no joke, especially at rush hour, which is when most of the hotel shuttles operate. We have been stuck in horrendous Orlando traffic more times that we would like to admit, and we have learned to limit the amount of drive time needed when visiting the tourist attractions.
The further away you are from Universal Studios, the longer the ride and the more time wasted in a bus.
Schedules change so frequently, so we have included the link to each property's shuttle bus schedule and the times they leave when available. It is definitely necessary for you to contact the hotel directly to confirm how many shuttles and what times they operate. Even information on their website could be outdated, so always call or chat with the property to confirm the amenity.
Universal's Cabana Bay Beach Resort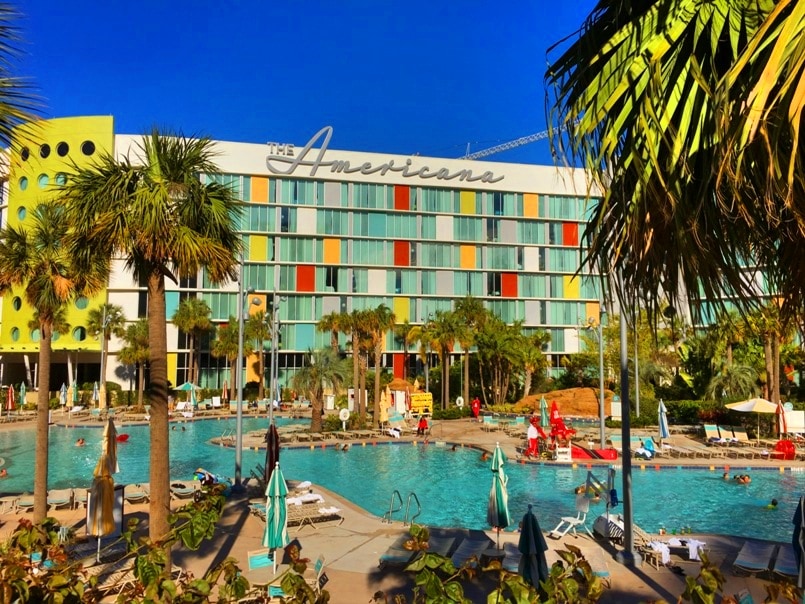 One of our favorite hotels in all of Orlando, Cabana Bay Beach Resort is within walking distance of Universal's theme parks, but it is about a 20-30 minute walk.
Shuttle buses are available all day long from before park opening to after park closing.
See our video review of Cabana Bay below:
Universal's Aventura Resort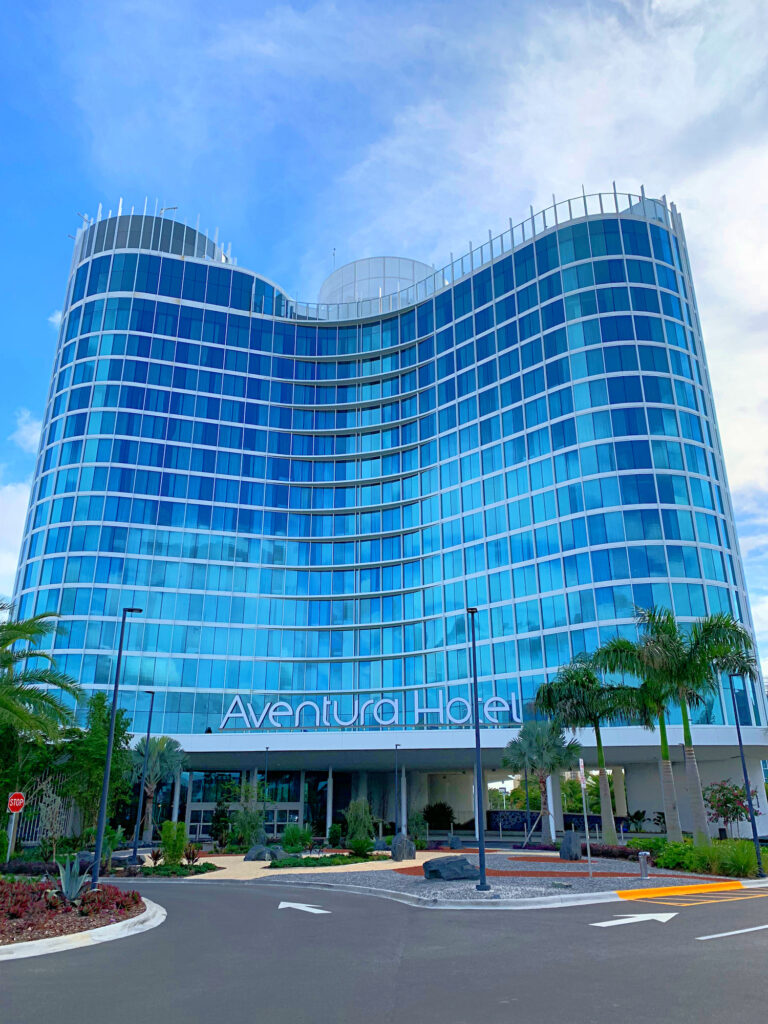 Located next to Loews Sapphire Falls Resort, Aventura is a sleek, modern and minimalistic hotel that doesn't have a lot of the fun theming that the other Universal hotels have.
As a Universal hotel, you can get shuttle buses from this property. Located across from Cabana Bay Beach Resort, the walk is about the same in distance or maybe a couple minutes less.
You also have the option of walking to Sapphire Falls and getting the water taxi shuttle from that resort, too.
Be sure to have the best shoes for Universal Studios! They can save your feet when walking from your hotel to the theme parks, and all day long!
Universal's Endless Summer Resort – Dockside Inn and Suites
As one of Universal's official hotels, Dockside Inn and Suites offers a continuous schedule of complimentary shuttles to the theme parks from early morning to late night.
This is one of two Universal hotels that are not within walking distance of Universal Orlando's theme parks, so you will need to use the shuttle to get to the Universal Orlando resort.
Universal's Endless Summer Resort – Surfside Inn and Suites
This is the partner hotel to Dockside Inn and Suites. The Surfside Inn and Suites also offers all-day shuttle service and is an official Universal Orlando resort.
Related Post: Best Universal Hotels for Families of 8
DoubleTree by Hilton Hotel at the Entrance to Universal Orlando
This Hilton property is within walking distance to Universal Orlando. However, as an official Universal Partner Hotel, it also offers a free shuttle service.
There are several departure times to choose, as well as several return times, which means you have more flexibility in your day.
Drury Inn and Suites near Universal Orlando Resort
Drury Inn and Suites is a hotel brand that not as many Americans are familiar with. However, it is expanding beyond Canada and is quite a great value for what they offer.
This huge hotel sits on the corner of Turkey Lake Road, across from Whole Foods and Walmart.
They do offer a complimentary shuttle and are located relatively close to property, so there shouldn't be too much of a commute time.
Be sure to make the reservation for the shuttle bus, though, because reservations are required.
Margaritaville Resort Orlando
Margaritaville Resort Orlando is one of our favorite hotels in Orlando. The laid-back beach vibe with a Jimmy Buffet theme and stunning decor makes you feel as if you are on a tropical island getaway.
This could be a longer commute, as Margaritaville Orlando is located in Kissimmee, near the Disney's Animal Kingdom area.
You will need to reserve your space on the complimentary shuttle between 1 day and 1 hour in advance.
There is only one departure time to Universal Orlando Resort at 7:45 a.m. Only one pick-up time is available at 6:15 p.m.
Homewood Suites by Hilton Orlando Nearest to Universal Studios
With plenty of room to spread out, Homewood Suites is one of our top choices wherever we travel. We love the hotel rooms with kitchens.
An official Universal Partner hotel, there are a variety of complimentary shuttles available throughout the day for guests.
Hyatt Regency Grand Cypress
Located off of 535, the Hyatt Regency is tucked midway between Universal Studios and the back entrance of Walt Disney World Resort (near Fort Wilderness and Four Seasons).
This massive, sprawling complex has a huge array of activities and dining venues. You will be awed by their amazing pool area, too!
Hyatt Regency Grand Cypress has a substantial $40 (plus tax) resort fee which includes access to a variety of recreational activities at the resort, plus one Universal Orlando shuttle per day. This resort fee is charged per night of your stay.
Holiday Inn Express and Suites Nearest Universal Orlando
Located within walking distance of Universal's theme parks, enjoy a complimentary shuttle service, as well, at Holiday Inn Express.
Point Hotel and Suites Orlando
The Point offers three shuttle departure times to Universal Orlando in the morning, and three return trips back to the hotel in the evening.
Hyatt House Across From Universal Orlando Resort
While you could walk from Hyatt House to the theme parks (about a 25 minute walk), you will probably want to catch one of their many complimentary shuttle buses throughout the day.
Home2 Suites by Hilton Orlando
Home2 Suites is another one of our favorite brands because they offer so much room and kitchenettes, which allows you to make your own food and save some money.
This is another conveniently located hotel that is less than a mile to Universal. You could easily walk to the theme parks, which is about a 25 minute walk.
However, there are three complimentary shuttle buses in the morning and the evening that will be much appreciated after a day of walking in the theme parks.
Embassy suites Orlando International Drive/ Convention Center
The Embassy Suites offers a shuttle service through Fabulous Buses, but there is a fee of $7.
Embassy Suites Orlando International Drive ICON Park
This Embassy Suites offers a shuttle service through a third-party provider, but there is a fee of $7.
There are two departure times in the morning, and only one return trip in the evening.
CoCo Key Hotel and Water Park
CoCo Key Hotel and Water Park is one of the hotels with water parks in Orlando that we recommend.
As part of the daily resort fee, not only will you receive transportation to Universal Studios but also waterpark passes.
Avanti International Resort
There are three different departure times and three return times to Avanti International Resort. (also seaward)
Rosen Shingle Creek
Rosen Shingle Creek is an official Universal Orlando Partner Hotel and has complimentary shuttle transportation to the theme parks.
This huge resort is perfect for golfers, as well as anyone who enjoys a bit more luxury.
Rosen Inn Lake Buena Vista
Rosen Inn Lake Buena Vista is a budget-friendly basic hotel located just a couple of miles from Disney Springs.
Shuttle service occurs twice in the morning and twice in the evening via Platinum Transportation.
Ramada Plaza by Wyndham Orlando Resort and Suites International Drive
Located just a mile from Universal, Ramada Plaza by Wyndham is a great location to stay for quick and easy access to the theme parks.
There is only one early morning shuttle departure, and two return trips in the evening. The evening return trip is among the latest that we see at many hotels, other than official Universal hotels.
Grande Villas Resort
Grand Villas Resort is part of Hilton Grand Vacations, which you might know as a timeshare. If you are not a club member, you could possible stay here as part of a vacation package.
The sister resort is Cypress Pointe, listed below. You will likely be sharing a shuttle with the sister property.
Cypress Pointe Resort
Cypress Pointe Resort is part of Hilton Grand Vacations. If you are not an owner with Hilton Grand Vacations Club, you could also stay at this property through a vacation package.
Summer Bay Orlando by Exploria Resorts
This 400-acre resort offers complimentary shuttle service to Universal Orlando Resort.
Summer Bay Orlando is located in Clermont, which is a bit of a distance from Universal compared to other hotels in the region.
Comfort Inn Maingate Kissimmee
This budget-friendly hotel is only 1 mile from the Walt Disney World Resort. It's location means that the shuttle service is going to take longer than other hotel options.
There is one early morning departure (around 7 a.m.) and one hotel return trip (after 8 p.m.) for this complimentary shuttle service to Universal Orlando via Platinum Transportation.
Please note, this is a different location that Comfort Inn Suites Maingate. It can be confusing.
Grove Resort and Water Park Orlando
The Grove Resort Orlando only has one departure time to Universal Orlando at the early hour of 7 a.m. One return time at 6 p.m. is available.
You will need to let the concierge know at least the day before if you want the Universal shuttle.
Four Seasons Orlando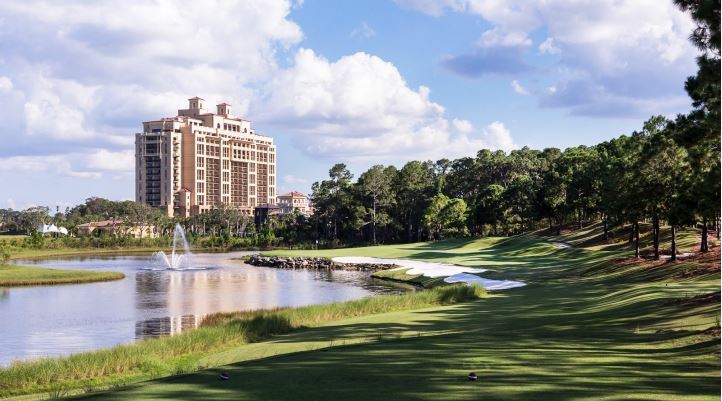 The stunning Four Seasons Orlando Resort is located on Walt Disney World Property adjacent to Disney's Fort Wilderness Resort and Campground.
As a Disney hotel, don't expect complimentary shuttle service to theme parks beyond the Walt Disney World Resort. However, you can schedule a shuttle to Universal Orlando for a fee through concierge.