A vacation to Universal Studios Orlando is fun and exciting, but there is a lot of planning that you need to consider beforehand to make the most of your time in the theme parks.
After a decade of living by and visiting Universal Studios, I'm sharing all of my top Universal Tips and Tricks for 2023 with you. If you want to make the most of your time and money, you really NEED this insider information!
We start with tips and tricks to know while planning your vacation at home, then move on to tricks to do when you are actually inside the theme parks.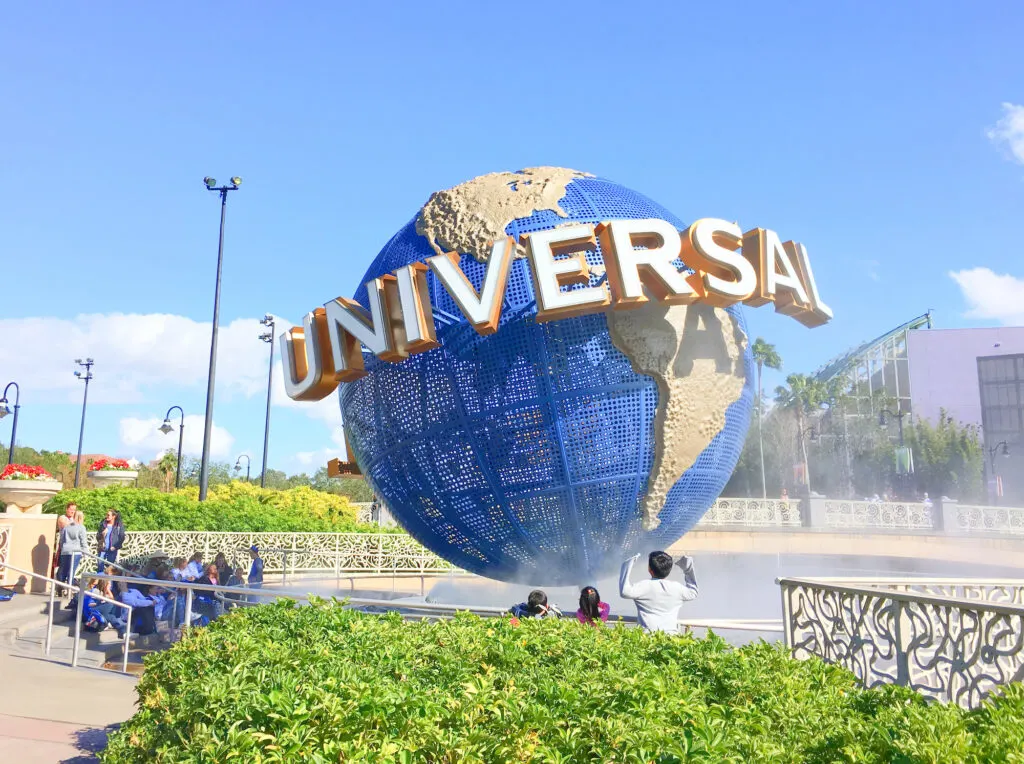 Get an Express Pass
Yes, the Universal Express Passes are expensive! Way more expensive than Disney Worlds Genie+ Passes.
However, they are totally worth it if you are only going to be at the theme parks for two or three days.
If you will be at the theme parks for four days or longer, I would definitely not suggest buying the pass. Unless you just really, really hate standing in lines.
Express Pass is a cost in addition to your theme park ticket. When you start adding the two costs together, it can be very expensive!
Here are some tips on how to save money with Universal Express Passes:
Different Types of Express Passes
The basic Express Pass will let you skip the line of each attraction only one time. This pass costs less and will be a better value if you don't plan on riding an attraction more than once.
The Unlimited Express Pass allows you to get ahead in the lines multiple times. This is great if your kid's dream is to ride the Velocicoaster over and over again all day.
Buy Express Pass Ahead of Time
You really do need to plan ahead if you are buying either type of Express Pass. Universal Studios prices them cheaper the further out they are from your vacation. As your reservations get closer, the price of the passes will probably keep going up in price. Here are some great ways to get discounted Universal Express Passes.
Costs of the Express Pass options can be seen online when booking tickets, or can be seen in the Universal app.
Every day at a theme park will have crowds and lines. Guaranteed. Friday through Sunday will have larger crowds and longer lines, so those are the days where paying for a pass might make more sense.
Book the Right Hotel Room
Express Passes are included in the price of some official Universal Orlando Resort hotel room rates. These rooms will be more expensive than the budget-friendly options, such as Cabana Bay, but the cost could be justified by receiving complimentary Express Passes.
If you are traveling with a large family or friends, many of these Universal hotel rooms for 8 people can be a fantastic deal when you get an Express Pass for everyone on the reservation!
Buy Tickets in Advance
Just like buying an Express Pass in advance can save money, buying tickets before you get to the Universal Orlando Resort could save money, too.
Discount ticket resellers, such as Get Away Today, can officially sell you tickets with a small discount beforehand.
Keep in mind, there are reputable ticket reselling agencies and then there are shady businesses reselling unused tickets, which could be illegal and could be a waste of money for you. Be smart in knowing who you are working with.
Our favorite way to buy tickets is through Get Away Today. They are an authorized ticket seller and you can get savings on park tickets, hotels and more.

We have found savings on every type of ticket using Get Away Today compared to buying through Universal.
Get a Two-Park Ticket If You Are a Harry Potter Fan
I cannot tell you how many people I've seen who are heartbroken that they cannot ride Hogwarts Express because they only bought single-park tickets.
Hogwarts Express is one of the signature rides in Harry Potter world. And it is one of the only rides that is not fast or potentially troublesome for people with motion sickness and back problems.
However, you can only ride Hogwarts Express as a way to get between Universal Studios and Islands of Adventure theme parks.
You must have a park to park ticket in order to board the train. You cannot have a single-park ticket and ride the train to the other theme park and not enter. It doesn't work that way. Your tickets will be scanned before you enter the queue line.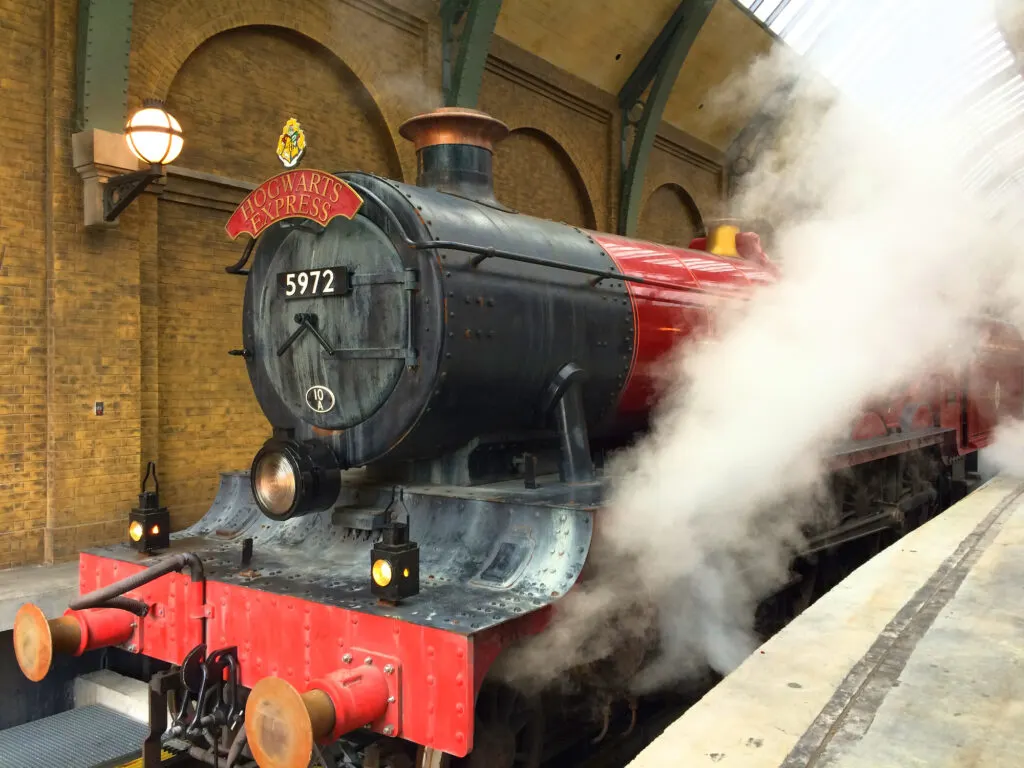 Helpful Tip: Be sure to ride the train both ways! The experience is different in both directions.
Buy Universal Tickets at Sam's Club
Save money by buying Sam's Club Universal Studios tickets. See our price comparison and guide to how to purchase Universal tickets at a discount.
You can even save money on Express Passes through Sam's Club.
Visit During the Week
Avoid visiting any theme park on the weekends. This includes Friday, as well.
Theme parks, even Disney World and SeaWorld, are way more crowded on the weekends when people are visiting when they are not working.
Monday through Thursday are some of the best days to visit Universal Studios. Monday may have a few more people because some people make a three day weekend and include Monday.
However, you will usually find that the crowds will still be less than weekends.
Avoid Visiting During the Holidays or Summer
If you have the option, avoid going to any theme park during holiday weekends or all summer long.
In fact, in Orlando, we'd recommend not going during Spring Break time, either.
Crowds are definitely bigger during the holidays. Check out our planning guides for holiday travel to Universal Studios Orlando:
Travel During Shoulder Seasons
While you want to avoid the holiday weeks and weekends, you can still enjoy the holiday magic at the theme parks.
For instance, Universal decorates for Christmas before Thanksgiving. After the week of Thanksgiving, the crowds are reduced considerably. So, if you travel the first week of December, you can enjoy the decorations and holiday events without the crowds that will come later in the month.
This also works for Spring and Summer. Consider the week before Memorial Day weekend as a good shoulder season time to visit. The weeks before Spring Break time usually have amazing weather and less crowds, too.
Be Aware of Special Events
There are a variety of special events that take place at Universal Orlando Resort that can impact your visit.
For instance, during Halloween Horror Nights, a theme park closes early to host the nightly events. Which means you won't get as much for your money on those days because you need to leave earlier. Plus, the other theme park will have more crowds at night since everyone is going there to visit after being kicked out of Universal Studios.
Large conventions can also impact your experience. For instance, there are huge cheerleading conventions in Orlando every year. When you visit during one of these times, expect there to be way more teenagers running through the parks than on other days. Plus, the budget-friendly rooms tend to be booked up more during these types of conventions compared to other times of the year.
Skip the Hotel Shuttles
Shuttle transportation from your hotel can be great if you are staying at an official Universal Resort hotel or a certified Universal Orlando Partner hotel that is located nearby.
However, the further away from the theme parks you get, the longer that shuttle is going to take. Plus, many of the shuttle times don't allow you to fully enjoy the theme parks.
There are a few things you need to consider before hopping on a hotel shuttle bus to Universal Studios Orlando. Be sure to read our extensive guide beforehand.
Wear a Fanny Pack
If you think that fanny packs went away after the 1990s, you are wrong. In fact, you must not have been to Universal Studios lately and seen half of the visitors wearing fanny packs! (An exaggeration, but also kind of true!)
Universal Studios is NOT Disney World. They have different baggage rules, and that applies to their rides.
Many of the Universal Studios rides require you to stow ALL of your belongings in lockers outside of the attraction. You cannot bring a purse or backpack on many of the rides.
The one exception is if you are wearing a fanny pack. Then you can bring your belongings with you on most rides. Here are our favorite fanny packs for Universal Studios.
Fanny packs come in all shapes and styles. We love these Harry Potter fanny packs which are perfect for visiting the Wizarding World of Harry Potter.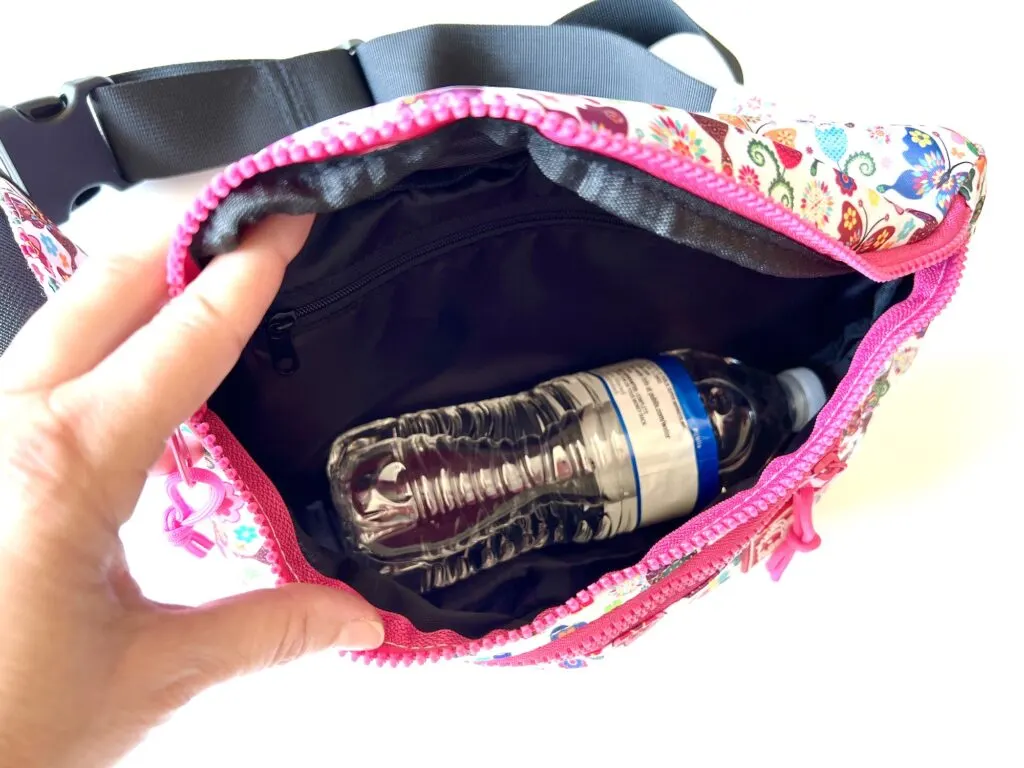 If you plan on any water rides or visiting Volcano Bay water park, we highly suggest getting a waterproof fanny pack!
Use the Universal Studios App
So much of your vacation days can be scheduled and made easier via the Universal Studios app. In fact, the app is essential for doing some things at the theme parks.
Virtual lines, where you get a place in line electronically before actually standing in a line, are available through the app when that system is in use.
However, as of 2023, virtual queue lines are rarely being used at Universal Studios anymore. When they are, it is usually Race Through New York Starring Jimmy Fallon and Hagrid's Magical Creatures Motorbike Adventure.
This might be the only way that you get a chance to get in line for an attraction. So you want to be sure that you have the app downloaded and ready to go before you even get to the theme parks.
Mobile ordering is only possible via the Universal app. This allows you to place your food order on the phone and wait until you are notified that is ready to pick-up. Ordering food ahead of time saves you SO MUCH TIME compared to waiting in line!
In addition to virtual lines and mobile ordering, the Universal app will also show you wait times for attractions, show times, character appearances, helpful tips for your day, and it keeps track of all of your ticket information.
You can also use the Universal app to pay for food and merchandise in the parks.
Use Early Park Admission Perks
If you are staying at an official Universal Orlando resort, you get the benefit of getting into the theme parks an hour before the general public. This is a HUGE perk!
An hour of theme park admission without the bigger crowds (there will still be a lot of people, by the way) can help you check off rides quickly so that you can relax the rest of the day.
Bring a Battery Charger
If you are using the Universal app, your phone will be on all the time, roaming and receiving information. Your battery will go down pretty quickly using the app.
Using your phone to take photos and video also makes the battery diminish quickly. As does scrolling the internet or playing games while waiting in lines.
A fun thing to do while waiting in lines at Universal is to do these iPhone Harry Potter spells using Siri!
Don't count on being able to charge your phone via a wall outlet. Even if you find one, you will have to wait in one place as your phone charges.
You want a phone charger that you can use while walking and waiting in lines.
Ideally, get a phone charger with multiple charging ports so that the family can charge their devices at the same time.
Make Dining Reservations Well in Advance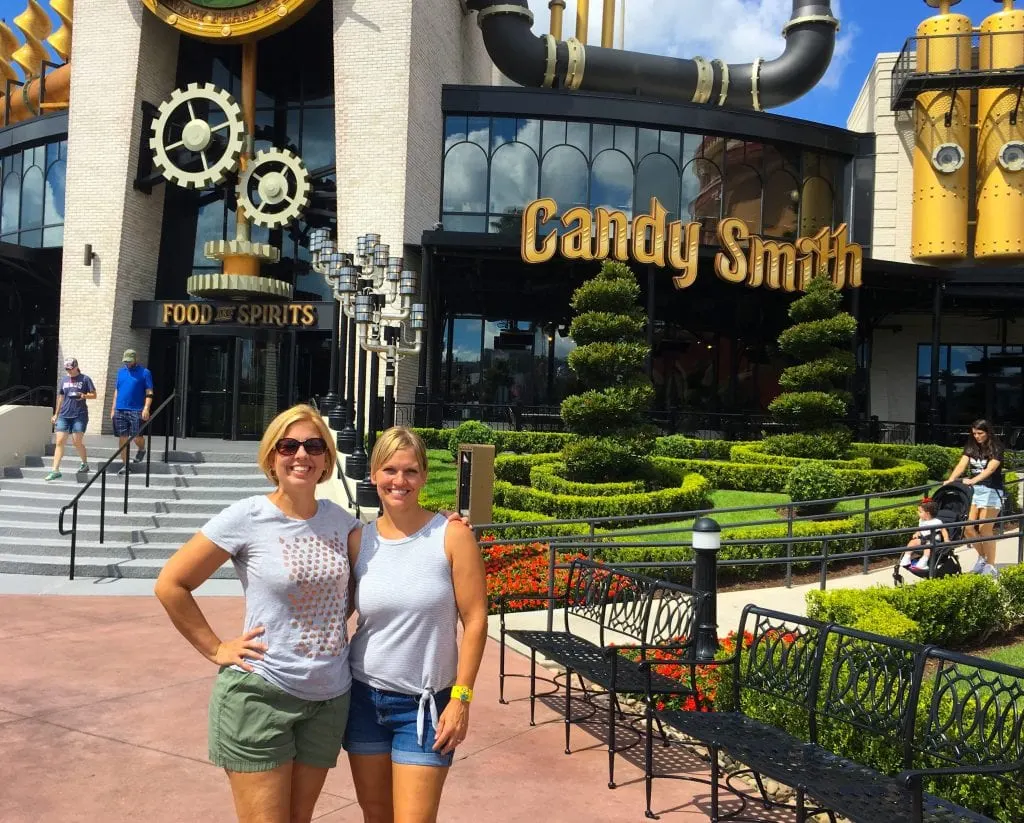 Universal Studios restaurants are popular for a reason, and there are always more people that want to eat at them than there are seats and tables.
You must make reservations for the restaurants you want to eat at well in advance. If possible, at least a few months or weeks before the date.
I have been to Universal Citywalk many times and have walked to every restaurant and could not find a reservation at all. Or, all of the reservations were for 8:45 p.m. or 9 p.m.
If there is a specific restaurant you are excited to eat at, such as Toothsome, then you absolutely must make a reservation ahead of time to guarantee being able to eat there.
Sometimes you can walk up and get a table, but that is rare. Or, you will need to wait an hour or so before being seated.
Bring Food into Universal Studios
Yes, you can bring food into Universal Studios theme parks! And you should if you want to save time and money!
There are a few restrictions on what you can and cannot bring. Be sure to read my extensive guide to bringing food into Universal Studios.
If you cannot bring food with you because you are flying, then you can visit a grocery store or Walmart next to the resort, or have a food delivery via Walmart, Target, Publix or any other service that delivers to hotels in the area.
Wear Appropriate Shoes
Chances are, you are probably not used to walking miles a day on hard concrete surfaces in hot and humid weather. Then standing on your feet waiting in line for hours.
See our guide to the Best Shoes for Universal Studios for men and women.
You NEED to wear appropriate shoes. Sure, you can wear cute flip flops like so many other visitors. But you will likely be in pain and have blisters by the end of the day. Plus, you will be complaining all day long.
Supportive shoes, such as cute orthopedic sneakers, are one of the best choices for theme park shoes.
If you know that you will get wet on water rides, then be sure to wear shoes that will dry quickly and easily. Or, have an extra pair of shoes to change into when going on Universal's water rides.
Buy Harry Potter Wands Before Your Trip
Harry Potter wands are expensive! They cost $63 each in 2023.
A smart tip is to look on eBay for Harry Potter wands before you travel. Often, these wands have only been used once in the theme parks and are in great shape for you to use when you visit.
Worried about the interactive wands not working? Did you know that Universal Studios will fix any official Harry Potter wand at their gift shops if the sensor doesn't work? You don't need to show a receipt.
See all of our helpful tips and tricks about Harry Potter wands at Universal Studios.
Purchase Harry Potter Robes Before Visiting
Have you seen the prices for Harry Potter robes bought at Universal Orlando Resort? They are well over $100!
Just like with wands, you can purchase robes before your vacation. That way, you can wear them into the theme park and start getting photos right away, rather than having to wait to purchase them in a store inside.
Ebay is another great source for gently used Harry Potter robes.
Unlike the wands, which have sensors, you don't need official robes to wear at the theme parks. You can get unofficial wizard robes on Amazon and save a LOT of money!
Or buy robes on Walmart for $20-50 and have delivered to your hotel!
Bring Ponchos
Even if rain is not forecast, afternoon showers are extremely common in Florida. You can still have fun in the rain at the theme parks, but it is a lot more fun if you have a rain poncho.
Check out the Universal Studios Rain Policy and the Volcano Bay Rain Policy to see how it can affect your day.
Buying a poncho or an umbrella at the theme parks is extremely expensive though! So bring your own from home.
Get adult-sized rain ponchos at the Dollar Tree or other dollar stores. Or order clear rain ponchos on Amazon for around the same price.
Use Uber or Lyft
There are many ways to get to Universal Orlando from the airport. One of the most convenient is to choose Uber or Lyft to bring you to your hotel.
Renting a car comes with the cost of the car rental, as well as parking fees at the hotel. It might be cheaper to pay for a ride rather than try to rent a vehicle yourself.
Lyft tends to be cheaper than Uber for some reason. Expect to pay between $30-45 depending on the time of day and what day during the week.
Park Early!
If you are driving and need to use the Universal Studios parking garage, be sure to get there early in the morning. Arrive at least 30 minutes before the first theme park opening (Universal Studios and Islands of Adventure might have different opening times.)
If you can arrive 45 minutes to an hour early, that is even better!
Universal Studios has only one parking garage, and all guests for both theme parks and Universal Citywalk use it. Which creates a bottleneck effect of trying to get thousands of people parked, walking and going through security all at the same time.
You want to beat the crowds as much as possible. Then you will have more time to have fun!
A smart tip is to have breakfast at Universal Citywalk after you leave the parking garage and on your way to the theme parks. That way, you avoid a lot of the crowds and you get fueled for the day before entering the theme parks, so you can start riding the rides immediately.
A bonus tip is that the theme parks often start letting you in earlier than the posted opening time. So by getting to parking earlier, you can get to the ticket booths earlier and could get into the theme parks and in lines even earlier.
Yes, you are on vacation, but the later in the morning you arrive at the parking garage the less you will be able to see at the theme parks.
Buy Souvenirs Outside of the Theme Parks
Official Universal Studios souvenirs are expensive. There is just no way around it. However, you can find awesome souvenirs beyond the theme parks.
In Orlando, most major retailers have Disney and Universal souvenirs for sale. Stores such as Target, Walmart, Walgreens and CVS have awesome keychains, t-shirts, cups and more. In stores near the theme parks, you will usually find these items as soon as you enter the store.
These are high quality items that can cost up to 75% less than the prices at the Universal Orlando Resort.
Or, purchase official Universal Studios souvenirs online beforehand. Places like eBay are great sources for cheap souvenirs.
Another option is to go to the outlet malls near Universal Studios Orlando. Though the merchandise is mostly Disney, you might find some Universal souvenirs.
Rent Strollers or Electric Vehicles Off-Property
If you or a member of your party need a stroller, wheelchair or electric scooter, don't wait to rent them inside the theme parks.
Not only are the costs more expensive, but you still have to get to the theme park before utilizing the ease of a wheelchair, stroller or scooter.
Considering the long walks and long lines, why would you do that when you could bring them with you?
There are a multitude of companies that will deliver baby gear, strollers, wheelchairs and electric scooters to your hotel and pick them up when you leave.
Make a Game Plan
Gone are the days of being able to walk into a theme park and leisurely choose which ride and show you want to see. The lines are too long and the crowds are too big. You need a game plan and a smart plan of action before entering the parks.
Park maps are available online, or you can get paper maps while at Universal Orlando. Look at all of the attractions and shows and decide which ones you might like.
You can eliminate some rides off of your list if there are height requirements or medical concerns that make those attractions off limits for you.
Watching YouTube video reviews also helps you understand what an attraction is like, which is especially helpful if you are worried about fast rides, roller coaster drops or dark rides.
Once you know which rides and shows you definitely want to see, then you can start grouping them together. Theme parks are huge and you don't want to walk back and forth across the parks just to go to rides. See which ones are together and try to do them all at once.
If there is something that is really important to you, such as visiting the Wizarding World of Harry Potter, then be sure to do that first. At Harry Potter world, the lines get long very quickly so you will want to avoid the crowds by getting there as soon as possible.
Always Go Left
After working in theme parks for years as an attractions hostess, I can tell you that this weird Universal tip works!
Most people will always go the right-hand side. Whether entering a theme park or going into a queue line, human nature is to move to the right. Perhaps because the majority of people are right-handed.
By going against the crowd and choosing the paths or lines to the left, you could get shorter queues and less crowds!
Use Mobile Ordering
If you are not sitting down in a table-service restaurant, you definitely need to use mobile ordering!
The Universal Orlando app allows you to order from quick service, also known as fast food, restaurants in both theme parks. Pick what you want to eat and then go to the restaurant pick-up window when your food is ready.
This saves a lot of time compared to having to order after standing in lines. Especially if you are trying to dine at the Harry Potter restaurants.
Here are some more helpful hints for saving money on food at Universal Studios Orlando.
Skip Ollivaders for Buying a Wand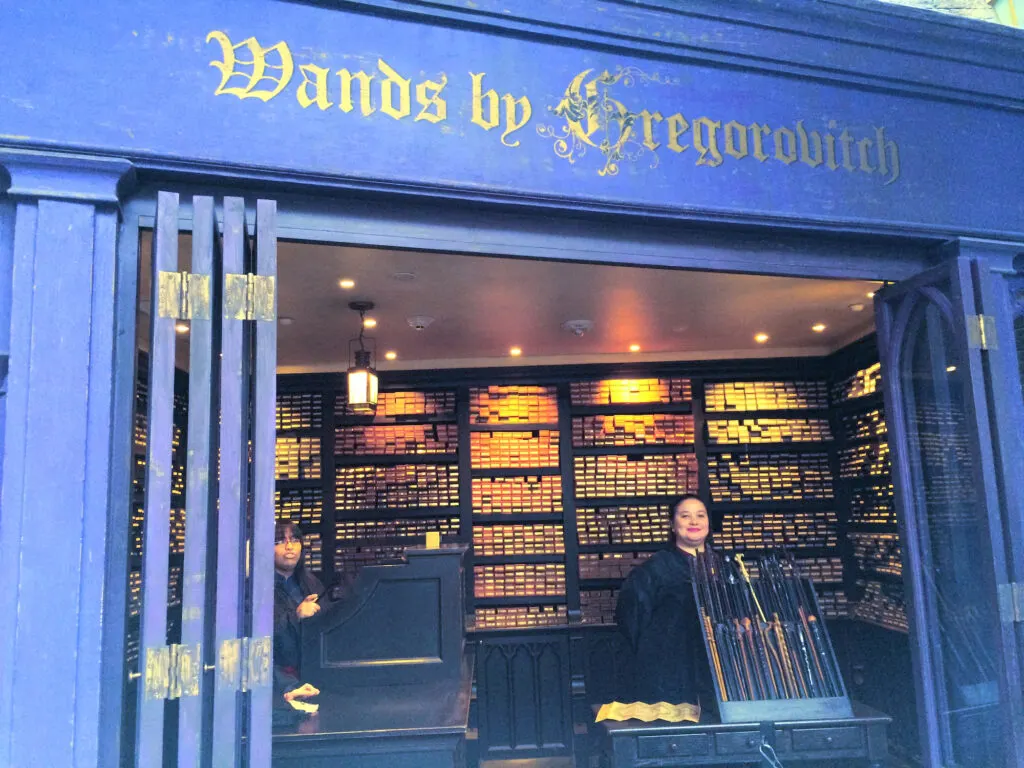 Ollivanders is THE best place for buying a Harry Potter wand if you want the chance to be chosen for the official wand choosing ceremony. However, there is no guarantee that you could be picked for the ceremony. And, you need to wait during the show before going to the gift shop.
If you really don't care about seeing the wand choosing ceremony experience and just want to grab a wand, then there are other places to buy them.
Some of the alternate places to buy a Harry Potter wand include:
Wands by Gregorovitch
Hogsmeade Gift Carts
Gift shops at the front of the theme parks
Universal Orlando Resort Hotel gift shops
Universal Studios Orlando Airport gift shops
Get Free Water in the Theme Parks
Save a LOT of money by using the free water refill stations inside Universal Studios theme parks.
The Coke Freestyle machines have a water option on the menu. Just click on the water icon and fill your bottle or cup with water.
It is free! Even if you haven't bought a coke or soda purchase.
Get a Refillable Drink Cup
Universal Orlando's refillable cups are a great way to save money during the day! Purchase the cup for one price and get unlimited refills all day long.
After your initial purchase, you can buy multiple days of use. There is a code on the bottom of the cup and it only activates the Coke Freestyle Machines is your code is valid and paid for.
Know the Height Requirements Ahead of Time
Don't get your children excited about riding an attraction if they are going to be turned away at the entrance. And don't waste time walking to an attraction if you won't be able to go in.
There are height requirements for some of the major attractions, some of which include:
Harry Potter and the Escape from Gringotts
Race Through New York Starring Jimmy Fallon
The Incredible Hulk Coaster
Harry Potter and the Forbidden Journey
The list is long, so be sure to see Universal Orlando's Height Requirements List.
Use the Child Swap Option
If some members of your party are not tall enough for the rides, don't worry.
Universal Studios has an option called Child Swap. You can switch riders while someone stays behind to watch the kids. The next person doesn't have to wait in line to get on the ride after swapping riders.
For a more detailed explanation, see our guide to Universal's Child Swap.
Ask About Backstage Tours
On crowded days, this might not be an option. However, Universal Studios is know for doing impromptu backstage tours at some attractions.
These are free tours by team members who will show you behind the scenes at the rides. This option does depend on staffing.
Some of the attractions that offer this option occasionally include:
Forbidden Journey Castle tour
Gringott's Bank Tour
Velocicoaster Paddock Tour
Hulk Gamma Tour
Men in Black Immigration Tour
Kong Temple Tour
Dr. Doom Villains Tour
Jimmy Fallon Studio Tour
Fast and Furious Garage Tour
Mummy Production Tour
Hard Rock Cafe (Universal Citywalk) Tour
Stay Late
Many people visiting the theme parks have young kids who have early bed times. After 8 or 9 p.m., you will see the park crowds diminish considerably as the families leave.
If possible, visit the parks later in the evening or stay until they close at night. You will find shorter lines and fewer crowds.
Arriving after dinner time is one of the ways to get free parking at Universal Studios, too.
Plus, you will get great photo opportunities at night, too!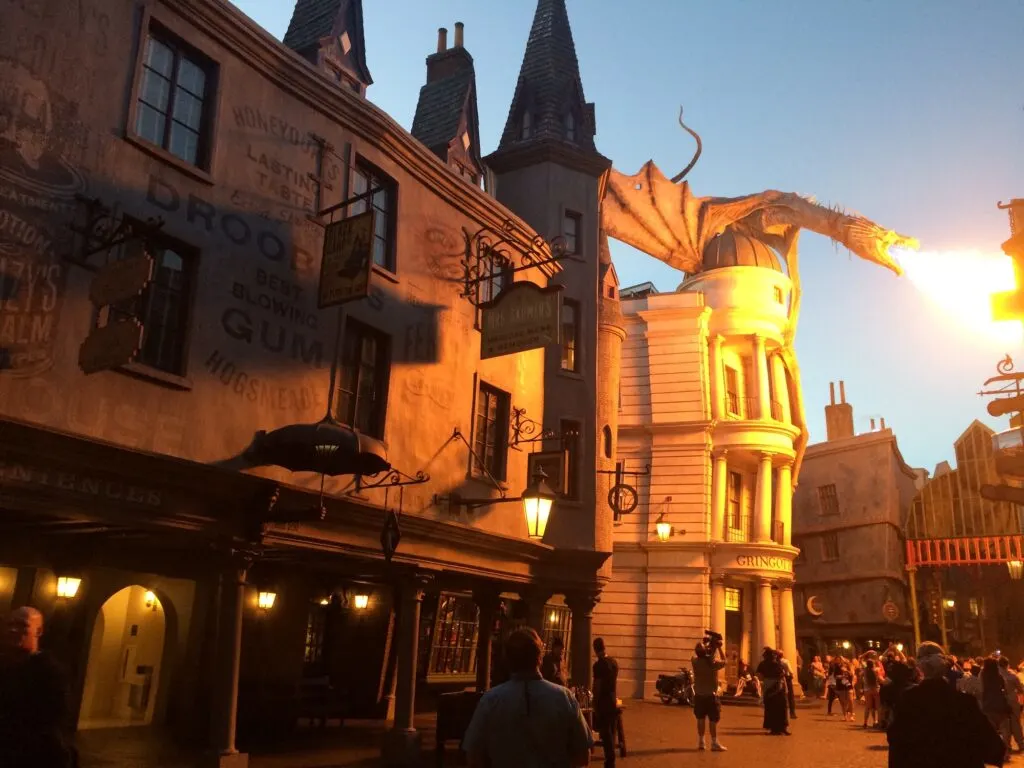 Use Single Rider Lines
Just like at Disney World, many attractions have queue lines for single riders. Why?
The goal of every attraction is to get as many people on as possible each hour to improve the load counts. Seating large parties together, such as a family of 5 or a group of 3 friends, often leaves nearby seats empty. Which reduces load count and reduces how many people are riding each hour.
Single Rider Lines allow guests to fill in those empty seats without needing to sit next to their own party.
Because few people want to ride without screaming and laughing with their friends or family, the single rider lines are often much shorter.
A bonus is that sometimes people in the same party can actually sit together on the ride, depending on how the attraction is loading and a variety of other factors. You never know, you might actually get both a shorter wait AND sit together, too!
Use Universal Package Pick-Up and Delivery Benefits
No one wants to drag around bags of souvenirs all day. Why not let Universal transport the bags for you?
Package pick-up is when you buy souvenirs and have them sent to the front of the theme park. Anyone can do package pick-up. You will just need to allow a few hours in-between buying the items and picking them up. You will get your packages before you leave the park.
Universal's free package delivery will deliver your boxes and bags directly to your hotel room if you are staying at one of the official Universal Orlando Resort hotels.
Get Celebration Buttons
Just like at Disney World, there are free celebration buttons available for asking Guest Relations or your hotel.
Not only are these free souvenirs, but they might also get you extra perks when wearing them. For instance, a birthday button might get you a free dessert at a restaurant or skipping the line at an attraction.
The perks are not guaranteed, but they could happen!
Pool Hop
There are so many wonderful pools at Universal hotels. Each one can be a fun destination in its own right.
If you are staying at one of Universal's hotels, you might have the opportunity to use any of the hotel pools at no cost to you. Check out all of the details in how to pool hop at Universal Studios.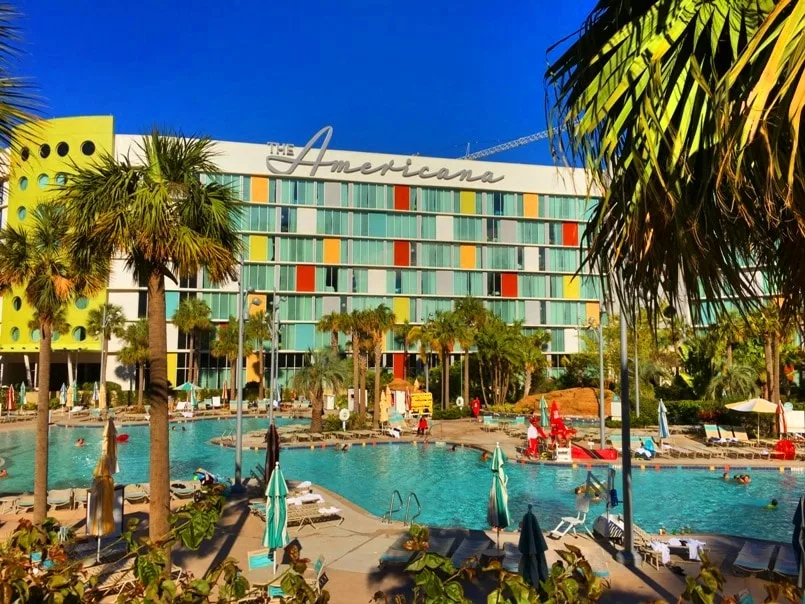 Get a Ghost Room
This trick for saving money on Universal Express Passes isn't for everyone, but consider the idea of booking a Universal Studios ghost room.
Store Luggage at Your Hotel
What do you do when your flight is in the evening but you want to spend all day in the theme parks before leaving?
It can be difficult to find ways to store your luggage at Universal Studios. The best option is to stay at an on-site Universal Hotel so that they can keep your luggage during the day, after you have checked out of the room.
You will get free storage (though you should tip the bell services team members!) and you can easily get back to the hotel to pick up your luggage before going to the cruise terminal, airport or next hotel.
Explore Hidden Secrets in the Wizarding World of Harry Potter
There is a lot of magic to be seen in Harry Potter world, but there are quite a few secrets that you just won't know about unless you see our guide to the hidden Harry Potter Easter eggs in Universal Studios!
Print out our tips so that you can search for authentic movie props, listen for unique sounds and add another layer of magic to your theme park visit!
Save money by buying Sam's Club Universal Studios tickets or Costco Universal Studios Packages. See our price comparison and guide to how to purchase Universal tickets at a discount.