While Hargrid is a lovable giant in the Harry Potter films, he isn't known for his spelling! So when he wanted to share a gift of friendship with the young wizard for his 11th birthday, Hagrid gifted Harry Potter a birthday cake made in a simple way with misspelled words.
Yes, Hagrid spelled "Happee Birthdae Harry" wrong. But that's what makes it lovable!
What Kind of Cake did Hagrid Make Harry?
In the Harry Potter book, Hagrid made Harry a large sticky chocolate cake with "Happee Birthdae Harry" written in green icing.
It was the first birthday cake that Harry had ever received. Which makes it so special. His birthday had never been celebrated before until Hagrid made him a cake.
This is a simple cake. And it is not fancy. It is heartfelt and made with love. And definitely imperfect. Much like all of us.
In fact, Hargrid had sat on the cake before giving it to Harry. And it was still a prized possession.
Hagrid's cake wasn't fancy or perfect, and neither should yours. Don't stress about getting the frosting perfectly even or the words centered in the middle of the cake just right.
Harry Potter's Birthday Cake in the Book vs. the Movie
In Harry Potter and the Sorcerer's Stone, Hagrid's cake is described as a "large, sticky chocolate cake with Happy Birthday Harry written on it with green icing."
The book doesn't say it was made with pink frosting.
In the movie adaptation, the cake is made with pink frosting and green icing.
The words Happy and Birthday are not misspelled in the book. However, they are misspelled in the movie.
There is no mention of the cake having a line across the frosting in the book. However, Hagrid did say, "I mighta sat on it at some point, but it'll taste all right."
In the movie, there is a line on the cake frosting between P and E in Happee, then between the H and D in Birthdae and between the H and A in Harry. We can assume the line is because the cake was sat on and the frosting started breaking apart under the weight of Hagrid.
Why This Cake Recipe is Special
What makes this recipe unique, other than the misspelled words and bright, neon colors, is that this is a relatively small birthday cake. Just one 8-inch round cake.
The small size makes this a fun treat to make for a Harry Potter movie-marathon or a fun addition to a wizarding party dessert buffet. (Be sure to see our pumpkin pasties recipe, too!)
You can personalize this cake with another name other than Harry. For a Harry Potter themed birthday party, substitute the birthday girl or boy's name instead.
Bake this cake for dessert on July 31, which is Harry Potter's birthday!
Harry Potter Birthday Cake Recipe
Prep: 10 mins | Bake time: 40 mins | Freeze overnight | Decorating time: 20 mins | Yield: 1 8-inch cake
Ingredients for cake
1 box of chocolate cake mix
3 large eggs
1/3 cup vegetable oil
1 cup water
1/4 cup sour cream
Ingredients for frosting
1 stick unsalted butter, room temperature
1/2 cup vegetable shortening
1 pound powdered sugar
1 teaspoon vanilla
2 tablespoons of heavy cream, milk, or coffee creamer
Instructions
Step One
Preheat oven to 350.
Add all ingredients for the cake to the mixer. Mix until smooth.
Step Two
Spray an 8-inch round cake pan with baking spray.
Pour the batter into the pan and bake for 35-40 minutes or until done.
Allow to cool completely.
Make the frosting
Step Three
Cream the butter and shortening together with a mixer.
Then add powdered sugar, vanilla, and 1 tablespoon of the dairy (either the milk, cream or coffee creamer) to the bowl. Mix together well.
Add in an additional tablespoon of dairy. Mix together on high for 3-5 minutes.
Step Four
Take 1/4 cup of the frosting and put in a bowl. Add green food coloring to make it a bright shade of green.
Add pink food coloring to the remaining frosting to make it a bright pink.
Step 5
Frost the cake with the pink frosting on all sides.
Add the green frosting to a piping bag fitted with a tip 10.
Write the word Birthdae across the center of the cake. Starting with this word first helps you fill in the other words afterwards.
Then write Happee above it and Harry beneath, or a custom name if you prefer.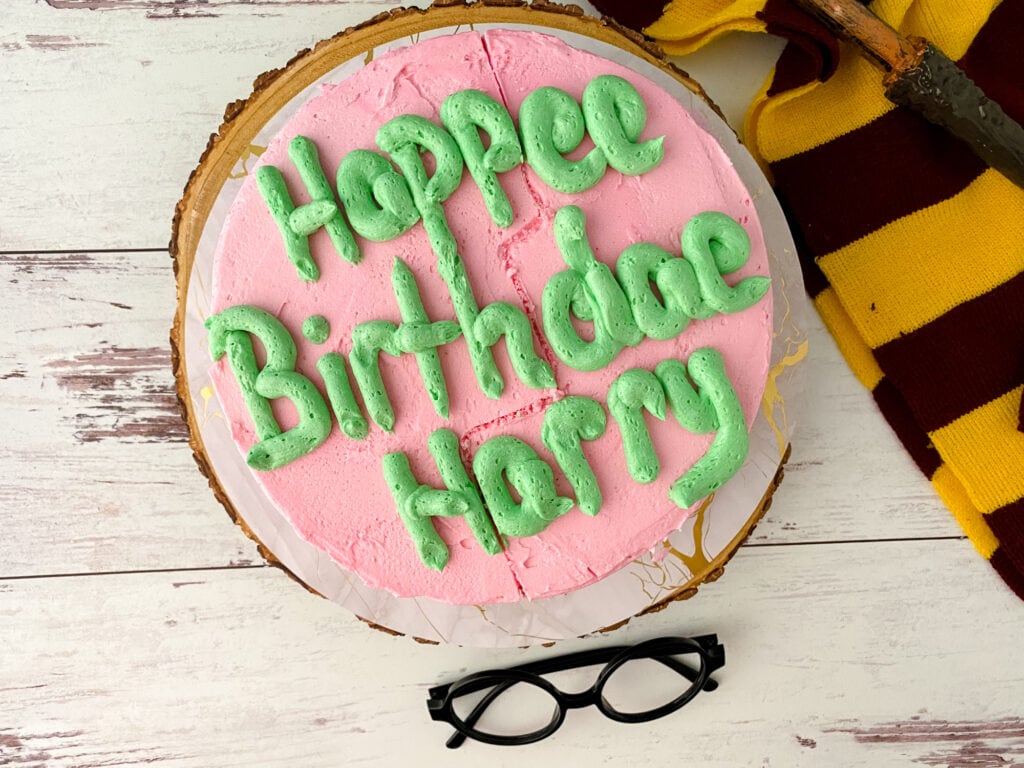 Recipe Tips
If you have a hard time deciding where to put the letters, you can draw the letters in the icing with a toothpick first, then cover with the green icing letters.
An offset spatula always makes spreading icing on a cake easier. Otherwise, use a knife.
If the frosting is too thick after mixing together, add a 1/2 tablespoon of milk or cream to thin it out.
I used gel food coloring, but you can use liquid food coloring if you would like.
You can freeze the cake before it is frosted for several days or weeks.
Frosting a frozen cake will help to keep crumbs from getting into the frosting. The cake will thaw out under the frosting, so don't worry.
More Harry Potter Party Ideas