Want to save money on Universal Studios theme park tickets? You are not alone. The good news is that you can save some money on theme park admission for your family.
Here are the best, tried-and-true ways for how to get cheap Universal tickets.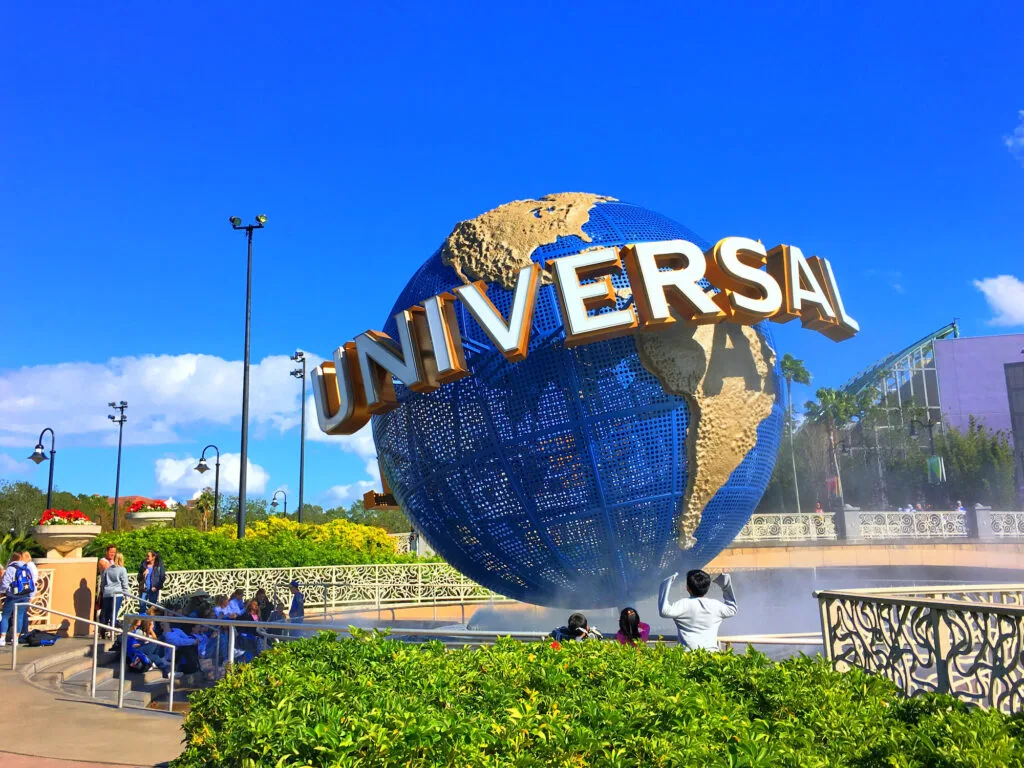 How Much Does a Universal Theme Park Ticket Cost?
Universal Studios Orlando has two parks, Universal Studios and Islands of Adventure. Ticket prices are the same for each park.
In 2023, a one-day, one-park ticket starts at $109 per person for adults.
In 2023, a one-day, two-park ticket starts at $164 per person for adults.
Where to Buy Cheap Universal Tickets
With the high cost of Universal tickets, you definitely want to save money when you can. The good news is that there are 17 different ways that you can save money on your next Universal Studios Orlando vacation.
There really is no reason to pay full price for tickets!
Get Away Today
Get Away Today is one of my favorite authorized ticket resellers. I have many friends who have bought individual tickets or vacation packages through Get Away Today and they highly recommend the company for their professionalism and ability to save money on a theme park vacation.
Our favorite way to buy tickets is through Get Away Today. They are an authorized ticket seller and you can get savings on park tickets, hotels and more.

We have found savings on every type of ticket using Get Away Today compared to buying through Universal.
Sam's Club
If you are a member of this warehouse club, you can save money on one park tickets, two park tickets and vacation packages.
We have found that one day tickets are not discounted by much. However, the multi-day tickets are where you will receive more savings on Sam's Club Universal Studios tickets.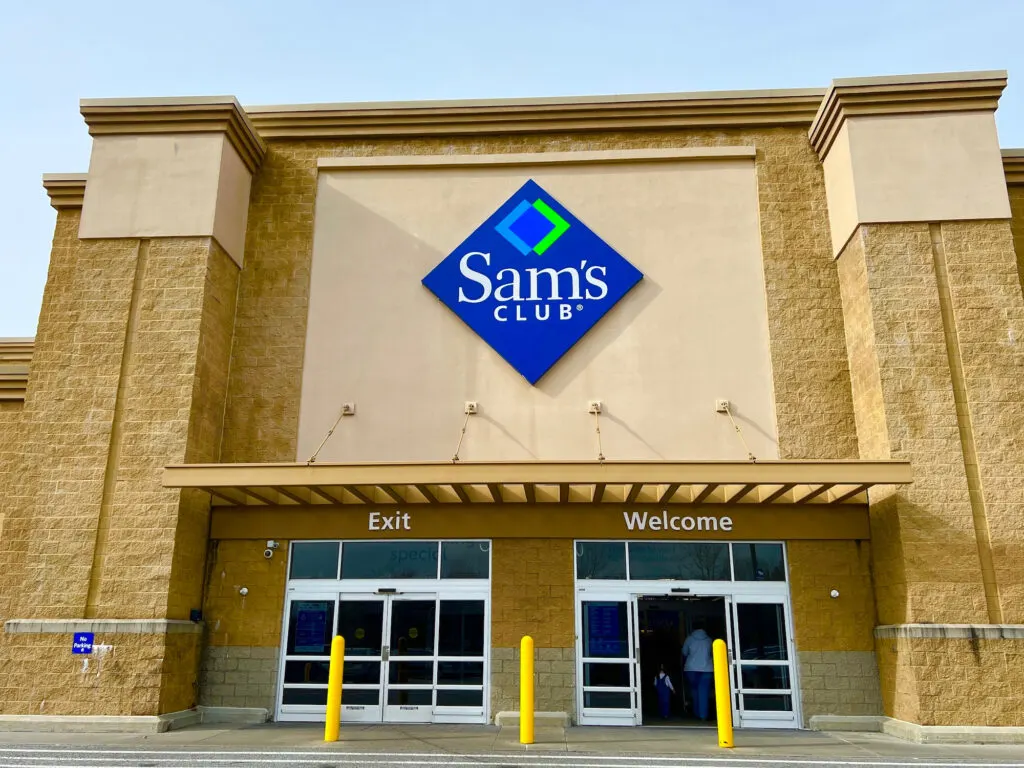 Costco
You cannot buy individual tickets online on the Costco website. However, tickets are sometimes offered inside the stores near the theme parks.
One of the best ways for how to use Costco to save on Universal Studios tickets is to buy their vacation packages, which do have a discount and/or offer perks such as free breakfasts or gift cards.
Universal Studios
Don't overlook ticket savings that you can get directly through Universal Orlando Resort!
In early 2023, their Buy Two Days, Get Two Days Free promotion is better than any discounted ticket available through anywhere else!
Booking multi-day tickets or ticket packages can also get you big savings that you might not be able to find through other retailers or websites.
CityPass
CityPASS is a great way to save money on attractions in a city. There is a lot of value in their city packages across America.
You can buy discounted Universal tickets through CityPASS. Below are some recent savings that you can get through this authorized ticket reseller: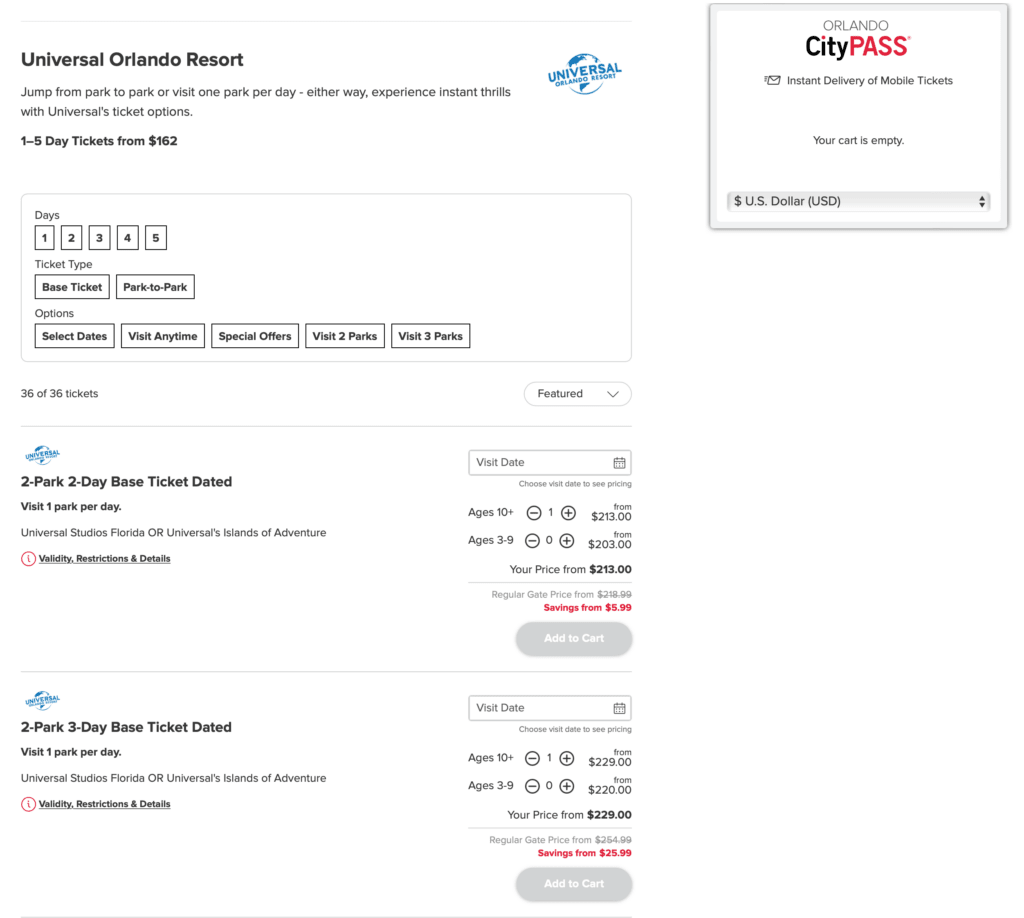 Viator
Another great place to buy discounted experiences across America and around the globe is Viator.
The interesting thing about buying Universal tickets on Viator is that there are special tickets for Canadian residents, as well as U.S. residents.
AAA
AAA has long been known for offering great travel discounts, in addition to roadside assistance.
Visit your local AAA chapter online or go to an in-person location to buy discounted Universal tickets.
Another perk of AAA membership is that you can save money on food at Universal, too.
Publix
If you are not from the South, you probably are not familiar with the Publix grocery chain. Once you get to Orlando, though, you will find a Publix on just about every corner!
Cheap Universal tickets can often be found in the gift card displays inside Publix. Halloween Horror Night discounts are common through Publix. Florida Resident tickets can sometimes be found at Publix, too.
Groupon
Groupon is a surprising way to get discounted Universal tickets. In addition to saving money on the tickets, you could also earn Groupon Bucks which can then be put towards other purchases on the site.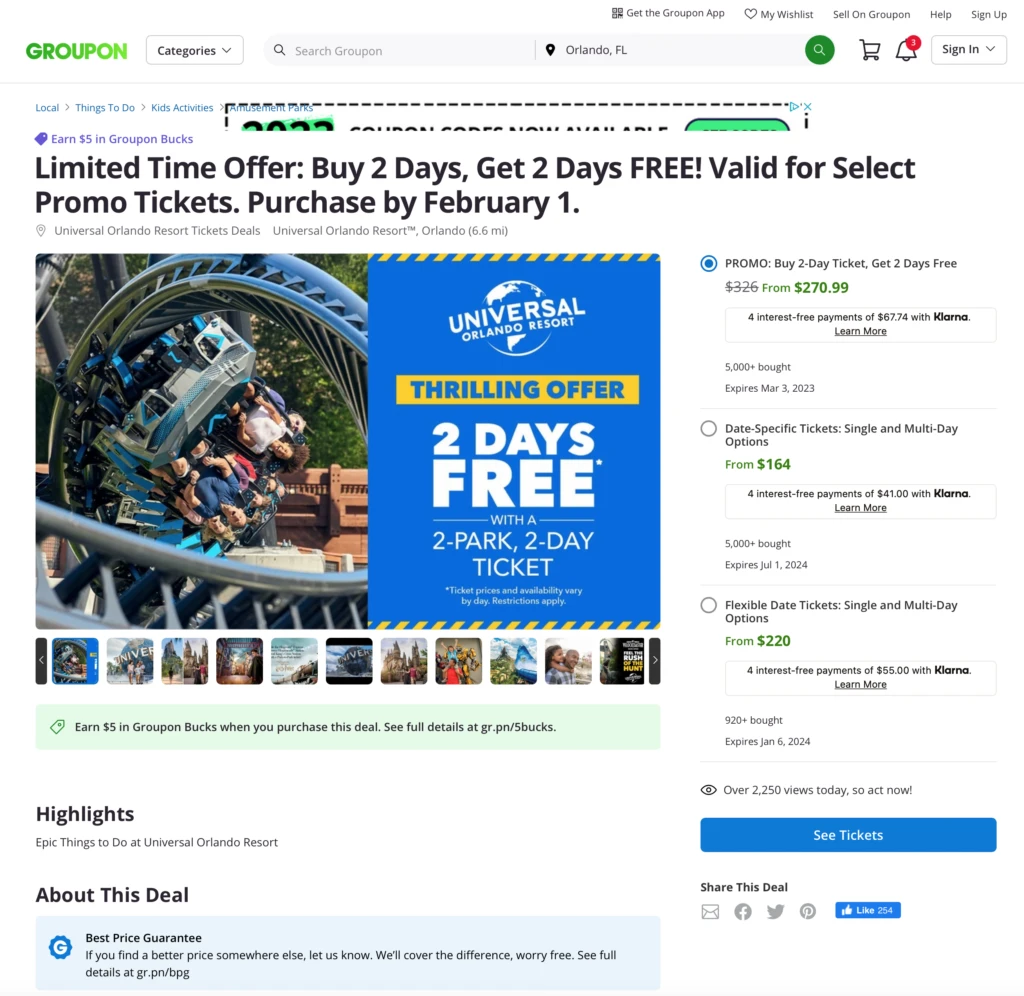 When looking for cheap tickets, be sure to put Orlando in the Search location.
Professional Organizations
If you are a member of a large professional organization, such as the National Education Association (NEA), you might be able to get discounted Universal tickets through your membership.
FYI: AARP does not offer discounted Universal theme park tickets.
Conferences
Living in Orlando, I found that most of the professional conferences that I wanted to attend eventually came to Orlando because everyone wants to visit the city! Plus, the Orlando Convention Center is among the biggest and best in the country, so a lot of conferences come here.
If you are visiting Orlando for a conference, be sure to ask your conference organizers about the possibility of getting discounted tickets.
Related Post: Best Day to Visit Universal Studios
Authorized Ticket Resellers
You might be wondering how many websites are able to sell you discounted Universal Studios tickets. The answer is that Universal has authorized ticket resellers that they work with.
There are a variety of online sites that can sell you tickets for less than you would pay through Universal Parks.
You definitely want an authorized ticket reseller, because there are some shady websites out there that might be promising you cheap tickets and you will get to the park and find out that they are not valid.
That is why I highly recommend Get Away Today, because they are an authorized ticket reseller with Universal Studios and their customer service is top notch.
Related Post: Are Universal Tickets Refundable?
Military Discounts
If you or your spouse is active duty or a retired service member, you can get deeply discounted tickets through the Military Freedom Pass ticket and vacation packages.
The Military Freedom Pass starts at $199 in 2023, which is an amazing deal for Universal tickets!
Up to 6 tickets can be purchased.
Eligible service members include:
Active Duty (Army, Navy, Air Force, Marines, Coast Guard, National Guard, Reservists) and spouses
Retired Military service members and spouses
Department of Defense Civilians
A military ID must be presented.
Use an Annual Pass
You do not need to be a Universal Studios annual pass holder to get discounted tickets. If you know someone who has an Annual Pass, they can buy up to 6 multi-day tickets at up to 15% off the normal rate.
Premier, Preferred and Power Annual Pass Holders can save 15% on multi-day tickets purchased at the front gate. Seasonal Annual Pass Holders can save 10% on those same tickets.
If you visit Universal Studios frequently throughout the year, you might want to consider having at least one member of your party have an Annual Pass. That way you can use the benefits, including discounts on tickets, hotels and food, by using the annual pass.
Florida Resident
Florida residents receive discounted tickets and annual passes. If you live anywhere in the state of Florida, you can use your ID for cheap Universal tickets.
However, even if you do not have a Florida driver's license, you may qualify for a Florida resident ticket rate.
If you are going to college in Florida, you can get the Florida resident rate by showing your college or university ID, even if you have a driver's license from another state.
Florida residents cannot buy discounted tickets for anyone who does not live in the state.
Know a Team Member
Universal team members get a lot of special perks, including free tickets to share with family and friends.
If you know someone who works for Universal Studios or its parent company, you might be able to get free tickets or discounted tickets through their benefits.
Time Share Presentations
If you want free Universal tickets, you will need to swap time for the savings on the admission tickets. There are many time share destinations in Orlando. If you accept a time share presentation package, which often includes accommodations, you may receive free Universal tickets.
However, you will need to spend some time in presentations with heavy sales pitches. So while the tickets are free, they do come with a time cost.
Conclusion
There are a variety of ways to get cheap Universal tickets to save money on your theme park vacation. Just spend a little time looking at these options online, or ask your employer about possible discounts. There is no reason to pay full price for a Universal Studios ticket again!