If you live in Florida or go to school anywhere in the state, you qualify for discounts on Universal Studios tickets.
Consider it a perk for having to put up with the heat and humidity and tons of tourists all year long, LOL! Trust me, I know!
But, seriously, many Florida residents often visit the theme parks for a day trip or a weekend getaway. It is just one of those things you do as a Floridian.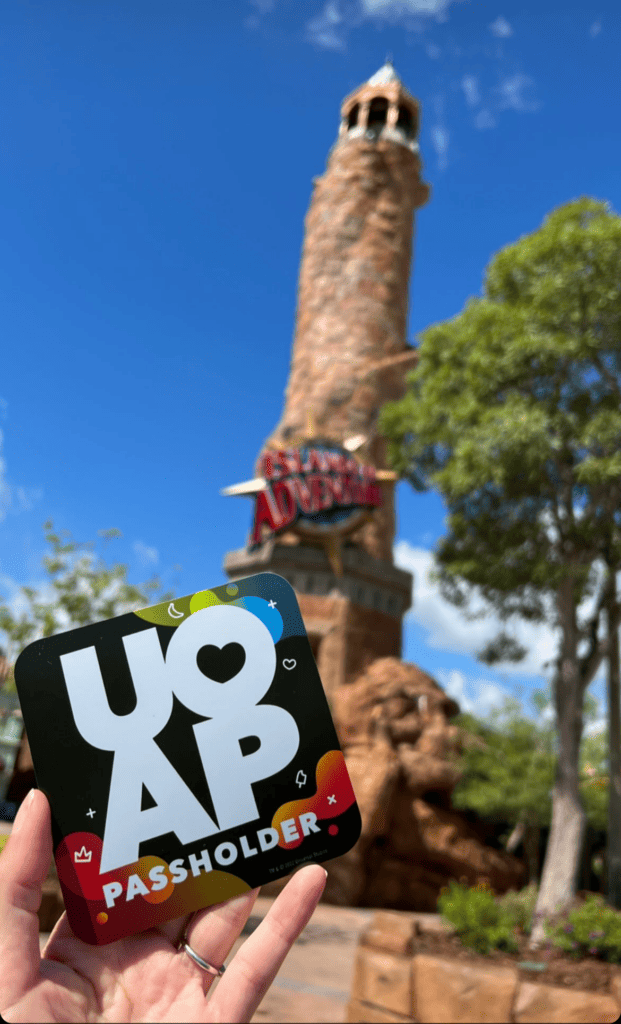 Universal Studios appreciates your patronage and wants to encourage state residents to enjoy the theme parks as often as possible by giving a discount to those who live in Florida.
Do Florida Residents Get Discounts on Universal Tickets?
Yes, anyone that lives in the state of Florida can save money on Universal Studios tickets and annual passes by using the Florida resident rates.
You do not have to live only in the Orlando area to score discounts at Universal Studios. Whether you live in the panhandle or Key West or anywhere in between, you can save money on your Universal Orlando vacation.
How to Prove Florida Residency For Universal Tickets
You must show proof of residency in order to buy discounted Florida resident Universal tickets. They are not going to take your word for it, because then everyone would use this trick to save money on theme park tickets.
Proof for Florida Resident Universal tickets can include any of the following:
Valid Florida Driver's License
College or University ID card from any Florida school (even if your driver's license is from another state)
Florida State ID Card or a Government Issued ID with a Florida address
Florida Voter's Registration Card with a corresponding Photo ID
The Florida resident rates are not combinable with any other discounts or offers.
For additional questions on acceptable forms of Florida Residency proof, call Guest Services at (407) 363-8000.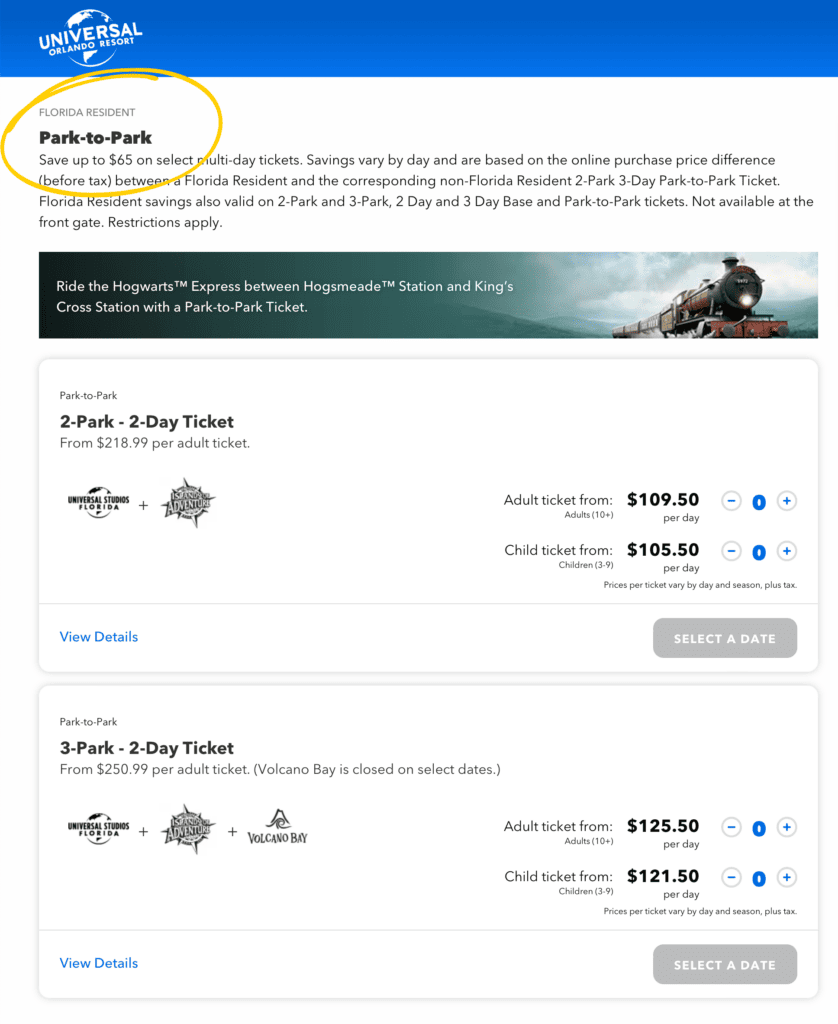 Guests will need to show the proof of residency when you purchase, pick-up and redeem your tickets or passes.
If the wrong name has been printed on your tickets when purchasing online, be sure to change the name on your Universal ticket before trying to show proof of residency at the front gate.
How Many Florida Resident Tickets Can I Buy?
You may purchase up to 10 tickets per purchase. However, each ticket must satisfy the requirements for Florida residency.
Prices for Florida Resident Universal Tickets and Annual Passes
There are a variety of discounts for Florida resident Universal Studios admission. However, the best deals are for multi-day tickets and annual passes.
One day, one-park tickets are the same price for standard tickets and Florida resident tickets.
Volcano Bay tickets are the exception, with Florida residents getting $10 off a one day admission.
The 2023 price of the water park is $70 per day for Florida residents, compared to $80.
Four- and five-day ticket packages are the same price whether you can prove Florida residency or not.
The savings can be found when you purchase 2- or 3-day ticket packages, or annual passes.
Here are the price comparisons of normal Universal ticket prices vs. Florida resident rates in 2023. These are for both the base one-park ticket price and Universal's park to park tickets:
| | | | |
| --- | --- | --- | --- |
| Type of Ticket | FL Resident Price (each day) | Normal Price (each day) | Savings |
| 2 Park – 2 Day (Park to Park) | $109.50 | $137.00 | 20% |
| 3 Park – 2 Day (Park to Park) | $125.50 | $157.00 | 20% |
| 2 Park – 3 Day (Park to Park) | $78.67 | $98.33 | 20% |
| 3 Park – 3 Day (Park to Park) | $89.67 | $112.00 | 20% |
| 2 Park – 2 Day (1 Park a Day) | $85.50 | $107.00 | 20% |
| 2 Park – 3 Day (1 Park a Day) | $62.67 | $78.33 | 20% |
| 3 Park – 3 Day (1 Park a Day) | $73.67 | $92.00 | 20% |
Florida Resident Annual Pass Prices
Florida residents can see substantially on annual pass prices. Each type of annual pass has a savings of at least $100 in 2023.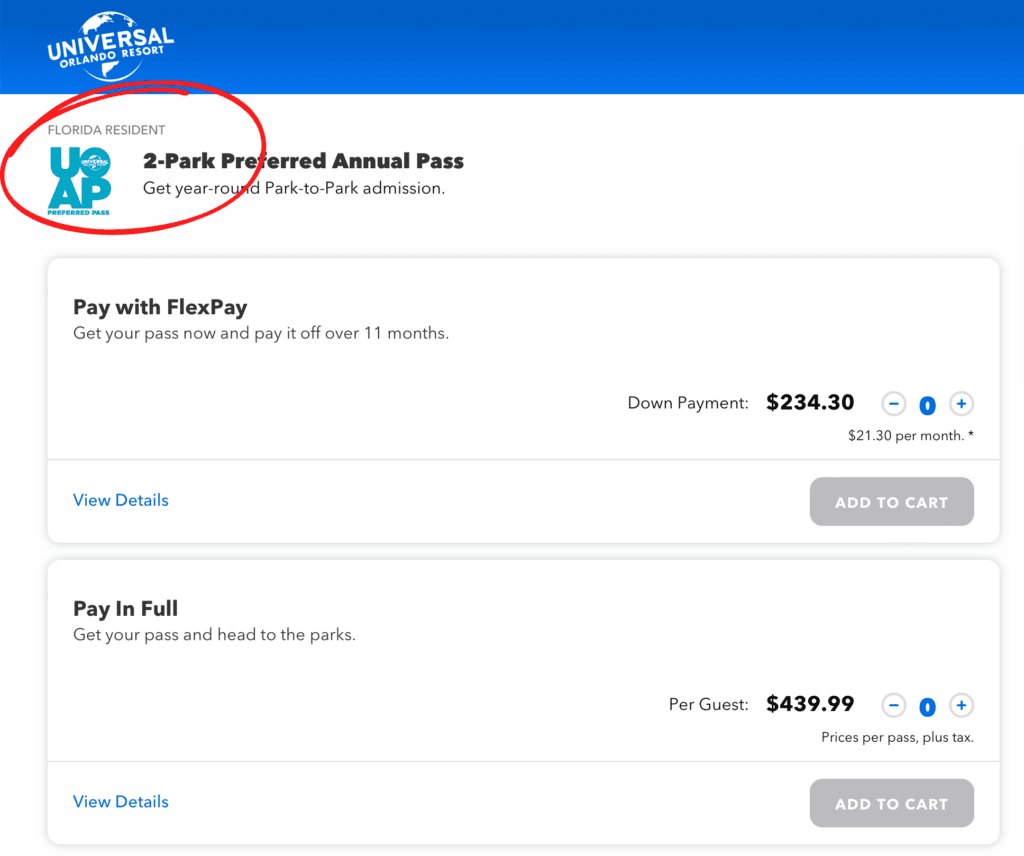 Here is the price comparisons of annual pass prices:
| | | | |
| --- | --- | --- | --- |
| Type of Annual Pass | FL Resident Price | Normal Price | Savings |
| Premier Annual Pass | $639.99 | $754.99 | 15% |
| Preferred Annual Pass | $439.99 | $539.99 | 19% |
| Power Annual Pass | $374.99 | $474.99 | 21% |
| Seasonal Annual Pass | $324.99 | $424.99 | 24% |
Can Florida Residents Buy Universal Tickets for Family?
Florida residents can buy tickets for members of their immediate family that can also show proof of residency if they are over 18 years old.
However, Florida residents cannot buy discounted tickets for non-resident family members, even if those family members are part of your immediate family.
For instance, you are unable to buy discounted annual passes for your father who lives in New York State and is visiting you for a month in Florida.
Related Post: Are Universal Tickets Refundable?
Can Florida Residents Buy Discounted Universal Tickets for Friends?
No, Florida residents cannot buy discounted tickets for friends visiting from out of state.
Tell your friends to use one of these tips for buying cheap Universal tickets at a discount, including buying tickets at Sam's Club or Costco.
Are There Florida Resident Hotel Deals and Discounts?
Yes! There are great deals to save money on official Universal Studios Orlando hotels.
We used a last-minute Florida resident rate when we first stayed at Cabana Bay Beach Resort and saved a lot of money!!!
Discounts are usually up to 35% of the rack rates.
Do Florida Residents Save Money on Parking at Universal Studios?
There are not discounts on standard parking for Universal Studios for residents of the state.
Some annual passes do have free or discounted parking as part of the perks, so you would be saving money on the annual pass and getting parking discounts, too.
If you are a local resident, you can use these tips to get free parking at Universal CityWalk since you have more flexibility in your schedule and might now people who work for the theme parks.
Where Do You Buy Florida Resident Tickets and Annual Passes?
The Universal Orlando website is the best place to buy Florida resident Universal Studios tickets and annual passes.
The official website is also the best place to see the available promotions and deals for people who live in Florida.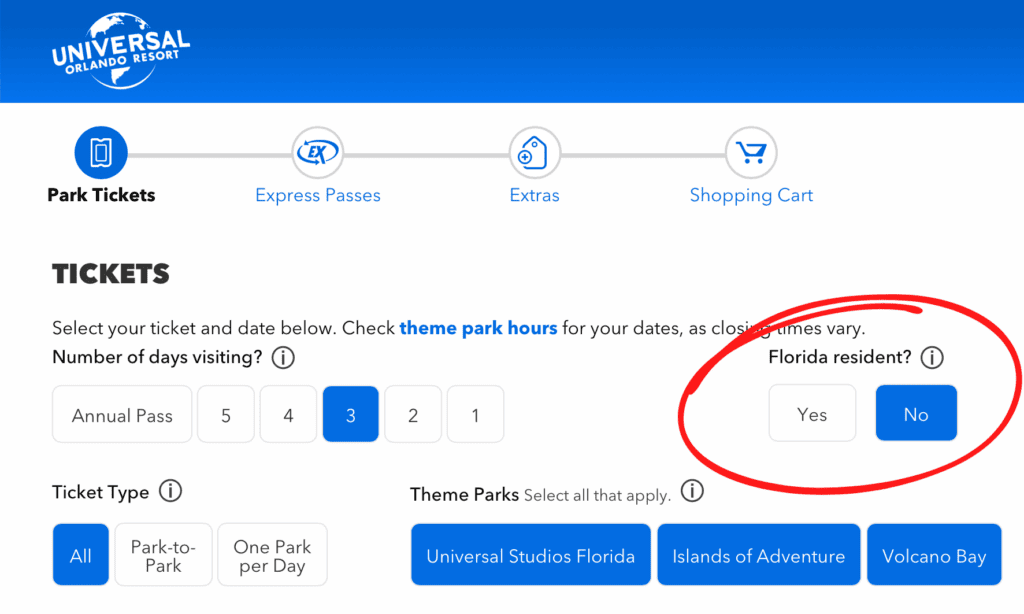 When looking at Universal tickets and hotel deals, be sure to check the Florida resident button that is shown on the screen to get the best prices.