Want to save money on theme parks tickets? With the cost of everything going up at theme parks, it is wise to save money where you can. Buying discounted theme park tickets is one of the easiest ways to stay under budget while traveling to Florida or California.
Sam's Club Universal Tickets are one of the best-kept secrets to saving money on your Orlando or Hollywood vacation.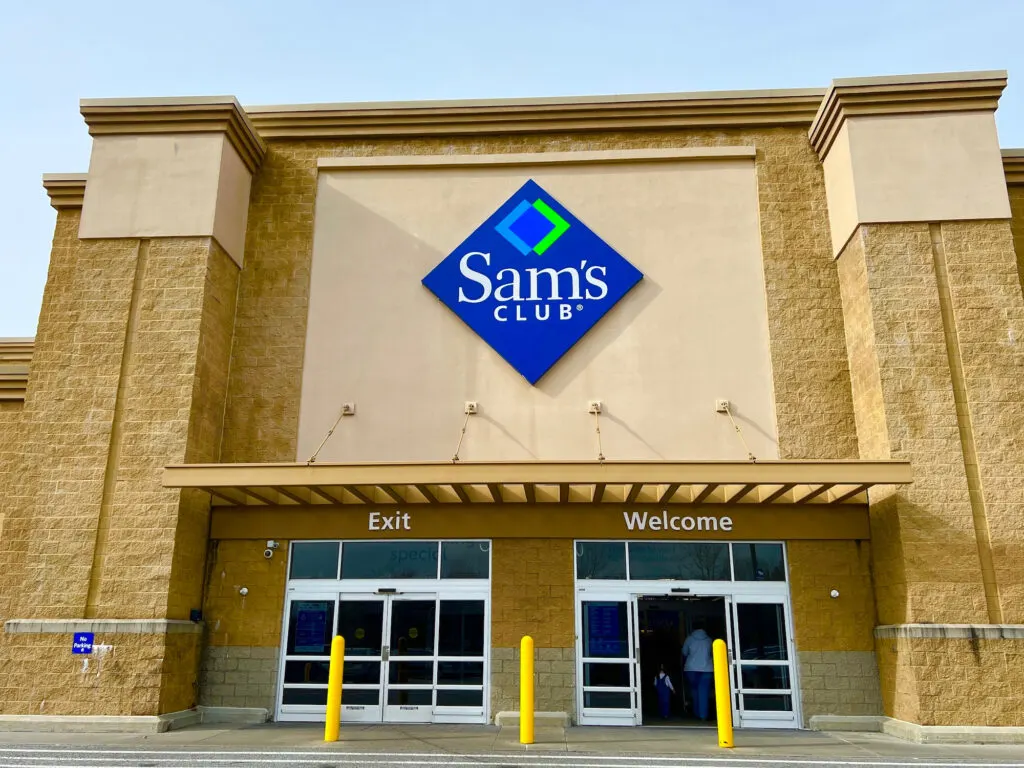 Does Sam's Club Sell Universal Tickets?
Yes, Sam's Club does sell a variety of theme park tickets, including tickets for:
Universal Studios Hollywood
Universal Express Passes are also available through the discount warehouse.
These are just a few of the theme parks that have discounted tickets through the warehouse club. You will also find these theme park tickets available:
Disneyland
Knott's Berry Farm
Legoland
Busch Gardens
Kings Dominion
Kennedy Space Center
Adventure Island
Sesame Place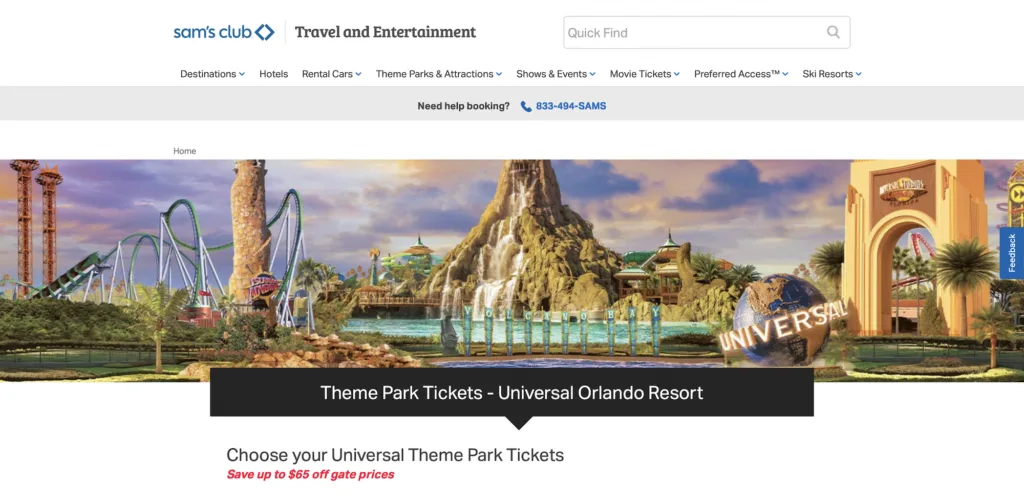 How Do I Buy Universal Studios Tickets at Sam's Club?
Buying tickets online is the easiest and best way to buy Universal Studios tickets at Sams Club. Ordering on their website will give you more options for tickets, as well as Universal Studios Vacation Package deals for both Orlando and Hollywood.
To see all of the amazing deals offered, you do need to be a Sam's Club member. Some deals can be seen on the website without logging in as a member, but you won't see all of the options available.
A Sam's Club membership is $50. The fee is relatively inexpensive for the amount of money you can save on your travel, including buying theme park tickets. Plus, you will continue to save money on food, prescriptions, contact lenses, eye glasses, and more. It is really a smart investment for a year of savings.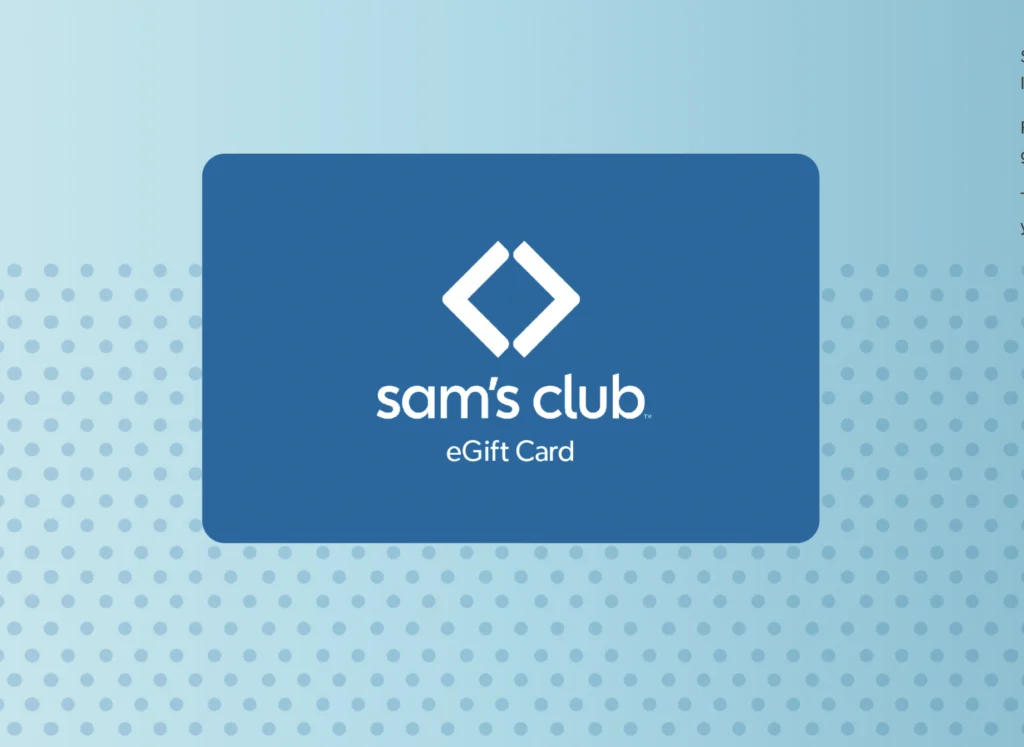 We are members of Sam's Club and think it's a great deal!
If you become a new member, use our referral link and get a $20 Sam's Club eGift Card.
We'll get a small gift card in return and thank you for using our link!
Create your online account with Sam's Club to log into the website via a desktop or tablet, or use the Sam's Club app on your phone.
Navigate to the Sam's Club Travel & Entertainment department, or just search for Universal tickets in the search bar on the main page
You will find that many options will come up for Universal Studios. There are vacation packages, limited time deals and even annual passes.
Choose the tickets that you would like. There are a variety of different types of tickets to choose from:
1 Park – 1 Day Ticket
2 Park – 1 Day Ticket
These tickets can be purchased for different durations, including:
1 Day
2 Day
3 Day
4 Day
5 Day
Florida resident and California resident ticket prices are available via Sam's Club.
After tickets are purchased online, they will be emailed to you. This means that you will have digital tickets.
You can either keep the digital tickets and add them to your Universal app, keep the barcodes available on your phone, or print out.
Related Posts:
Are Universal Tickets Sold at Sam's Club Stores?
Only select locations will have Universal Studios tickets available to buy in-store.
Sam's Club stores in the vicinity of major theme parks, such as Orlando-area locations and Hollywood, California-area locations, are usually going to have tickets available to purchase in-store. However, you will probably not find tickets available in other Sam's Club locations.
Why?
Because the demand is not as high in Sam's Club stores beyond these tourist areas for purchasing theme parks tickets. Stores are not willing to give valuable shelf space to a product that won't sell well.
So, you probably won't find theme park tickets in a location in Iowa, but you will find them in Orlando and Tampa locations.
The selection of tickets might be less in-store rather than online.
Tickets are not guaranteed to be available in stores. Do not wait to buy tickets until you get to Orlando or Hollywood and go to a Sam's Club. This could be risky because there might not be any available. Then, you will need to buy online via Sam's Club or pay full price at that theme parks.
Buying tickets in store is a great idea when you want to wrap up a present to give a vacation as a gift.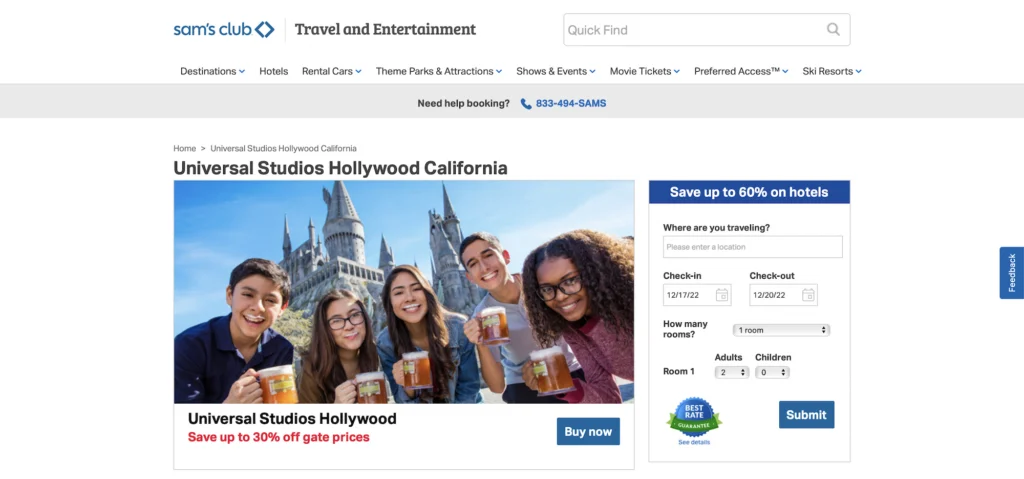 How Much Are Sam's Club Universal Studios Tickets?
Wondering how much money you can save buying Universal tickets at Sam's Club? We have done the research for you. Below is a comparison chart for the cost of Universal Tickets at Sam's Club vs. the cost of buying tickets at Universal Studios theme parks.
Universal Orlando Resort
| | | | |
| --- | --- | --- | --- |
| Tickets for May 1, 2023 | Sam's Club | Universal Orlando Resort | Savings |
| Two-Park 1-Day (Adult) | $190.08 | $194.00 | $3.92 (2%) |
| One-Park 1-Day (Adult) | $135.26 | $139.00 | $3.74 (2%) |
| Two-Park 5-Day (Adult) | $336.32 | $378.99 | $42.67 (11%) |
| Three-Park 5-Day (Adult) | $394.39 | $438.99 | $44.60 (10%) |
Universal Studios Hollywood
| | | | |
| --- | --- | --- | --- |
| Tickets for January 31, 2023 | Sam's Club | Universal Studios Hollywood | Savings |
| 1 Day General Admission (Adult) | $98.10 | $109.00 | $10.90 (10%) |
| 1 Day General Admission (Age 3-9) | $92.70 | $103.00 | $10.30 (10%) |
Two-Park tickets are also known as Park to Park tickets when comparing prices on the Universal and Sam's Club websites.
Does Sam's Club Sell Universal Studios Gift Cards?
No, Sam's Club does not sell Universal Studios gift cards. Unlike Disney gift cards sold at Sam's Club, there are no options for Universal gift cards.
Buying Sams Club Universal Studios tickets is a great way to save money at theme parks. Here are more ways to save money at Universal Studios: