If you are planning a visit to either Universal Orlando or Universal Studios Hollywood, you might have seen other visitors using lanyards around their necks in the theme parks. Why are people bringing these ticket holders to the parks, especially if you can use digital tickets? Is it a purchase you should make before you leave for your trip?
We will explain everything you need to know about using lanyards at Universal Studios, as well as the pros and cons of using digital passes versus printed tickets.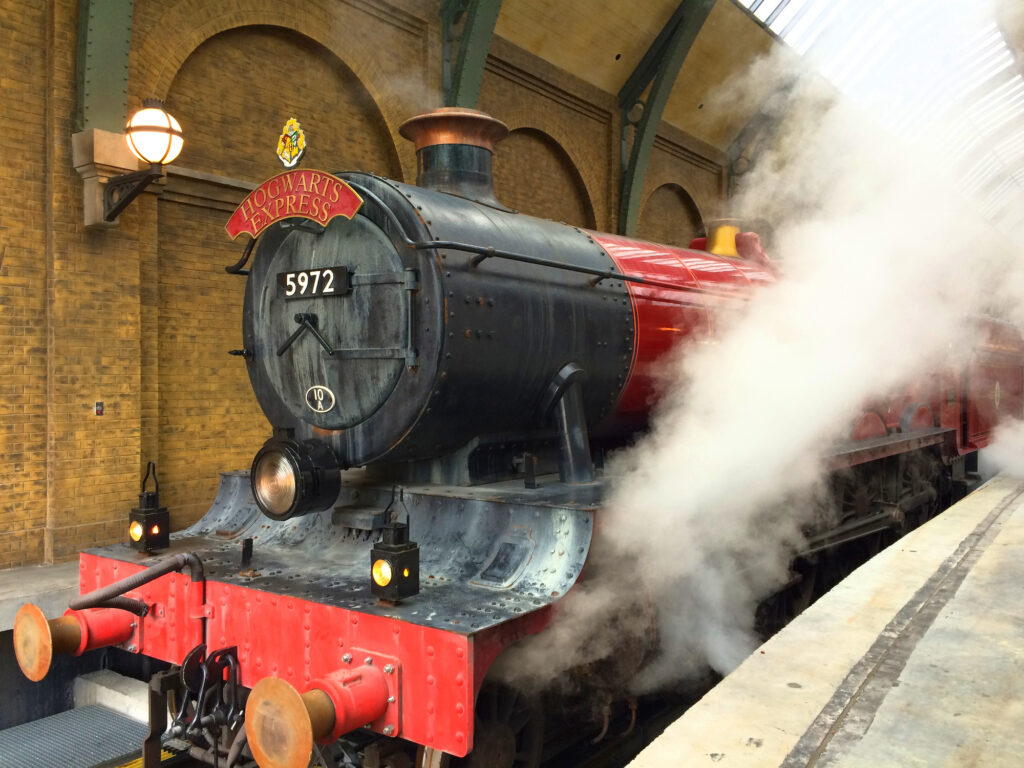 Should I Get a Lanyard for Universal Studios?
To save hassle and reduce stress, yes you should get a lanyard for visiting Universal Studios theme parks. Not everyone will use a lanyard, but for most tourists it makes sense.
Here are the reasons why:
The BIGGEST reason to use a lanyard is if you purchase Express Passes for Universal. These are passes that allow you to skip the lines (similar to Genie Plus at Disney). You will need to show these passes multiple times when you go through attraction queue lines. Having to open your phone and find your pass each time can be very annoying, plus it drains your phones battery quickly. Printing out your passes avoids this hassle.
Unlike at Walt Disney World, you have the option of printing out Express Pass rather than having it on your phone. Being able to take advantage of this option is perfect if you want to enjoy the moment and not have to be on your phone all day.
Using the Universal app is convenient, however it seriously drains your phone's battery. Storing your tickets and Express Passes via the app is nice, but you will definitely need to bring a portable battery charger or be very aware of your phone usage, which isn't easy if you are using your phone as your camera, too.
If you have a 2-park ticket and your phone battery has died before you hop over to the next park, you are going to have a problem! You won't be able to access your theme park tickets.
Free lockers available for use outside of the attractions use your ticket to open and close them. You will want to be able to access your ticket quickly to use the lockers.
Some rides require you to check your phone into the lockers at the beginning of the ride entrance (there will be metal detectors at these ride entrances). If your tickets are on your phone, it's hard to access the lockers then.
Carrying your tickets, passes, room key, ID and credit cards around your neck allows you to keep them close to you, without worry of falling out of your pocket or taken out of your purse or backpack.
Stop fumbling around in your pocket, backpack or purse to find your annual pass or room key to make souvenir purchases or buy food.
Lanyards can easily be tucked under your shirt or jacket to prevent items from falling out on roller coasters, getting wet on water rides, or being stolen by pick pockets.
It is definitely less expensive to buy lanyards ahead of time, compared to buying in the theme parks. You can easily find a pack of lanyards (from 2-5 lanyards) for around $10 or less. In the theme parks, expect to spend at least $10 per lanyard.
Best Types of Lanyards for Theme Park Tickets
There are a variety of lanyards available for holding badges, tickets, keys and passes. However, not all are suitable for the unique uses in a theme park.
Here is what to look for when choosing a theme park lanyard:
Zippered lanyards offer protection from water on some rides, as well as afternoon showers. (For protection for bigger items, check out these waterproof fanny packs perfect for the Universal water rides.)
Retractable lanyards allow you to keep the strap around your neck while stretching the extension to reach the scanner.
Choose thicker plastic so that your lanyards don't fall apart half way through your vacation.
Buy lanyards before you get to Universal Studios to save lots of money. Prices are much higher inside the parks.
Our Top Picks for Lanyards for Universal Studios
These retractable lanyards allow you to have the lanyard around your neck, but to pull the clear plastic ticket holder easily away from you to scan at kiosks.
Retractable lanyards are much more convenient than any other type of ticket holder available. You can hang the lanyard around your neck once and not have to remove it whenever you need to show your pass. This is essential is you are also carrying a water bottle or phone and don't have your hands free. Or if you are holding a child and can't easily tear off a lanyard over your head or bend down to show your pass.
These heavy duty vertical badge holders are waterproof and have a resealable zip closure to protect what is inside. The extra thick plastic will hold up to the heat and multiple uses, unlike cheaper and thinner plastic holders. The price for this 6-pack is ridiculously good, considering how much just one lanyard would cost in the theme park!
The 5 different colors of the neck strings of these ticket holders makes it easy for each member of the family to know whose lanyard is whose. We like that there is a breakaway buckle on the strap. The plastic ticket holder pouch does reseal to keep passes dry inside.
Harry Potter lanyards are super fun for visiting Universal Studios. If you are a Harry Potter fan and want to show it off, then get one of these gorgeous lanyards. However, be aware they are at least double the price of the generic plastic lanyards.
Printing Out Universal Studios Passes Vs. Using Digital Passes
These lanyard options are for guests who choose to print out their Universal Studios passes. However, you can choose to use digital passes on your phone, instead. We prefer printing out the tickets, for a variety of reasons.
Keep in mind that your room key will ONLY act as your theme park ticket. If you purchase Express Passes for shorter lines, those are separate passes and must be either printed or stored on your phone.
Here are the pros and cons of printing out passes versus using online passes for the theme parks.
Printed Passes
Pros:
Universal Hotels have kiosks in the lobby to print your passes when you arrive. (However we HIGHLY recommend you print at home if possible to avoid delays.)
Printed tickets can be used to open the free lockers on rides where you have to store your phone in a locker.
If you don't want to constantly be turning on your phone and scrolling for the pass code, a printed ticket lets you take a break from using electronics.
No need to worry about draining your phone battery and not being able to use your Express Pass, get into lockers or hop between theme parks if you have a 2-park ticket.
Cons:
You must print off your passes before arriving at the theme parks. If you forget, there are kiosks in the hotel lobbies.
Unless you protect your printed passes from water, they could get ruined on water rides or in rain showers.
If you lose your ticket or Express Pass, it will take time and energy to get a replacement pass.
Digital Passes
Pros:
No need to worry about keeping track of a paper pass. You will know that your passes are available in your phone's wallet or in the Universal app.
Cons:
Phones are not allowed on some rides, such as Hulk and Velocicoaster. If you have an Express Pass, you will need the barcode to show, which isn't possible if you don't have your phone.
Choosing mobile delivery for your passes means you can only access the pass via your digital wallet or within the app. You will not also be able to print the passes easily without assistance from a Universal team member. That will require waiting in line and wasting time in your day.
You will need your phone, room key or paper ticket to get into the lockers. If you can't take your phone with you on the ride, you won't have access to it to unlock the lockers when you get off the ride.
If you run out of battery on your phone, you will not have access to your park tickets or express passes.
If you lose your phone, you won't have your tickets.
The Universal app has a tendency to use the battery on your phone pretty quickly. This is because it is using location based tracking.
When traveling with kids, you might be keeping them happy by having them watch movies on the phone or play with games. If you need to interrupt their watch time every time you need to get your phone to scan your pass, you might have grumpy kids and a miserable wait.
---
Want more helpful Universal Orlando planning tips? Check out our other helpful guides: