Universal's Cabana Bay and Aventura resorts are located across from each other at the Universal Orlando Resort. They are both among the least expensive hotels at Universal Studios. So how do they differ from each other?
Aventura and Cabana Bay could not be more different! There is a distinctly different vibe at each one and chances are you will like one or the other, but not both.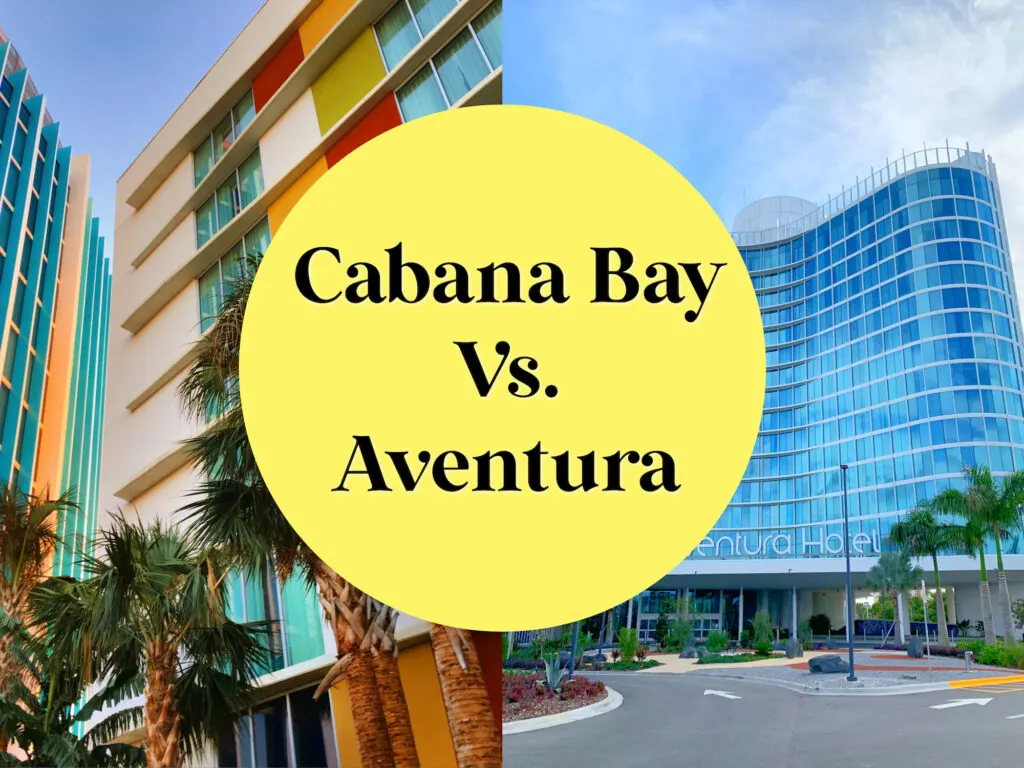 So while the price can be comparable, the amenities and rooms are definitely not the same. Let's compare how these two Prime Value resorts differ.
Price: Cabana Bay Beach Resort vs. Aventura
When comparing Cabana Bay to Aventura, you should realize that the cost is exactly the same or somewhat close.
Both resorts are Universal Orlando Hotel Prime Value resorts. Therefore, they will be priced similarly.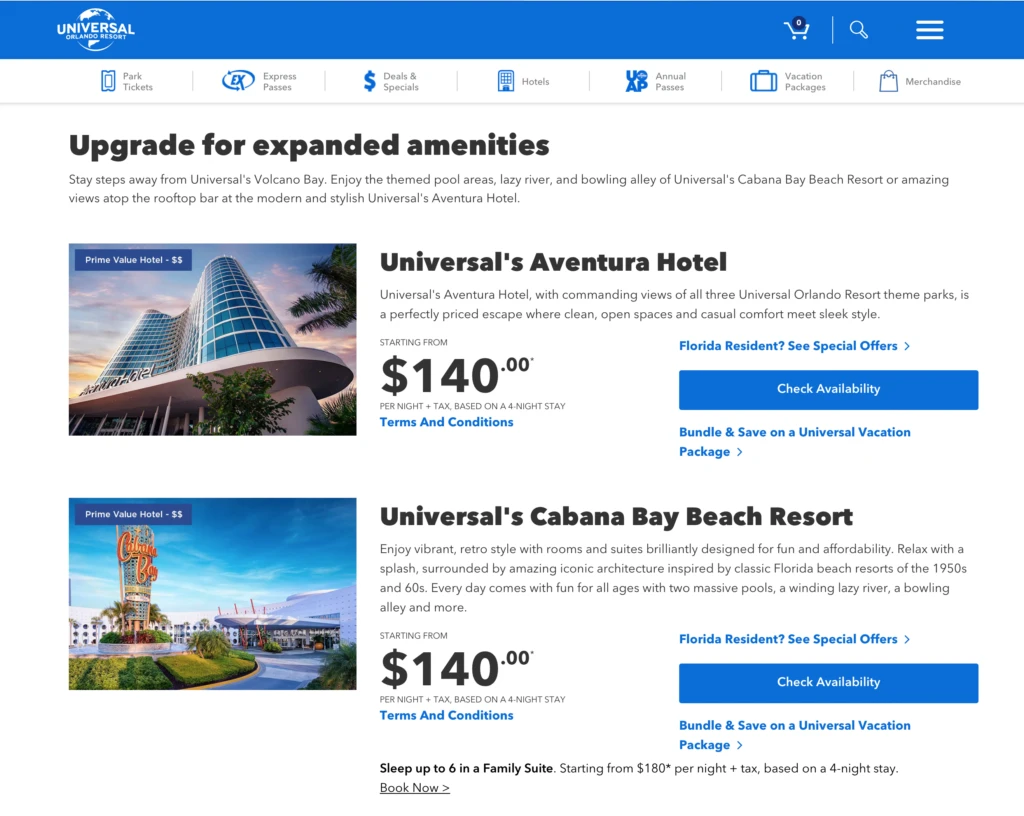 When booking theme park tickets, use one of our 17 Ways to Save on Universal Tickets.
So now that you know that price isn't a determining factor, let's compare the other unique perks and rooms at each resort.
Theming
This is where the differences between Aventura and Cabana Bay Beach Resort are really apparent.
Aventura, which is the newer of the resorts, is a streamlined, modern, minimalist design. The gleaming tower has a rooftop bar and robots that deliver food and drinks to your room. In-room amenities include iPads for controlling the TV and guest service needs.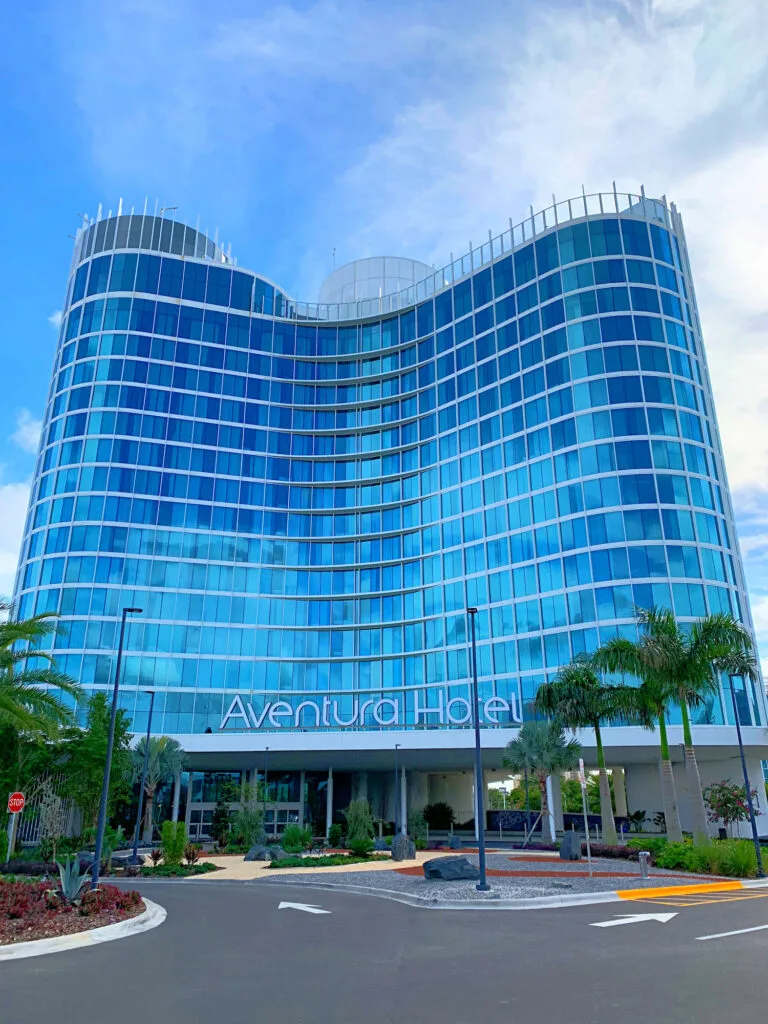 Cabana Bay Beach Resort is a retro theme that celebrates the fun times of the 1950s and 1960s. You will find a lot of colors and kitsch at this resort with the theming.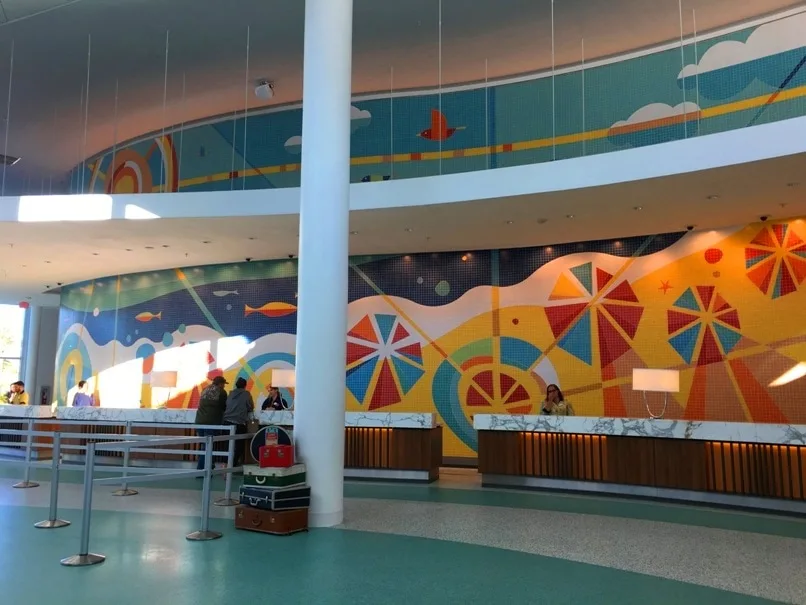 We personally love Cabana Bay Beach Resort and think it's one of the best hotels in all of Orlando for families. Be sure to see our extensive review of Cabana Bay Beach Resort at Universal Orlando.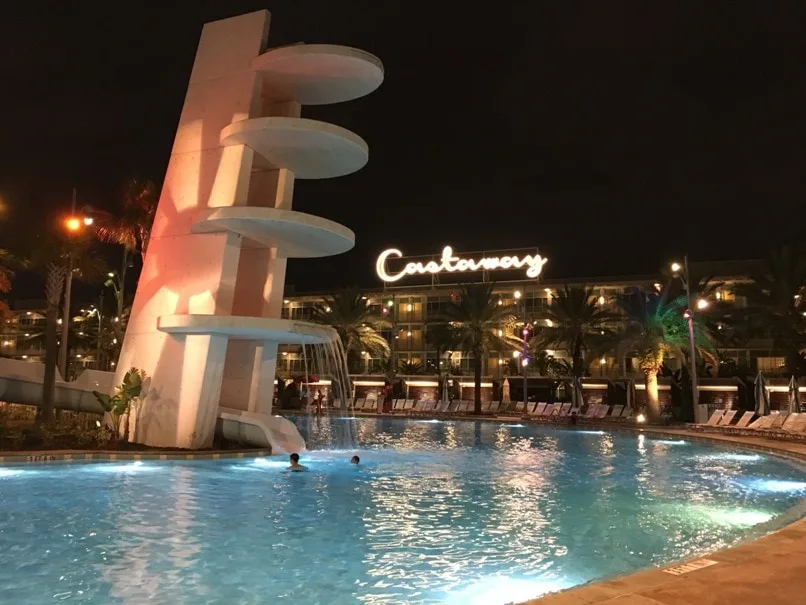 Rooms: Aventura vs. Cabana Bay
Cabana Bay has fun rooms designed to appeal to families, both in size and amenities.
We love the family-sized suites that come with a bedroom, small living room with a sleeper sofa, a small kitchenette and a bathroom with the sink outside of the shower area so that multiple people can get ready at the same time.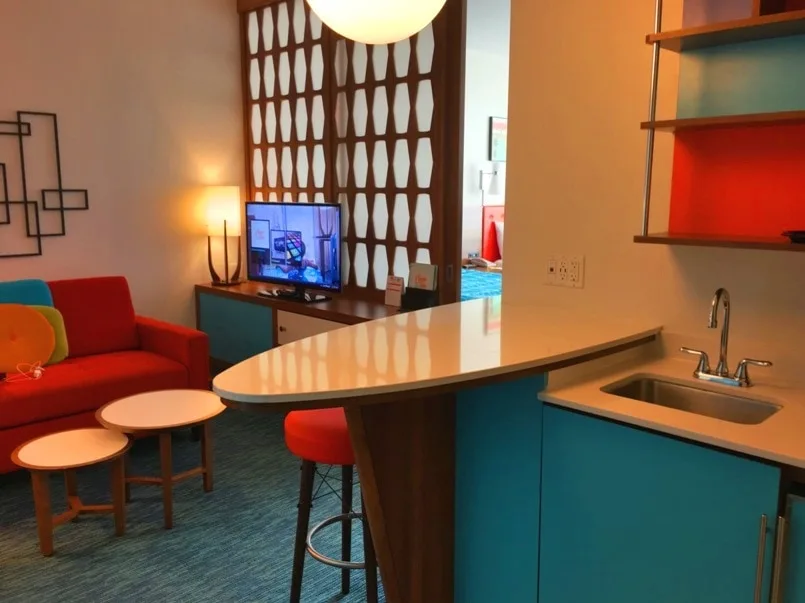 Cabana Bay does have Volcano Bay rooms, which is fun to look at outside your window!
Rooms at this resort can either be accessed from inside or outside. This is a sprawling resort and you may need to walk a little ways to get to the lobby area. So if either of these could pose a problem, be sure to talk to guest services when checking in or reserving your room.
Cabana Bay does have 2-bedroom family suites that are great for a family of 8 or less. These 772-square foot suites have two separate bedrooms, along with 2 full bathrooms and other amenities.
See our room tour and Cabana Bay Beach Resort property tour in our YouTube video:
Aventua is modern and minimal. You will find streamlined decor and modern amenities.
The TV, air conditioning and heating and room service are all accessed from an included iPad in your room.
Robots will deliver items to your room at your request, including food and drink. This can be great for kids (and adults) who like modern technology. But not so much for people that would prefer to talk to humans and have any questions they need to ask.
All rooms at Aventura are accessed from indoors.
The higher the floor you stay on, the better the view will be. You can also see Volcano Bay from some Aventura rooms. However, it is much farther in the distance than from Cabana Bay.
Pools: Cabana Bay Beach Resort vs. Aventura Resort
Without a doubt, the pools at Cabana Bay are the best. There is no competition!
Cabana Bay has two pools, and this is one of the few Orlando hotels with a lazy river. These are large pools with slides, play areas nearby for kids and bars nearby for adults.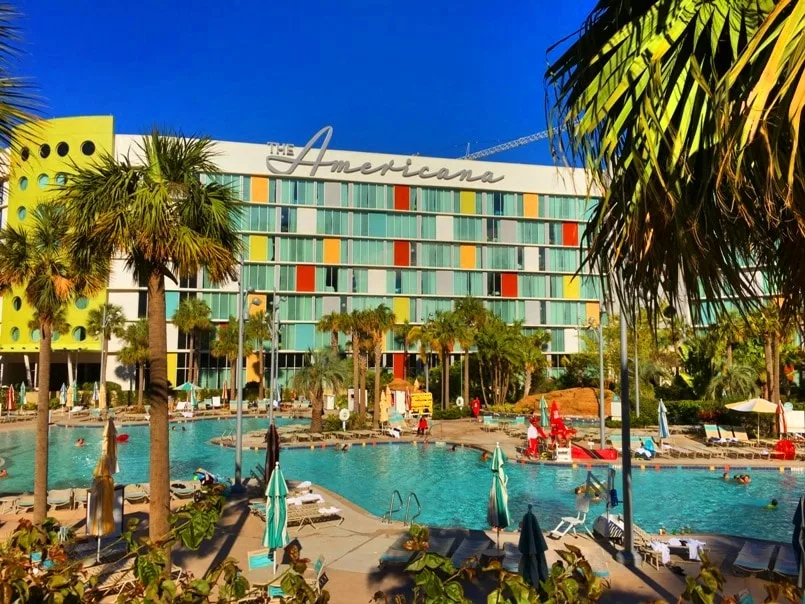 Aventura's pool is simple, non-themed, and quite boring. If you are looking for a more peaceful and less crowded pool, then this one might be the choice for you.
Because you can pool hop at Universal hotels, you will have access to any of the pools (other than Endless Summer resort).
So while Aventura's pool is lackluster and ho-hum, you could walk to Sapphire Falls Resort pool which is MUCH better! Or walk to Cabana Bay's two pools.
Dining: Aventura Hotel vs. Cabana Bay Hotel
Cabana Bay has a variety of food service locations and restaurants at the resort. If you want to spend a lazy day or rainy day at the hotel, you don't need to leave to get great food and drinks!
Their main restaurant, Bayliner Diner, has a lot of food and drinks all day long. This is where we ate a lot of the time and really enjoyed the food and selections.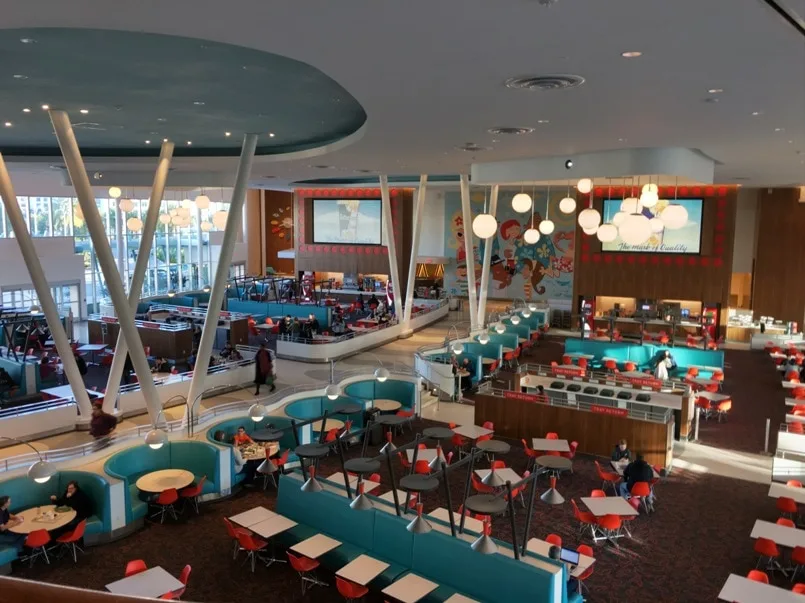 The bowling alley also has a small restaurant in it. While eating here is loud, it is also entertaining!
A Starbucks is located inside the resort, which is a great place to get coffee at Universal. And there are two bars outside by the pools for quick service food and alcoholic drinks.
Aventura has a food hall concept in the lobby. You can get a variety of different types of foods in the food court, from sushi to salads to pizza.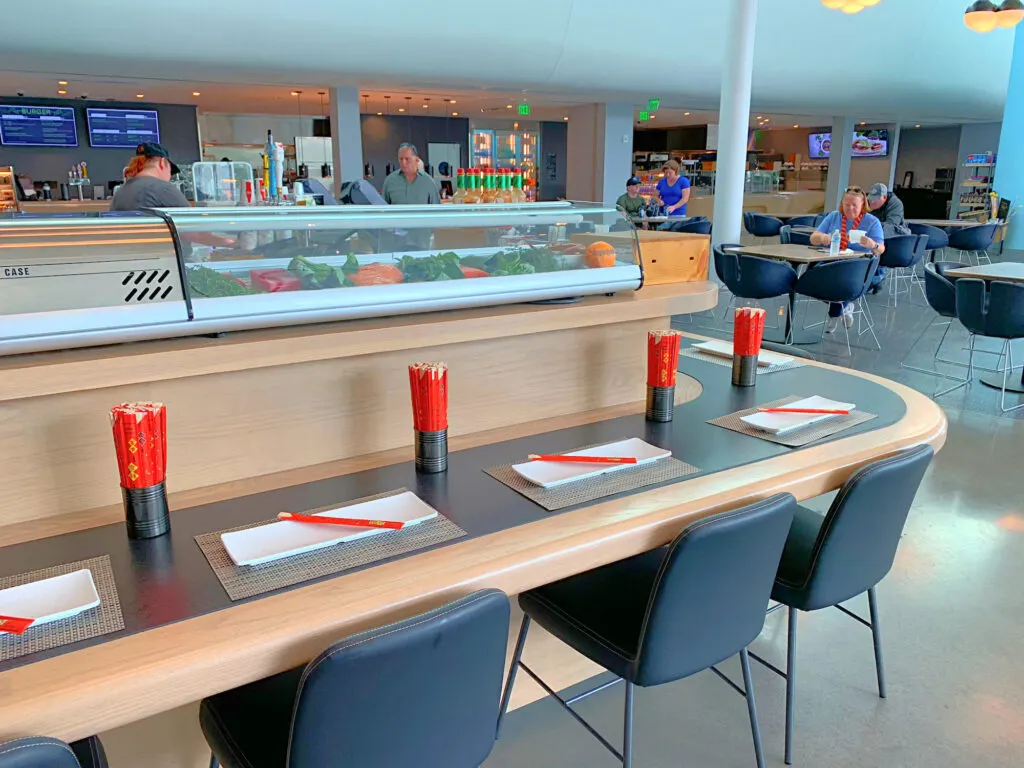 The Bar 17 Bistro rooftop bar at Aventura has amazing views of Universal Orlando Resort and surrounding Orlando. It's a bit on the pricey side, but it is a unique destination and one not to miss if you are staying at the hotel.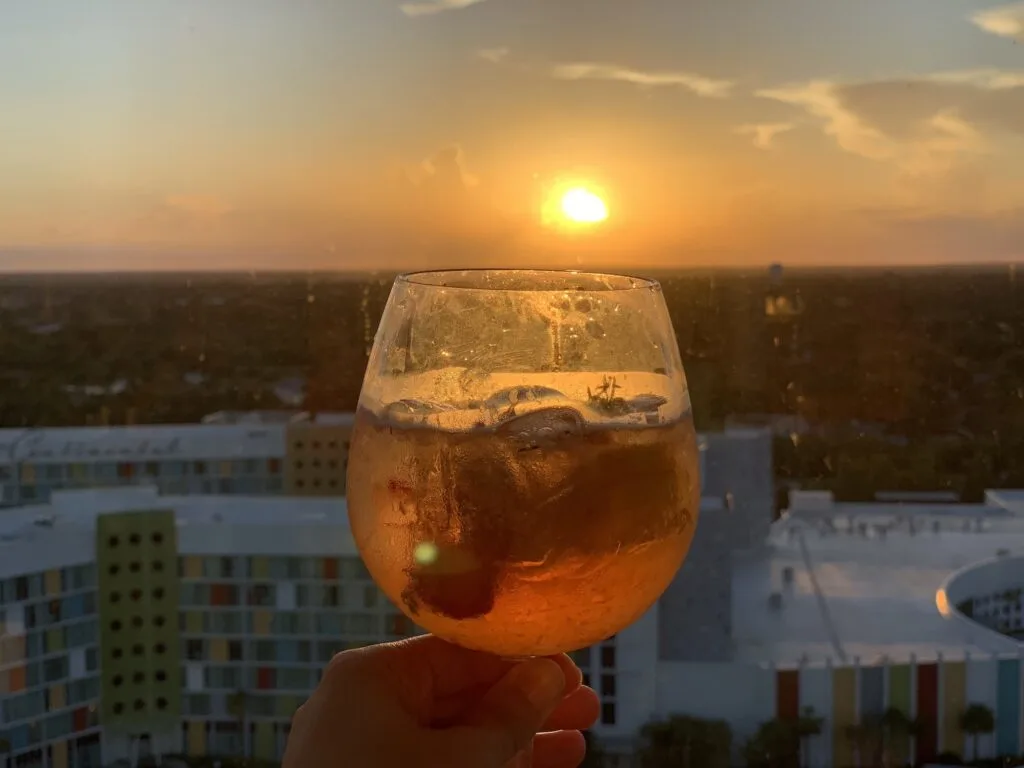 Amenities: Cabana Bay and Aventura
As Prime Value Resorts, each of these hotels have the same standard amenities and perks, such as:
Early Park Admission
Complimentary Transportation (buses and water taxis)
Free Wifi
Package Delivery
Room Key Charging Benefits
Fitness Centers
Transportation Options: Cabana Bay vs. Aventura
Each hotel offers complimentary transportation to Universal Studios theme park and Universal CityWalk. Both resorts are located within walking distance of the theme parks and CityWalk, as well.
However, there are some differences that could be a big deal for you.
Aventura is located across from Sapphire Falls Resort. You can walk across the drive to get to the Loewe's Resort. Sapphire Falls has a water taxi that you can use, which is fun and a quick way to get to the theme parks.
Cabana Bay does not have a water taxi.
Buses are available at Cabana Bay and Aventura.
Cabana Bay Beach Resort is located across the street from Aventura. This is a MAIN road and VERY busy! You CANNOT cross the road to walk across the street to Aventura. You must walk on a raised pedestrian walkway that crosses the street. However, there is a lot of winding along the pathway to make it accessible for strollers and wheelchairs, so this walk can seem quite long.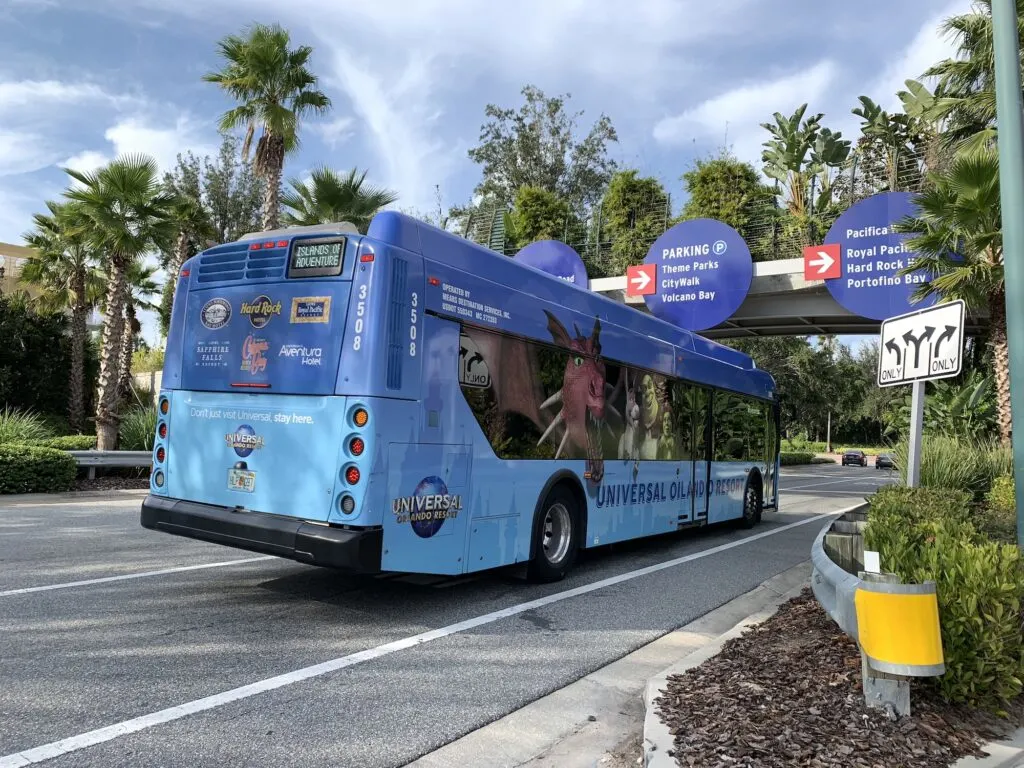 ***Get Discounted Universal Theme Park Tickets from
Get Away Today!***
We love this Official Universal Ticket Reseller for their customer service and money-saving tickets.
Is Cabana Bay or Aventura Better?
As with anything in life, the answer as to whether Cabana Bay or Aventura is better is… it depends.
I personally love Cabana Bay Beach Resort. If I'm going to stay at a hotel, I want it to have lots of amenities, plenty of options and a destination in itself. The fun and happy vibe is great for kids, families and anyone craving nostalgia.
However, if you traveling to Universal Studios with no kids, or just like a minimalist aesthetic, then Aventura is clearly the best choice for you.
Want more help in planning your Universal vacation? Check out our planning guides: