There are a lot of great pools at Universal Orlando hotels. You might be sad that you can't spend the day at all of them, but don't get discouraged just yet! There is a way that you can visit most of the Universal hotels at no extra cost to you!
Pool Hopping at Universal Hotels Explained
What does pool hopping mean?
Pool hopping is using the pools at another hotel even though you are not staying there overnight and do not have a reservation.
Universal Orlando Resort allows most guests staying at their official Universal Orlando hotels to pool hop among their hotels.
Guests staying at any of the Premier, Preferred or Prime Value resorts can visit the pools at the other locations.
These resorts include:
Portofino
Royal Pacific
Sapphire Falls
Aventura
Cabana Bay Beach Resort
Guests staying at Universal's Value Resorts, which include Endless Summer Dockside and Surfside are not eligible to pool hop to any other Universal hotel locations.
Unlike Walt Disney World hotels, Universal Orlando Resort hotels offer this amenity and encourage guests to enjoy most of their locations.
Pool hopping is a great activity to enjoy on the busiest days at Universal Studios to avoid the crowds.
Universal Orlando Hotel Pools
Each pool at the Universal Orlando Hotels has a different feel. Some locations have more than one pool at each hotel.
At most pools, you will find activities such as games and sometimes DJs playing music.
All of Universal Orlando's hotels are heated and have lifeguards.
Every hotel is gated and can be accessed with your room key card.
Cabana Bay Beach Resort
There are two pools at Cabana Bay Beach Resort. These pools are definitely family-friendly.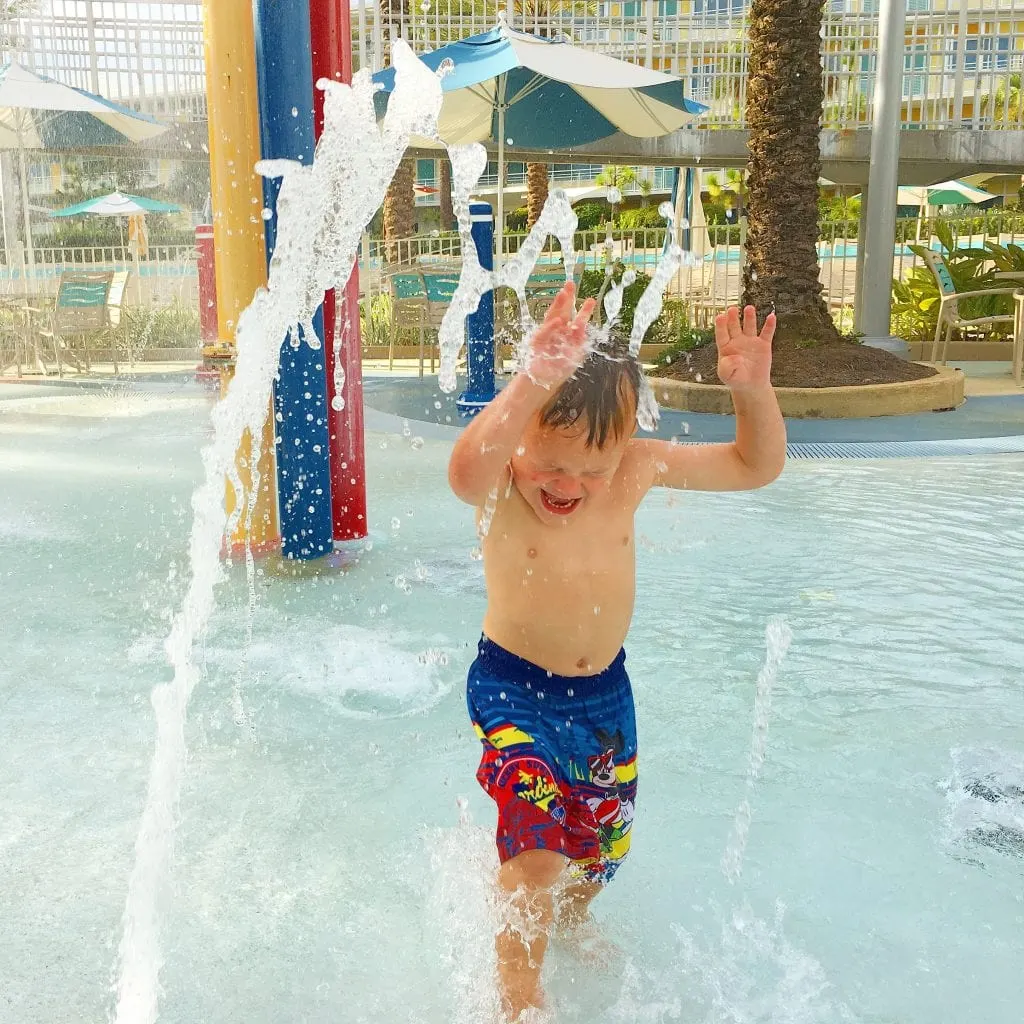 The pool with the water slide is definitely louder with lots more activities, including a splash pad for younger kids.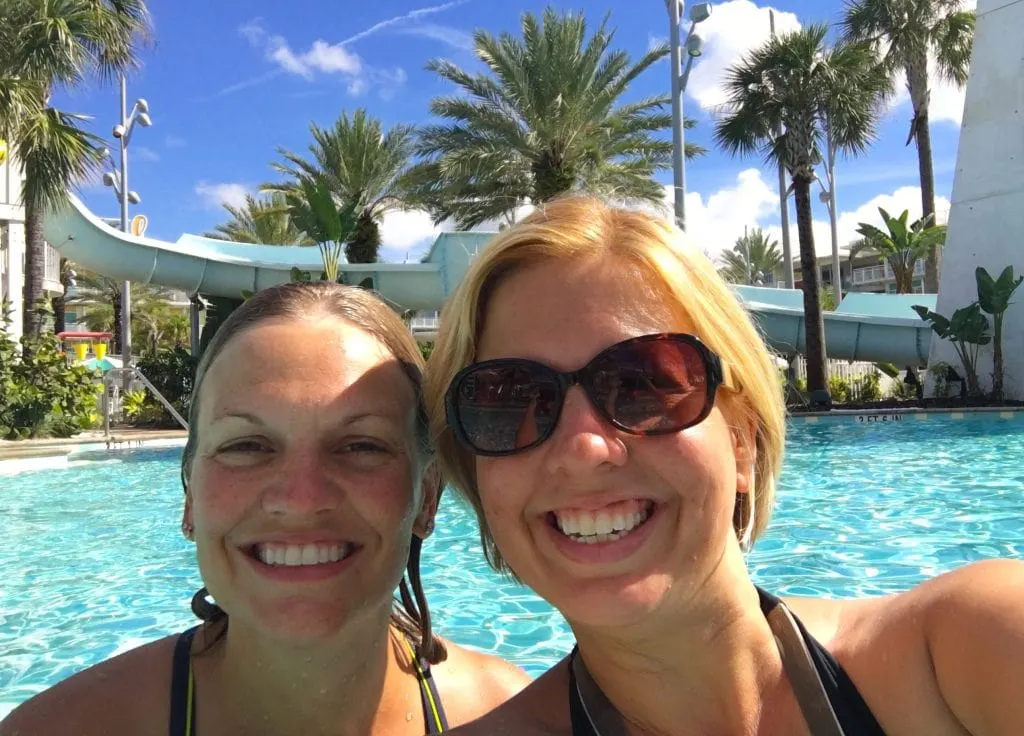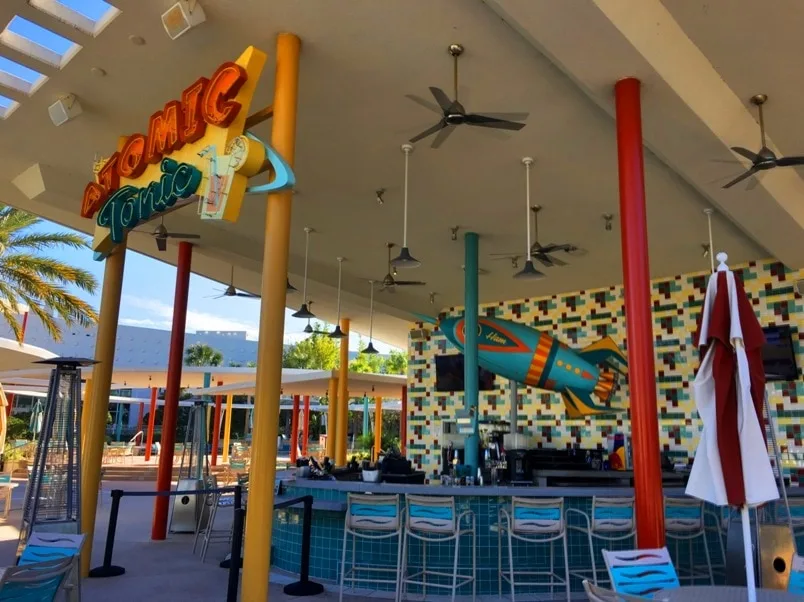 The second pool, the one closer to Volcano Bay, is a bit more subdued. Known as the Lazy River Courtyard, this location is also where you will find the lazy river.
If you do not bring your own tubes, you will need to buy them at Cabana Bay. The tubes will be inflated for you and you will be given a dry, packaged tube to bring home as your souvenir after you turn in the one that you used.
We love the Hideaway Bar (at the quieter pool) and Atomic Tonic at Cabana Bay to get food and alcoholic drinks.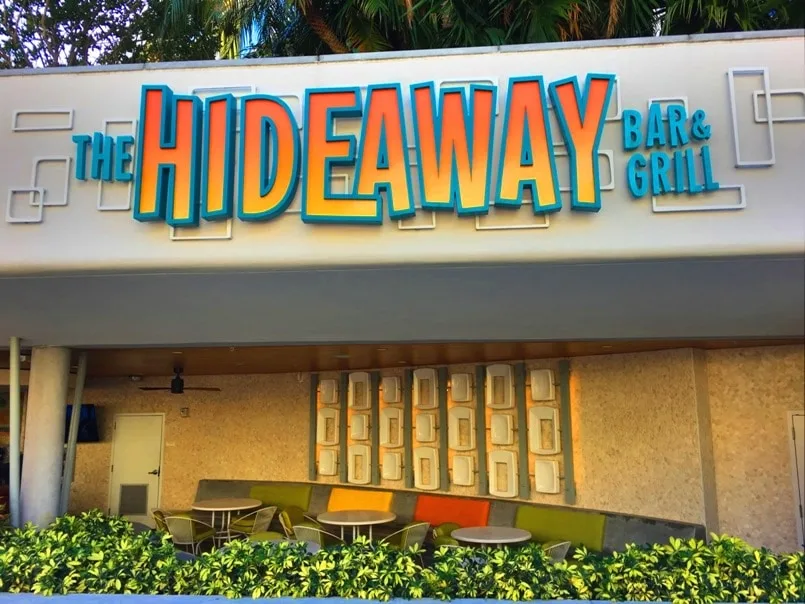 This hotel is one of the few in Orlando with a lazy river.
Check out our guide to Cabana Bay vs. Aventura.
Aventura
The pool at Aventura definitely has an adults vibe. It is very minimalist, without a lot of theming or fancy decorations.
However, it does have a splash zone for kids, so it is family friendly.
Bar Sol is nearby for ordering food and drinks. Aventura's food hall is located just off of the pool area, too, with more extensive options.
Of all the hotels at Universal Studios Orlando, this is our least favorite one. But it is probably going to be the least crowded and least noisy.
Since Aventura is located adjacent to Sapphire Falls, you can easily check out both of these hotels in the same day or to see which one you like more.
Hard Rock Hotel
One of the best hotels at Universal, besides Cabana Bay, is definitely the Hard Rock Hotel.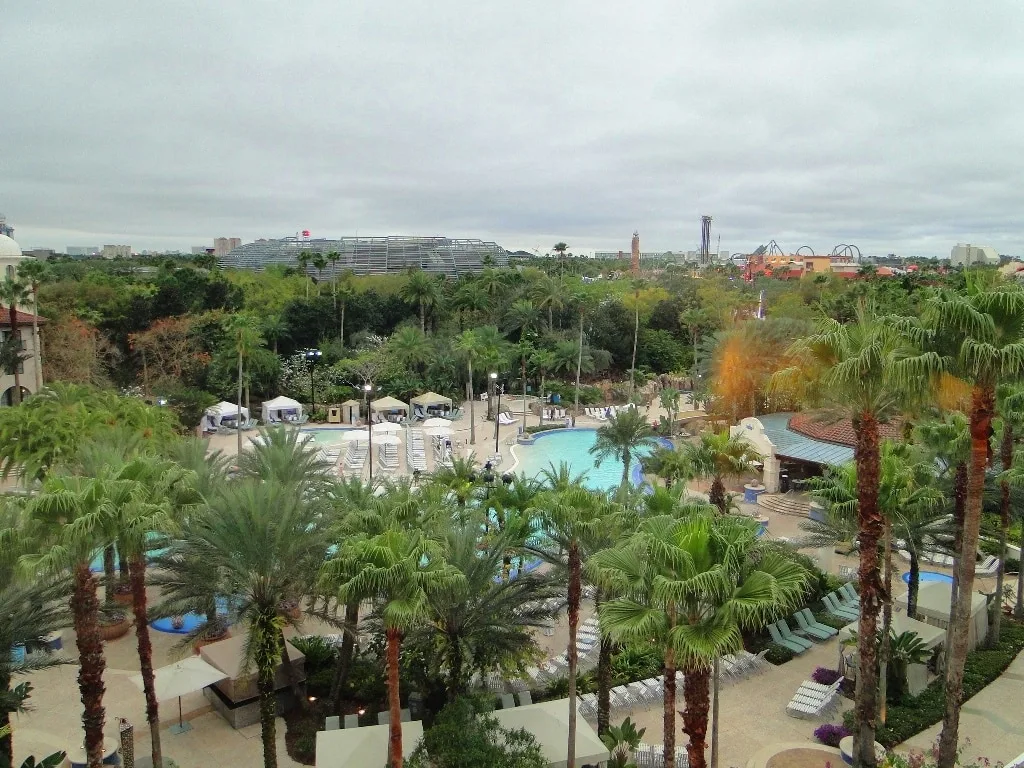 This 12,000- square foot pool has an underwater sound system so that you can listen to music while swimming.
Kids and adults alike will enjoy the 260-foot water slide.
There is also two hot tubs, a sand beach, volleyball court, a poolside restaurant, cabana rentals and sometimes live music at the pool.
Portofino Bay
You will find three different pools at Portofino Bay:
Beach Pool is the most family-friendly pool with a waterslide, beach, two hot tubs, children's pool and colorful cabanas. Splendido Bar and Grill is nearby.
Villa Pool has a bit more of an adult vibe. Here you will find a pool concierge, private cabanas, upgraded lounge chairs and a bocce ball court.
Hillside Pool is the most quiet and secluded. You won't find a lot of amenities here.
Royal Pacific
You will definitely feel like you are at a tropical resort when you spend the day at the Royal Pacific Pool. A white sand beach envelopes the lagoon pool.
There is also a kids water play area and two hot tubs, along with private cabanas for rent.
Bula Bar and Grille will bring tropical drinks to your seat when you use mobile ordering! You don't even need to get up to place your order!
Related Post: Ultimate Guide to Discovery Cove: An All Inclusive Paradise
Sapphire Valley
The largest pool at Universal Studios Orlando hotels is at Sapphire Valley. This 16,000-square foot pool has a zero entry, so there is no need to climb down steps to get into the water.
This is another Universal pool that has a sandy beach, along with rental cabanas and a hot tub.
You will also find a waterslide, fire pit area and children's play area, along with Dhrum Club Kantine.
This is one of the most popular pools at Universal Studios, so it could be one of the most crowded. However, it is also the largest, so you might not feel as crowded as you do at the other pools.
What Do You Need to Bring to Pool Hop?
You will need your room key to show to the concierge or pool attendant to gain access to the Universal pools.
Unlike Universal's park to park tickets for hopping between theme parks, there is no upgrade fee or special tickets to hop between the pools.
Is There Transportation Between the Pools?
No, there is no bus service or transportation between the pools. If you want to pool hop, you need to use the walkways to walk between the properties.
While you could drive to each resort if you had a car, you would need to pay parking fees at each resort.