Looking for an inexpensive way to enjoy Universal Studios without having to pay for a ticket?
Whether you need something fun to do on an arrival day or departure day or you are just trying to be mindful of your travel budget, Universal CityWalk is one of the best things to do at Universal Studios!
Universal CityWalk in Orlando is a free outdoor shopping district that does not require tickets to enter. You will need to pay for parking in some cases, and your food, drink and activities will require payment. However, it is possible to visit Universal City Walk for free and enjoy it!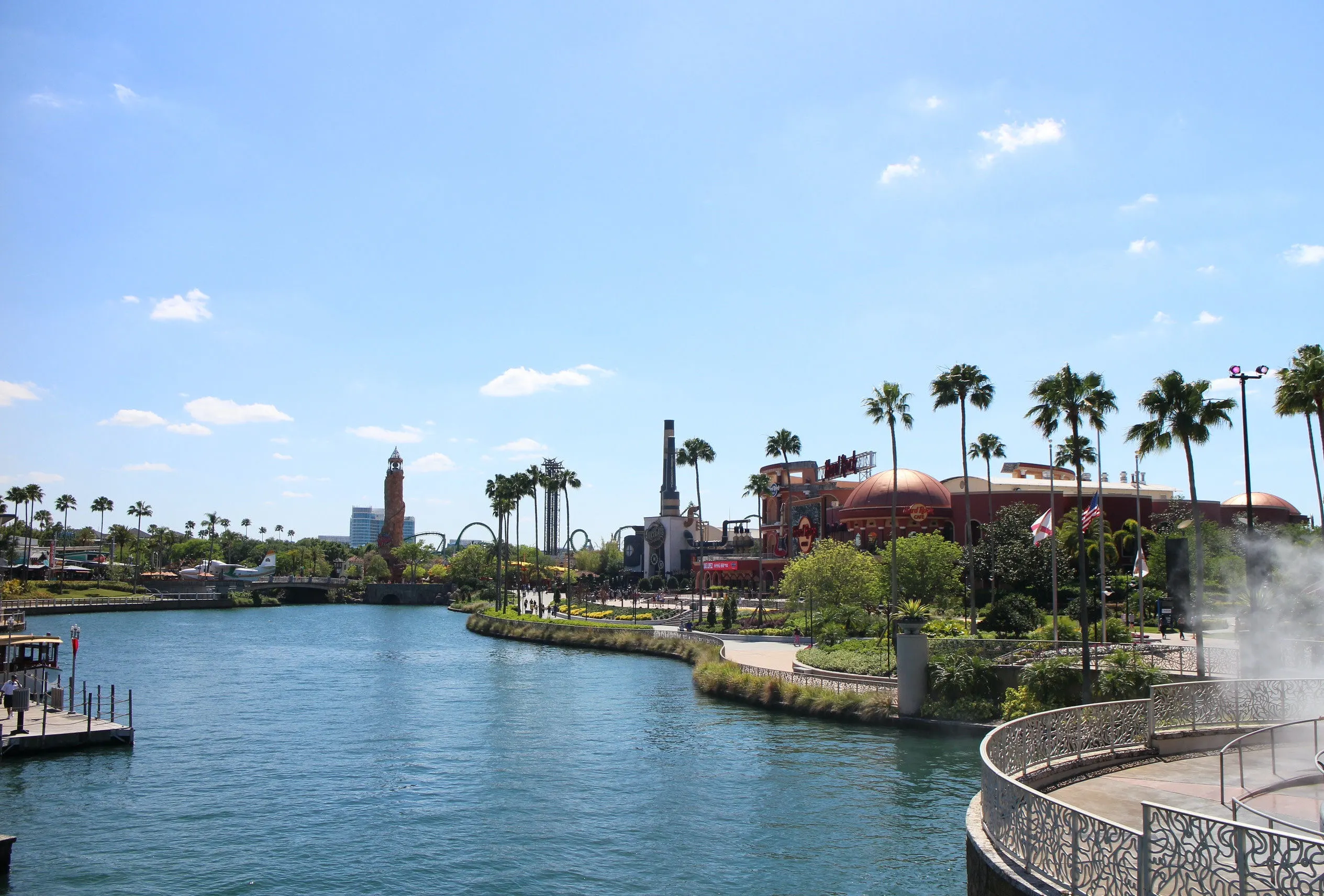 Do I Need Tickets for Universal CityWalk?
No, you do not need tickets to go to Universal City Walk.
You will need to walk through a security check to enter City Walk.
Is Universal CityWalk Free Like Disney Springs?
Yes, Universal Orlando CityWalk is free like Disney Springs at the Walt Disney World Resort.
However, a big drawback is that you have to pay to park at Universal CityWalk unless you visit at night or use some of the other tips for free parking (see more information below).
Disney Springs parking garages have free parking for guests.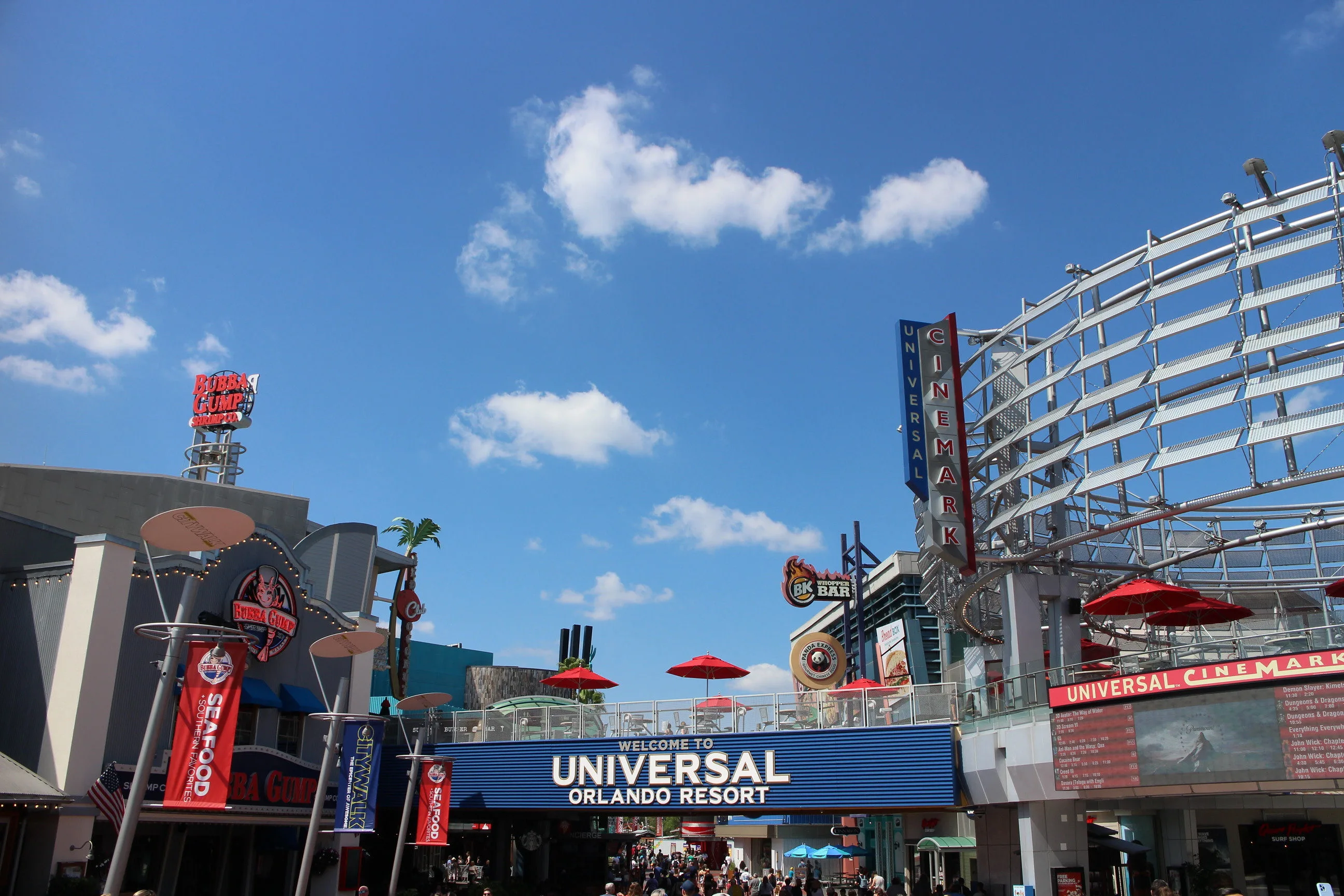 Where is City Walk?
Universal Studios Orlando CityWalk is between the parking garage and the entrance to Universal Studios Florida and Islands of Adventure.
All guests will walk through a least some portion of CityWalk as they go to the theme parks.
Using a Ride Share? Here are the ride drop off and pick up locations for Universal CityWalk Orlando.
If you park in the parking garage, you will walk out of the garage and onto CityWalk. The entrance to Islands of Adventure will be on the left and the entrance to Universal Studios Florida will be on the right. However, you will need to walk a decent amount to get from the garage to the theme park entrances, so you will see some of the restaurants, shopping, and entertainment venues along the way.
Guests arriving from hotels will also be going through CityWalk on their way to the theme parks.
If you choose to walk from the on-property Universal Studios hotels, you will enter CityWalk and then make your way towards the park entrances.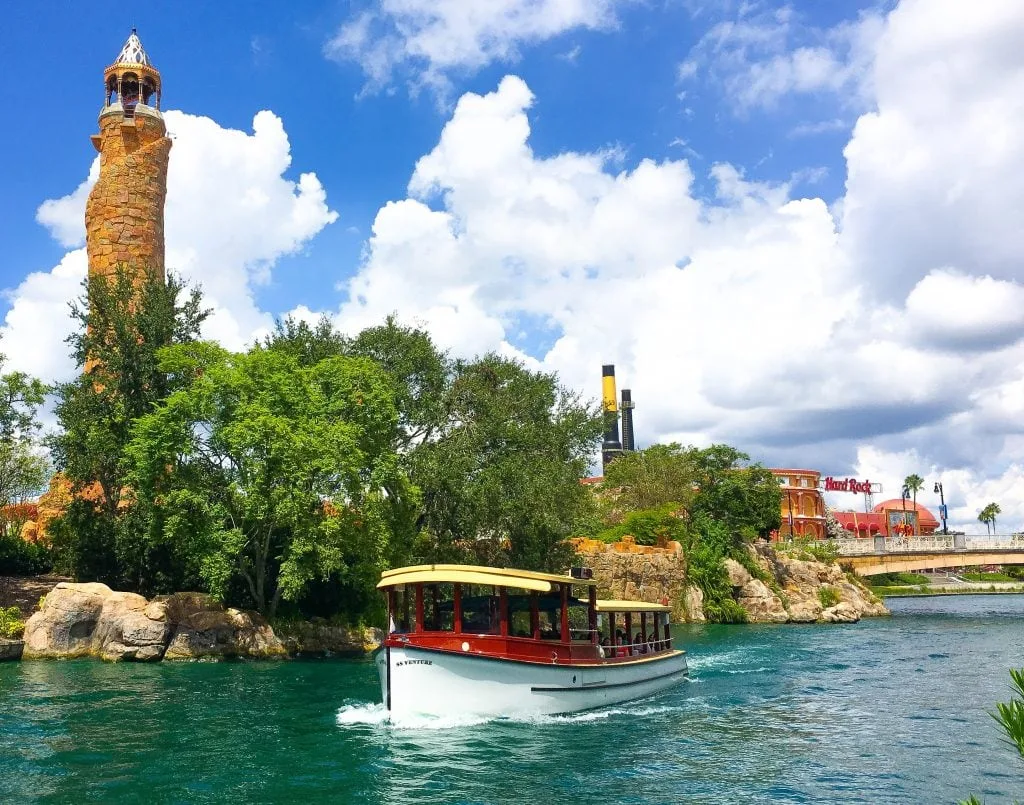 Hotel guests using the boat transportation will be brought to Universal CityWalk via the lagoon, with lovely waterfront views of the entertainment district. You will be dropped off at a more central location inside CityWalk, but you will still need to walk a little bit to get to the theme park entrances.
Visiting Universal City Walk on a travel day? Here are all the ways to store your luggage at Universal Studios.
What is There to Do at Universal City Walk?
Universal CityWalk is a shopping, dining and entertainment district like Walt Disney World's Disney Springs.
Be sure to see our comparison between Universal CityWalk and Disney Springs for all of the differences.
CityWalk is mostly a lot of restaurants and dining options.
There are a few shops located throughout the district. However, the shopping is not as plentiful at CityWalk as it is at Disney Springs.
In addition to shopping and dining, there are several entertainment options that you can buy tickets for:
Hollywood Drive-In Golf (miniature golf course with a 1950s sci-fi horror flick theme)
Universal's Great Movie Escape (an escape room)
Cinemark Movie Theater (watch the latest movies on the big screen)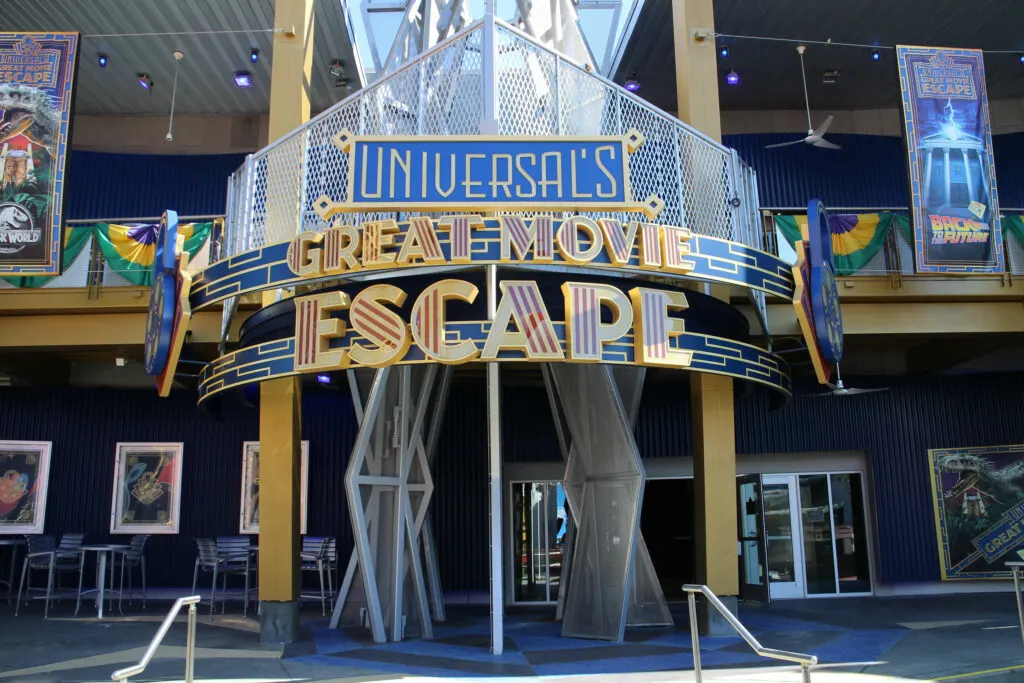 Free Things to Do at Universal Orlando CityWalk
If you are on a budget, there is not a lot of free things to do at Universal CityWalk. However, you can still find ways to have fun for at least an hour or two!
Here are the best things to do at CityWalk that don't cost any money:
Walk around and enjoy the atmosphere or people watch (always fascinating and sometimes hilarious!)
Get your picture in front of the spinning Universal Studios globe
Take pictures with the fun photo props outside of some shops and restaurants, such a VooDoo Doughnuts
Wander through the shops, especially the Universal Studios store
Peek inside the theme parks from the gates
Watch roller coasters soar above the tree line
Visit the Hard Rock Cafe gift shop
Find the piece of the Berlin Wall outside at Hard Rock Cafe, between Universal Studios Florida and Islands of Adventure
Hop onboard the Universal boat transportation for a serene ride to one of Universal's hotels
Walk to Hard Rock Hotel and explore their butterfly garden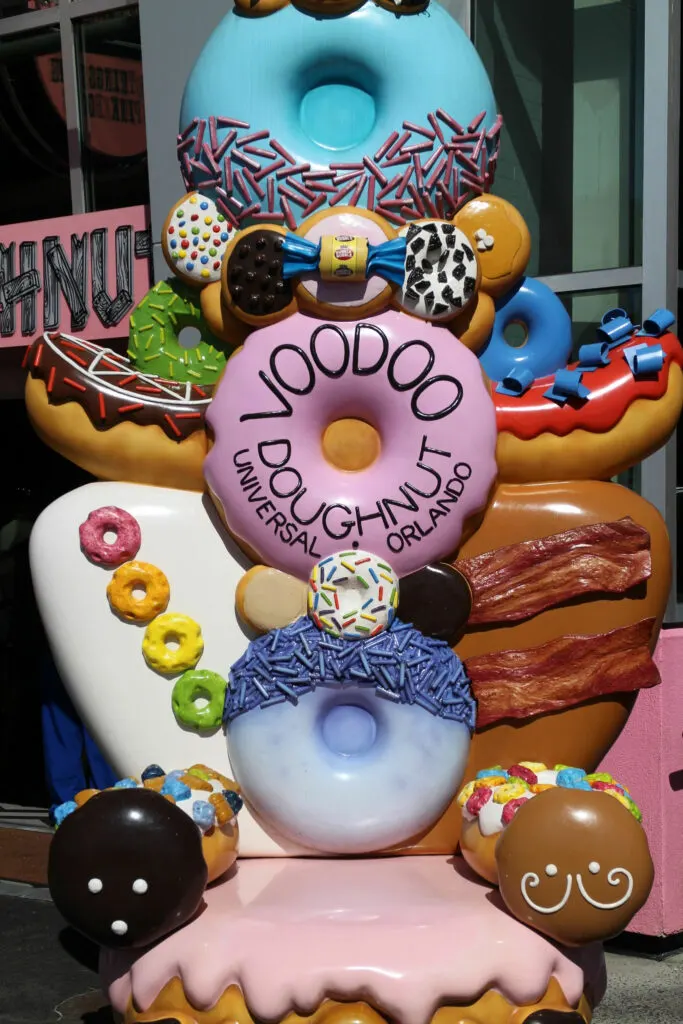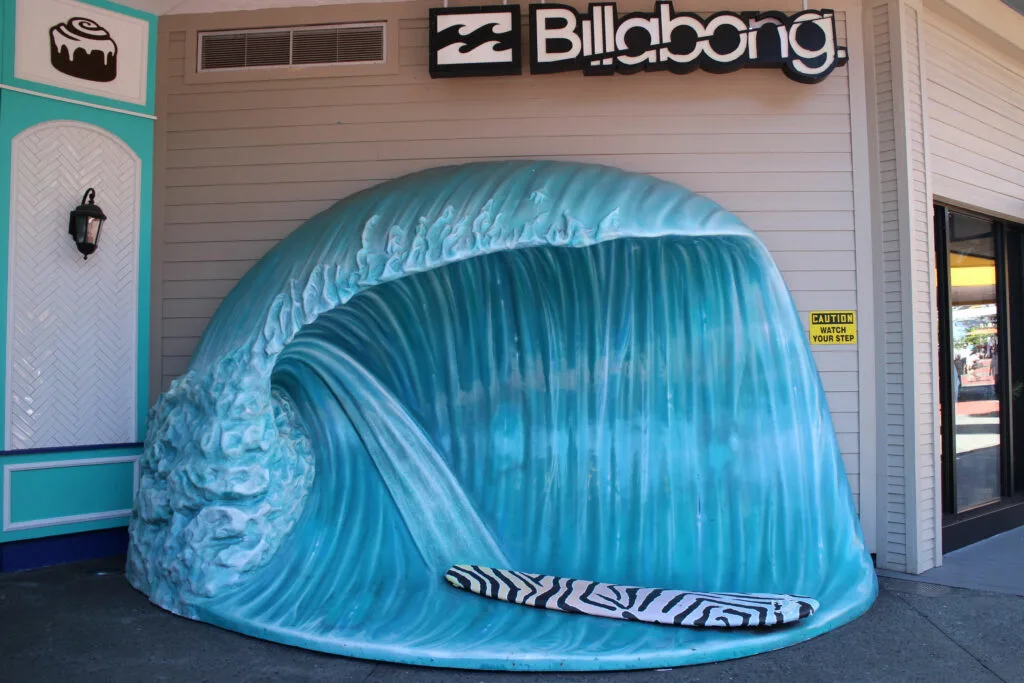 Related Post: Money-Saving Tips for Universal Studios Food
Universal CityWalk Parking
While Universal CityWalk is free, there is a parking fee unless you use one of the ways to get free parking at Universal CityWalk.
Standard parking at Universal CityWalk is $30 per vehicle.
Even if you do not go to the theme parks, you must still pay the same parking price for the Universal Studios garage as theme park goers do.
There is no validation for parking if you eat at the restaurants at Universal CityWalk.
If you arrive after 6 p.m. (other than on Halloween Horror Nights), you can score free parking at Universal Orlando CityWalk to enjoy the restaurants and shopping.
How Long is Universal CityWalk Open?
Universal CityWalk is open early in the morning until midnight or later, depending on the time of year.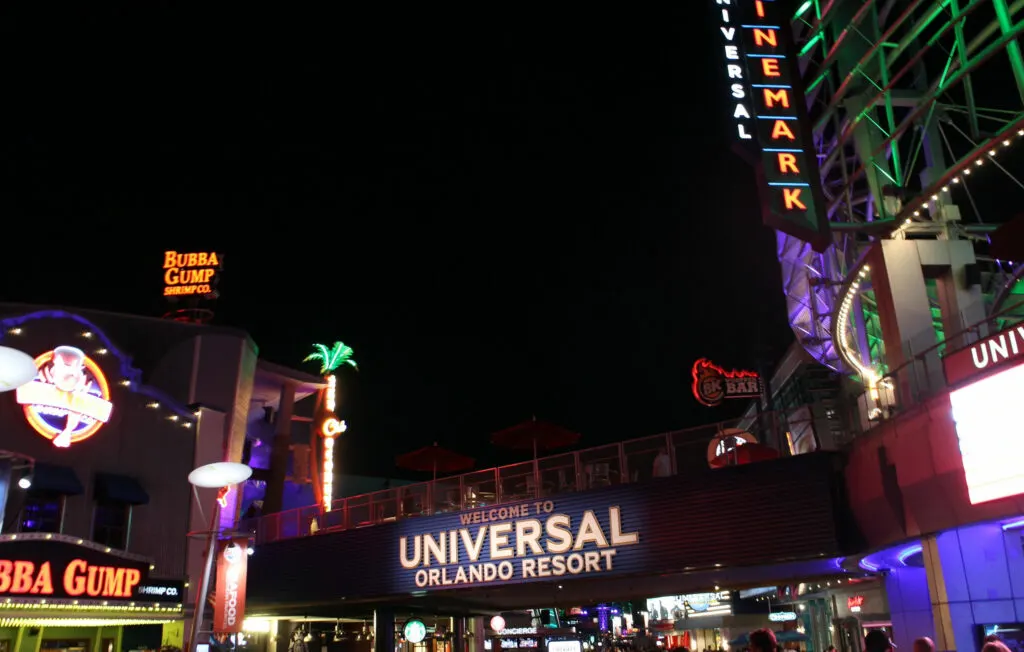 Universal CityWalk hours can change depending on expected crowd levels and special events, such as Halloween Horror Nights. Thankfully, CityWalk does stay open late even on nights that Universal Studios closes early.
While CityWalk is open for guests very early in the morning, you won't find many of the shops, restaurants or activities open. It is mainly a walk-through destination, however there are a few places to eat breakfast at Universal CityWalk.
As all guests must walk through CityWalk after the theme parks close, it does stay open much later, sometimes as late as 2 a.m.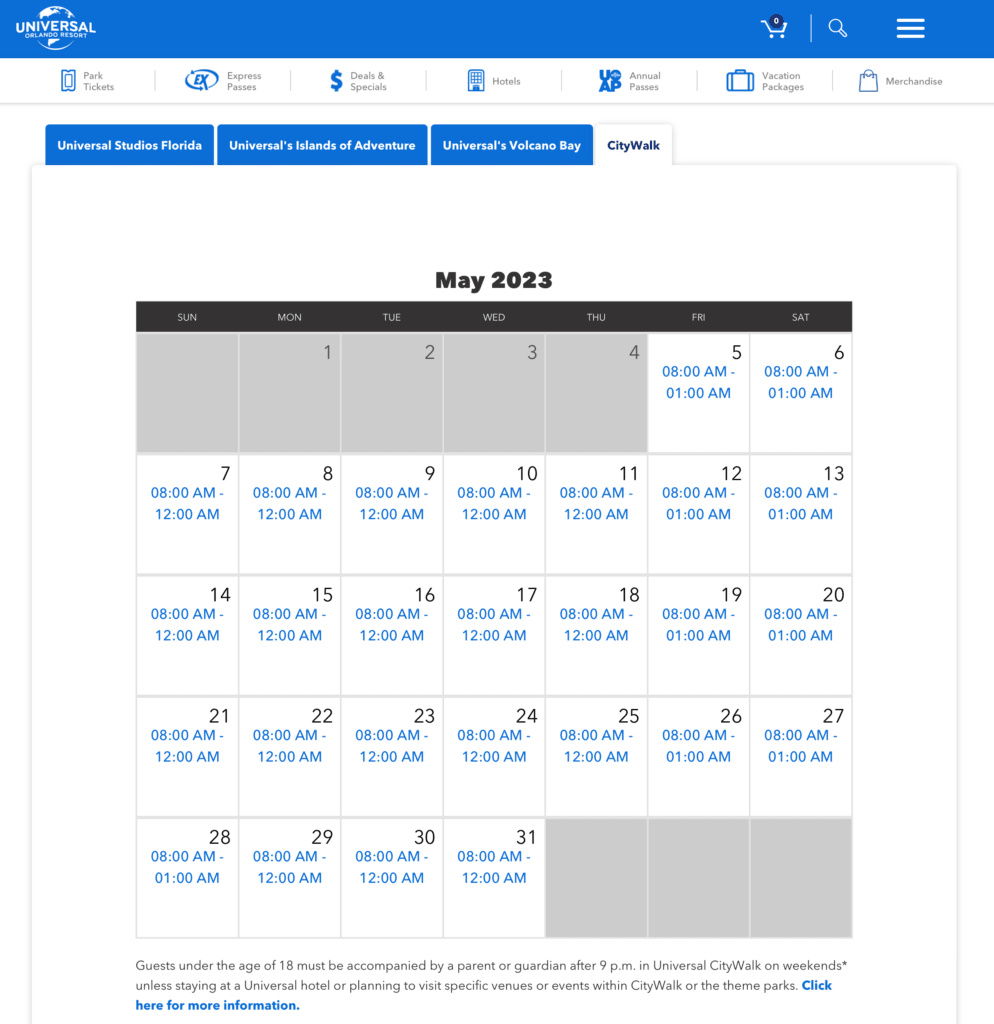 For example, in May 2023, Universal Orlando CityWalk was open until midnight on most nights. It stayed open until 1 a.m. on the weekends and during the Memorial Day holiday weekend.