Theme park vacations are notoriously expensive, mostly because the cost of theme park tickets are through the roof. Before you start thinking you can't go on an Orlando vacation, though, you need to know the facts about how much does it cost to go to Universal Studios.
A lof of variables will affect the cost of a Universal Studios vacation, including the time of year you visit, what hotel you stay at, the types of food you eat and how many people are traveling.
If you are ready to start planning your Universal Studios Orlando vacation, here are all the details of how much it realistically costs to visit Universal Studios, as well as some sample itineraries.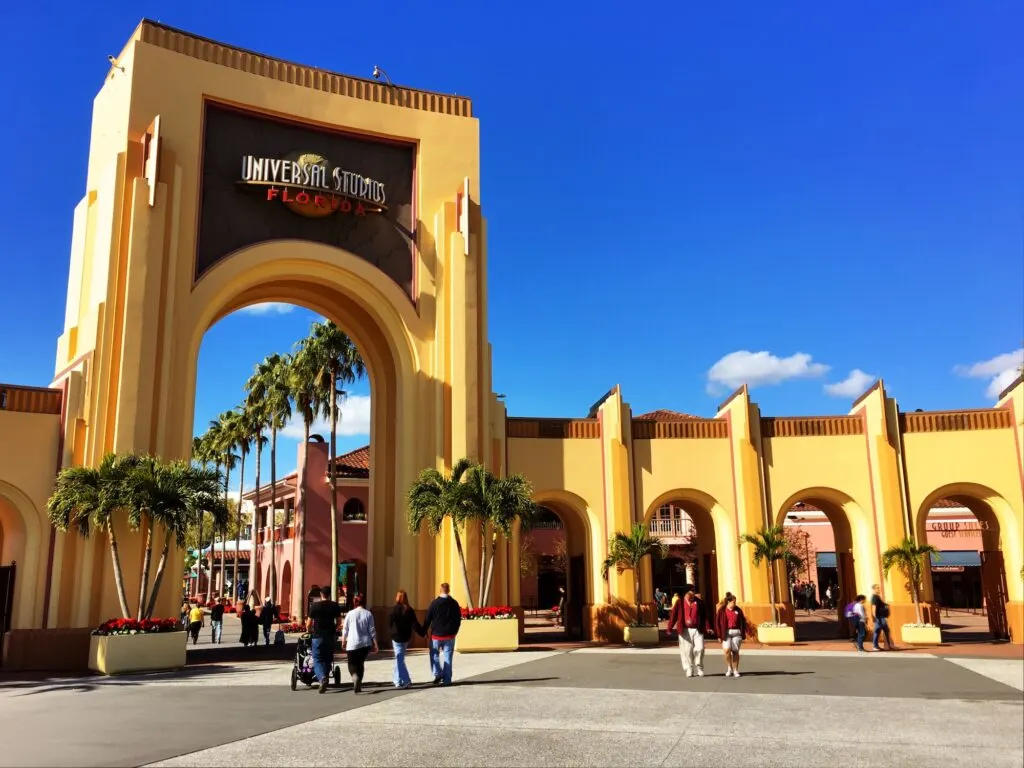 Cost of Universal Studios Tickets
For families of 3 or more, your Universal Orlando tickets will probably be the BIGGEST expense of your vacation, other than transportation.
Universal Orlando tickets start at $109 per adult, per day. By the time you buy three tickets, it will often cost more than the price of one hotel night.
However, there are several factors that affect how much you will spend on theme park tickets:
Time of Year You Visit Ticket prices change depending on the crowd levels during the year. If you can visit in mid to late January or February, it will cost less than if you visit during July.
How Many Days You Stay Just like at Disney World, Universal Studios Orlando wants you to stay on their property spending money for as long as possible. That is why starting with a three-day ticket or longer, the cost per day comes down considerably.
How Far You Plan in Advance The costs of tickets and Express Passes continues to get more expensive the closer to the date that you visit. If you are planning your vacation in advance, you can save more money on the tickets than if you plan a spur-of-the-moment getaway.
Florida residents are able to save money on the cost of Universal tickets so be sure to see how much of a discount you can get.
Before budgeting your Universal vacation, you must know how many days for Universal. Your entire travel budget will depend on how many days you need or want to spend in the theme parks.
***Get Discounted Universal Theme Park Tickets from
Get Away Today!***
We love this Official Universal Ticket Reseller for their customer service and money-saving tickets.
Express Passes
We don't consider a Universal Express Pass a must-have when planning your Universal vacation budget. However, they can definitely help.
There are a lot of variables with the Express Pass ticket add-ons, so read our Ultimate Guide to Universal Studios Express Passes to see if they make financial sense.
Cost of Hotels at Universal Studios
This is a travel budget item that can vary widely. You can save a lot of money on the cost of your lodging if you are willing to give up time or convenience.
Staying On-Site
Universal Orlando Resort has 8 on-site hotels. These hotels range from value to luxury properties.
Staying at any of these hotels will give you special perks, such as early admission hours. Having these extra benefits, such as getting into the park one hour early, complimentary transportation and other conveniences can make a big difference in the ease of your travels.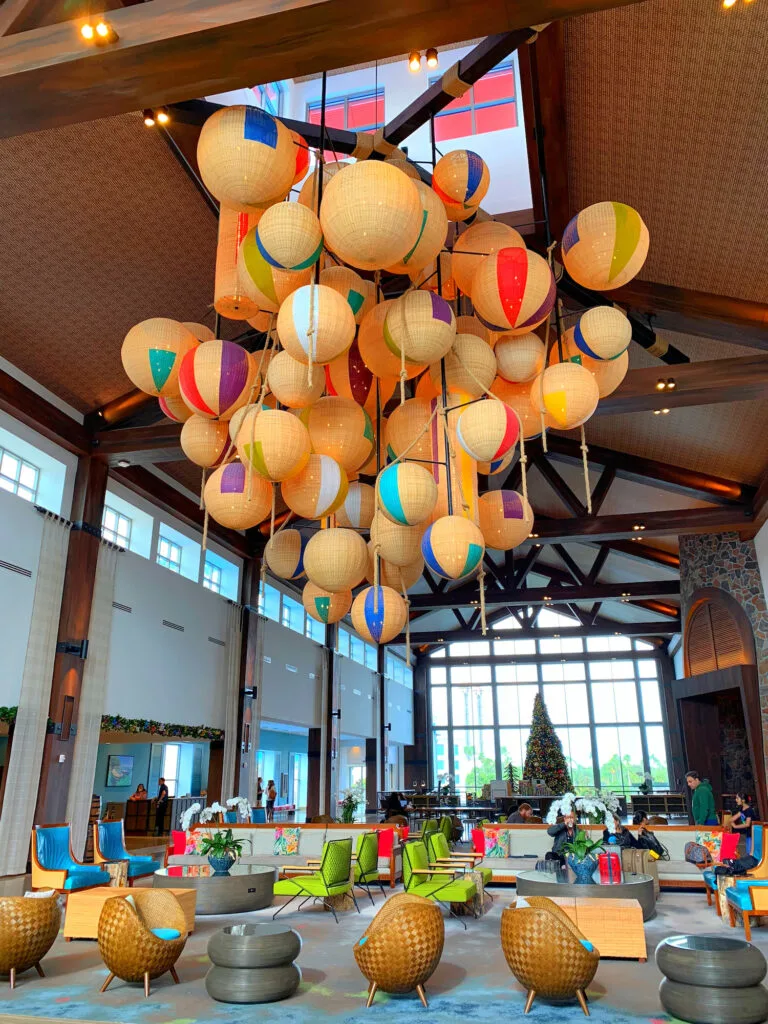 Plus, most of the hotels are within easy walking distance.
Again, there are many factors that will affect the price per night of your hotel, including:
Time of Year You Visit
How Many People Are Staying in the Room (Rooms for a family of 8 will cost more than a standard room)
Room Type
Requested Views or Additional Amenities
How Far in Advance You Book
Here are the base prices of Universal Studios On-Site Hotel Prices:
| | |
| --- | --- |
| Endless Summer Resort (Dockside) | $96 |
| Endless Summer Resort (Surfside) | $96 |
| Cabana Bay Beach Resort | $140 |
| Aventura Hotel | $140 |
| Sapphire Falls | $210 |
| Loews Royal Pacific | $325 |
| Loews Portofino Bay | $388 |
| Hard Rock Hotel | $372 |
See our comparison of Cabana Bay vs. Aventura Hotel to decide which one is right for you.
What is the Cheapest Hotel at Universal Orlando?
If you are on a budget but still want all of the Universal Orlando Resort amenities, you definitely want to stay at the Endless Summer Resort. This resort has two different sections, Dockside and Surfside, which have slightly different theming. Otherwise, they are almost identical.
Regardless of whether you stay at Dockside or Surfside, you can still enjoy early admission hour and free transportation. However, these hotels are not within easy walking distance and you will most likely need to use Universal buses to get to the theme parks.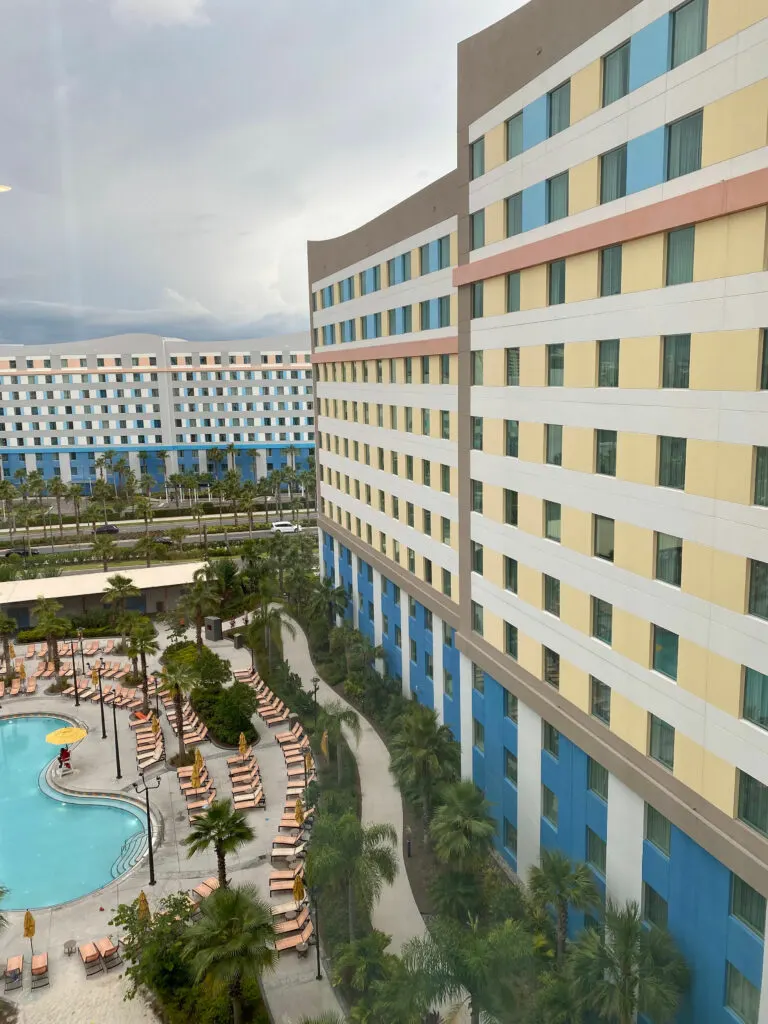 These pools also are not part of the Universal pool hopping option.
Staying Off-Site
However, you can stay off-property and potentially save some money on your lodging.
Staying off-site means you can use hotel loyalty programs, potentially use hotel points for free lodging, and save money with reduced or free parking fees, included breakfast, etc.
If you are not traveling with a car, these are the hotels with free shuttles to Universal Studios.
Here are some price examples for the same day in June:
| | |
| --- | --- |
| Endless Summer Dockside | $199 |
| DoubleTree at Universal | $107 |
| Drury Hotel | $157 |
| Holiday Inn Across From Universal | $104 |
Cost of Food at Universal Studios
Eating on vacation has a LOT of variables. Not only does it depend on how many people you are feeding, but it also depends on the types of food that you eat.
To save money, it is wise to bring food into Universal Studios. You could bring your own breakfast and lunch to save a lot of money on restaurant meals.
Bringing your own food works well if you are driving to Universal or if you do a grocery delivery to your hotel. Especially if you are at a hotel with a kitchen in the room.
However, not everyone wants to bring their own food. After all, enjoying new foods is part of the theme park experience. Especially buying a cup of butterbeer!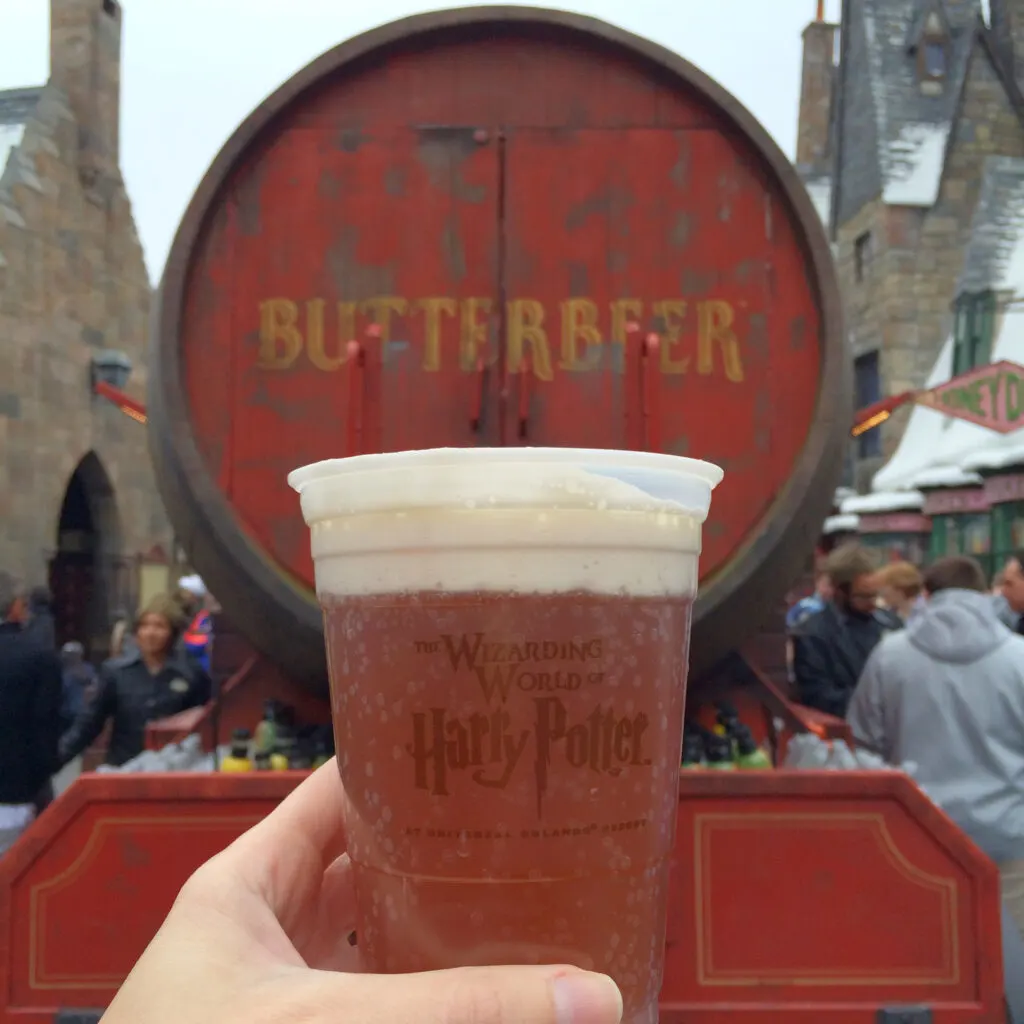 Buying meals in the theme parks, Universal CityWalk or at the hotel restaurants can be pricey.
Expect to pay $12-15 per meal at quick-service (fast food) restaurants. Add on another $3-5 if you want a drink other than water. We suggest using our tips for saving money on Universal Studios food.
For full-service restaurants (where you sit down and tip your server), expect to pay $15-50 per person, plus a tip. The most popular restaurants usually require reservations to get in, so plan in advance!
Snacks are another expense to budget for. These can vary widely, depending on whether you can candies from Honeydukes in the Wizarding World of Harry Potter or you want an ice cream cup or basket of fries. Budget $5-15 per snack, depending on the type that you get.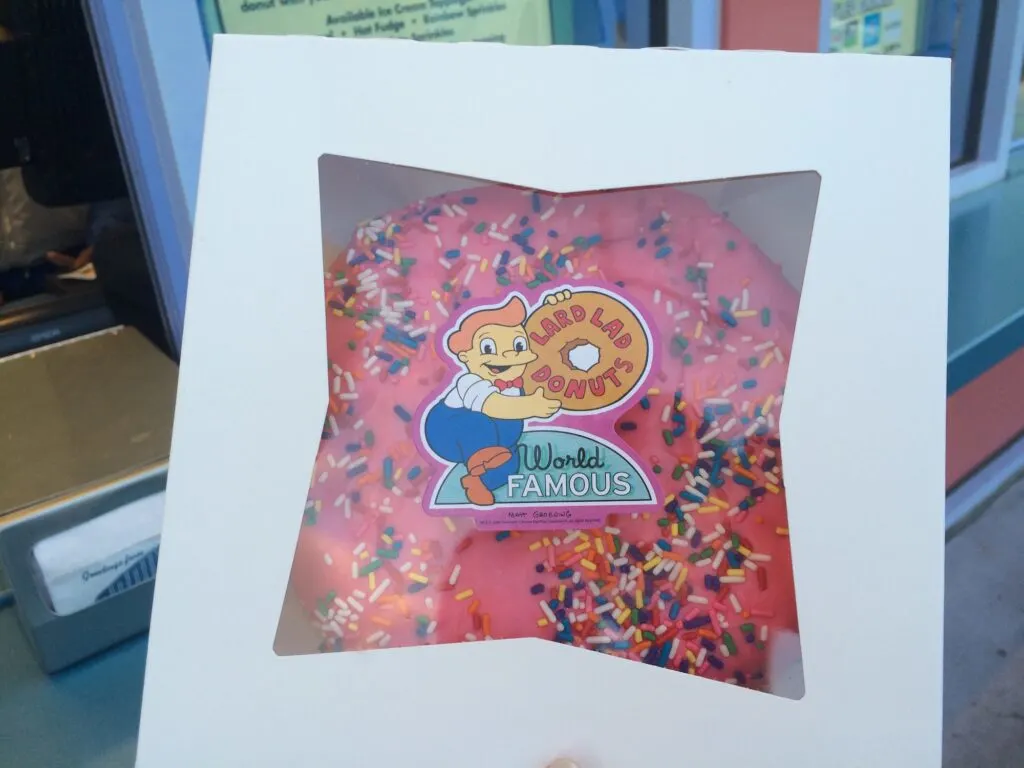 Unless you bring a water bottle for Universal Studios to get free water or buy their refillable cup, you can expect to pay $4-20 per drink (depending on whether it's a bottle of water or an alcoholic drink).
Transportation and Parking
You will need to get to Universal Orlando Resort for your vacation, but the cost will depend where you come from and how you get there.
If you fly to Orlando, be sure to fly into the best airport to get to Universal Studios.
When flying, you will need to either rent a car or use one of these 11 ways to get to Universal Studios from the airport.
Ride shares to Universal Orlando generally start around $30 from the airport, but can be more expensive.
While driving can be less expensive, you will need to park your car at the hotel. If you are staying at an on-site Universal hotel, expect to pay $15 or more a night. Off-site hotels often have complimentary parking, but you definitely need to ask ahead of time and see.
If you drive to the theme parks and choose not to take a complimentary shuttle, Universal Studios Orlando parking is $27 a day.
While there are ways to get free parking at Universal Studios, you will probably need to pay to park every day.
Souvenirs
We challenge you to go to the theme parks for several days and not buy at least one t-shirt, mug, souvenir refillable cup, etc.
Your shopping budget depends on how much stuff you want to buy and how expensive those Universal Studios souvenirs are.
For instance, Wizarding World of Harry Potter wands can be quite an expensive souvenir. A Simpsons mug, though, will cost much less.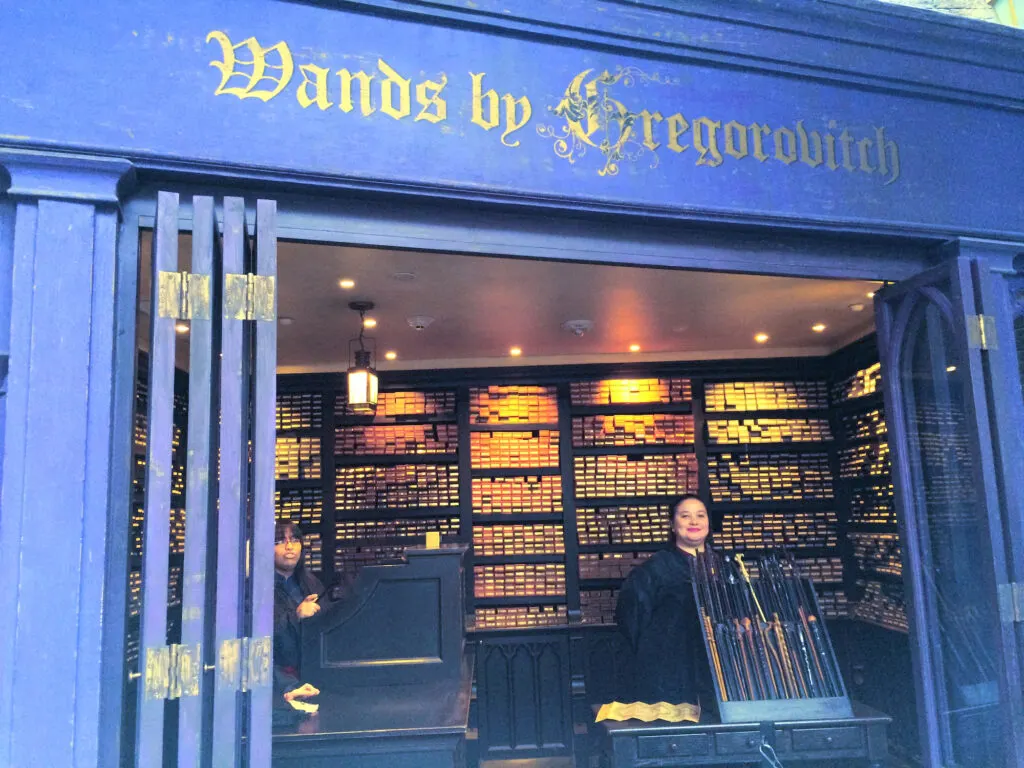 For budget-friendly souvenirs, buy character-branded items at the Dollar Tree or discount stores to bring with you for the kids.
Check out Ebay for theme park souvenirs that are sold at a discount price. You can stock up on t-shirts and more while saving some money.
These are just a few of our old-fashioned money saving tips for theme park vacations.
Sample Travel Budgets
To get an idea of how much a Universal Studios Orlando vacation can cost, we have done some sample itineraries for you. These prices are based on research in April 2023 for future travel.
Prices are estimates and are expected to change based on availability and time of purchase. They do not include taxes, gratuities, tips, service charges or buying souvenirs.
These sample itineraries and travel budgets do not include the cost of transportation or parking since those prices vary greatly.
Young Couple with No Kids
This sample itinerary is for two active, young adults who want to see as much as possible in a short three-day weekend. They are not traveling with kids, they do not need to go back to the hotel during the day for rest, and they want to live their best life with all of the foods, drinks and experiences they can fit into a modest budget for working adults. They chose a weekend in May to visit.
Hotel: This couple is staying at the Aventura Hotel for two nights. They love the modern amenities and minimalistic decor. They know they won't be at the hotel a lot, so they chose a Premium value hotel.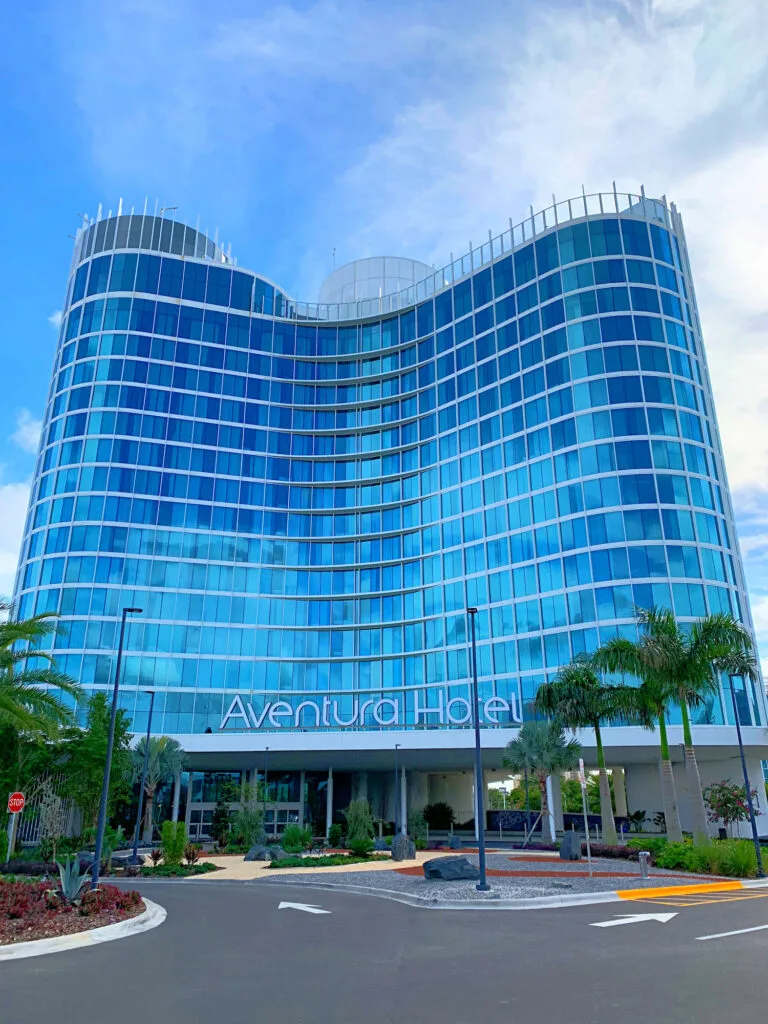 For a weekend in May, staying Friday and Saturday night, the cost is $236 a night.
Total hotel cost: $472
Theme Park Tickets: With only two days to spend enjoying the theme parks, this couple chose to get a 2-Day Park-to-Park ticket so that they can see everything in both parks.
The cost per adult is $344 for tickets.
Total theme park tickets cost: $688
Food: They're here to have fun and Instagram all of their favorite foods and drinks. Every meal is eaten in the hotel or in the theme parks at quick-service locations, plus two snacks or drinks each person each day. Food cost is $70 per person per day ($10 for breakfast, $20 for lunch and dinner each, two $10 drinks or snacks).
Total Food Cost: $420
Total Cost of This Vacation: $1,580
Family of Four
This sample itinerary is for two adults and two kids aged 8 and 10 years old. The kids don't need to take nap breaks any more (unlike going to Universal Studios with toddlers), but they would probably do well with going back to the hotel to relax by the pool each day. This family wants to spend a week for their family vacation this summer in June (7 nights, 8 days), and they are willing to use budget-friendly hacks to get the most from their money.
Hotel: Endless Summer Resort is where this family will be staying. The Value resort is the least expensive of Universal's hotels and is perfect for kids.
The average cost is $152 a night for seven nights.
Total hotel cost: $1,064
Theme Park Tickets: Staying a week allows this family to use the Universal ticket package that makes each theme park day less expensive. Because they have four days of theme park tickets, they choose one-park, one-day passes because they will have plenty of time to see both parks.
The cost per adult ticket package is $319 (the 10-year old must get an adult ticket) and per child ticket package is $309.
Total theme park tickets cost: $1,266
Food: Trying to stay on budget and dealing with picky eaters, this family chose to do a grocery delivery from Walmart to be delivered to their hotel. They eat breakfast at the hotel and pack snacks for the theme parks and use refillable water bottles for drinks to bring.
We will exclude the cost of breakfast and snacks, because they will probably be comparable to what the cost of food is when buying at home since they are coming from a grocery store. Lunch budget is $15 per person (kid's meals are cheaper, but they will probably indulge in one specialty snack in the parks or hotel, so the cost averages out) and $15 for dinner, per person per day.
Total Food Cost: $960
Total Cost of This Vacation: $3,290
Retired and Loving Life
This sample itinerary is for an older couple not traveling with kids. They want to enjoy their time at Universal Studios without standing in long lines. This couple wants luxury and convenience during their 3-night, four-day stay in mid-September during the middle of the week.
Hotel: Wanting luxury accommodations close to the theme parks with free Express Passes as part of their room, this couple decided to stay at Loews Portofino Bay, a luxury hotel at Universal Orlando.
The cost per room night is $436.
Total hotel cost: $1,308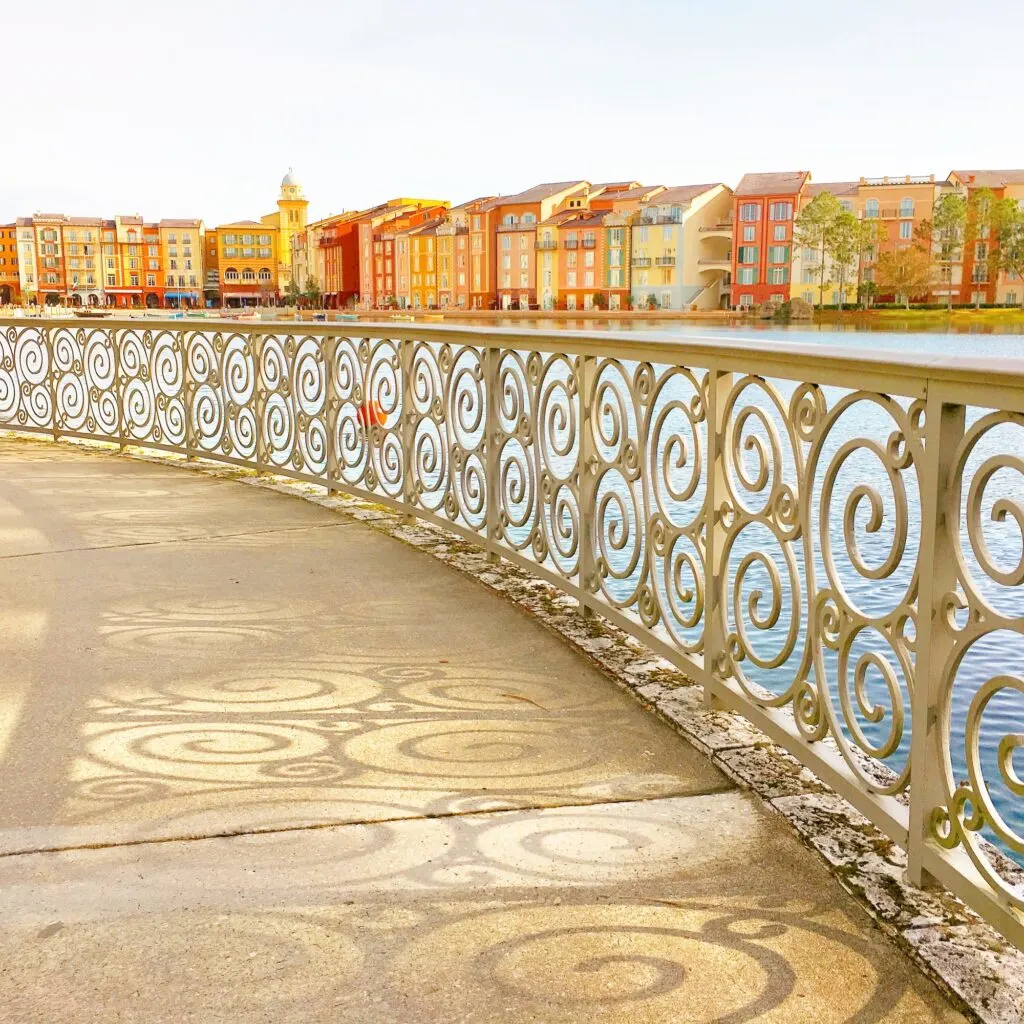 Theme Park Tickets: This couple doesn't anticipate going on many thrill rides, and they have free Express Passes through their hotel so that they won't be waiting in long lines. They are both Harry Potter fans and want to be able to ride Hogwarts Express between the two Harry Potter worlds that go between Universal Studios and Islands of Adventure, so they purchased two-day, two-park tickets.
Cost per ticket: $285.
Total theme park tickets cost: $570
Food: With no desire to eat chicken tenders and soda for their meals, this couple enjoys eating lunch and dinner at nice, sit-down restaurants. Their breakfast each day is at one of Universal Studio's best breakfast spots, along with a great cup of coffee at Universal Orlando while planning their day.
Food budget is $15 for breakfast, $20 for lunch, $30 for dinner, and two $15 cocktails or glasses of wine per person per day.
Total Food Cost: $760
Total Cost of This Vacation: $2,638
Conclusion
There are many different factors that determine the cost of a Universal Studios Orlando vacation. To keep costs down, there are plenty of budget-friendly ideas to save money and still have a fun theme park getaway!